Ironing is a tedious job, so we have made a list of the best ironing boards that can make all the difference. Ironing boards provide a smooth surface to lay your clothing flat for wrinkle- and crease-free results. These boards stay stable without wobbling and have a functional design that doesn't feel heavy to set up or put away. They come in different styles, and you can choose between a traditional one or a tabletop board.
We have listed the weight, set-up requirements, and quality to help you choose the right ironing board for your home. So, read on to make an informed decision.
13 Best Ironing Boards
Iron king-size clothes with ease with this strong and sturdy ironing board. The large surface area offers convenience and saves a lot of time. With this heavy-duty ironing board, you can keep your ironing tensions away. It measures 49x18in.
Pros
Extra-large ironing board
Seam iron rest and removable linen rack
Has transport locks to keep it folded when stored
Adjustable to four different heights
Comes with non-slip feet
Brand offers a 10-year guarantee
Cons
Gap between the board and holder may restrict cord movement
Board cover may fray
This tabletop ironing board is extremely compact and easy to store. It includes an aqua blue cover, a foam pad, and an iron rest. The space-saving ironing board measures 31 x 12 x 6.1 inches and is designed especially for small apartments, dorm rooms, and smaller spaces. Take a look at this video to learn more about this product.
Pros
Collapsible design
Made of wood and polycotton
Has metal iron rest to hold the iron
Sturdy and spacious ironing surface
Cons
Size may be small
Iron holder may be flimsy
The strong and durable tabletop ironing board comes with light cotton padding on top. Measuring, 12x29x5.5 inches, it is big enough to comfortably iron clothes and small enough to fit into confined spaces. With no assembly hassles, this is one of the best small ironing boards to have. You may check more about this ironing board from this video.
Pros
Retractable hook for easy hanging
Vented holes for natural steam flow
No-skid protectors for better stability
Has scorch-resistant cotton cover and foam pad
Comes with foldable steel legs for convenient storage
Cons
May not withstand pressure
May have short legs
Ironing can be less of a struggle with this ergonomically designed steam ironing board that measures 48 x 15 inches. Designed for quick and easy ironing, this is a steam generator ironing board that is adored for offering a comfortable and adjustable working height.
Pros
Heat reflective prozone cover
Strong and stable loop legs
Prevents cord tangling
Ergonomically shaped for a natural arm movement
Comes with a five-year manufacturing warranty
Cons
Iron box may glide away from the holder
Has no locking mechanism upon folding
This is one of the best ironing boards that comes with a built-in sleeve board. It also has a hanger bar to hold your freshly ironed clothes. The wide ironing top makes ironing large-sized bed clothing like bedsheets fuss-free. This video helps you know more about the product.
Features:
Ironing surface measures 18x49in
Has an attached iron holder and sleeve board
Comes with heat-resistant, 100% polyester fiber pad
Cover is 100% cotton
Foldable metal legs for easy storage
This is an easy-to-set-up and convenient-to-take-down light-weight ironing board. Measuring 53.75x13x36 inches, provides a solid surface to iron clothes, and the perforated steel frame allows smooth steam flow to remove wrinkles conveniently and make the job faster.
Pros
Has 100% cotton cover
Comes with non-skid, curved feet for stability
Easy height adjustments up to 37.5 inches
Can withstand heat up to 450 degrees
Has patented leg lock to secure legs when not in use
Cons
May wobble
Surface may be uneven
Bring home this ironing board for homes with space constraints. It is an easy-to-install board with a thick foam pad. The slim ironing board design lets you iron all kinds of clothes and is highly portable. It measures 42×14.25×39 inches when assembled.
Pros
Inbuilt hooks to fit it into any standard 1-3/8in doors
Has a patented locking system for folding up easily
Comes with a 100% cotton cover
Includes a set of 2-in-1 dryer balls
Can be easily wiped clean using a damp cloth
Cons
Board may be slightly thin
Has no provision to snap the cover tightly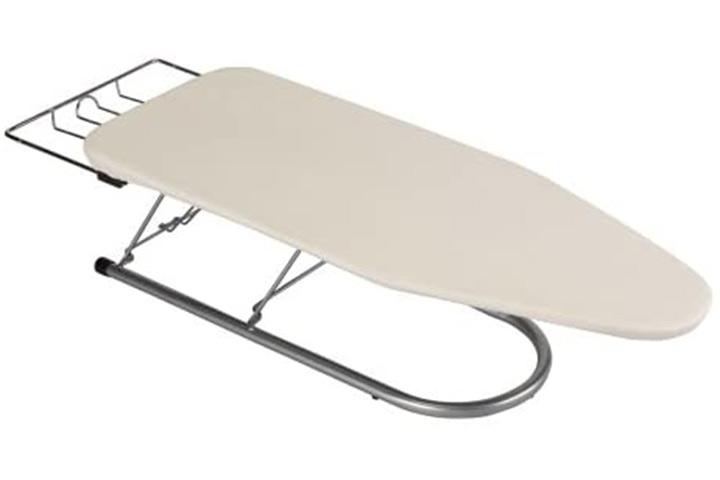 Iron your clothes with ease with this ironing board that is easy to fold, convenient enough to store even in a closet, and is designed for tabletops. It measures 8.5x12x30 inches when open, and the steel mesh provides great strength to the iron board and also allows the steam flow for a powerful wrinkle release.
Pros
100% cotton cover
Fiber pad for a matte-free ironing surface
Slidable wire shelf to place your iron
Over-the-door hook ensures easy storage
Compact collapsible design for small spaces
Cons
Legs may squeak
Brace to hold the board may not offer a strong hold
Designed for quick ironing needs, this mini tabletop ironing board is an easy-to-store construction with foldable legs. It has a sturdy and durable frame that can withstand heavy pressing. This board measures 23.62×14.17×7.08 inches and can also be used as a laptop desk, craft table, or snack table.
Pros
Washable and removable cotton cover
Comes with a cooling porous pad
Offers good vapor permeability and heat dissipation
Foldable legs for compact and easy storage
Non-slip feet caps to protect the tabletop
Cons
May not come with adequate holes at the bottom to dissipate steam
Legs may wiggle
This is a large ironing board with outstanding features. It promises a smooth ironing experience even for ironing large clothing pieces. Featuring a powder-coated metal frame, it is designed for household as well as industrial purposes and is one of the best ironing boards with a generous surface area.
Pros
Features heat-resistant outboard support for holding the iron
Adjustable to six different heights
Comes with an extra cover
Has unique retractable shoulder wings
Features handy cord holder
Has a safety locking system
Cons
Cover may not be stain-resistant
Board may be wide
With this amazing ironing board, you can enjoy the convenience of sitting and ironing as you can adjust the height as needed. This is a portable and broad iron board with a perfectly fitted cover and ample padding to ensure a smooth ironing experience.
Features:
Weighs 6.6lb
Measures 12x30in
Comes with a safety lock feature
Has non-slip end caps to keep the garment in place
Foldable and compact design
Make ironing easy with this convenient ironing board that is designed to keep the iron and board strapped together using a silicone strap for compact storage. Suitable for smaller living spaces, this iron board can be stored even inside a closet. It does not require any assembling and comes with an adjustable iron tray.
Pros
Has a pressing surface measuring 35.4×15 inches
Comes with three padded layers for smooth ironing
Highly durable cover with a lifetime guarantee
Adjustable legs
Cons
Silicone rest may be smaller than expected
May have sharp edges
A sturdy ironing board with a stable structure, it also comes with a strong iron tray to eliminate wrist fatigue. This board has a double strapped cover to help the iron run smoothly.
Pros
Has a tube frame construction for stability
Includes a support tray to place the iron
Comes with a convenient laundry rack
Has double wishbone legs for stability
Cons
Cover may not offer an ideal fit
Snapping the extension may be hard
How to Choose the Right Ironing Board?
While purchasing a good ironing board, you need to look into some essential features to make your ironing experience trouble-free and comfortable. You may consider the following features:
Surface area of the board: The pressing surface of the iron board has to be as big as you can accommodate in your home to save you time and energy that goes into ironing.
Height adjustments: It is very important for an ironing board to have different height adjustments, so that you can set it as per your comfort levels.
Weight: The more the weight, the more stable the ironing board. But the best pick is an ironing board with a reasonable weight and decent stability because it is important to have an iron board that is easy to maneuver.
Iron rest tray: You would surely not want to hurt your arm or wrist while ironing. Therefore, it is essential to have a tray where you can rest your iron.
Storage: An ironing board that doesn't require much storage space is always a good pick, especially if you have space constraints.
Why Trust MomJunction?
A skilled and versatile product writer, Wedetso Chirhah has experience writing on homeware, electronics, books, and automobile products. He has extensive knowledge and understands people's requirements regarding household necessities. After in-depth research and reading user feedbacks, he has put together this list of the best ironing boards. Each product contains detailed information and features to help you compare and pick the right product as per your needs.
Recommended Articles