Kayaking is a fun-filled water sport that involves paddling. A kayak paddle is an important gear to maneuver the waters right and keep the kayak afloat. If you enjoy kayaking or are an avid kayaker, you should invest in quality gear to better your experiences. Choosing the right paddle is as important as choosing the best kayak.
Kayak paddles come in various sizes and shapes, such as parallel or offset, flat or curved, long or short. Paddles are made of different materials like plastic, Kevlar, wood fiberglass, and aluminum. Choosing an ideal paddle can be difficult, especially for beginners, as there are several options to choose from. The perfect kayak paddle should be durable, comfortable, and affordable.
In this post, we list some of the best kayak paddles that can meet your requirement. 
Types Of Kayak Paddles
 There are different types of kayak paddles to choose from based on your requirements.
Touring kayak paddle: Specially designed to provide comfort, touring kayak paddles are lightweight, ergonomic, durable, and ideal for slow rivers or seas. They are available in various shapes and styles.
Recreational kayak paddle: Designed for recreational use, recreational kayak paddles are heavy and inexpensive. They are durable and best suited for short kayaking.
Whitewater kayak paddle: White water kayak paddles are durable and can withstand the impact of strong winds, rocks, and sand. These kayak paddles have thicker shafts and wider blades to come out quickly from the water fast.
Performance kayak paddle: Performance kayak paddles are durable and lightweight. The advanced features of these paddles enable them to resist strong currents and waves. They give more power and speed to the kayaker while providing comfort and reducing fatigue.
15 Best Kayak Paddles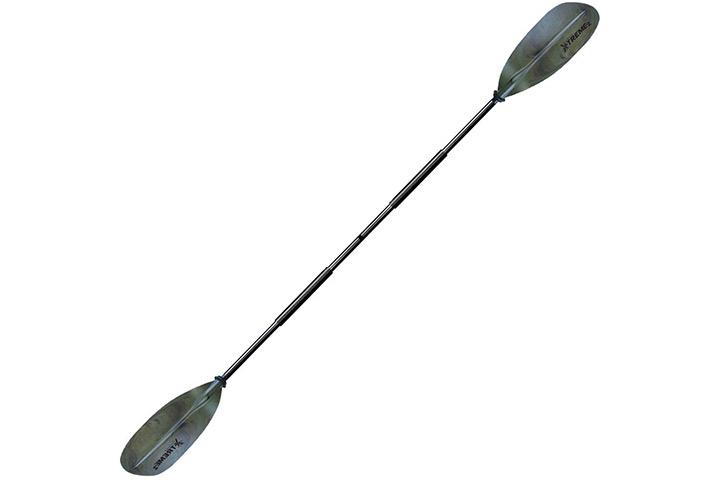 The robust SeaSense kayak paddle is constructed with a nylon blade filled with fiberglass. Propelling your arms in the water becomes easier as the paddle is made from lightweight polypropylene. The aluminum shaft and ergonomic foam grip add to comfort and strength.
The paddle is asymmetrical, with three different locking positions. A support ridge provides additional strength and durability to the two-piece paddle that can be easily stored. SeaSense offers these paddles in different sizes.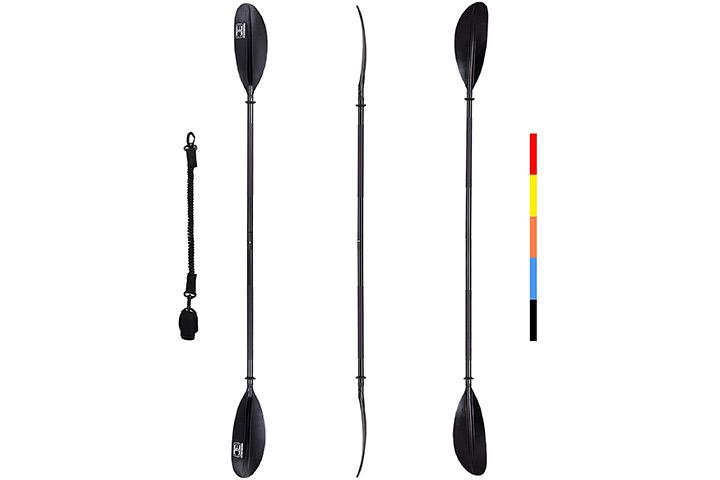 The paddle from Oceanbroad is made from a premium-quality aluminum alloy shaft with a 1.1mm shell thickness and PP blade armored with fiberglass. The two materials make the kayak paddle durable and stiff. The oar is 230cm long, making the kayak paddle ideal for the entire family. It can be detached into two parts for easy storage and portability and comes with a free bungee paddle leash that secures the paddle to kayak.
The paddle has three locking positions for different angle preferences. The drip rings stop water flow from blades, thus preventing the shaft and your hands from getting wet. Designed with a shrinking PE tube cover, the oar shaft provides a better grip for your hands, preventing blisters and chills. The paddle can be an ideal choice for beginners and intermediate kayak lovers.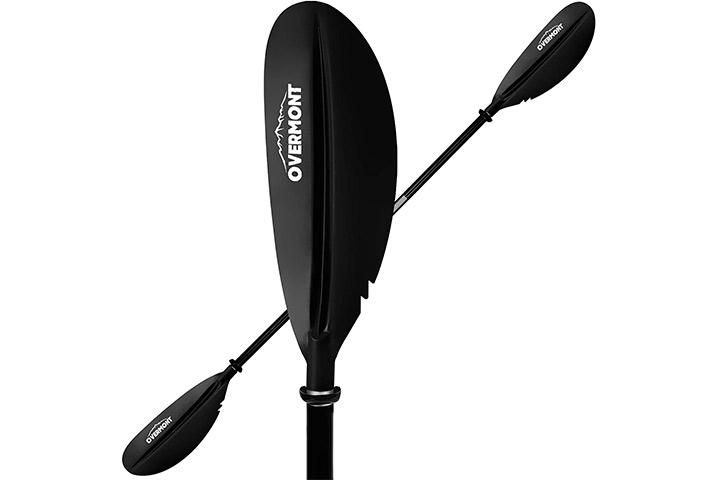 Made from tough and lightweight aluminum alloy, the boating oar with paddle leash is suitable for inflatable kayaks. The oar measures 90.5 inches in length and is made from PP and fiberglass materials. The blades have a unique feather-shaped and dual notched teeth edge. The hollow aluminum shaft tube keeps afloat the paddle, which can be bent to 90°.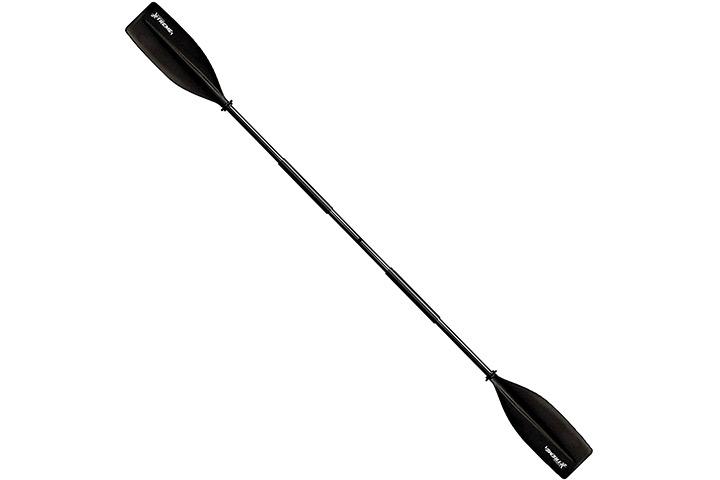 The 84-inch Seasense X-treme 1 kayak paddle, built from two-piece aluminum, is lightweight with blades made of black molded plastic. The adjustable drip rings or drip guards, along with foam rubber grips, give a firm hold on the oar. Its foam hand grips are also ergonomically designed to provide comfort and better grasp. The paddle is asymmetrical with three different locking positions. The two-piece construction of the paddle makes it easy to dismantle and store.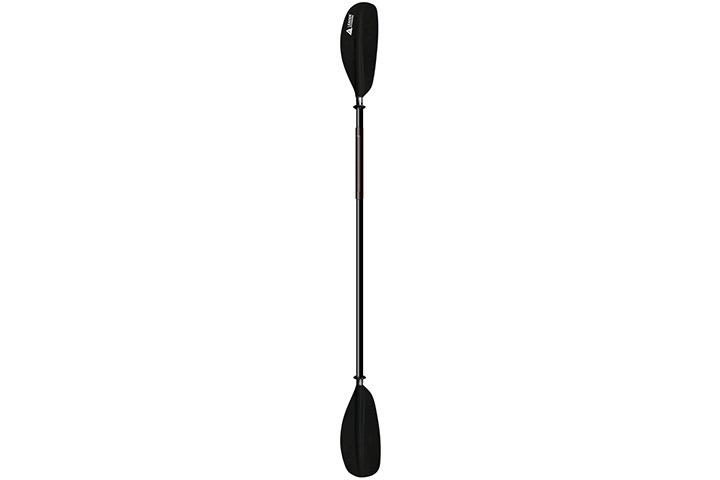 Leader Accessories kayak paddles consist of aluminum and fiberglass shaft with PP blades, carbon shaft with PC blades. The blade measures 18.5 inches in length and 7.5 inches in width, while the diameter of the tube is 30mm, and the thickness is around 1mm. The paddle's innovative water-resistant ring design effectively prevents the water from flowing down along the shaft tube and flooding the kayak.
The shaft is made of aluminum, carbon, and fiberglass. The two-piece paddles are detachable, easy to store, and portable. The lightweight blades are made from molded plastic and have a feathered design to reduce water resistance and help propel through water with strength. The paddle has an enforced push-button connection and three locking positions so that the blades can be adjusted at three angles. The paddle comes in seven colors and five sizes.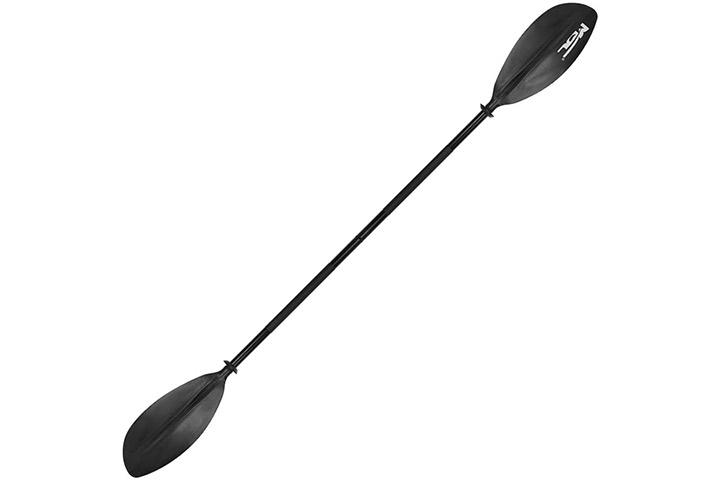 Msc kayak paddle is a two-piece construction measuring 86 inches in length, with a double-sided reinforced paddle. The paddle can be fitted in three positions depending on your comfort and ease. The blades are made from high tension plastic and are asymmetrically curved to enable efficient paddle strokes. These blades are durable, affordable, and perform well.
The shaft is made from Anodized aluminum alloy that is corrosion-free and offers high resistance. The feathering angle can be adjusted between 0 and 60° with the help of a three-button snap ferrule design.
The kayak is easy to store, has a support ridge for additional strength, drip guards that keep your hands dry, and foam grips for added comfort. The paddle is designed for intermediate and advanced users.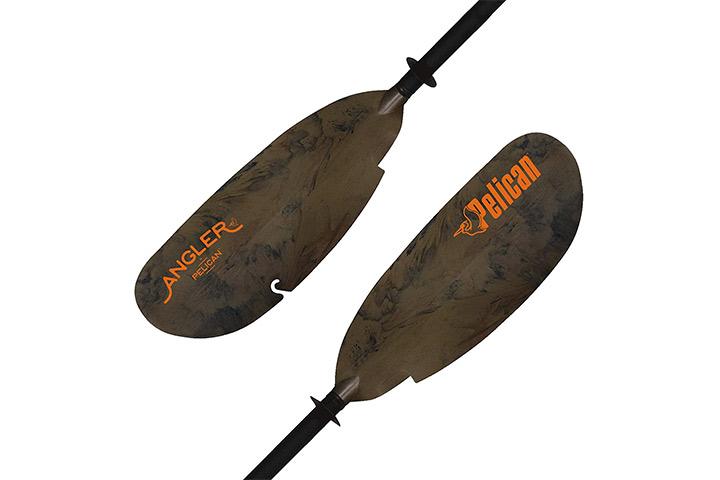 Poseidon angler kayak pedals are lightweight and ideal for fishing. The paddle is wider, measuring 98in ling, and features a cohesive hook retrieval system and tape measure along the shaft. The blades are made from crash-resistant fiberglass and durable polypropylene. The adjustable drip rings keep the hands dry and provide a better grip. The drip rings can be adjusted from 0-65° angles.
The shaft goes from a rounded shape to a slightly oval shape (called indexing), which serves as a reference to where you should be placing your right hand.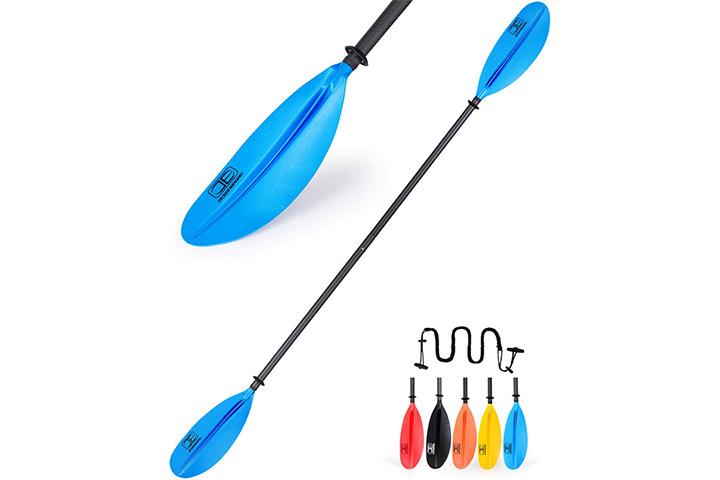 The Oceanbroad kayak paddle shaft is made from carbon fiber composite, and the blades are made from fiberglass-reinforced PP. The kayak oar weighs 33oz and measures 90.5 inches in length, making it ideal for various levels of kayaking. The combination materials of the shaft and blades make the kayak durable and stable.
The paddle can be separated into two sections so that it can be packed and carried along. It comes with a free bungee paddle leash, which helps secure the paddle to the kayak, and has three locking positions. The drip rings at the twin ends prevent water from flowing on the blades, thus preventing both the shaft and your hands from getting wet.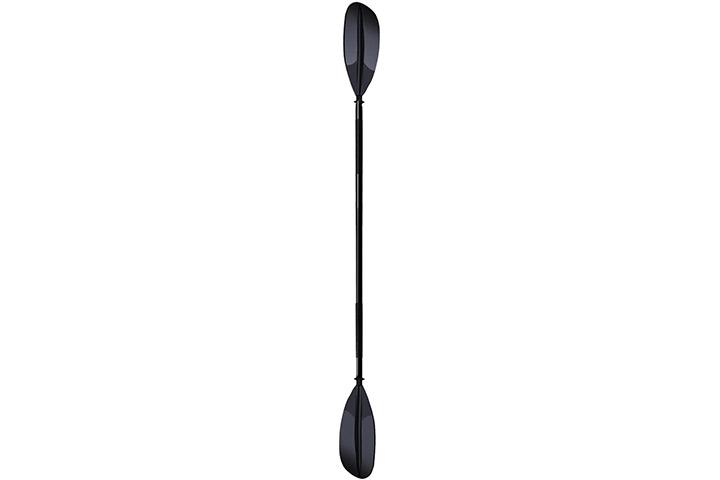 The durable and lightweight kayak paddle is two-piece construction enabling easy storage. The shaft is made from super-strong aluminum, and the blades are made from PP. The blades' measure 18.5 inches long and 7.5 inches wide and have a feathered design. There is an extra gasket on one side of the paddle for a better handgrip.
The paddle comes with an anti-slip surface. The Duck palm arc blades reduce the risk of getting into the water and pull up full strength. A three-point locking system allows the paddle to fit in various angles. The paddle is available in five colors and two sizes.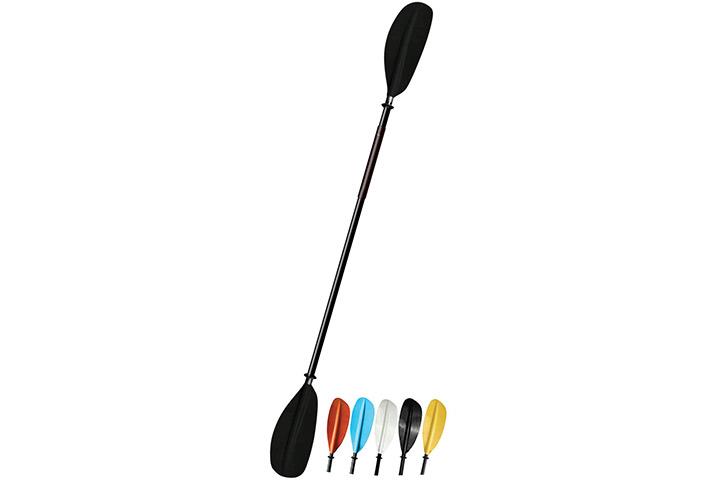 Xgear kayak paddle is made from marine-grade materials with a blade length of 18.5 inches and a width of 7.5 inches. The paddle's two-piece aluminum construction is fit for compact travel and easy storage. The three different locking angles enable you to adjust the feathering angle between 0 to 60°.
An enforced push-button connection makes it a perfect fit for right and left-hand operations. The drip rings prevent the water from splashing and keeps your hands dry. The paddle comes in five colors and two sizes.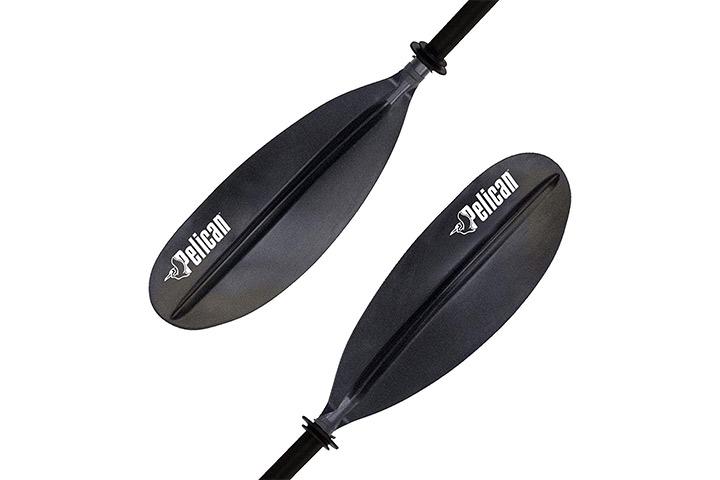 The Pelican paddle consists of two sturdy pieces, an anodized aluminum shaft and polypropylene blades that provide maximum resistance. The drip rings keep your hands dry and offer a firm grip. The blades can be adjusted from an angle of 0 to 60° to give more stability and control to the paddle. The tough and lightweight paddle is ideal for recreational kayaking.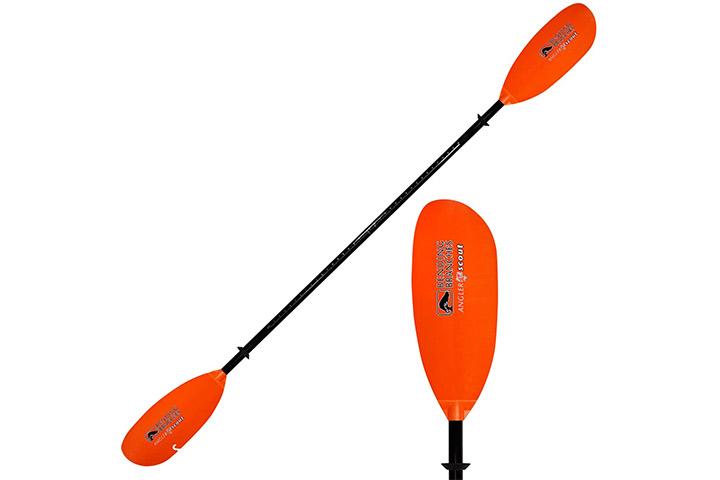 Bending Branches Angler Scout Kayak Paddle is massively built and made from super-strong materials. The blades are made from epX engineered polymer and reinforced fiberglass. The bright orange color of the blade allows more visibility.
The strong aluminum shaft and the ovalized oar provide extra comfort. The paddle can be separated into two pieces for easy transportation and storage. An inbuilt hook retrieval system makes the paddle an ideal option for fishing.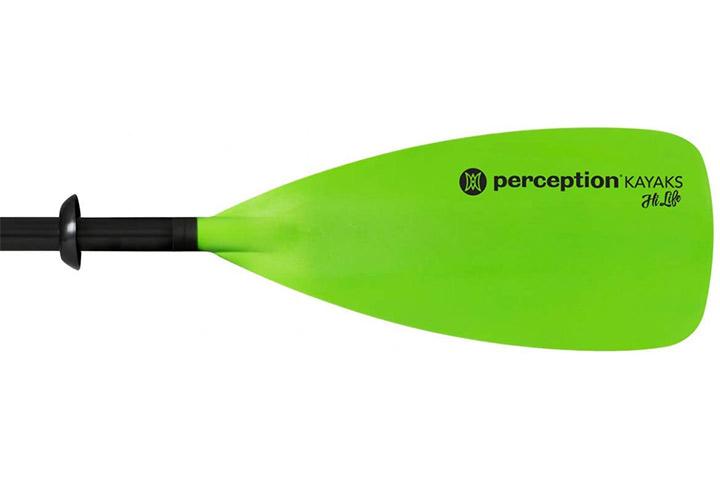 The aluminum shaft and fiberglass reinforced polypro blades offer the paddle durability and stability. The lightweight paddle is designed for performance and features a push-button ferrule, which helps adjust its length. The three-piece design allows for easy conversion between kayak or SUP style paddle. The kayak has a fixed grip on one side, and the two-blade settings can be adjusted from 74 inches to 80 inches.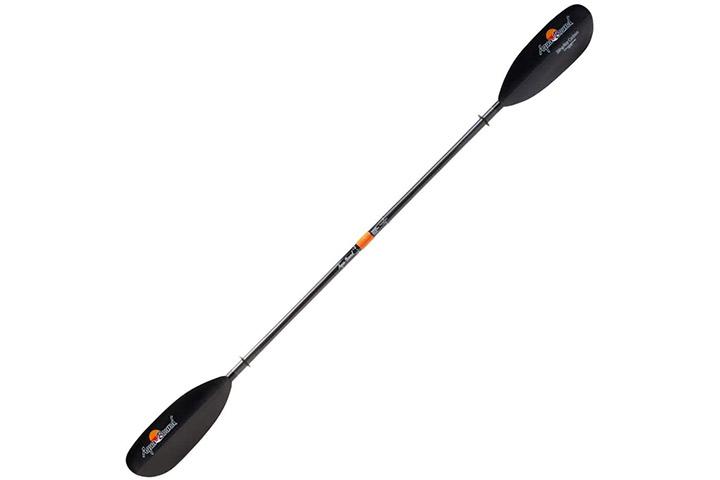 Carbon-reinforced nylon injection-molded construction of the kayak paddle gives it extra stiffness and strength. The medium-sized blade is lightweight and durable. The ovalized paddle shaft is made from 100% strong carbon fiber that provides a comfortable grip. The design is patented and is easy to use and clean.
The paddle can be adjusted to 15°, separated into two parts with the help of a posi-lock ferrule. The drip rings on both sides help to keep your hands dry and allow a firm grip.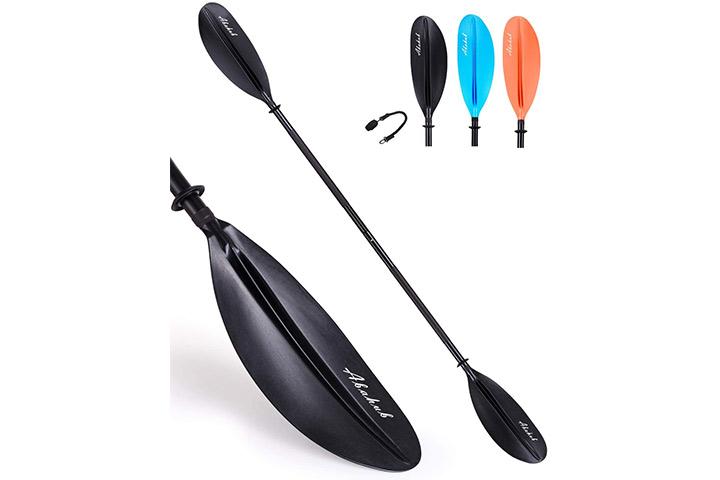 The shaft is made from superior quality aluminum alloy and fiberglass-reinforced polypropylene blades; this kayak offers durability. It is corrosion- and impact-resistant. The kayak paddle is ideal for beginners and intermediate level kayakers. It can be detached into two sections and has three locking positions that reduce wind resistance and offer a better grip.
The asymmetrical blades measure 18inches or 45.72 cm x 6.5inches or 16.51 cm. Abahub paddle works well for both long-distance and casual paddling. The feathered blades are lightweight and come with a hollow spine for reinforcement. The oar measures 90.5 inches in length. The kayak paddle comes with a free bungee leash that helps secure the paddle to kayak. Two drip rings minimize water flow during paddling so that we don't get wet.
How To Choose The Right Kayak Paddles?
Here are some essential aspects you must consider to choose the right type of paddle for your needs.
Size: Kayak paddles are available in different lengths, varying from 210 to 260cm. Your kayak width and your height determine your paddle length. The difference in the paddle's length and width determine how efficiently you can handle the paddle.
A wider kayak requires a long paddle. In the case of a sea kayak, the paddle needs to be shorter. You should consider your kayak's width, height, and whether you are a high or low-angle paddler before picking the best kayak paddle.
Blade and shaft type: Double-bladed paddles make an ideal choice. The paddle blades are made from various materials, including plastic blends or polymers infused with fiberglass nylon. Nylon or plastic blades are lighter and affordable compared to fiberglass blades. Carbon-fiber blades are ultralight and durable but are very expensive.
You should also consider the shape of blades as they impact the overall paddling performance. Blades come in two shapes: short flat blades and long skinny blades. Short flat blades require instant power to stop or steer and are suitable for high angle paddling, while long skinny blades are ideal for deep waters and low angle paddling. 
Shaft design options: The shaft is a part of the blade that extends between both blades, allows us to control the paddle, and enables different strokes. Shafts come in different designs that are discussed next.
Straight and bent shafts: Straight shafts are affordable and suitable for powerful strokes. Bent shafts are expensive but provide a natural grip and do not put too much strain on your hands and wrists.
Feathering: The feather of your paddle refers to the angle your blades are offset from one another. Feathering increases the paddle's efficiency and provides comfort. Some paddles come with blade offsetting, which is helpful in windy conditions. You can choose from feathered and matched blades depending on your hand rotation while stroking.
One-piece, two-piece, and four pieces: A single-piece set comes with a firm shaft and is lightweight, making it suitable for regular kayakers. The standard paddle comes in 2 pieces. The four-piece set can be broken down further into smaller sizes. A four-piece set is an ideal option if you want to save space with more kayakers on board.
The diameter and length adjustability of the shaft should also be considered. Standard shaft diameters are ideal in general. Smaller shaft diameters are best suited for kayakers with smaller hands. It is also recommended to go for paddle shafts with a 15cm length adjustment, which is useful for paddlers with different built and can be used on kayaks of different widths.
Kayak design: The kayak design plays an important role in the performance of the paddle. If the kayak is wide, a longer paddle is required for proper balance. A taller person with a narrow kayak and a shorter person with a wider kayak will need the same paddle length. Solo kayaks require short paddles than tandem kayaks.
Body stature: Torso length is an essential factor in determining the best and the most suitable size that will work for the kayak paddle. There are various charts available that will help you measure the torso height and preferred paddle length. High angle style and low angle style is calculated according to the torso height.
Type of water: The type and nature of water should also be considered before picking up the right kayak paddle. Listed below are the types of water people like to go for kayaking:
Lakes and rivers: Touring kayak paddles are best for kayaking in lakes and rivers. A recreational paddle is suitable for shore exploration, exercise, short kayaking, and fishing. These paddles are inexpensive and durable. 
You should consider the paddle's strength and durability as you may hit rocks, gravel, or sand in lakes and rivers. A wider blade is more suitable if the water is shallow with several obstacles.
Sea touring or flowing water: A lightweight paddle is suitable when you kayak in flowing waters. Touring and performance kayak paddles are ideal for long kayaking as they are lightweight and prevent fatigue. Most kayakers prefer responsive paddles with carbon shafts that reduce the weight during kayaking.
Fiberglass blades or compression molded carbon are lightweight and provide powerful strokes. For sore shoulders, carbon composite blades or lightweight paddle with fiberglass are suitable.
Whitewater rafting: Whitewater paddles are durable and efficient. Whitewater shafts are made from fiberglass or carbon and provide the strength required to kayak in whitewater streams. The challenging whitewater requires kayak paddles that have robust built.
Kayak paddles may look simple but choosing the right one is not an easy task. You should consider all the factors we have listed in this post before choosing the right kayak paddle. We hope our list of the best kayak paddles will help you make an informed choice.
Recommended Articles: