Does your child enjoy birdwatching, going on treks, or exploring nature and the wilderness? Does he like playing the spy occasionally? Then they may be happy to use binoculars to get a better view of the world from a distance. A good pair of binoculars gives them the opportunity to see nature up close and have a perspective of what happens in the wild.
There is a wide range of kid-friendly binoculars that provide enough magnification for exploration, without causing any strain on the eyes. Here, MomJunction gives you a list of the best binoculars for kids, along with a buying guide to help you choose the right pair.
15 Best Binoculars For Kids
Designed with little explorers in mind, these kid-sized binoculars are built tough to last for years. They need no batteries and could be carried anywhere to the park or beach. They are suitable for kids aged from three to six.
Features
Large and super comfortable eyes
Focus-free 2x magnification
Convenient neck strap
Easy-placement goggles
Measures 7 x 5.8 x 2.8in and weighs 8.5oz
Supports STEM learning
The Dreaminngbox's versatile binoculars are known for their safety feature, the improved shockproof rubber armor that protects both the lens and the eyes. The ergonomic design offers a good grip to hold and is suitable for bird watching, hunting, boat rides, traveling, and hiking.
Features
FMC (fully multicoated) prism green optics
2° viewing angle
Multilayer broadband coating
8x magnification
Central focus wheel
Easily adjustable to match the eye distance gap
Measures 3.9 x 2.8 x 1.2in and weighs 6.4oz
Kidwinz is a pioneer in producing children's binoculars with real optics. These binoculars are sturdy and have shockproof rubber coating to withstand the falls and drops. The extra rubber coating also protects the eyepieces and lens from damage. It offers a lifetime warranty.
Features
Two-foot long neck strap and carrying case for easy portability
8x magnification gives a clear view
High-quality prism for accurate and sharp images
Multilayer film
Measures 4.9 x 4.2 x 2.3in and weighs 10.4oz
Suitable for kids aged from three to 12
These mini, compact binoculars for kids are available in seven different colors of blue, black, yellow, green, red, purple, and orange. They are ergonomically designed to fit into small hands but are powerful enough to focus the leaves of a tree at a distance of 122ft/ 1000 yards.
Features
Rubber surrounded eyepieces for eye protection
The exterior, made from polycarbonate plastic and rubber, acts as a shock absorber
Adjustable diopter to match the eye distance gap
8x magnification offers a crystal clear view
BAK4 FMC prism glass and coating could control optical reflection
Non-slip grip
The POLDR small pocket binoculars are lightweight and worth carrying anywhere. The focus of these foldable binoculars can be adjusted using the center-focusing wheel and right eye lens. They could be used for concerts, opera, theater, shows, plays, camping, hiking, bird watching, sports events, and more.
Features
BAK4 prism that reflects the light up to 100% showing a clear image
12x magnification and an objective lens diameter of 25mm
Focuses the field view up to 126ft/1000 yards
Body is made from magnesium and hand figured polishing
Measures 4.4 x 3.2 x 2.2in and weighs 7.2oz
This is a beautifully packaged 9-in-1 explorer gift set with brightly colored tools that would excite your child. The binoculars, self-energizing flashlight, handheld fan, magnifying glass, whistle, and thermometer are kept in a unique case with a lock mechanism.
Features
4x30mm binocular lens made from shockproof rubber for comfort
Neck strap for easy carrying
Pocket-size magnifying lens to study insects closely
Battery operated handheld fan with soft wings
Compass reads maps, flashlight for a quick light
Hontry binoculars feature a sturdy build due to their rubber armor casing and could be one of the best waterproof binoculars for children. The easily adjustable center focus gives you a clear view. They are suitable for bird watching, camping, sporting events, traveling, theatre, and concerts.
Features
10x magnification with 25mm objective lens
Produces high definition images at 362ft/1000 yards
Multicoated optics for a brighter view and sharp image
Ergonomic design with a steady grip
Rugged construction, and comfortable for those who wear spectacles
Dioptic adjustable ring, and a strap mount
Built to work for little hands, the Thinkpeak Toys binoculars are easy to hold, focus, and use. They feature shockproof rubber coating and anti-friction technology with high-quality optics and BAK4 prism for colorful and crisp images.
Features
Rubber surrounded eyepieces are safe for eyes
Diopter adjustment to adjust the distance between the eyes
Neck strap included for security
8x magnification that makes the object appear closer
Operation manual included
Recommended for children aged three and above
The Bry&BVL mini binoculars for children are made from special engineering plastic. Built with waterproof and shock-resistant rubber coating, they withstand the wear and tear of outdoor activities. The wide-field vision is good for protecting the eyes from strain. They are available in five different colors.
Features
22mm objective lens diameter and 8x magnification
High-resolution images up to a distance of 403ft/1093 yards
Clear and sharp view for bird watching, camping, hunting, hiking, fishing, and stargazing
Soft rubberized eyepieces for protecting the eyes
Neck strap that prevents dropping
Measures 3.2 x 4.1 x 1.6in and weighs 6.4oz
The sturdy and hard-to-break binoculars for kids can be held easily to observe the distant target. The quality is similar to that of adult binoculars, but it has a kid-friendly size and design. The powerful magnification is suitable for birdwatching, camping, hunting, sky watching, hiking, sports, and theatre.
Features
Sleek design that is easy-to-hold
Lightweight and comfortable to carry
Range of viewing the images at 380ft/100 yards
Porro prism construction and bak-7 prism material for a clear vision
Optical lenses have piano lacquer finish for clarity
Foldable and adjustable binocular for accurate focusing
BlueCabi binoculars are made with durable and shockproof material, which protects from drops and falls. It comes with a carry bag, cleaning cloth, and a neck strap. It is available in three color combinations – red/black, blue/black, and purple/black.
Features
6 x 21 durable binoculars with a rubber coating
6x magnification with an objective lens diameter of 21mm
Lenses and prisms are made of optical glass
Foldable to match eye to eye distance
Adjustable wheel for a clear view
Measures 5 x 4.2 x 2.2in and weighs 10.4oz
Chuchik binoculars include a robust rubber construction that lasts long. The package has a neck strap which could be comfortable to carry when going outdoors. They are suitable for both indoor and outdoor activities such as camping, concerts, sporting, hunting, fishing, bird watching, and more.
Features
High-quality BAK-7 lenses for a clear view
10x magnification
Measures 3.9 x 3.2 x 1.6in and weighs 6.1oz
Small and portable
Includes original bird guide
Suitable binoculars for children aged three years and above, the binoculars are made with a durable plastic casing and have a shockproof rubber eye guard to protect the eyes and lenses. They could be used for bird watching, hiking, hunting, outdoor science experiments, and more.
Features
View up to ten football fields away
High-resolution lens of 8x magnification
Protection wrist strap
Pouch and hook for wearing on a belt
Available in black color that looks like an adult version
Measures 4.4 x 3.2 x 2in and weighs 6.7oz
Brainplay binoculars are known for their sharpness, clarity, contrast, and color fidelity, which resemble the professional-grade binoculars. The center focus knob brings the view close with a little force, and the right eye parallax wheel is easily adjustable.
Features
8x magnifying lens and 21mm objective lens diameter
FMC Green multicoated optics
Easily adjustable focus wheel
View up to 1000 yards distance
Foldable binoculars that easily fit into the pocket
Carrying case with belt loop and neck strap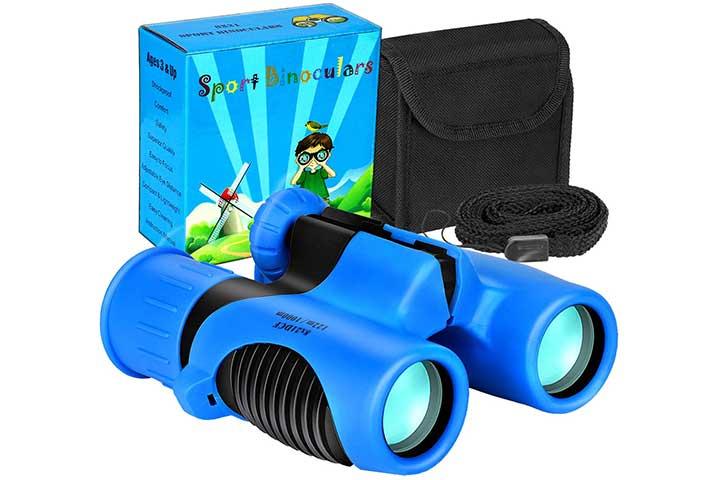 This could be one of the best mini binoculars with shockproof rubber coating and anti-friction properties, making them apt for kids. They have a safe and compact design that is easy-to-fit in the little hands. They come with a neck strap, protective storage case, and microfiber cloth, and are available in both blue and green colors.
Features
Non-slip, scratch-resistant ABS (Acrylonitrile butadiene styrene) environmental rubber
FMC prism green optics that control optical reflection
Foldable to match eye to eye distance
Broadband blue film-protective lens
8x magnifying lens with 21mm objective diameter
Measures 4.8 x 4.7 x 2.2in and weighs 8.5oz
How To Choose The Right Binoculars For Children?
Following is a checklist of features you may consider while buying a pair of binoculars for your child.
Weight: Consider lightweight binoculars so that your child can easily carry or hold while on outdoor activities. Moreover, heavy ones cause a strain in the neck.
Size: Your child should be able to wrap their hands comfortably around the binoculars to reach the knobs.
Magnification: Your child should be able to see clear images, and distorted or blurry is no fun. Look for the levels somewhere between 6x and 10x as they give useful magnification.
Durability: Go for the one that has shockproof protection and rubber casings as they could withstand sudden drops and falls.
Type: Consider buying the type that suits your child's intelligence, interest level, and age. Some are just for fun play, while some have limited functionality, and others are real like adult binoculars.
Is There An Age Restriction For Binoculars?
Binoculars are recommended for children aged three and above. Younger children might remove things apart and put them in their mouth, which may cause choking and other safety concerns. Also, younger kids may not be able to understand the purpose of the binoculars or how to use them well.
Binoculars can make your child's outdoor adventure more interesting. They help them to explore and learn about nature from a safe distance, without disturbing the wildlife. They also get to watch the action up close when at a theater, or a sporting event, or a concert. If you are planning to buy one for your kid, you should be considering their specifications, and then decide upon the best product.
Recommended Articles: