As children grow, they need their own room with a bed and their own space to study and play. A functional desk in a child's room nurtures creativity and motivates them to try various activities, including painting, reading, and studying. It also helps your child to be organized and responsible for their stuff.
With many choices available, it may be tricky to choose the best one for your child. We have compiled some of the best kids desks in this post to help you make an informed decision.
17 Best Kids' Desks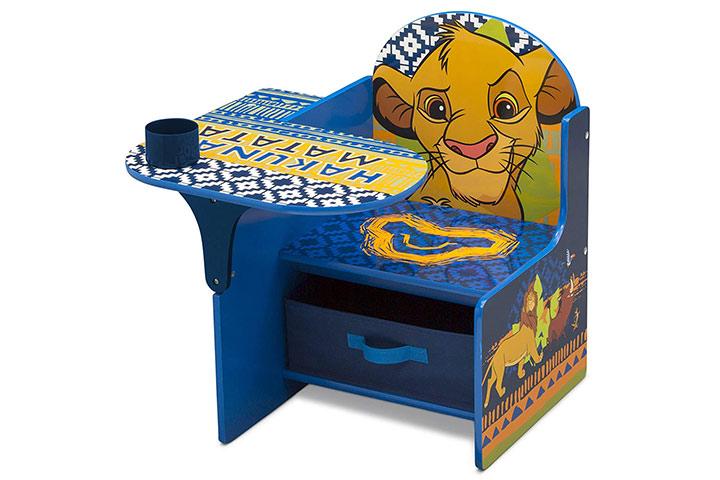 The colorful kids' desk chair can be an ideal spot for playtime, craft, study, and homework. You can choose from some creative graphics, including the lion king, mickey mouse, princess, ninja turtles, and more. The table has a sturdy body that is easy to clean and a storage bin at the bottom to store personal belongings.
Features
Can hold up to 50lb weight
Kid-friendly low seating design
Scratch-resistant, safe, and durable
In-built cup holder
Suitable for children aged three years and above
Specifications
Dimensions: 20.47×22.83×2.23in
Weight: 19.62lb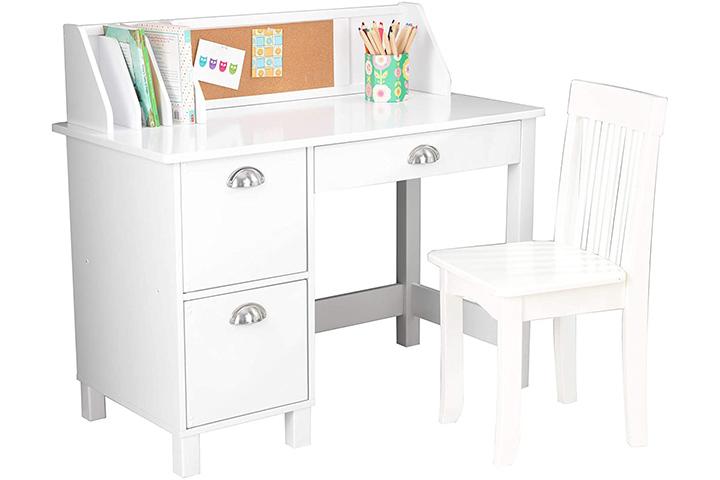 The sturdy and functional kids' desk and chair set from KidKraft can make a great addition to your child's room. It has multiple storage cabinets to keep art and craft and study materials organized. Your child can comfortably sit on the elegant and sturdy desk and make learning a fun experience.
Features
Made of composite wood materials
One storage drawer and two deep cabinets
Includes a cork bulletin board
Has oak furniture finish
Versatile and long-lasting
Specifications
Dimensions: 35.75×18.25in (Desk), 13.25×13.25×26.75in (Chair)
Weight: 48.5lb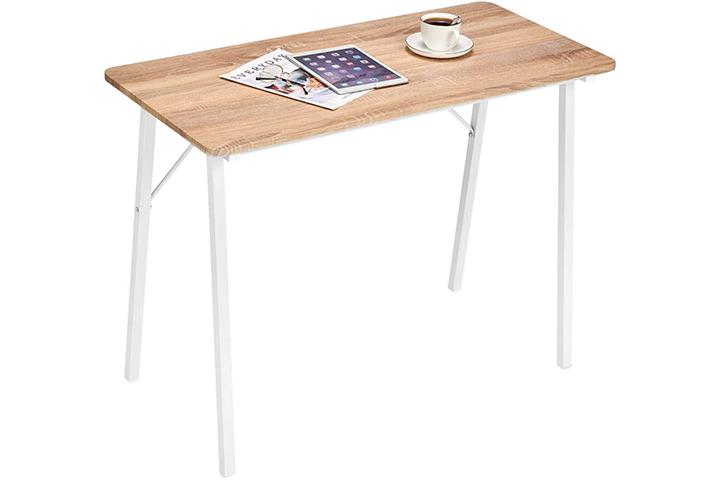 The Coavas writing desk has a simple space-saving design, which is available in four different colors. Its tabletop is made of wood and has a strong metal frame. You can use it as an activity desk or computer table and keep it anywhere in the house. The versatile design makes it a convenient desk for growing children.
Features
Durable and sturdy
Melamine top with a waterproof grain finish
Four metal legs in two shapes
Easy to clean, maintain, and assemble
Supports up to 110lb weight
Lightweight and multipurpose
Specifications
Dimensions: 39.4×18.9×29.1in
Weight: 20.4lb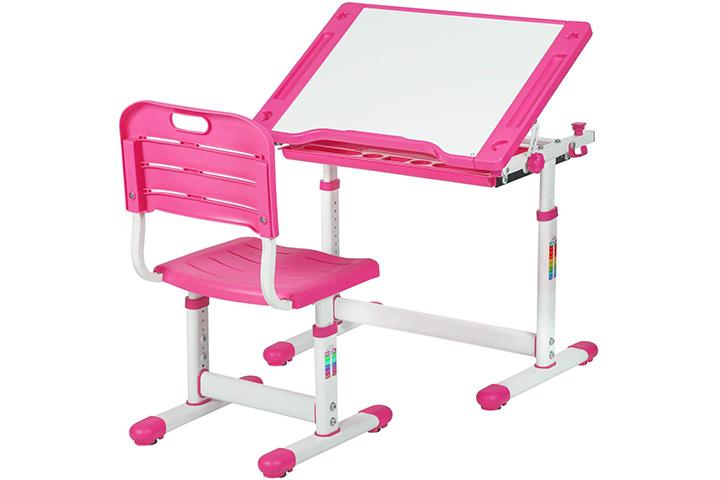 The functional and adjustable kids' desk and chair set from FDW is designed to let your child sit in an upright position when studying or drawing. It protects the spine and reduces the chances of eye fatigue. The desk is available in blue and pink and will serve the purpose for your growing child for years to come. It also has an anti-fall stopper to prevent things from falling off the desk.
Features
Made of high-quality MDF board
Steel frame for stability and durability
Ventilation groove for a good flow of air
Cubby under the desk to store things
Can be titled from 0° to 40° angle for convenience
Side hook for hanging school bag
Easy to assemble and multifunctional
Recommended for children aged between three and 15 years
Specifications
Dimensions: 28x21x7in (when packed)
Weight: 29lb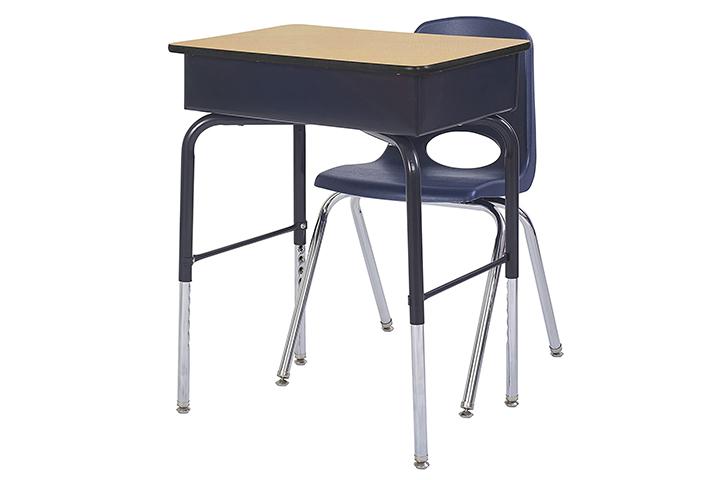 The classic kids' desk with storage and a large work surface has built-in grooves to prevent things from rolling out. Its generous storage space allows organizing school supplies with ease, and its adjustable legs can accommodate growing children. You can pick from maple or black finished top with black colored legs so that your child can read, study, or indulge in his hobbies.
Features
Made of laminate and steel
Has sleek chrome legs with one-inch increments
Crisscross tubular frame for better support
Versatile and stable
Tested for safety
Easy to clean with soap and mild water
Specifications
Dimensions: 18x24x24-30.5in
Weight: 20lb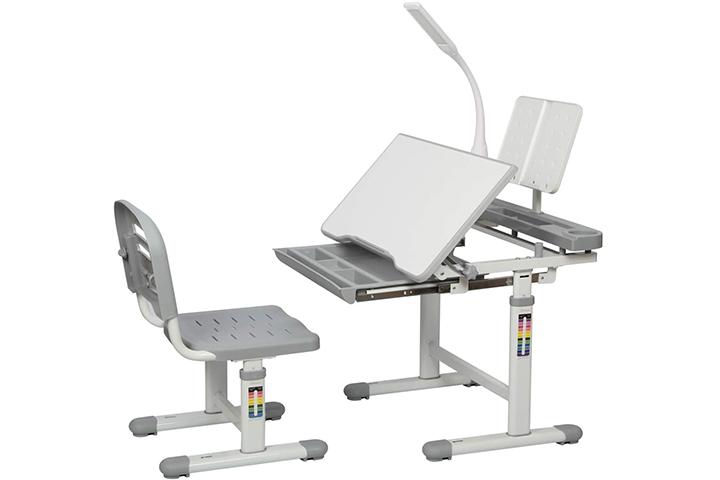 A set of modern desk and chair from Diroan has an adjustable height feature, making it a convenient pick for a growing child. Its ergonomic design lets you sit in the right posture without stressing your neck or spine. You can adjust its height as per the convenience and enjoy its comfort for years. It also provides light at the right angles to prevent visual damage.
Features
Made of high-quality steel and MDF
Load-bearing capacity of 190lb
Rubber pads prevent damages
Rotatable book stand and detachable LED table lamp
Suitable for children aged between three and 15 years
Can tilt from 0° to 40° angle
Anti-pinch stoppers included
Specifications
Dimensions: 17.3×23.3×21.3-30in (Desk), 15x15x21.3-30in (Chair)
Weight: 38.3lb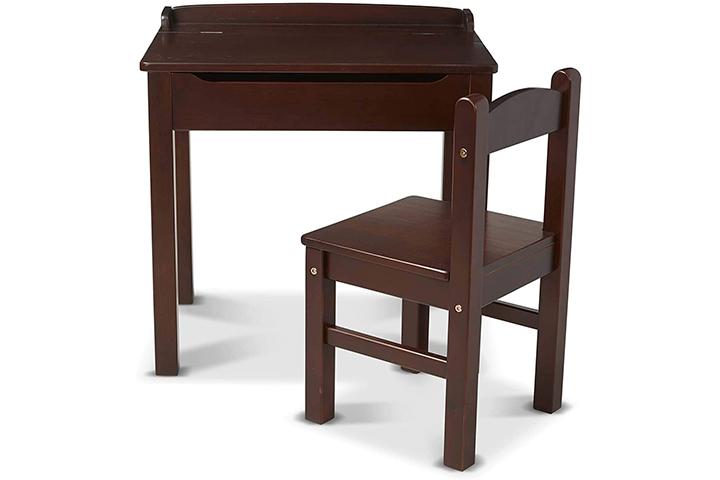 The simple design of the Melissa & Doug desk and chair provides comfort and can be placed anywhere in the house. It is made from high-quality wood and has an espresso finish, which blends with any décor. The sturdy and safe design is easy to assemble, making it one of the best choices for studying or doing artwork.
Features
Creative and versatile
Has a safety-hinged lid and reinforced legs
Strong and sturdy body
Ideal for children aged between three and eight years
Specifications
Dimensions: 16.15×23.6×23.25in
Weight: 19.5lb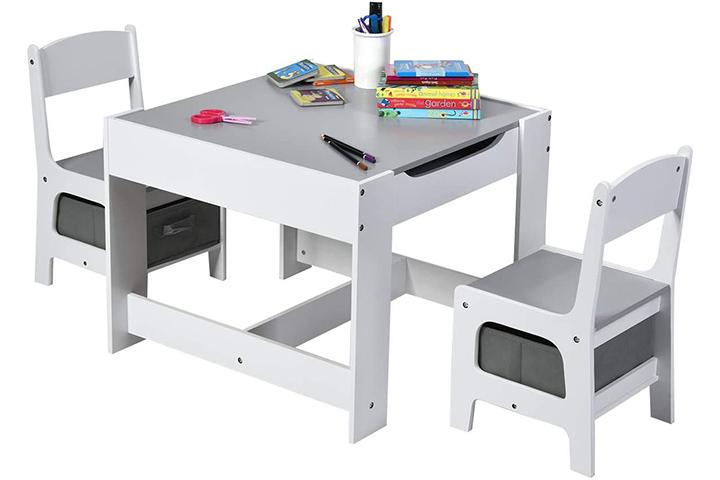 The Costzon three-in-one set has two kids' chairs and a desk, a unique blend of practicality and comfort. It is available in two colors, white and gray, natural and orange, and can be used to read, play, and write. The table and chairs have built-in storage boxes to help organize toys, books, and other stuff. Its ergonomic design doesn't strain the child's neck or back and lets them sit conveniently.
Features
Made of premium MDF board
Multiple storage spaces for better organization
Suitable for children aged between three and seven years
Middle footrest for comfort
Compact and kid-friendly design
Detachable desktop and easy-to-clean surfaces
Specifications
Dimensions: 24.5×24.5x19in (Table), 12×11.5x21in (Chair)
Weight: 21.5lb (Table), 6.5lb (Chair)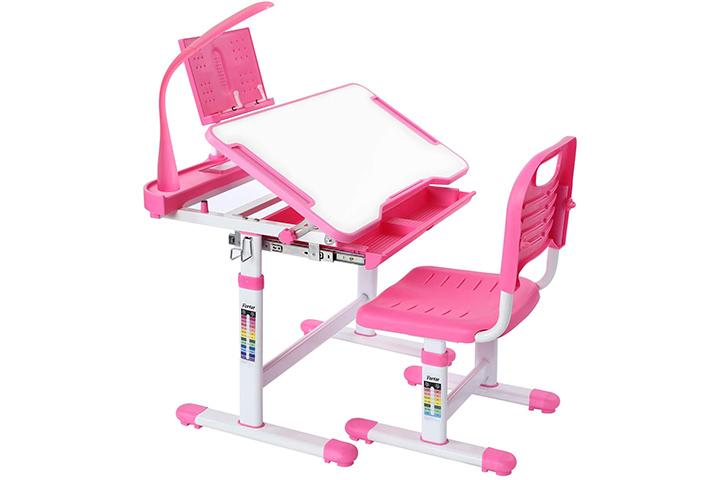 The Forfar Kids' desk and chair set is attractive and has storage compartments for added convenience. The height of the chair and table can be adjusted as per the growing needs of the child. Its ergonomic design promotes the right posture and prevents eye problems. You can even tilt it to different angles for reading, painting, or writing as per your comfort.
Features
Made of premium and eco-friendly MDF E1 board
Can tilt between 0° and 45° angle
Non-slip padding adds on to the stability
Allows height adjustments
Comes with a book stand
High-quality steel frame for strength
Large storage compartment for stationery
Specifications
Dimensions: 27.5×14.9in (desktop)
Weight: 31.9lb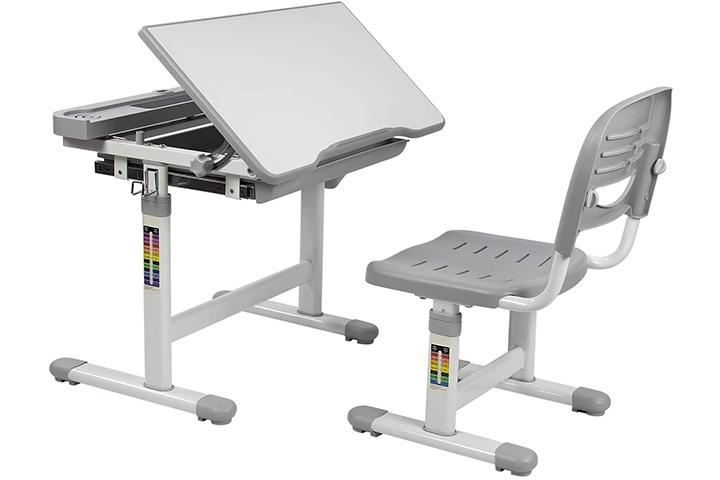 The superior quality kids' chair and desk are designed for the child's safety and comfort. The set's modern and sturdy body can be adjusted as per the growing height of your child. You can tilt the desktop as per your convenience and do not slouch when reading or writing. It also has ventilation holes to allow air circulation and storage space to keep you organized.
Features
Made of ABS+PP plastic, MDF, and steel frames
Offers height adjustment of around 9in
Desktop can be tilted between 0° and 40° angle
Under desk storage and rubber safety stops
Cup holder and a bag hook included
Specifications
Dimensions: 26×19.4in (desktop)
Weight: 36.9lb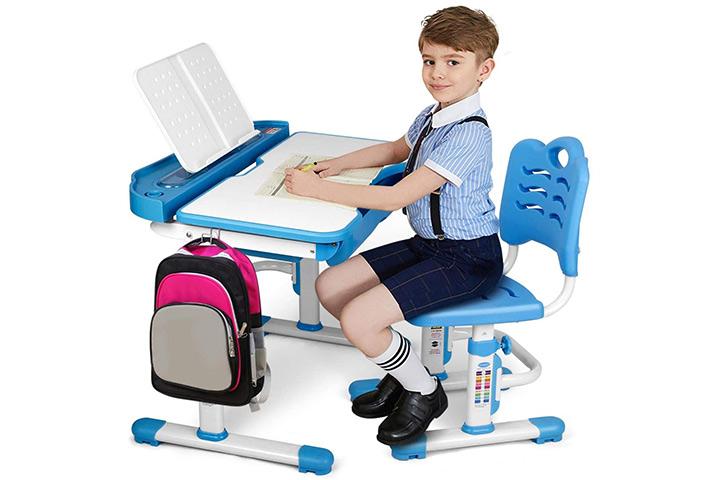 Equipped with height adjustment, this durable set of kids' desk and chair makes a perfect workplace to read, write, or paint. Its sturdy table has a pull out drawer to store stationery and essentials and can hold up to 165lb of weight. It can be assembled easily and quickly as per convenience to let the child study with focus.
Features
Made of durable plastic and cold-rolled steel frame
Double padded backrest
Ergonomic design to promote healthy sitting posture
Rubber safety stops to protect from pinching
Allows 14 tabletop positions and seven-seat positions
Desktop can tilt up to 55° angle
Designed for children aged between three and 18 years
Specifications
Dimensions: 28x22in
Weight: 41.2lb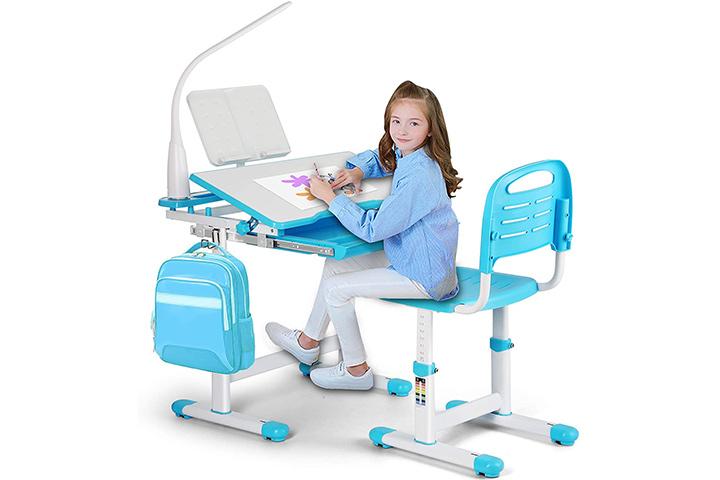 Doing homework can be more fun on this set of kids' desk and chair from Artist Hand. The chair and table can be adjusted as per your growing child's requirements. It can be installed easily and quickly and is safe and durable for your child between three and 12 years of age.
Features
Made of MDF panels and steel frames
Equipped with three-speed adjustable lamp
Allows tilt adjustments between 0 to 40°
Spacious pull out drawer
Steel hook on the side and breathable seat
Stable and durable design
Bookstand and brightness lamp included
Specifications
Dimensions: 26x19in (Desktop)
Weight: 29lb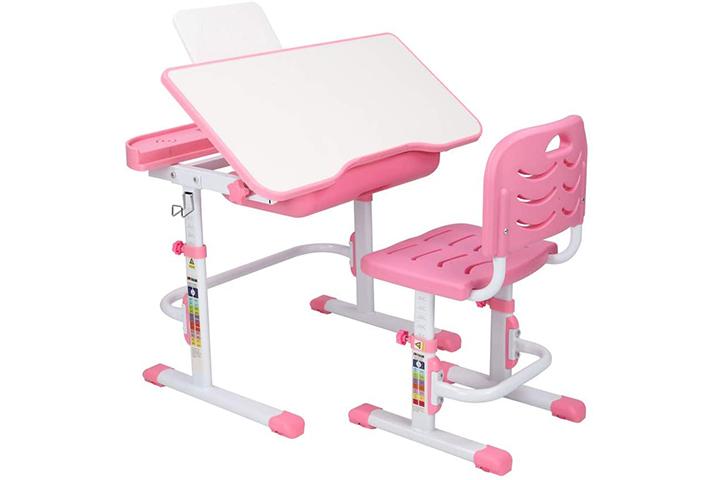 The Joymor chair and desk set is available in pink, blue, and grey. Its multifunctional workstation for children with an extra-wide desktop makes it an ideal desk to read, write, and paint. The chair and table's height can be adjusted as per needs, and its ergonomic design offers comfort and convenience to your child. The desktop and the reading stand are at a distance to protect eyes from visual damage.
Features
Made of E1 MDF, PP, and steel frame
Wide range tilt up to 60° angle
Hook to hang a bag and a cup holder included
Pull-out drawer for storage
Double-layered seat back and embedded pen holder
Ideal for children between three and 12 years of age
Specifications
Dimensions: 31.5×0.5in (Desktop)
Weight: 37lb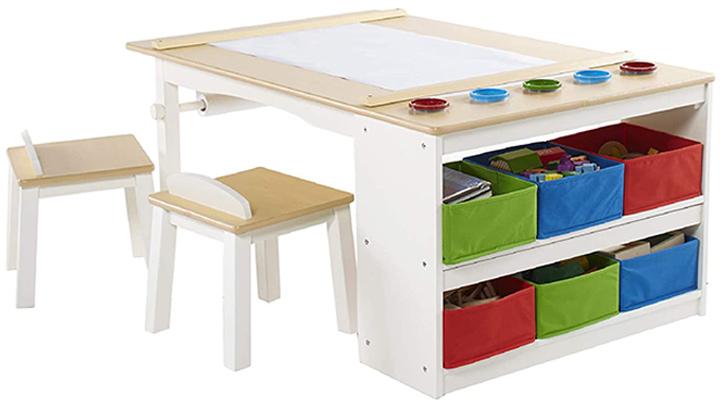 A complete art center for two, the Guidecraft kids' set has a generous tabletop and a unique cutout to store paper rolls in a tidy manner. It has two stools that can be put under the table when not in use. The unique kids' desk is designed with large shelves with fabric storage bins for plenty of storage and to suit a variety of art and activity needs of your little one.
Features
Elegant, safe, and multipurpose
Made of wood with a UV polyurethane finish
Sectioned storage space
Replaceable paper roll
Six fabric bins and six cups included
Strong and durable body
Specifications
Dimensions: 44x30x21in
Weight: 47lb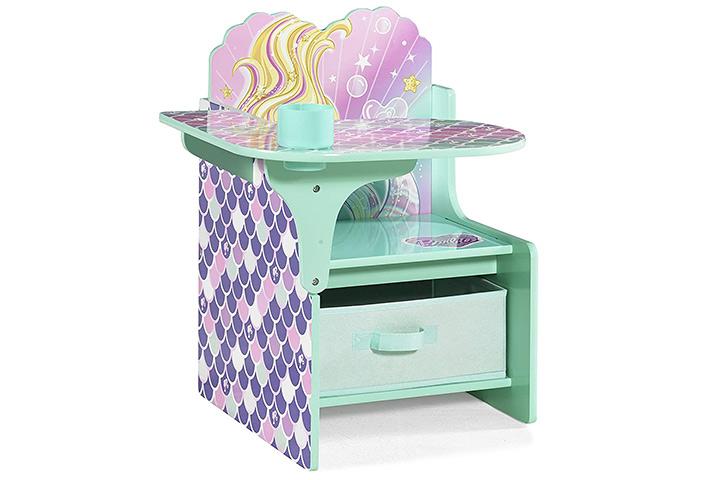 This creatively designed kids' desk with a Barbie Mermaid theme can be the right choice for your child if they like Barbie dolls. Your child can enjoy studying and other activity sessions in a playful mood on this fancy desk with an inbuilt chair with a scallop shell pattern on the back.
Features
Made of engineered wood, plastic, and fabric
Storage bin and cup holder included
Designed to hold up to 50lb weight
Easy to clean with a damp cloth
Convenient and quick to assemble
Suitable for children aged three years and above
Specifications
Dimensions: 20.1×22.8x24in
Weight: 18.7lb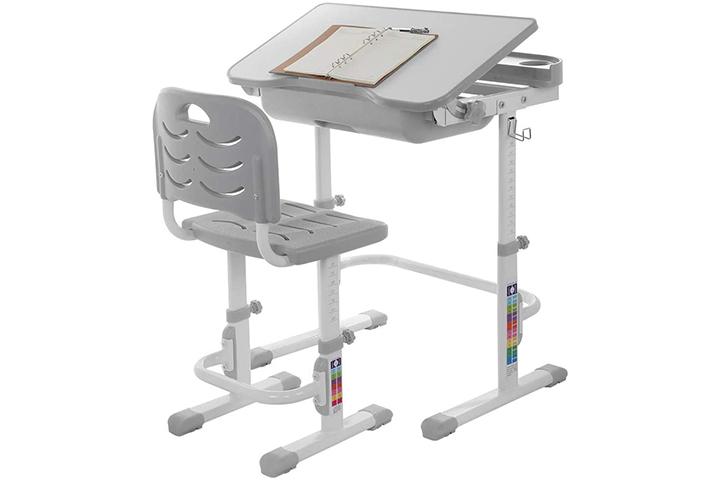 Designed for children between the ages of three and 15, the unique set of desk and chair from Sallymonday has anti-slip legs for safety. You can adjust its height for better comfort and correct sitting posture. Make your child's learning and activity time more fun with this kids' desk that has rounded corners and an anti-pinch safety design.
Features
Made of MDF panels and steel frames
Adjustable desk height from 20.4 to 30.3in
Tabletop can tilt from 0° to 40° angle
Pull-out storage for stationery
Steel hook to hang a bag
Easy to install
Convenient to clean
Specifications
Dimensions: 27.6×19.7×20.5-29in (Table)
Weight: 35.2lb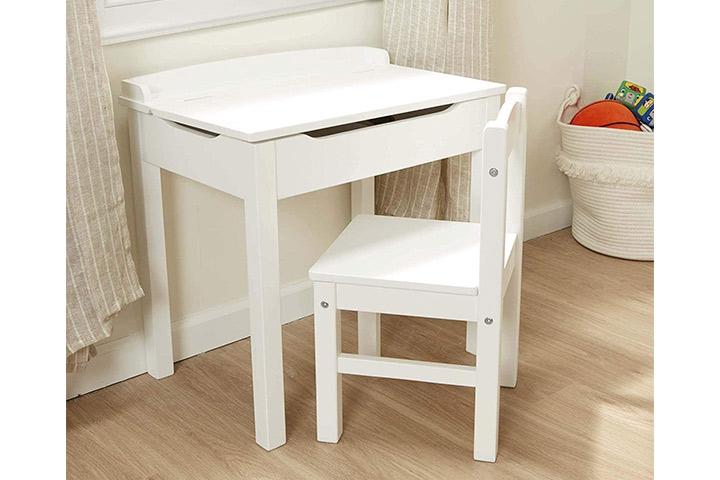 The Thinktoo comfortable and stylish study set comprising a table and chair is functional and looks elegant. Designed to play board games, eat snacks, do homework or artwork, it is an ideal ensemble for children aged one year and above. The large storage under the tabletop allows the organization of stationery, books, or secret things.
Features
Made of high-quality wood
Easy to assemble
Stable and sturdy body
Rounded corners for safety
Dirt-resistant and easy to clean
Load capacity of 200lb
Specifications
Dimensions: 23.6×15.7×21.7in (Table), 22.4×11.8×11.8in (Chair)
Weight: 26.7lb
How To Choose The Right Kids Desk?
Selecting the best kids' desk can be tricky if you don't know what characteristics to look for. Here is the list of features to help you make the right choice.
Durability: Look for a desk that can withstand rough handling as children may not handle it with care as adults do. Solid wood, plastic, and metal make durable choices of material.
Storage: A functional child's desk offers decent storage space to keep stationery, books, and other supplies in an organized way.
Adjustable height: As the children grow fast, it is better to go with desks that allow height adjustments to suit different needs for comfortable seating.
Incline: Desktops that incline promote better sitting posture and don't hurt the vision. They make a wise pick for children who spend a long time reading, studying, or painting.
Aesthetics: A desk that matches the room's décor can be the most appropriate choice. Look for colors that merge with the existing shade or are decent to gel well with any space.
Versatility: A study desk that can also be used as an activity desk is a better selection. However, the choice also depends on what your child is looking for.
Safety features: Look for desks with rounded ends, rubber guards, and similar features that protect children from injuries.
Frequently Asked Questions
1.   How big a desk do I need for my child?
Ideally, the kids' set comprises a chair and a table. Make your child sit on a chair to ensure their feet touch the ground comfortably when knees are bent at an angle of 90°. If you already have a chair and are only looking for the desk, see that it is 8in above the chair's seat.
2.   How much space do you need between a desk and a wall?
The space between the desk and wall is subjective to the number of electronics required to be plugged behind. In case there are many plugs, three to four inches of space is recommended. And if there are no electronics, you can place the table close to the wall. Ensure to keep a decent gap to prevent the desk from rubbing the wall every time you get up from the chair.
3.   How do I measure a corner desk?
The process of measuring a corner desk is similar to that of measuring a regular desk. You would require an additional measurement, including left length, right length, and depth, to know if one side is more in size than the other.
Children need a proper desk to focus better when they study, read, paint, or do the artwork. It serves as a workstation to keep their stuff and spend hours doing homework or indulging in their hobbies. A good quality desk should not just be functional but also add to the room's aesthetics. Hence you should look for the right features to match the child's requirements. Compare the options above and find the most suitable one for your little one.
Recommended Articles: