While you may enjoy cooking, you may not like getting your clothes dirty. Thus, whether you are a chef or someone learning to cook, you will need the best kitchen aprons to keep your clothes clean and prevent them from smelling like the dish you prepared.
An apron acts as a shield and reduces the chances of your clothes being affected by stains and splatters. Of course, just like any other clothing, stains may not vanish at an instant when it lands on an apron, but your clothes will be safe from such stains.
To help you choose a kitchen apron, we bring you a list of the best ones you can consider. So, keep scrolling and pick the perfect apron.
Top Products From Our List
17 Best Kitchen Aprons
Made of soft-touch polyester, this waterproof bib apron for kitchen comes with an adjustable neck strap to give you a custom fit. Its ties are long enough to wrap around anyone. Two pockets on the front allow you to keep extra stuff such as your cell phone, receipt cards, and meat thermometer. You can wash it in a machine as the fabric is not prone to shrinking. It is available in different colors, so take your pick.
If plain colors do not interest you, maybe this checkered design might catch your eye. The apron is made of pure cotton and available in a variety of color combinations. It comes with long adjustable straps and extra-long ties for a snug fit. It is suitable for both men and women. Additionally, the brand offers to embroider a message or a name on the apron, making it a great gifting option.
Here is another unisex apron that anyone can use. Its black and white pinstripe design is simple and classy. It is made of cotton and polyester and features a large front pocket to keep small items. You can safely wash it in a machine with absolutely no worries about fading or shrinking. Its large neck strap fits most people, while its 40-inch long ties can accommodate the biggest of bellies without any trouble.
This multifunctional apron set comes with professionally hemmed edges and is designed to last longer than most other aprons. Its waist ties are so long that you can tie it from the back to front. It is made of natural polyester fiber and can be used for kitchen work as well as other activities, such as painting and cleaning. It is easy to wash in a machine and resistant to wrinkles and shrinking.
Want to look like a professional chef? Try this classic white apron. When a chef's apron retains its white color, it means that the food has been prepared with care and cleanliness in mind. Also, white does not absorb heat easily, so you may feel less hot in it. Made of ring-spun polyester, it comes with hemmed edges that make it extremely durable. It does not shrink and is washable in a machine.
If simple but beautiful is your style, you might want to have a look at this apron with some elegant designs on it. Inspired from Colmar, in the Northeast of France, these designs are sure to catch the fancy of guests who visit you. This cooking apron is made of cotton and is available in a variety of delicate designs. It is also available in a kitchen set consisting of oven mitts, table linen, and so on. The long waist ties and adjustable neck strap make it suitable for both men and women.
Looking to buy kitchen aprons for men? Well, denim kitchen aprons can make any guy look cool, especially when he knows how to cook a great meal. It comes with a wide front and two large pockets. Its special headphone loop allows you to listen to your favorite music while working in the kitchen without the headphone slipping out. Made of 10oz cotton, it is soft and durable. The double reinforced stitching ensures the apron lasts really long. Its back straps come with a buckle for adjustments.
If you are looking for an inexpensive but functional apron, have a look at this striped apron. This kitchen apron for women is made of cotton canvas and can fit most sizes. It comes with a standard neck strap, a wide front pocket, and a waist string that has to be tied behind. It is available in two color combinations.
Sold by the dozen, this pack of bib aprons is made of spun polyester that is lightweight and breathable. It is designed for use in commercial places and is tough and durable. The natural material is free of harmful chemicals. It comes with hemmed edges, so it lasts a long time. The apron is easily washable in a machine and available in multiple colors.
Not everyone likes long aprons. Some like short aprons. Made of a mixture of polyester and cotton, this half apron reaches only the mid-thigh. It comes with a really wide pocket that is divided into three parts. The stress points come with reinforced stitching for durability, the apron ties are strong and durable, and the neck loop comes with a buckle for easy adjustment.
Unusual designs on aprons are often eye-catching. This kitchen apron is made of cotton and painted with interesting badges. Its neck loop comes with a buckle for easy adjustment, while its long ties allow you to tie it safely at the back or even in the front. It looks different from other aprons and is ideal for the head chef during a backyard party.
Are you a fan of pretty frilly short dresses? If yes, this cute little polka dot apron might interest you. Available in two colors, this apron is made of canvas and comes with a deep pocket in the front and frill detailing at the edges. It also has a bow stitched near the neck strap. Its waist tie is not long enough, and is, therefore, most suited for slim women.
Now, here is an apron with the most unique print you will ever see. It has guidelines for the baking process written on the front of the apron. Since it is printed in reverse, you can easily read it easily by casting a downward glance at the apron while baking. Do not worry about the paint as it does not fade even after multiple washes. The apron is made of unbleached cotton, which makes it sturdy and thick and offers protection to your clothes. Besides, the apron comes with a front pocket and is machine-washable.
A pair of beautifully designed aprons always makes a good gifting option. This set is made with a blend of cotton and linen that makes it soft to touch. It comes with a tie-up lace at the back to adjust the waist length, and the neck strap can be easily adjusted. The two pockets in the front are meant for keeping your ladles when cooking your favorite meal.
This large bib apron stretches from the chest to the knee. Its polyester fiber is soft, comfortable to wear, and free of harmful chemicals. The two front pockets easily hold your little stuff, so you do not have to look around. It is washable in a machine and does not shrink. It can be worn not just when cooking, but also while doing other activities.
Does your child often insist on wearing your apron? Get them one of their own. This pure cotton apron is designed with attractive colors and animal prints. Its neck strap and waist tie allow you to adjust it as per your child's comfort. It also comes with a front pocket to keep small items. It is most suitable for children aged 6 to 12 years. It is washable in a machine, so do not worry about your kids staining it.
It is very common to spill oil or water on your clothes while cooking, and hence, we have this water and oil resistant apron on our list. Its free size suits any body type, and it comes in a set of two aprons. Its simple design makes it suitable for both men and women. The apron comes with a fixed neck loop and is large enough to protect your clothes. When it gets soiled, you can simply put it in the washing machine.
How To Choose The Right Kitchen Apron For Yourself?
When looking for kitchen aprons, consider the following features.
Material: Aprons are available in different materials such as cotton, polyester, and linen. You can make a choice depending on what you need it for. Linen is the most popular option because it dries quickly and is quite resistant to dirt and dust. Cotton is also a good choice because it is soft to touch and comfortable to wear. If you are someone who works a lot with grills and ovens, then you can opt for a leather apron that can keep you safe.
Design: If you glance through the list above, you will see aprons available in a variety of colors and designs. If more than one person would be using the apron, buy one with a gender-neutral color or design.
Pockets: Some aprons come with big pockets, while others come with small ones. And some aprons come with one pocket, while others feature multiple pockets. If you tend to misplace things, look for an apron with pockets, so you can keep whatever you need in it and do not have to go looking for them when cooking.
Price: Lastly, the dealmaker or breaker is the price of the apron. Aprons are priced based on the brand, quality of the material, and extra features that they offer. You can finalize your pick based on your budget.
An apron is worn not only when cooking, but also during other activities like painting and cleaning. Buying a quality apron pays off as it lasts long. The above list contains only the best kitchen aprons available online, and that too, at a reasonable price. We hope the comprehensive list and the few tips help you pick the right apron.
The following two tabs change content below.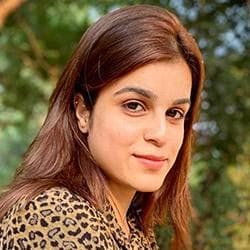 Sakshi John
Sakshi did her graduation in Journalism from the Madras Christian College, Chennai, before starting her career as a freelance writer. She is into blog writing and for MomJunction, she covers various topics, including products to buy for your kitchen, furniture, and other home requirements. Previously, she interned as a content writer in a cyber security firm. As a content writer, Sakshi...
more