A kitchen scale is a must-have product on every kitchen shelf. This device can lend a helping hand in making your favorite dishes at home. While you may think measuring cups work just fine, you may be mistaken. Kitchen scales measure ingredients precisely, and significantly cut down your preparation and cleaning time. Investing in a good kitchen scale is always a great idea, because no matter what you bake or cook, they always end up tasting great.
Kitchen scales come in different sizes, materials, and functions, so you might find yourself in a fix while trying to buy one. We've tried to make this choice easier for you by curating a well-researched list of the 13 best kitchen scales to buy. Read and pick one, and we are sure your next sous chef in the kitchen will be a food scale.
Our Top Picks: 13 Best Kitchen Scales To Buy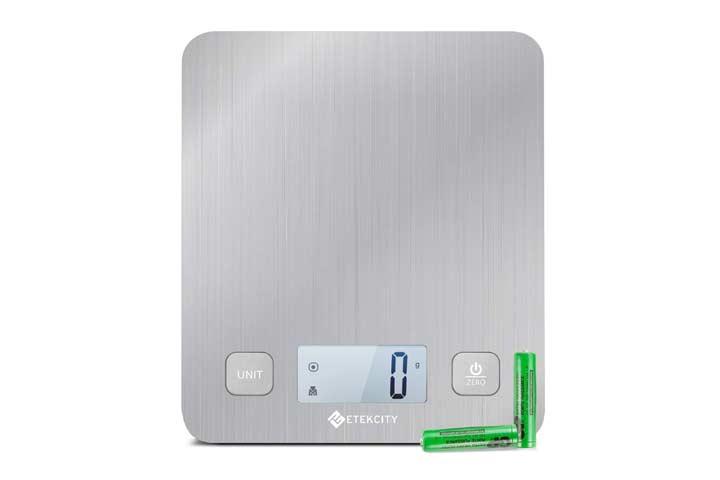 On the top of our list is the stainless steel, digital kitchen scale from Etekcity. It has high precision sensors and liquid measurement technology for accurate readings. Easy to operate, it is equipped with 2 buttons and a wide digital screen that displays weights in 4 different units of measurements (pounds, ounces, grams, and milliliters). Its useful zero/tare function automatically subtracts any bowl or container's weight and calculates the net value. Other functions of this scale include a backlight and an auto shut-down function. It is popular among many for its ultra-compact, low-profile build and the anti-skid pad at the bottom that provides balance and steadiness. The weighing capacity of this scale ranges between 0.1oz and 11 lbs.
Pros:
Stainless steel scale with ABS plastic frame
High precision sensors
Wide digital screen
Comes with auto shut-off function
Compact size
Cons:
Must be placed on a flat surface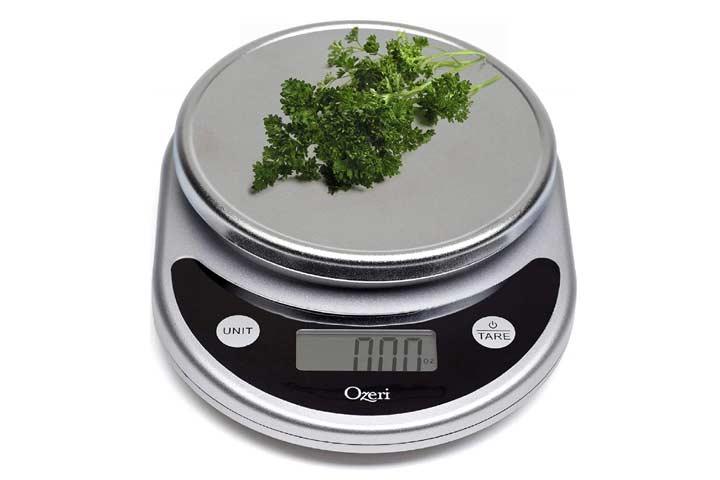 Cooking, baking, or tracking your intake – you can do it all with this multifunction kitchen scale. Easy to use, it comes with a tare button and has an auto shut-off function. This kitchen scale's measuring capacity is between 0.05 oz and 11 lbs and is equipped with a widescreen display. One of its best features is that it easily converts between 5 units of measurements – grams, liters, ounces, milliliters, and pounds + ounces, at the touch of a button.
Pros:
Weighing capacity of 24
Comes with 5 measuring units
Available in 6 different colors
Multipurpose
LCD screen
Cons: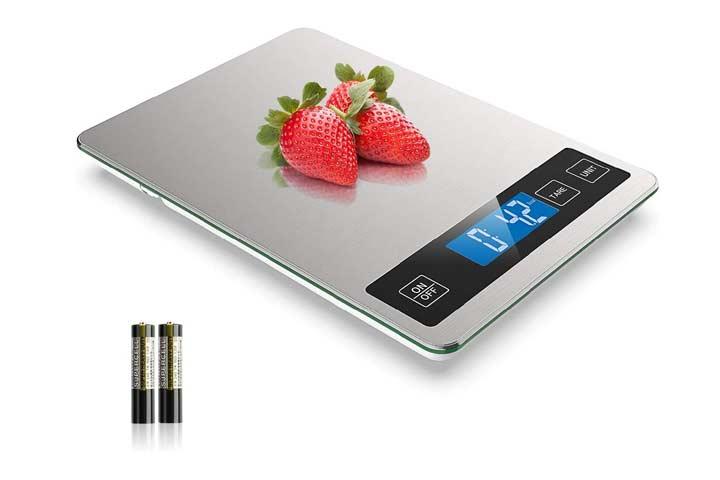 Add a unique and stylish touch to your kitchen with this food scale made of premium quality stainless steel food scale. With 4 built-in, high-precision sensors, it has a weighing capacity from 0.1oz to 22 lbs. 9 x 6.3 inches wide. This scale also comes with a large LCD screen and 5 quick unit conversions. A convenient, easy-to-use device, it has many useful features like touch-sensitive buttons and an auto shut-off system.
Pros:
Comes with 5 measuring units
Touch-sensitive buttons
Special tare function
Stainless steel
Lifetime warranty
Cons:
Cannot weigh food items below 1 kg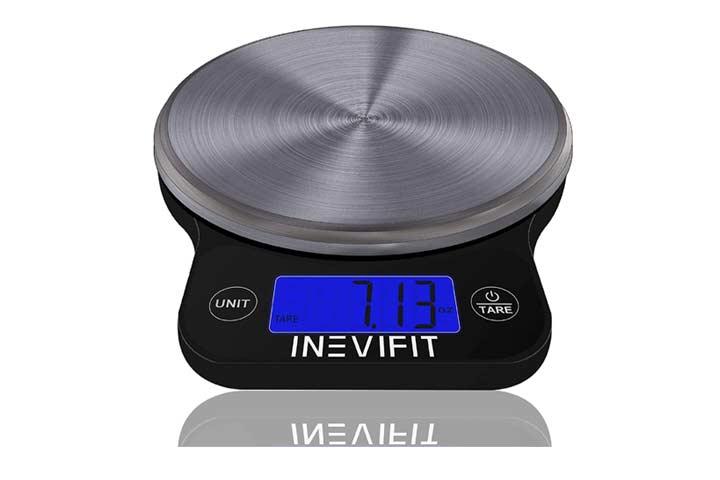 If you're on the hunt for a convenient and hassle-free food scale, you're in the right place. This smart digital kitchen scale is ideal for daily use and includes multiple intelligent features like auto-off, tare function, and unit conversion. Not only is it used for recipes and helping you with portion control, but this device can also measure liquids.
Pros:
Elegant, round shape
Stainless steel finish
Special tare function
Unit conversion technology
Low battery indicator
Cons:
May not be too accurate with smaller weights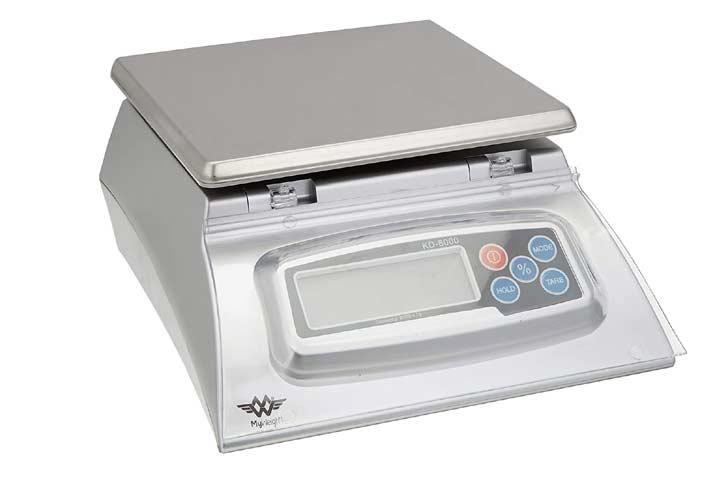 For individuals who wish to cook and bake in large quantities, this kitchen scale is an excellent choice. With a removable protective LCD cover, this scale can hold up to 17 lbs. A great working scale for recipes, candle-making, and even spills, it is equipped with 4 additional weighing modes with a tare, percentage, and hold buttons. What makes this a preferred scale by many is that it has an auto power-off feature and a 5-digit LCD screen with an adjustable backlight.
Pros:
Special tare function
Comes with a percentage button
Features a hold button
Auto power-off
Gunk shield
Adjustable backlight
Cons:
The battery may run out sooner than expected.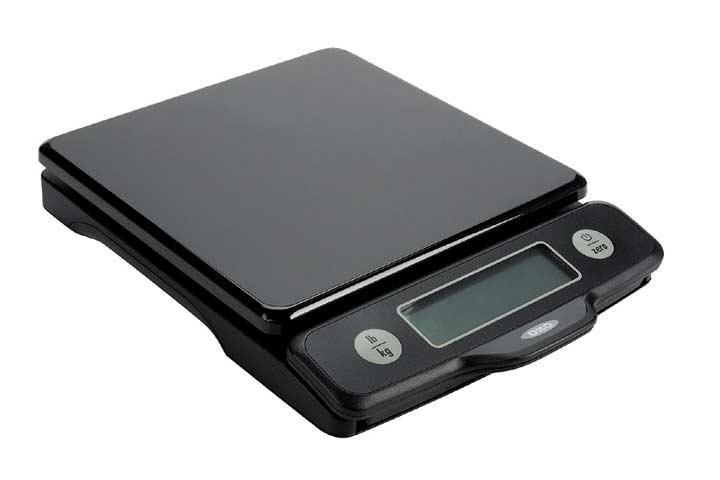 An Amazon's Choice food scale, this is a sought-after one. With only 2 easy buttons, working on this scale is a breeze. Useful functions like the zero function allow for zeroing this device before adding additional ingredients. It also has an easy-to-read display and a platform that detaches from the central unit for easy cleaning. Equipped with 2 AAA batteries and a 5-pound weighing limit, it is ideal for bakers and even someone starting to cook or bake.
Pros:
5-pound weighing limit
Useful zero/tare function
Easy-to-read indicator
Detachable platform
Batteries included
Cons:
Only measures in 1/8-oz and 1g
No backlight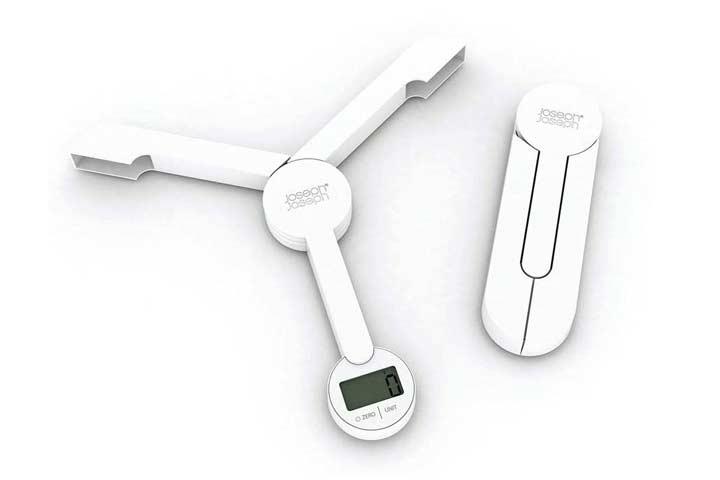 If you've just moved into your dream home and need a food scale that doubles as an accessory, this one's for you. The Joseph Joseph 40071 TriScale is a foldable kitchen scale with 3 arms to weigh the ingredients. A creative, compact, and convenient solution to all your kitchen problems – it can weigh up to 11 pounds. Considered one of the best kitchen scales, it measures grams, pounds, fluid ounces, and milliliters. Additional features include an auto shut-off feature, add and weigh feature, LCD screen, and touch-sensitive buttons.
Pros:
Measures in 4 units
Foldable device for easy storage
Lightweight
Add and weigh feature
Convenient to store
Cons:
May be unstable due to 3 arms
May not be suitable for novice users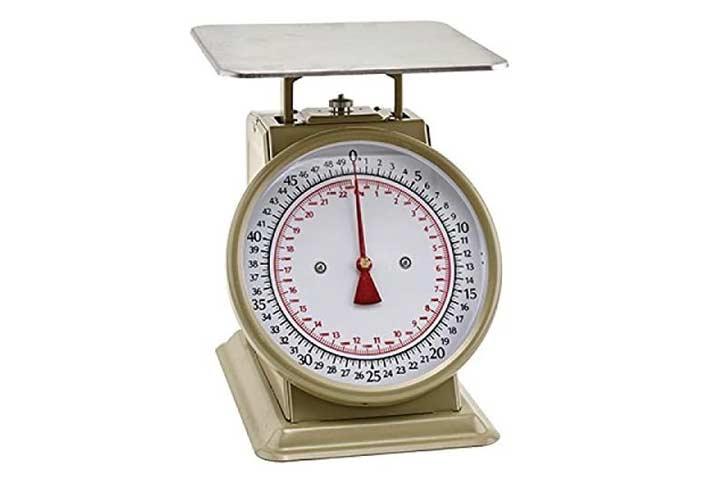 Professional bakers and cooks can meet their match with this Winco Multifunction Kitchen And Food Scale. This commercial kitchen-grade food scale is made of rust-resistant, heavy-duty stainless steel that can accommodate large utensils. One of the only devices with a weighing capacity of 50 pounds, this kitchen scale also comes with a dial for an accurate reading. The stainless steel platform is easy to clean and can fit snug into a corner of your kitchen.
Pros:
Rust-resistant
Dial graphics
Durable
Can be used for commercial purposes also
Cons:
Some may find it rather bulky.
Does not have a digital reading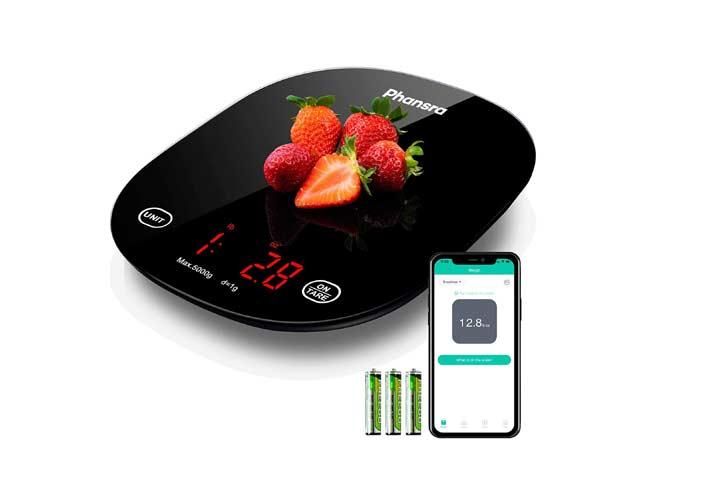 If you're a health enthusiast who's careful about what and how much you put in a body, you should consider this kitchen scale. This smart food scale connects to your phone via Bluetooth, allowing you to keep track of your daily intake with the 'Foodiet' app. Accompanied by high-precision sensors, it also ensures accuracy. This food scale has it all – 5 units of measurement, a touch-sensitive tare button, and a weighing capacity of 11 lbs. The most attractive and useful function is that it allows you to view calories, salt, fat, protein, carbohydrates, cholesterol, fiber, and other nutritional information in the smart app!
Pros:
5 unit conversions
Glass platform
Barcode scanner for nutrition
Touch-sensitive tare button
Batteries included
Cons:
May not accurate weigh items below 2g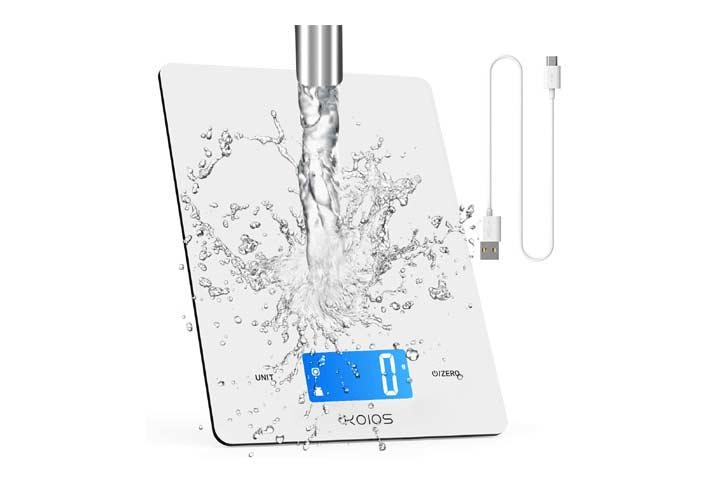 A spill in the kitchen? Is it all over your kitchen accessories? You don't need to worry about one device, and that is the KOIOS Food Scale. With its waterproof feature, it can withstand spills and leaks without damaging the scale. Made of premium tempered glass panels, it offers durability and is a pleasing sight with its modern design.  It is also equipped with four built-in, high-precision sensors and can weigh up to 11 lbs, and is sensitive to ingredients even as small as 0.04oz. If you need more convincing at all, it even comes with a USB cable and a charge that lasts upto two months, 5 units of measurement, touch-sensitive buttons, and a two-year warranty.
Pros:
Waterproof
Made of premium tempered glass panels
Comes with four built-in, high-precision sensor
Weighing capacity of 11lbs
USB cable charging
Measures in 5 changing units
Touch-sensitive buttons
Two-year warranty
Cons:
Cannot measure accurately below 1g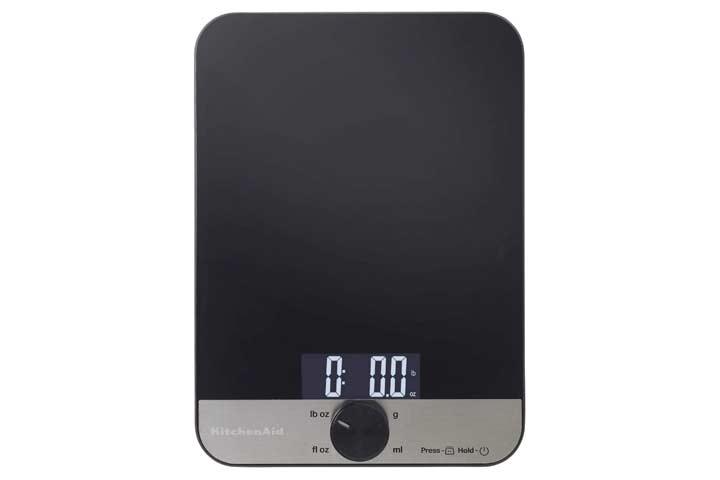 Whip up your favorite dishes with the help of the KitchenAid Glass Kitchen Scale. It comes with a unique, rotating knob that switches between 4 units of measurement. It also has a tare or power on/off button and is battery-operated. With a weighing capacity of 11 lbs, it has a zero function and a durable, tempered glass surface for easy cleaning.
Pros:
Rotating knob
4 units of measurement
Auto shut-off feature after 3 minutes
Stain-resistant
Batteries included
Cons: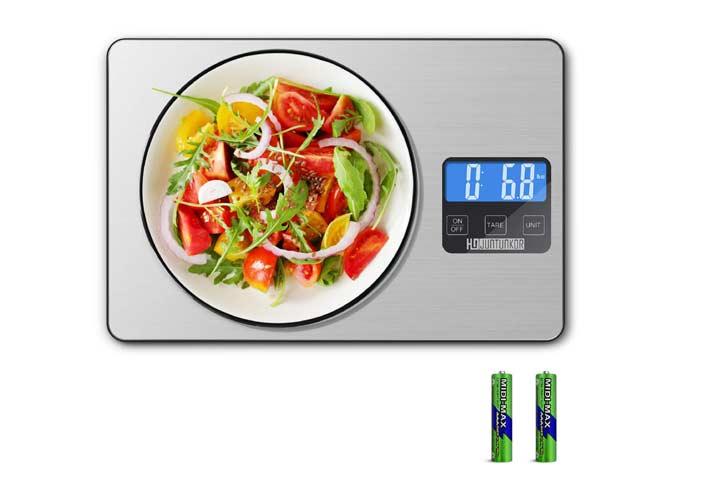 Enjoy cooking and baking with this food scale from HDJUNTUNKOR. It has a weighing capacity ranging from 33 lbs to 0.1oz and will lend a helping hand in all your cooking adventures. A convenient tare function ensures accurate reading, and a touch-sensitive button allows you to change between 5 units of measurement.
Pros:
Precision sensors
Digital food scale
Easy to clean
Stainless steel construction
Useful tare function
LCD screen
Cons: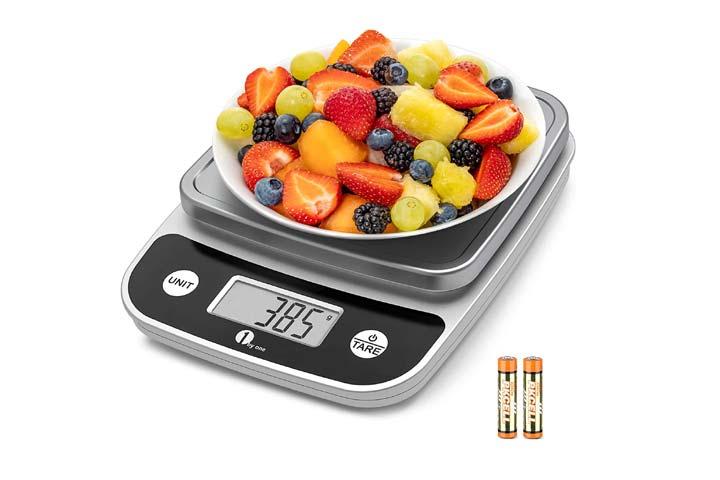 A fast-paced chef needs a partner in crime who's just as swift. Say hello to this food scale with the latest generation sensor technology, ensuring accuracy, and immediate responses. It has a wide LCD screen and a unit button that allows you to switch between 5 units of measurements with ease. With a maximum weighing capacity of 11 pounds, it has an accuracy of 0.04 ounces. It is also equipped with a unique tare function and is battery operated.
Pros:
Measuring capacity of 11 pounds
Chrome-plated platform
Tare button feature
Sensor technology
5 units of measurements
Cons:
A kitchen scale will instantly make cooking easier and more convenient. With accurate readings of ingredients, you can make delicious dishes without any hassle. But when buying a kitchen scale, there are few things you must consider.
How To Choose The Right Kitchen Scales?
While buying the right food scale for your kitchen, there are few points you need to keep in mind:
The material of your food scale is one of the many features that determine how long it will last. Most food scales are made of stainless steel, which makes it durable and easy to clean. There are alternatives to stainless steel made of plastic but are not as long-lasting or easy to clean.
Different types of scales have various weighing capacities. The standard capacity of food scales ranges between 11 lbs and 0.01 oz. There are food scales that go up to 33 pounds as well. Depending on your requirements, you can opt for a bigger or smaller weighing capacity.
You should pick a food scale that switches with easy between 4 or more units of measurement. Most kitchen scales can read pounds, ounces, grams, and milliliters. Besides this, some can also measure pounds + ounces. Another thing to keep in mind is that accuracy and responsiveness.
The Tare function is a useful feature that subtracts the cutlery's weight and calculates only the net weight of the ingredients. You should buy one that allows you to repeatedly press the tare button and weigh the new ingredients you put in the bowl.
And that was our list of the 13 best kitchen scales to buy, along with a buying guide on all things one must consider when purchasing a good-quality kitchen. All your kitchen woes will instantly disappear with the use of this practical device. Whether you're baking a cake, a warm loaf of bread, cooking your favorite dishes, or even tracking your daily intake, this useful tool will be of great help. And it honestly doesn't matter what level of cooking experience you have. Even if you've just started experimenting in the kitchen or been at it for years, a kitchen scale offers precise measurements so you can perfect your recipes. So what are you waiting for? Say goodbye to measuring cups, and pick a food scale that works best for you.