Whether it is cleaning up spills, a mess on the counter, or transferring hot dishes, a kitchen towel can be very handy. These towels come in different sizes and textures and are designed to survive repeated washing and drying. Keep reading to find a dish towel that is soft, durable, and practical and comes in a design and style that you like.
Here, we give you a list of the best kitchen towels that you can choose from and purchase online.
13 Best Kitchen Towels
The Utopia Kitchen flour sack towels absorb the spills with ease and help you wipe up any mess thoroughly. Measuring 28inx28in, they are made of pure ringspun white cotton with diagonal knitting. They are lightweight, lint-free, and hemmed at the edges, which makes them durable and long-lasting. The set contains 12 kitchen towels that are easy to wash and resistant to shrinking. Washing them before first use would help improve absorbency, set the color, and limit lint.
This all-purpose pantry towel designed using Dobby Weave is ideal for daily use. They come in a pack of 12, of which six have black dobby prints, and the other six have white dobby prints. Their quick-drying and higher absorbency features prevent bacteria build-up. Made of 100% cotton fabric, they are breathable and ideal for wiping hands and polishing surfaces. They are machine-washable on a gentle cycle in cold water, and they have to be washed before use.
Made from high-quality oeko-tex cotton, this pack of eight kitchen towels assists in most of your kitchen needs. You can use them for cleaning, scrubbing, and while doing other household chores. They are thick, highly absorbent towels that have surpassed the highest standards of testing. Each towel measures 12x12in, and one pack has four solid blue colors and four solid blue striped towels. They are also available in shades of brown, dark blue, green, and red.
The Swedish dishcloths are greener alternatives for those who seek disposable paper towels and make a cool gift for vegans too! The highly absorbent hand towels are made from 80% biodegradable cellulose and 20% all-natural cotton materials. It is a pack of ten dishcloths with five different colors measuring 8x7in each. They are soft when wet and gritty enough to scrub the mess. You may use them for cleaning and scrubbing cups, dishes, mugs, and countertops. They last up to 50 washes, and the pack may last for a year. These are eco-friendly, durable, and less wasteful compared to traditional paper towels.
The Zeppoli kitchen towels are known for their signature design of three blue stripes. Measuring 14x25in, they can be used in the kitchen, at the dinner table, or in a professional environment as decorative towels. These 100% cotton dish towels are strong and last long, even after countless cleaning and scrubbing sessions. They do not scrape or leave streaks on porcelain, ceramic, silverware, or stovetops. Super-absorbent, quickly dryable, and lint-free, they are at little risk of bacterial build-up.
The dishtowels from Aunti Em's Kitchen are lint-free for quick and easy drying. They are made of 100% all-natural cotton designed using Air Jet Loom technology for a tighter weave and superior consistency. The cross-stitch embroidery keeps it secure and holds the towel intact. Available in a pack of 13, they are vintage striped towels of blue, green, and red and match all kitchen decor. Each towel measures  25.5×15.5in, with all the sides hemmed and a hanging loop for easy placement.
DII assorted set features the perfect multi purpose towels in beautiful prints and colors to color coordinate your pantry. It is a five-piece dishtowel set including four dishtowels (measuring 18x28in) and one dishcloth (12x12in) and makes an ideal housewarming gift too. You may use the dishtowel for cleaning dishes and countertops, and a dishcloth to scrub everything clean. They are 100% cotton and tightly knitted that allow less tint on your plates and glass. Towels are super absorbent, dry quickly, lightweight, and machine-washable.
Made of 100% cotton, the parquet design sack towels could be a great addition to your pantry. They come in a pack of two, each measuring 16x26in and going best with the rest of the T-Fal textile collection. The parquet design of the towels allows water to wick along their surfaces. They are highly absorbent, quick-drying, and can be used for scrubbing hard surfaces to cleaning delicate objects. They are easy to clean, machine-washable, and easy to maintain.
The Egles cotton dishcloths are ultra-light, highly-absorbent, quick-drying, odor-free, and reduce the build-up of bacteria. Manufactured from chemical-free and synthetic-free 100% natural cotton, they do not fade and are easy to maintain. The eco-friendly material is soft and plush and does not leave any scratches on your metal dishes or silverware. Each pack contains 12 towels in four different colors, each measuring 11x12in. Washing them separately on first use reduces lint and improves water absorption capacity.
The classic blue and white striped kitchen towel sets can make useful housewarming gifts. They are handy and suitable for mopping countertops and cleaning spills. They become more absorbent with each wash and dry, helping you clean even the hardest messes. Made of polyester (80%) and polyamide (20%), they can remove tiny specks of dust easily, without leaving any traces. They measure 12x12in and come in a set of eight towels. Avoid using them on high-temperature surfaces to prevent holes.
These KAF Flamingo kitchen dish towels are decorative or colorful and come in three print options of lemon, flamingo, and rooster. One set has four towels, including one printed towel and three yarn dye sack towels. Measuring 18x28in each, they include a convenient sewn in a loop that is easy to hang. They make great housewarming gifts and go with all kitchen decor. Made of 100% cotton, they are washable in cold water, warm dryer-friendly, and shrink minimally.
Get your household chores done with these classic style versatile kitchen towels available in a pack of six. Urban Villa premium dish towels could be one of the best kitchen towels that are thick, durable, highly absorbent, and quick-drying. They add a simple yet polished look to any pantry. Constructed from strong and durable fibers, they are made of 100% cotton and free from chemicals. This all-purpose towel set can make a great housewarming gift, hostess gift, or home chef gift.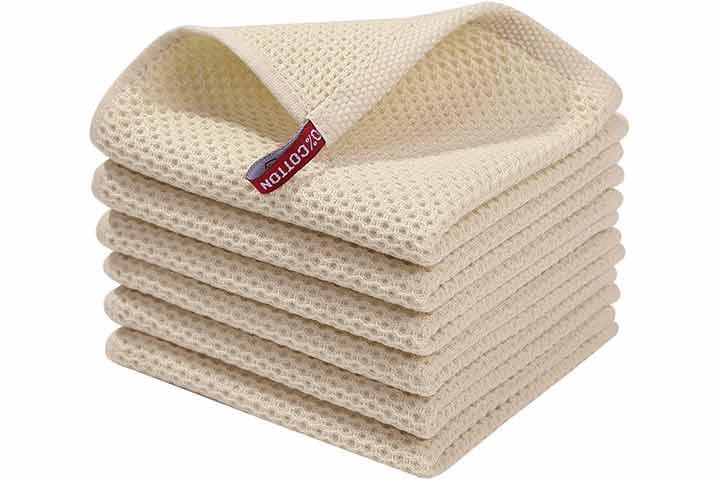 The Homaxy towels have a classic dishcloth design featuring a hollow honeycomb weave that gives them better cleaning and water-absorption abilities. They are 100% cotton waffle weave towels that become soft with each wash and do not scratch cookware, pans, and plates. The set includes six solid color dishcloths, available in four different colors to coordinate any kitchen decor. Each hand towel measures 12x12in is lightweight, super absorbent, breathable, and machine-washable. Do not use fabric softeners or bleach as they affect absorbency or longevity of towels
How To Choose The Right Kitchen Towels?
Listed below are some factors to consider when selecting a kitchen towel.
Absorbency: This is the most important feature of a kitchen towel and should not be compromised on. It should have a high absorbency so that it can clean up spills easily.
Quick-drying: You need to pick a towel that will dry fast to use it frequently. If it takes more time to dry, it is not possible to use it again and again.
Size: Think about the size and purpose. Large towels can cover many purposes, whereas small ones cannot but might get into small hooks or crannies. Some sets have an assortment of sizes that you may prefer.
Style: Kitchen towels come in every style, print, and color. Some even add a great accent to your kitchen. Choose the one that matches the decor or is pleasant to hold and use.
We trust our list of best kitchen towels will help buy the right one as per your preferences. Go through the list, understand the factors, and we are sure you will find a suitable product.
Recommended Articles: