Most of us wear helmets when playing a sport, undertaking an adventurous activity, or doing some maintenance or construction work.  But often, we overlook protecting our knees. Knee injuries can be painful and could make your life difficult. Knee pads can be an easy and effective solution to support and protect your knees during an activity. Keep reading this post as we bring you a list of some of the best knee pads and tell you their pros and cons.

Top Products From Our List
11 Best Knee Pads
Wear Bodyproxknee pads while working or playing to prevent serious knee injuries. These are made of high-density foam to keep your knees dry and comfortable for long. They enable free knee movements and protect your knees from impact. The knee pads are available in two sizes, and you can wear them for long hours without worrying about pain or tightness in the muscles.
Pros 
Provides a firm grip and doesn't slip
Light and ergonomic design
Durable and of premium quality
Improves blood circulation and reduces muscle stiffness
Doesn't require readjustments
Speeds up the recovery process
Cons 
May not be durable
May not be useful for all activities
The professional knee pads are designed for heavy-duty work. They come with EVA foam padding to protect your knees for long hours. The straps of the knee pads have double stitches to prevent wear and tear. You can wear the knee pads for welding, flooring, working on concrete, and gardening, among other activities. The padded knee pads offer complete protection and prevent knee injuries.
Pros 
Durable and ergonomic design
Provides comfort and protection
Comes with buckle straps
No pain or knee sores
Fits perfectly without slipping
Adjustable, offers flexibility
Cons 
May not last for long
Could be hard on the knee joint for some
The sturdy knee pads are available in gel fit and foam fit design. Both styles offer comfort and protection. They are made of abrasion-resistant fabric for durability and are suited even for heavy-duty work. The pads provide support not only to your knees but also to your thighs to reduce the possibility of falling. They are easy to wear and provide maximum stability without hampering your movements.
Pros 
Provides all-day protection
Designed to last for long
Fits well and doesn't cause irritation
Comfortable and safe
Provides grip, doesn't slip off
Has high side walls to prevent twists
Cons 
May not be useful for all activities
Wear these high-quality padded knee pads and protect your knees when undertaking rigorous activities. The gel-based knee pads offer comfort and don't exert pressure on your knees. You can wear them all day and move your legs freely while doing masonry, flooring, or any other heavy work. They come with extra straps and don't slip off easily.
Pros 
High-density foam cushion
Easy-to-use and adjustable straps
Has reinforced stitching
Flexible and ergonomic design
Comfortable and protective
Fits perfectly on the knees
Cons 
May retain sweat and odor
May not be durable
Pro knee pads can be useful when your work involves putting more pressure on your knees. You can wear them for long hours and stay comfortable without worrying about pain. The sturdy knee pads are made of hard plastic to keep your knees effectively protected when you work on concrete floors or in industrial areas.
Pros 
Protects thighs and knees
Comes with soft elastic straps
Has a half-inch foam inside
Provides comfort and safety
Unique and durable design
Cons 
May not fit everyone
May not provide flexibility
You can wear these comfortable knee pads when doing yoga, exercise, or house maintenance work. They are made of soft and durable material to provide cushioning to your knees. These fit easily on your knees and prevent severe injuries. Suitable for both men and women, these pads are comfortable and offer protection while minimizing the pressure on the knees.
Pros 
Lightweight and flexible
Durable and adjustable
Doesn't slip off
Provides firm grip
Dries quickly and absorbs water
Provides free movements
Cons 
Padding may deflate after a period
May not last long
Protect your knees whenever you work on tiles, concrete-based surfaces, or a garden by wearing these premium-quality knee protector pads. They have a heavy-duty shield and soft gel core inside to keep your knees secure for a long time. You can wear them while doing any activity that strains or bends your knees, thus protecting you from sprains, dislocation, and fractures.
Pros 
Suitable for long-term comfort
Has adjustable hook-and-loop straps
Durable and convenient
Doesn't damage or scrape the floor
Allows flexible movement
Cons 
Experience ultimate comfort while doing any rough job by wearing these sturdy, high-quality, and comfortable leather knee pads. They are made of premium-grade neoprene to be soft and easy on the knees. They are easy to wear and use, and can be worn with shorts for utmost convenience.
Pros 
Comes with a single fastening strap
Has heavy-duty foam cushion
Doesn't leak or get punctured
Can be adjusted as per convenience
Comfortable and washable
Doesn't have straps or buckle
Cons 
The double-layered thick padding of Dewalt knee pads helps reduce strain on the knees. These pads are made with neoprene fabric and have a textured shell to offer comfort all day long, without damaging the flooring. The slip-buckle system makes wearing and taking off the knee pads hassle-free. Get them and protect your knees when indulging in rough tasks at home or outside.
Pros 
Sturdy and comfortable
Padding with foam technology
Easy to use and remove
Prevents injuries and protects knee caps
Durable and adjustable design
Cons 
May not fit correctly for some
Available in foam and foam-gel style, the knee protection pads are soft and durable. They have foam-based inner pads to reduce pressure on the knees. These are thick and provide a good grip. The comfortable knee pads for work are sturdy, but will not scratch or damage the floor. You can wear them for doing rough tasks such as flooring, repairing the tiles, or doing brickwork.
Pros 
Ultra-flex construction
Durable and easy to use
Provides a comfortable grip
Has EVA foam padding
Safe and convenient
Cons 
Padding may come off
May not last long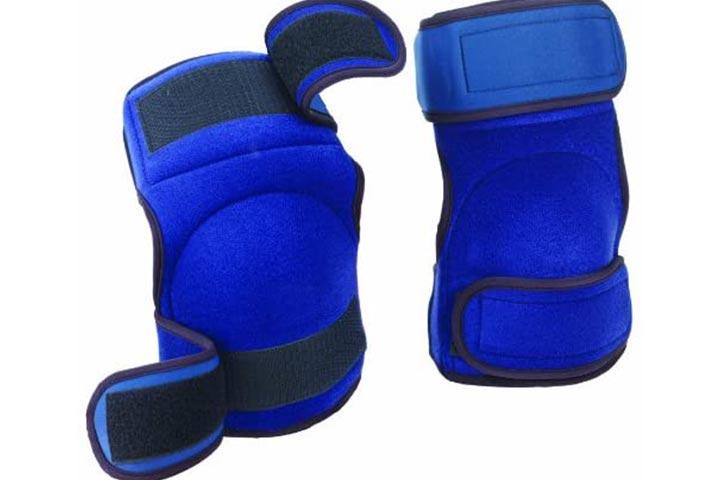 The soft and comfy knee pads are made of neoprene material to provide free movement. They are available in one size and have adjustable straps to fit correctly on the knees. You can wear and remove them easily. These work knee pads are light and do not put pressure on your knees.
Pros 
Has hook-and-loop straps
Wide and protective
Durable and convenient
Easy to wear, use, and wash
Protects from pain and injury
Cons 
May not be useful for rough tasks
How To Choose The Right Knee Pads? 
Here are a few things to consider for selecting the best knee pads.
Purpose: Select the knee pads based on the usage. For instance, you may require soft and lightweight knee pads for safety during sports or tournaments. But if you want to protect your kneecaps when gardening, constructing, or flooring, hard or dual-layered knee pads would be useful.
Material: Leather, plastic, and fabric are the common materials used to make knee pads. These are comfortable, durable, and do not put pressure on the knees. Moreover, they also protect your knees from injuries and do not damage the floor.
Design: Some knee pads only cover the knee and kneecap, while others cover the thigh and calf area. You can select any based on the purpose and comfort level you require.
Padding: Foam- and gel-based are the two main types of padding available on the knee pads. Foam padding is firm and absorbs shocks. On the other hand, gel-based padding is soft, provides flexibility, and adjusts to your knee movements.
Straps: Choose a knee pad that fits and adjusts to your knees properly. Some of them come with adjustable buckles or hook-and-loop straps. You can pick one that is convenient to use and comfortable to wear.
Knee pads are essential to protect your knees and prevent injuries. Therefore, you should carefully compare the features and keep the tips in mind while choosing a pair. Once you have the right knee pads, you can play and work without worrying about the pain, tearing, or discomfort of the knees.