While mobile phones are at the forefront of telephone communication, landlines still play an important role in ensuring seamless connectivity. Today's landline phones are far more advanced and do not rely on mobile phone service provider coverage. Most of the landline phone models in the market can be integrated with other devices in your home for convenience.
Landlines also have better call quality, are more secure, and are more reliable than mobile phones. Using a landline to talk to someone long distance is often the best communication method due to the higher quality calls.
But which is the best quality landline in the market? Read on to find out more about the best landline phones in India and how to choose one for you.
11 Best Landline Phones In India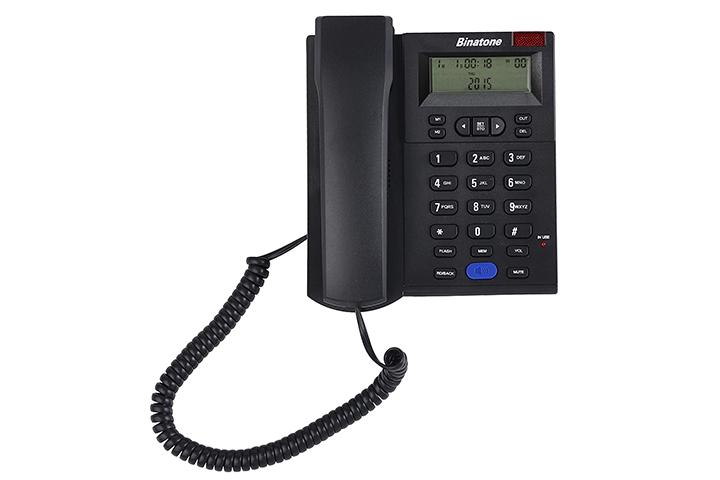 The Binatone Concept 700 corded landline has a two-line LCD with an icon, 16-digit number display, and a speakerphone. It has a caller ID and can store 30 incoming calls, ten outgoing calls, indicate missed calls and display the date and time.
Pros
Batteries not required
Sleek appearance
Good quality speaker
Saves call log
Caller ID
Cons
Switching to speaker mode during a call can be tricky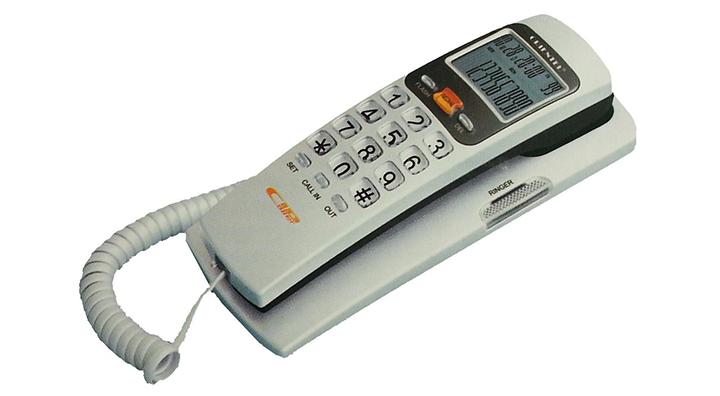 The Oriental brand landline is a convenient device with FSK/DTMF system automatic detection function. The phone displays personal indicators such as new calls, missed calls, and errors. A soft-touch keypad with a caller ID function flashes when there is an incoming call. The landline also has a 12-digit calendar, flash ring feature, and a high/low volume switch.
Pros
Handy device
Attractive design
Convenient to use
Lightweight
Cons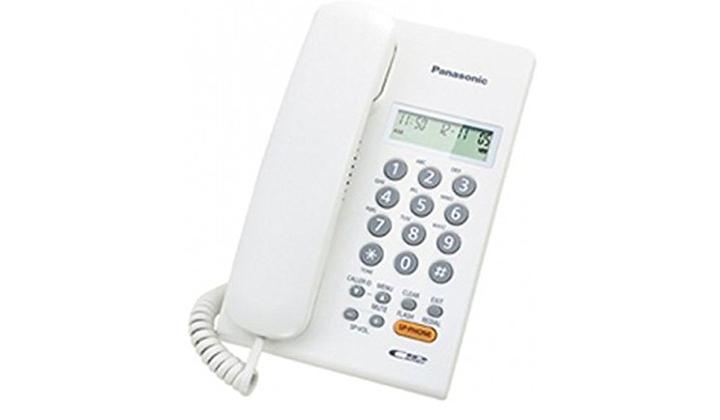 The Panasonic corded telephone is a slim device with multiple functions:  LCD alphanumeric display, speakerphone, redial-memory of five calls, and caller ID display. The landline can store 30 calls. You can increase or decrease the speaker volume as needed and Install the lightweight landline phone on the wall to save space.
Pros
Durable
Excellent voice clarity
Easy to operate
Loud ringtone
Cons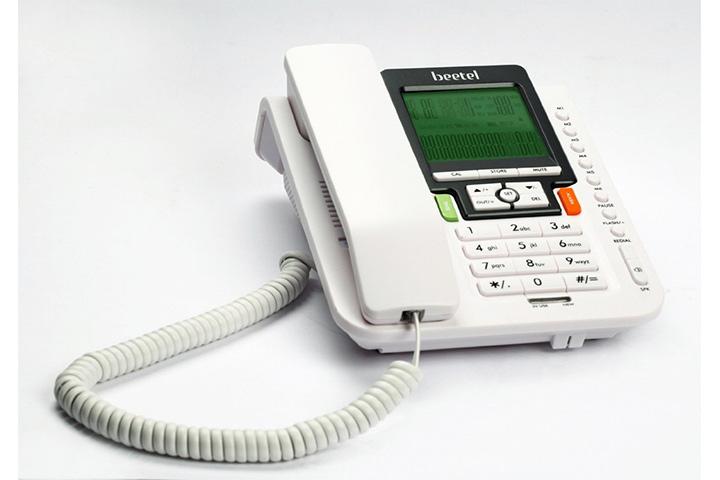 The Beetel M71landline phone has speakers with adjustable volume and provides four polyphonic or five ringtones for your choice. The landline has a16-digit LCD with a backlight and can record about 99 incoming and 18 outgoing calls. You can use the Beetel landline for intercom and parallel call forwarding too.
The device allows you to erase the call and displays a clock with date, day, month, and year. Alarm clock, calculator, mute, and redial are the other essential functions of the landline phone.
Pros
Choice for ringtones
Maintains call logs
Offers parallel call transfer
Features an alarm clock
Cons
The ringtone may not be audible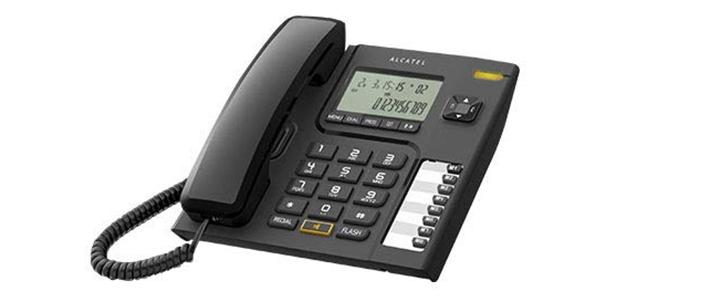 Alcatel offers an eco-friendly and modern landline phone with digital display support functions, such as caller ID function, new/missed call notification, date, and time display. Other features include eight direct and ten two-touch memories and a hands-free speakerphone for convenient calls to friends and family. The phone operates without batteries.
Pros
Sturdy build
Large size, easy to read font
Battery-free
Brilliant sound quality
Cons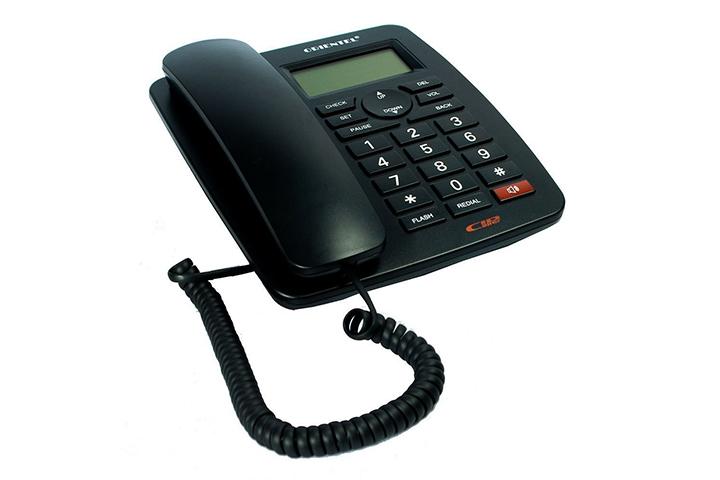 Jigva landline phone is a durable product with anti-disturbance and thunder-proof features. The device has four ring volume modes for you to choose from, and you can adjust the speaker volume too. It displays the incoming and outgoing calls, which are also stored for later use. You can also select the dialing mode from two options: tone or pulse. The package includes a handset, a cord, and a telephone line.
Pros
Clear sound quality
Thunder-proof
Easy to use
Allows selection of dialing mode
Cons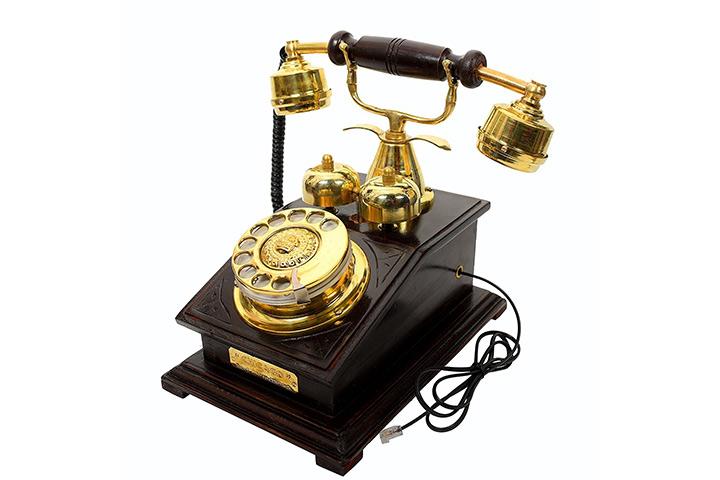 Interio Crafts antique landline is a classic desk phone, made of high-quality wood and beautifully designed. The device does not require batteries and is easy to use. Even the ringtone is loud enough, and the sound is pleasant. It runs on an RJ11 connector and is an exquisite gift for those who like classic gadgets.
Pros
Sturdy build
Classic look
Loud ringtone
Good sound quality
Cons
May be high on maintenance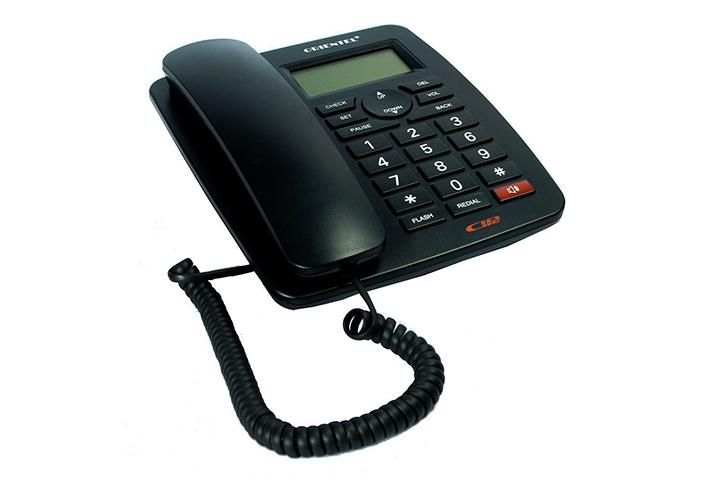 Oriental Istore Landline is a reliable multifunctional device with thunder-proof and anti-disturbance functions, with long service life. The device has a caller ID, adjustable speaker volume, four modes of ring volume, storage of incoming and outgoing calls, and selection of dialing modes. The package includes a handset, telephone, and a handset cord.
Pros
Reliable
Anti-disturbance feature
Adjustable volume
Displays calls
Cons
May not be suitable for wall mounting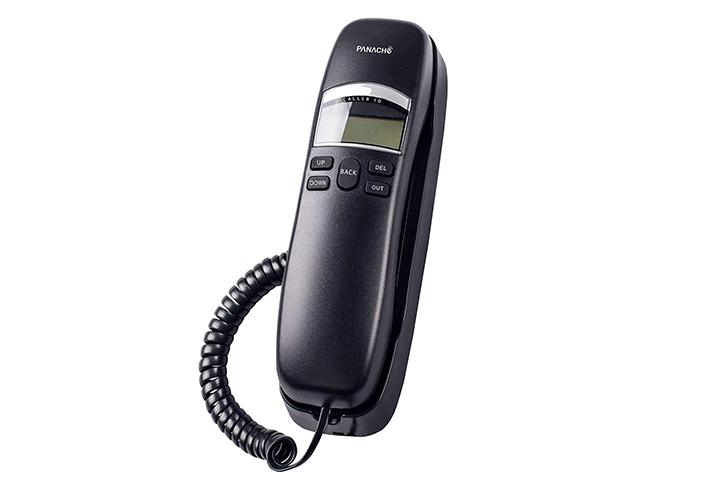 The Panache landline phone is a portable and lightweight device that you can mount on the wall. The device has a caller ID function, LCD, redial key, and a volume switch. The device has an attractive black design with clear and precise numbers on the keypad. You can easily adjust the ringer volume at your convenience, and the visual indicator instantly alerts you of an incoming call. It also comes with a one-year warranty on the device and a six-month warranty on the included accessories.
Pros
Slender design
Convenient
Wall mountable
Adjustable ringer volume
Cons
May not have speaker option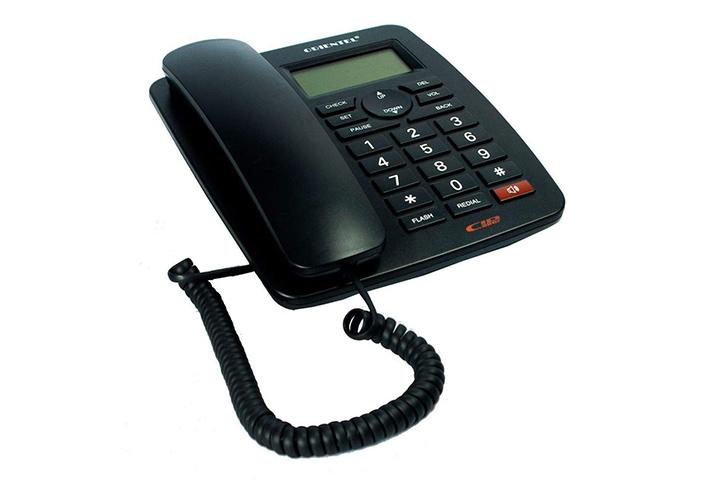 Oriental's Fayby landline phone is made of ABS material and is thunder-proof. The device has an anti-disturbance function, adjustable speaker with four-volume modes, stores incoming and outgoing calls for review, caller ID, redial button, and an option to select the dialing mode. The digital display clearly shows incoming and outgoing numbers. The package includes a handset, a handset cord, and a telephone line cord.
Pros
Has a loudspeaker
Affordable
Durable
Stores call logs
Cons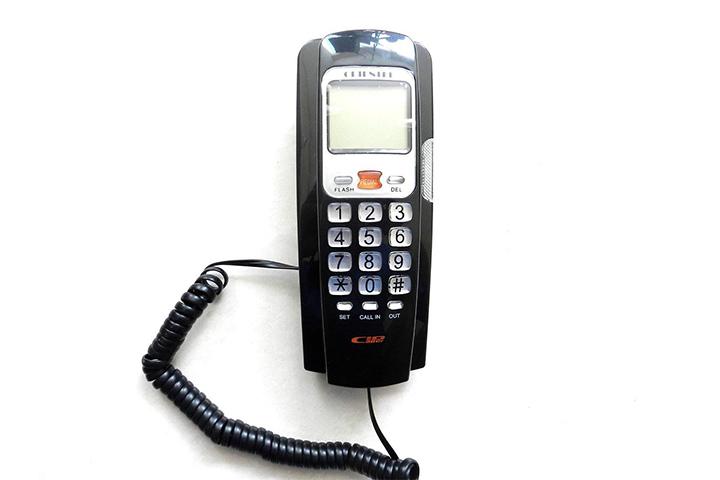 The multipurpose device with an elegant design is made of high-quality plastic and easily mounted on the wall. It has an auto-detect feature, a redial button to quickly dial the last call, an indicator for a new call, a mute button to mute the audio during the call, and a flash button. The phone's alphanumeric keypad is easy to use, and the device efficiently records incoming and outgoing calls. The LCD screen also displays the time and calendar in easy-to-read fonts.
Pros
Easy to operate
Indicates any new call
Wall mountable
Efficient
Cons
How To Select The Right Landline Phone?
Finding a reliable and efficient landline phone can be a tedious task. We have listed some essential parameters to help you decide and buy the product that best suits your needs.
Cord length: Look for a cord that is of optimal length and is flexible. The cord's length should not be too long to get tangled or too short to restrict movement.
Wall mountable: Landline phones can be kept on a table or be mounted on a wall. Pick one based on where and how you want the phone installed.
3.Caller ID function: Research carefully and choose a device with a caller ID function to know the number of the person calling.
4.Build and design: Choose a sturdy device with a sleek design so it can fit in anywhere. The LCD screen should have a font that is easy to read.
5.Battery: Some landlines are powered by high-quality batteries such as AAA or lithium, while many landline devices can efficiently work without batteries. One that works without batteries or is rechargeable is a better pick.
Frequently Asked  Questions
1. Do landline phones have battery back-up?
Some landlines have a built-in battery that can last for a limited period. The other corded phones do not require electricity and can efficiently work during an extended blackout.
2. Is the connection of the VOIP system as good as that of a landline phone?
VOIP systems are as efficient as a landline device. Instead of copper wires, you can connect these phones to a broadband internet connection and seamlessly convert calls into signals.
A good landline phone is stable, durable, and offers excellent audio quality. We may have moved into the new era of mobile phones, but landlines are still widely used. Many users rely on them for faster internet access and broadband connectivity. More importantly, they are an excellent alternative to mobile phones in areas that do not have mobile network coverage yet. If you have a landline connection, get one of the best landline phones and make the most of your phone lines.
Recommended Articles: