A laptop bag is a necessity nowadays, whether you're a student at school or college, an office-going professional, or a traveler. Everyone needs a bag to carry their laptop around safely, and laptop bags are specifically designed, keeping in mind the vulnerability of a laptop and the comfort of the person carrying it.
There are tons of laptop bag options available in the market. The many features that each bag has can make it confusing to pick one that is best for you. To make the task a little less daunting, MomJunction has put together a list of the best laptop bags for boys that you can choose from today.
21 Best Laptop Bags For Boys

This laptop backpack is 17 inches tall and comes with a USB charging port and headphone port.  It comes with three external pockets that can be used for storing laptop accessories, as well as a mesh pocket on each side. One of the distinguishing features of this bag is a password lock, which ensures the safety of valuables. This bag is ergonomic, waterproof, and is made of Oxford fabric with ventilated padding and adjustable shoulder straps.

This laptop backpack from Leaper has a youthful, casual appearance owing to its floral print and canvas make. It best suited for students or casual travelers. The outer canvas is not waterproof but does have an inner polyester lining.
The backpack is ergonomic, and the back panel has padding designed to prevent overheating and moisture retention, thereby making it comfortable to carry around for long hours. The bag can fit up to 15.6-inch laptops. It has two inner pockets, two side pockets, and one additional front pocket in addition to the main compartment.

This sturdy canvas laptop backpack from Himawari is 16 inches in height and comes with a built-in USB port that can be detached. The main compartment of the bag can accommodate a15.6-inch laptop. It has two small open pockets inside, with two side pockets and one front pocket outside. It is waterproof and has shoulder straps that are breathable and adjustable. The design makes it best suited to students or casual travelers.

The highlight of this laptop backpack is its illumination feature. After receiving sunlight for about 10-20 mins, this bag lights up with a fluorescent anime print and stays like that for up to 4-6 hours. It comes with a USB charging port, USB cable, and pencil case. It also has a combination lock to safeguard the belongings. The backpack is large and can fit a 17-inch laptop. It is made of Oxford fabric which is lightweight and durable.

This Laptop Backpack is in the form of a large trolley bag that is best suited for travel purposes. It is 20 inches in height, providing plenty of room for storage. The bag is made of nylon and is easy to clean. The wheels are unidirectional and are covered by the back cushion when you use the bag as a backpack, preventing the transfer of dirt from the wheels to your clothes. The trolley bag comes with thick shoulder straps and a handle on top.

This laptop bag from Aiduy comes with an additional shoulder bag and pen case making it best suited for school or college students. The bag is made of sturdy and durable canvas fabric and can fit in a 14-inch laptop. It is armed with a polyester lining to prevent any tears. The straps of this laptop bag can be adjusted, and the bag is lightweight and easy to carry around. The back is padded, and the bag also has front and side pockets.

This laptop back from Richen is a laptop sleeve in the form of a messenger bag, which can be carried either cross-body or over one shoulder. It is made of Neoprene, which is a synthetic rubber material and has a basketball print on both sides. The bag is lightweight, waterproof, and washable. It has been made to fit small 13-inch laptops or tablets. The bag has an outer pocket for accessories and a handle on top.

This laptop bag from BRILA is made with Neoprene, which is a synthetic rubber material. This makes the bag waterproof, stretchable, and lightweight. The material absorbs shocks, so there is no danger of damage to the laptop. It has a handle on the top for easy carrying and is designed to fit laptops up to 15.2 inches in size. The print on the laptop is a humorous note that says, 'Don't touch my laptop'. The bag doesn't have an external sleeve for accessories.

This laptop bag from KBSING comes in a variety of colors and prints. It is designed as a sleeve with a handle that makes it easy to carry around. The material of the bag is Neoprene, which can be washed by hand. It is compact and designed only to fit small laptops and tablets of 11-12.3 inches in size. The bag is lightweight, durable, and scratch proof. It does not include any extra pockets or space to carry chargers or other accessories.

This laptop bag is designed to be carried over the shoulder. The strap is adjustable, and the bag includes a band on its reverse, which can be attached to a trolley. This and its classic appearance make it ideal for the business traveler.
The bag is made with high-density polyester, giving it a sturdy built. The exterior is scratchproof, water-resistant, and the interior has a fleece lining which makes it shockproof. There is a front pocket for accessories, and the bag is compatible with 12-13-inch laptops.

This bag from Mancro has a universal design that makes it a favorite across the board. It is suitable for students, office goers, and frequent travelers. The waterproof bag has space to fit in laptops up to 15.6 inches and additional pockets for accessories.
The bag comes with an external built-in USB Charger and an internal charging cable inside. It is secure and also has a lock and padded shoulder straps for comfort. The bottom of the bag is reinforced, which makes it even more durable.

This laptop backpack is for fans of YouTube Musical Star Chad Wild Clay. It is best suited for young students as the bag is casual with lots of room for notebooks, stationery, and other accessories besides the laptop. It also has two external side pockets. The bag is made of polyester, and the shoulder belt length can be adjusted easily. It is a lightweight and ergonomic backpack with a galaxy print that is designed never to fade.

This large laptop backpack is compatible with all laptops up to 15.6 inches in size. It is a lightweight bag made of polyester, with a nylon lining inside that makes it water-resistant. The bag has two main compartments along with additional pockets and slots for things like a keychain, pens, notebooks, bottles, etc.
The backpack is designed to be ergonomic with extra breathable padding along with the shoulder straps and back. This helps with air circulation and stops overheating. It is suitable for both students and office use. 

Kopak Slim Laptop Backpack comes with an anti-theft design. It is made of tear-resistant material and has a detachable USB cable. The backpack is designed such that the USB is hidden in the rear side of the backpack and is accessible only when you remove the backpack from the shoulders. The laptop compartment has a lockable zipper. The padded shoulder makes it easier to carry the weight on your shoulders. These shoulder straps are equipped with a ring-type adjustable clip.

This laptop bag from Tilami is in the form of a wheeled trolley, making it ideal for travel use. The bag has enough space to carry accessories and other items along with the laptop. It is made with polyester, and the shoulder straps can be tucked into the back panel when it is not used as a backpack. The bumper protection system on the backpack makes it very sturdy and prevents any external damage due to collisions or impact during travel. The wheels also have a cover for when they are not in use.

This laptop backpack has a slim built and can fit in laptops up to 15.6 inches long. The design is ergonomic with shoulder straps made of breathable mesh and a padded back that allows air circulation. There are two flat front pockets for other accessories and keychains, along with side pockets. The bag is lightweight, made of polyester with a nylon lining that prevents tears. It is waterproof and apt for all purposes.

This backpack from MATEIN has a large-sized main compartment that can also fit in accessories, stationery, and books. It has a universal design and color, which makes it suitable for both students and official purposes. It can fit laptops up to 15.6 inches in length and has two front pockets too. The backpack is lightweight and waterproof with a zipper that is anti-theft and reflective stripes, making it easy to spot.

This rectangular laptop backpack is sturdy and durable. It is made with Oxford fabric and has a polyester lining inside, which makes it waterproof and scratch proof. It has one main compartment and two inner pockets in addition to front and side pockets. The shoulder straps are S-shaped, adjustable, and with mesh padding. The back panel is also breathable. The bag has a top handle and a casual appearance.

This laptop backpack has three large compartments and two sealed, side pockets to hold laptops up to 15.6 inches, along with other items. It comes with a USB charging port on the outside, a built-in charging cable inside, and a hole to plug in headphones. Safety features include a combination lock and reflective tape, which can help to locate it at night. The fabric and 3D U-shaped structure allow ventilation and elimination of heat. It includes a belt that can be used to attach to a trolley suitcase.

This laptop backpack in the style of a rucksack would cater to a niche clientele that is interested in Anime and Cosplay. The canvas material gives it a rugged appearance, and the padded shoulder straps make it comfortable to use. It has one large main compartment for storage of laptop, in addition to a single front pocket and two side pockets for accessories, bottles, etc.

This casual laptop backpack is designed for fans of the extremely popular Korean Pop boy band Bangtan Boys, also known as BTS. It is made with Oxford fabric and has adjustable padded shoulder straps. The bag has a USB charging port and comes with an interface cable and a USB cable. It is mainly suitable for students and has enough room to carry books, stationery, and accessories in addition to a laptop.
How To Choose A Laptop Bag For Boys
When selecting a laptop bag, it is important to keep the following factors in mind:
Design: Does your requirement need a bag with many pockets for storage of accessories, books, stationery, and other items, or would you like a simple bag that can only carry a laptop?
Style: Your style preference should come into play. Laptop bags can come in casual prints, colors, and fabric or more formal, classic styles. In addition to this, consider if you prefer a backpack or a laptop sleeve with a handle or strap across your body or shoulder.
Comfort: Always look for a laptop bag that is ergonomic, easy to use, well ventilated, with sufficient padding in appropriate areas like back panels and shoulder straps
Safety: Combination locks, password locks, and other anti-theft features would always be an advantage. Along with this, do consider reflective features if the bag needs to be used at night or spotted in the dark.
Durability: Look into the make of the backpack. Is the material water-resistant, scratch proof, and designed to prevent tears? Can it be washed and dried? If your usage includes travel, can it withstand the expected throwing around?
Size: Some laptop bags are made only for smaller laptops and tablets, whereas there are a few that can accommodate laptops as large as 17-inch ones. Pick a bag that is best suited in size for your laptop.
Additional features: Some laptop bags come with added features like USB charging ports, inbuilt charging cables, headphone ports, etc. Evaluate whether these would be an added advantage for your use.
We hope our tips and featured bags help you choose a laptop bag that you will find convenient and comfortable to carry around, and that can also add to your style quotient.
What's your preferred style of a laptop bag? Let us know in the comment section below.
Recommended Articles: 
The following two tabs change content below.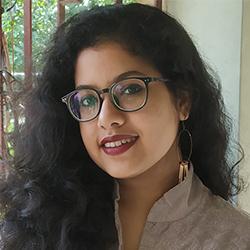 Poulami Nag
Poulami Nag is a writer and associate editor at MomJunction. She did her MA in English from Miranda House, University of Delhi and has qualified UGC-NET. Her journey as a content writer began in 2017 and since then she has garnered diverse interests along the way. Her knowledge of literature and language has given her an eye for detail and...
more