In today's age of digital technology, we are constantly connected to our laptops for all professional and educational requirements. So, here's our list of the best laptop cooling pads to help you out. Due to the small size and lack of big fans inside, laptops can often start to heat up. These laptop cooling pads provide some cooling action on your system through external fans. They have fans on the surface and are usually powered from the laptop itself by a USB connection. Certain activities like gaming or running heavy software can make the laptop heat up faster, even more so in hot weather. The external cooling from the fans on the pad can be a great way to prevent the laptop from overheating.
Cooling pads can have multiple fans depending on the size and design of the product. Available in various sizes and shapes, these pads provide a barrier between you and the laptop, making it safe and convenient. So, read on to know more.
Types Of Cooling Pads
There are 2 broad categories of cooling pads for laptops — active and passive cooling pads.
Active cooling pads
Active cooling pads have one or more fans, which provide cool air to the laptop's vents. While they are cost-efficient, they tend to drain the battery faster.
Passive cooling pads
On the other hand, passive cooling pads do not have fans and consist of a flat surface to rest the laptop for more efficient air circulation. Passive fans save energy bills as they rely on thermal interface materials (TIM) to control temperature flow.

15 Best Cooling Pads For Laptops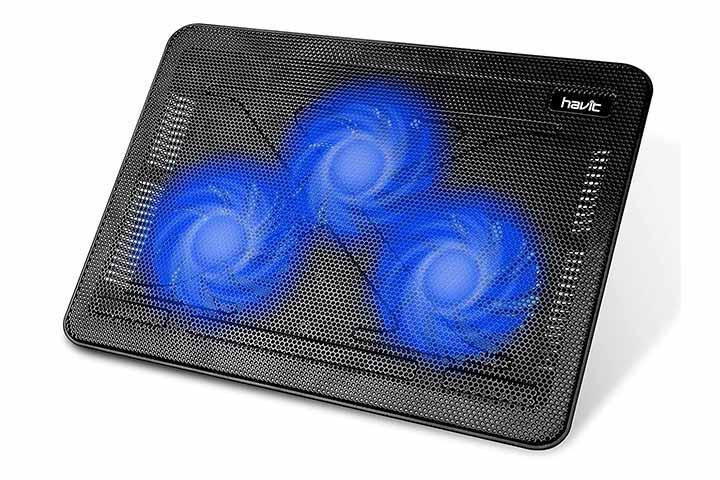 It doesn't matter whether you are using this cooling pad for gaming or typing; its ergonomic design ensures comfort. This portable cooling laptop pad is USB-powered and features a metal mesh and non-slip base for ease of use. It also comes with 3 cooling fans with LED indicator lights to indicate the fan's status. To use, plug the cooling pad into any USB port on the laptop and enjoy a hassle-free, convenient experience.
PROS
Slim and lightweight
Anti-skid board
Extra USB port
Compatible with 6-17 inch laptops
Adjustable height ensuring comfort while typing
CONS
Some might find the airflow of this product to be a bit insufficient.
Suitable for laptops with screens up to 17 inches, this portable and silent cooling pad features a 160 mm fan and a perforated metal mesh surface for efficient cooling and airflow. The ergonomic design features 2 height adjustment settings that ensure you have ideal viewing and typing angles. Designed for gaming, this product is also compatible with notebooks and tablets.
PROS
Lightweight and compact
Stylish LED lighting stripe
Built-in cable grooves
4 USB port hubs
CONS
Some might find this cooling pad a bit slippery at certain angles.
This ergonomically designed cooling pad has 5 cooling fans and a diamond groove metal mesh for efficient cooling. The adjustable stand allows 4 positions from 7 to 21inches, making it ideal for most functions. Suitable for large laptops that are up to 17.3 inches, this portable cooling pad features 2 USB ports and built-in ventilation to reduce excess heat.
PROS
Lightweight and compact
Quiet with noise level under 21 dB
Adjustable wind speed
Anti-slip silicone grip pad
CONS
Some might find the bottom edges of this cooling pad a bit sharp.
Your hunt for an efficient and convenient cooling pad ends here with this noise-free and anti-skid laptop cooling pad. The two 110 mm fans of this device provide superior air circulation with noise levels well below the 15 dB mark, making it ideal for online meetings and video conferences. Suitable for 16 inch laptops, this cooling pad features 2 built-in USB ports and an angled top for comfort. LED indicator lights provide an easy visual cue about the status of the cooling fan, while the ergonomic design makes it ideal for browsing, gaming, and typing.
PROS
Portable and lightweight design
Grip pads on the bottom to prevent slipping
Whisper-quiet fans
USB-powered
CONS
Some may feel the air flow to be minimal.
Compatible with laptops up to 15.6 inch, this gaming laptop cooling pad features 1 large fan and 4 smaller fans for optimal cooling and ventilation. The control touchscreen unit allows all fans to be turned on together, ensuring efficient cooling. Besides this, it comes with decorative lights, making it ideal for nighttime use. It is also enabled with 2 USB ports and a plastic and metal mesh, making it lightweight, portable, and durable.
PROS
Portable and ergonomic design
5 adjustable angles to prevent neck strain
Compatible with routers and PlayStations
Non-slip mat
Adjustable wind speed
CONS
Some might find the touchscreen buttons a bit hard to press.
This fashionable laptop pad features 5 fans and 2 switch buttons in 3 operating modes and is ideal for gaming, entertainment, or office use. Featuring 2 USB ports and a metal mesh surface, this cooling pad is compatible with 12"-17 inch laptops and ensures efficient heat dissipation. Portable and lightweight, the quiet fans ensure that it is an appropriate addition to any setting.
PROS
6 adjustable height settings
Built-in anti-slip device
Built-in USB cable
4 non-slip rubber pads at the bottom
CONS
Some might find the plastic tabs to hold the laptop in place a bit fragile.
Designed for professionals, this laptop cooling pad weighs only 550 g, to ensure that it is light and easy to carry. Made of solid ABS plastic, this durable cooling pad is resistant to shocks and features sturdy rear legs and frontal stoppers for easy use. Suitable for laptops up to 15.6 inches, this product has 2 powerful fans and a noise level that doesn't exceed 26 dB, making it suitable for an office or work environment.
PROS
Compact and portable design
Compatible with iOS systems
Fitted with 2 USB ports
Fan airflow above 1200 RPM for robust cooling
CONS
Some might find the outer edge of the USB connector a bit sharp.
This cooling pad has all the features you would ever need. It features 5 powerful fans with unique red LED lighting and a knob switch to adjust the wind speed. The stainless steel mesh has a honeycomb design and is 2.5 mm thick, ensuring efficient heat dissipation and longer battery life of the laptop. Compatible with laptops from 12 to 17 inches, this one has 2 USB ports and an ergonomic design.
PROS
6 adjustable height settings
High-speed silent fans with noise levels under 23 dB
Baffle anti-skid design
Non-slip mat
CONS
This sturdy cooling pad features 2 high-speed blowers at 4500 RPM to provide efficient ventilation and air circulation. The convenient front operation panel allows wind adjustment as well as switching and controlling of 3 light modes. Compatible with laptops between 14 and 17.3 inches, this cooling pad has a 2-way adjustable buckle, making it an ideal fit for laptops of varying sizes. It also comes with 2 removable and cleanable filter cottons at the air inlet to prevent dust accumulation.
PROS
7 adjustable height settings
Flexible sealing rubber ring
Dual USB ports
CONS
May not be suitable for laptops which don't have cooling or ventilation holes at the bottom
This laptop cooling pad is designed for gaming and features 6 high-speed fans, ensuring effective heat dissipation and powerful air supply. The control panel features an LCD screen display, which indicates the status of the fans and allows the rainbow lighting to be controlled effectively. With noise levels below 23 dB, this cooling pad is compatible with most laptops and has 2 silicon sleeves to accommodate thicker laptops.
PROS
Ergonomic adjustable stand with 6 height settings
Removable phone holder
2 USB ports and 1 USB cable
7 adjustable light effect modes
CONS
Some might find the LED lighting a bit undesirable.
Overheating laptops will be a thing of the past with this laptop mat. It is enabled with powerful cooling, 6 high-speed fans at 2900 RPM, and 4 fan modes. The RGB lighting has a combination of 7 colors and 12 modes, and is the right fit for a gaming atmosphere. The LED control panel allows the wind speed to be adjusted, and the dual USB port ensures convenience. Compatible with laptops between 12 and 17 inches, the mesh of this laptop pad has a groove design for superior cooling performance.
PROS
7 level bracket stand
Anti-slip baffle
Noise levels below 28 dB
Dual USB ports.
CONS
Some might find this product a bit heavy to be used on the lap.
This slim laptop cooling pad features a silent cooling fan and a mesh design, ensuring powerful and efficient cooling. The adjustable fan speed and convenient anti-slip stopper contribute to the thoughtful design of this laptop pad. Designed to fit into any laptop bag, this product is the preferred choice of Apple Macbook users for its durable and ergonomic design.
PROS
Portable and lightweight design
7 height adjustments
Universal compatibility for laptops up to 17 inches
2 USB ports
CONS
Some might find the single fan insufficient for gaming.
This stylish laptop pad is compatible with laptops from 11 to 18 inches and features 6 cooling fans of varying sizes. The decorative lights can be adjusted or switched off by a conveniently located light button. The metal mesh design ensures efficient cooling, while the anti-slip baffle makes this a suitable choice for heavy laptops. With a maximum weight-bearing limit of 55 lbs, this cooling pad is both durable and versatile.
PROS
6 adjustment angles
7 RGB lighting effects
Comes with a detachable mobile phone stand
Quiet motor to reduce noise interference
CONS
Might not be suitable for use on the lap
Designed for gaming, this laptop cooling pad features twin-turbo high-speed blowers and a unique sealing ring design to ensure quick heat dissipation without any air leak. 3 wind speeds provide versatile usage with the high-speed gear suitable for gaming, and the energy-saving low-speed gear is more apt for an office setting. Ergonomically designed for convenience, this product also comes with 2 detachable and easy to clean air filters to prevent dust accumulation.
PROS
7 angle adjustable brackets
Universally compatible with laptops upto 17 inches
4 switchable light modes
Fan speeds up to 4500 RPM
CONS
Some might find the fans on this product a bit loud.

This silent cooling pad has a central cooling fan and is designed without LED lights, making this suitable for those who want a simple laptop pad without the distracting lights. With noise levels under 23 dB, this product has a slim and lightweight design, which can be placed comfortably on the lap or desktop. Compatible with laptops up to 16 inches, this versatile cooling pad is USB-powered.
PROS
Centre positioned fan
Ergonomic design
Additional USB port
Built-in cable organizer
CONS
Some might find the USB cord a bit short to plug into other power outlets.

Now that we have looked at our pick of the 15 best laptop cooling pads available in the market, let us review some factors to consider when picking a product that  is ideal for your unique requirements.
How To Choose The Right Laptop Cooling Pad
This is perhaps the most important factor to consider when picking a suitable laptop pad. Gaming laptops require more powerful and heavy-duty cooling than laptops used for simple office tasks. Gamers often prefer a laptop pad with RGB lighting to set the tone for an intense gaming session, whereas office-goers would find a more discreet product suitable. Picking a cooling pad designed specifically for your intended use would be the first step in making a choice.
If you intend to travel frequently with your laptop pad, pick one that is slim and lightweight to ensure portability. Lighter cooling pads might not provide the same cooling as heavier variants, so this is a factor to consider. If your setup doesn't move much, you can easily pick a heavier cooling pad with additional features.
Apart from cooling benefits, laptop pads are now designed with various features to make the product design more ergonomic and convenient. The crucial ones you must consider are adjustable height settings, additional USB ports, detachable mobile stands, and built-in cable organizers. Pick a product that meets all your requirements while providing efficient and powerful cooling.
Laptop cooling pads are, perhaps, the first step in ensuring enhanced performance and longer life for your laptop. Relatively inexpensive and ergonomically designed, there has been a recent advancement in the technology used in cooling fans, including reduced noise, smarter features, and more efficiency in improving heat dissipation and air circulation. Whether at home, office, or while gaming, consider this a necessary and affordable investment to prolong the battery and performance of your device. With a wide variety of options available in the market, let our guide of the 15 best laptop cooling pads be your starting point when picking the product best suited for your cooling requirements.
Recommended Articles: