Shaving and waxing are some of the few ways of getting rid of unwanted body hair at home. Although they are very affordable, there is one major downside to both— the hair grows back really fast. To prevent that, we suggest you buy the best laser hair removal machine available online. Laser hair removal is a process of exposing your unwanted hair to pulses of laser light which damages the hair follicle and ultimately removes it. Getting laser hair removal in spas will require you to dig deep into your pockets but why do that when you can do it safely by yourself at home? Yes, they might not provide amazing results like professional laser hair removal machines, but these at-home hair removal machines are sure to prolong hair from growing for a long time compared to other hair removal methods.
If you have searched the whole internet and are not sure about which one to buy, we have curated a list of the 15 best laser hair removal machines you can choose from.

Top Products From Our List
15 Best Laser Hair Removal Machines In 2021
If you want to have zero body hair and need effortless hair removal devices, then Fasbruy IPL Laser Hair Removal is precisely what you need. It uses the same hair removal technology that is used by dermatologists and in beauty salons. It emits a strong pulse that is absorbed by hair follicles. It renders the follicles inactive which helps in permanent hair removal. Don't worry if you are a new user or using it in gentle areas, this device is fast, easy-to-use, and harmless. 
Pros
The warm light it emits is very gentle on the skin.
It has a small LCD screen to display the settings of the machine.
It has five energy levels that you can choose from to match your skin sensitivity.
It has two modes— manual for small areas like bikini lines and armpit; Auto for large surface areas like legs, arms, and stomach.
It is built to provide up to 999,999 flashes, making it extremely long-lasting. 
Cons
It might not work on certain skin and hair colors. 
If you are tired of enduring all the side effects from waxing and shaving, laser hair removal is your solution. This laser hair removal from AMZGIRL uses Ice care technology that provides instant cooling to shrink and relieve your skin from redness and swelling. AMAZGIRL claims that it has delivered up to 96% of hair reduction for 92.4% of women after two months of treatment. It has two flash modes and two lamps which work in different ways to different body parts. The single flash mode and 2cm2 lamp head are for small areas and the slide flash mode and 4cm2 are for larger areas. 
Pros
It claims to have no side effects.
It can generate up to 999,999 flashes in its lifetime.
It has an LCD screen to check the settings.
It has 5 adjustable energy settings to accommodate different skin sensitivities. 
Cons
It might not work on all skin tones and hair colors. 
Considered to be one of the most effective at-home laser hair removal machines, BAIVON IPL Hair Remover is on pretty much everyone's favorite list. Be it facial or body hair, it provides you a painless, safe, and permanent hair removal at home. Depending on your skin tolerance, you can switch between the five energy levels to avoid any type of damage to your skin. Its 3cm2 light area and professional plush light technology provide results in 8-12 months from treatment.
Pros
It does not need any cartridge replacements.
It emits up to 999,999 flashes with a lifetime of pulses.
It has a small LCD screen to monitor device settings.
It has two modes — Manual and Auto. 
Cons
It is not applicable to a few hair colors and skin tones. 
With 3 times more power than the regular IPL hair removal devices, Tria Beauty Hair Removal Laser 4X provides precise and satisfying results that you have longed for. It uses the Diode Laser Technology that is commonly used by dermatologists providing you in-office treatment at home. Each treatment area receives a controlled precision to target every single follicle at a concentrated level for the best results.
Pros
All Tria devices are FDA-approved.
It counts the number of pulses to ensure accuracy in each treatment.
It runs on batteries as opposed to chords on other hair removal devices.
The light emission from the devices is extremely intense to keep your eyes from any harm. 
Cons
The batteries might not last for a long time. 
Do you have a high hair regrowth rate? We have just the thing for you— ProCIV Permanent Painless Laser Hair Removal. This upgraded 2020 version has a more stable energy output for more effective hair removal. It uses a clinically proven IPL technology which will start showing results in eight weeks. Its latest and enhanced hair removal technology generates 50 flashes per minute making the hair follicle fall asleep and inhibits its growth cycle. It has 5 energy levels to switch from to match your skin tone.
Pros
It has an LCD screen to display settings and readings.
It provides flashes up to 999,900 times which can be used for up to 25 years.
It removes hair effectively without having any side effects on the skin.
It has two fan vents which help in managing the device's temperature.
It has both manual flash and auto flash mode that will help you manage between small and large areas. 
Cons
It applies only to certain hair colors and skin tones. 
Are you looking for a permanent laser hair removal device before you hit the beach this summer? With IMENE T3 Ice-cooling IPL Hair Removal, you will be ready for summer in no time! It uses the latest IPL technology that will break the cycle of hair regrowth. IMENE claims to have provided desired results for up to 93.7% of its user base. With its ice cooling technology, your skin will receive a soothing and painless treatment that results in complete hair removal. It has a manual and auto mode to provide you the appropriate amount of control while using it. 
Pros
It is gentle on the skin and claims to have no side effects.
It has a built-in ice compress plate that reduces the redness and swelling by keeping the skin surface temperature between 32°F and 41°F.
It generates up to 500,000 flashes which are sufficient for 9-11 people.
It has a non-removable flash that is designed to avoid any leakage. 
Cons
It might take longer to show results on certain skin and hair types.
Combining hair removal with skin rejuvenation, BoSidin Painless Permanent Hair Removal Device has become the go-to at-home laser hair removal device. It is one of the first to introduce medical-grade technology that is used in professional cosmetic centers for home treatment purposes. It generates continuous medical-grade pulses that allow the roots to heat up and suppress their regrowth. Its unique hair removal system provides customized treatment for each area for the best results. It also features a photo rejuvenation light source that emits three layers of infrared light to reduce wrinkles and restore skin elasticity.
Pros
Its head can be rotated up to 180° in both directions.
It has a green matte-finish which gives it an elegant look.
It has six intensity levels and generates up to 500,000 flashes in its lifetime.
It is FDA-approved and complies with all EU CE regulations 2019.
It takes minimum effort to use; it has a one-touch auto-flash mode that provides a faster and smoother operating experience.
Its dynamic cooling capability prevents the necessity of using any gels or creams.
It has a continuous pulse mode which allows the devices to slide in an up and down motion to remove hair as it goes. 
Cons
The detachable heads might keep falling off during usage. 
If you are in need of a laser hair remover that will provide exceptional results that last a long time, Fezax IPL Hair Remover is what you need to buy! It can generate up to 999,999 flashes to last for multiple treatments without any cartridge replacement. If you are a first-time user, you can utilize its different energy levels to suit your skin and hair type. Also, the two modes— Manual and Auto, will help you have controlled laser treatment in sensitive areas.
Pros
Visible results in eight weeks
Its upgraded IPL technology helps in achieving smooth skin.
The LCD screen displays all settings-related information.
Its technology is specifically designed for safe use at home. 
Cons
The hair regrowth rate might not be affected much. 
Providing up to 94% of hair removal in just three treatments, Remington iLight Pro At-Home IPL Hair Remover is easily one of the most efficient hair removal devices out there. It uses professional-grade IPL technology with a powerful 16 Joules per flash to offer greater hair reduction in just a few treatments. It features an iLIGHT Pro system that utilizes a proprietary ProPulse Technology that is commonly used by dermatologists.
Pros
It is clinically proven and FDA-approved.
It claims to provide 2X the results than ordinary laser hair removers in just a few treatments.
It has a skin tone tester to see if iLIGHT is applicable to your skin tone.
The skin contact sensor confirms if the treatment cap is in contact with your skin before the treatment starts.
 Cons
It cannot be used on dark-toned skin. 
DEESS has put over 17 years in product research and clinical research data based on their chain-salon users. With this experience at hand, they meticulously designed ICE COOL IPL Laser Hair Removal System. It uses a state-of-the-art cooling system that balances the IPL hair removal system and the cooling system effortlessly. The IPL generates light to remove hair and the cooling system reduces the heat generated during the process. This way, you will get flawless hair removal and soothing skin at the same time. 
Pros
Ergonomic design
In smart automatic flash mode, each flash lasts about 0.9 seconds which helps in reducing treatment time on the whole area.
It has a long lifespan owing to its upgraded lamp tube and chip program.
It has the ability to provide unlimited flashes.
It comes with three lamp head attachments to suit your requirements. 
Cons
It does not apply to certain skin tones and hair colors. 
Has shaving and waxing never provided you the results that you expected? Maybe it is time for you to give Heitewon Ice Cool IPL Hair Remover a try. It has adopted the photon beauty IPL epilation technique and utilizes selective photothermolysis to interrupt the hair growth cycle. It breaks the germinal cells by increasing the temperature of the hair follicle high enough to destroy it without harming your skin in any way. It is an ideal device for people with sensitive skin. 
Pros
It has both manual and auto mode to help you treat different areas with utmost control.
The cooling technology soothes your skin simultaneously while the laser is aimed directly at your hair follicles.
It has five energy levels and can generate up to 999,999 flashes during its entire lifespan. 
Cons
The device might heat up when used for a long period.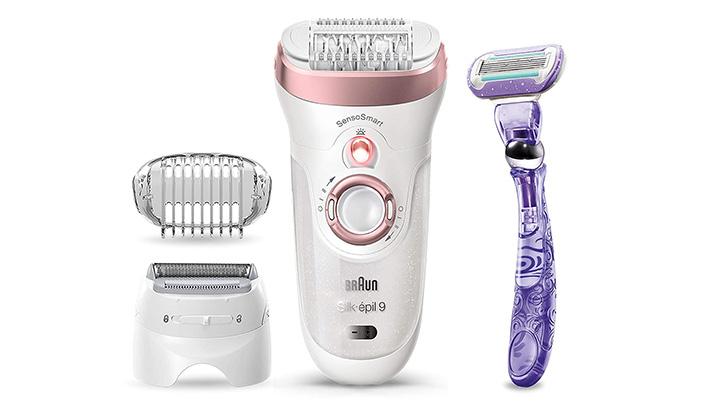 Get smooth skin with the Braun Silk-épil 9 Epilator. It comes with a wide pivot head. The Micro-Grip technology enables the removal of hair in a single stroke. This device comes with a different shaver head that you can use for sensitive skin like the bikini area and underarms. Additionally, the epilator comes with a razor for quicker and easier use. The massage cap reduces the sensation of pain. This device also displays red light that indicates the right amount of pressure is applied.
Pros
● It is waterproof.
You can use the device cordless upto 50 minutes.
It displays the charging light.
Cons
Some experienced red bumps
It is time that you throw your shaving and waxing kit out the window because MiSMON IPL Laser Hair Removal Device will make hair removal at home very easy, efficient, and safe. It is a medical-grade, 3-in-1 beauty device with the latest IPL technology for the best hair removal treatment. It has a powerful 18Joules high energy which is one of the fastest, effective, and safest IPL devices. It has both S-HR and HR lamp filters with a specific wavelength to help with skin issues like reducing fine lines and anti-aging symptoms.
Pros
It has received the US FDA medical safety certification.
The ice compress function reduces redness and skin burns.
It has both manual and auto flash modes.
It has a peak flash value of 999,999 times. 
Cons
It might take a long time to show its effectiveness on certain skin and hair colors.
Philips is one of the biggest and most trusted brands in the world for its high-quality products across various streams and which includes Bri921 Lumea Hair Remover. This hair remover uses IPL technology and is developed with the help of leading dermatologists. It comes with a Satin Compact Touch-up Facial Trimmer that is extremely portable for you to carry in your bag for those emergency occasions to quickly remove hair in between your IPL treatments. 
Pros
You can have up to 85% of hair reduction in three treatments.
It features a Philips SmartSkin Sensor that detects your skin tone and suggests the best settings for you.
It comes with two attachments to customize treatment based on the body part. 
Cons
It will not work on all skin tones and hair colors.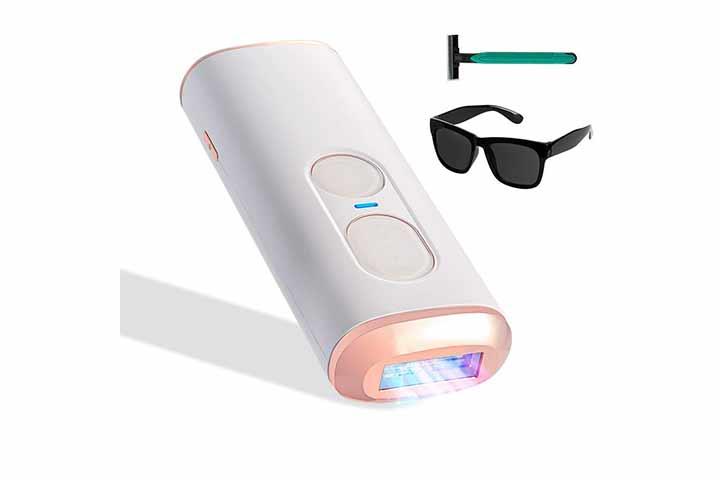 If you are looking for an alternative to shaving, waxing, or tweezing, you should consider buying Verkstar IPL Hair Removal. With this professional-grade technology, you will not only get desired results but also enjoy the process of hair removal. Suitable for the whole body, its IPL technology will help you get rid of unwanted hair in a painless and effective process. It is applicable to a wide range of skin tones and hair colors.
Pros
It shows results in eight weeks.
It can generate unlimited flashes.
It has five energy levels to change as per your skin needs. 
Cons
It does not include any additional attachments for customized treatments.
That was our list of the 15 best laser hair removal machines you need to consider buying. If you are still wondering about which one of these would be the one for you, let us help you a little more. Our buying guide has few important pointers that will help you choose the one that will match your requirements. Read on!
The Best Laser Hair Removal Device – Buying Guide
Here are a few tips that you should keep in mind while buying a laser hair removal device:
Compatible: Most laser hair removal devices are limited to certain skin tones and hair colors, so you need to make sure that the device you want to buy works on your skin and hair colors. All brands have a color chart or a list that you should go through to know if it is applicable for you. 
Flashes: Flashes are the IPL or laser wavelength emitted by the device that damages the hair follicles to remove them completely. So, the higher amount of flashes a device can generate, the better because the device's longevity also depends on the number of flashes it can generate.
Intensity: When you go to a professional, you usually don't have to worry about the intensity since they know what they are doing. But if you are new to the concept of doing it yourself, treating yourself with wrong settings can do more harm than good. Make sure the device has multiple levels of energy levels that you can switch between. Using the lowest level is highly recommended for beginners.
Power Source: There are two types— battery-powered devices and chord devices. If you are someone who does not want to have chords hanging on the device while using it, you can choose the ones that operate on batteries. But it would mean that you cannot use them for a long time. If you want longer treatment sessions, then you should choose a chord-connected device. Usually, chord devices offer more flashes too. Some even have unlimited flashing capabilities.
Attachments: Having additional attachments is beneficial since they can help you customize treatment for your sensitive areas of the body. A lot of these brands on our list do provide additional attachments that you can connect to the device to have precise control while treating areas like fingers.
Cooling Technology: When you use a laser hair removal device, the flashes or pulses from it can also sometimes cause a small amount of burning sensation. With cooling technology, your device will provide instant relief to your skin from redness or swelling during treatment. This way you get the best results without enduring any damage or burn on your skin. It is highly recommended to look for this feature if you have sensitive skin.
Buying a laser hair removal device and using it on your own might seem like a daunting task, but it honestly is not. All these devices on our list are easy-to-use and extremely safe. If you are going to the beach or just want to get rid of unwanted hair, these devices will help you achieve that look. These devices are not restricted to only women, it is made to be used by both women and men. So, if you are a guy reading this article, do not hesitate to buy one.
The following two tabs change content below.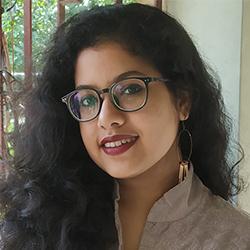 Poulami Nag
Poulami Nag is a writer and associate editor at MomJunction. She did her MA in English from Miranda House, University of Delhi and has qualified UGC-NET. Her journey as a content writer began in 2017 and since then she has garnered diverse interests along the way. Her knowledge of literature and language has given her an eye for detail and...
more