Forgot to get a super romantic gift for your valentine? Don't just end up gifting soft toys or flowers due to the time crunch. No, not even chocolates will do. They're passé now. Buy a thoughtful gift for your sweetheart if they hold a special place in your life. It doesn't have to be an expensive gift, but it should be something that will put a smile on their face.
We understand how confusing it is to pick the right Valentine's Day gift at the very last moment. That's why MomJunction brings you a list of 21 best last-minute Valentine's Day gifts in this post. Keep scrolling, and you may find a perfect gift for your beloved sooner than later.
21 Last Minute Valentine's Day Gifts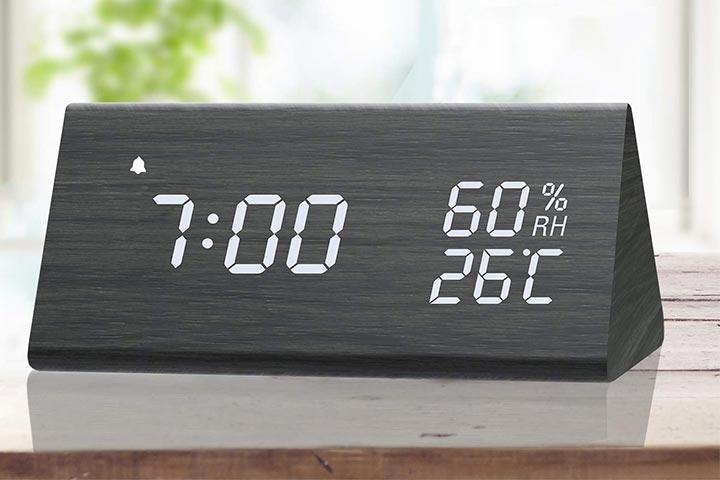 This wooden alarm clock lets you put three different alarm settings and offers three levels of brightness adjustments. It also has a humidity and temperature sensor that can help monitor the temperature indoors. It operates with a USB power cord, and batteries are not recommended. It could be an ideal gift for a husband or wife on Valentine's day. It is practical and unique at the same time.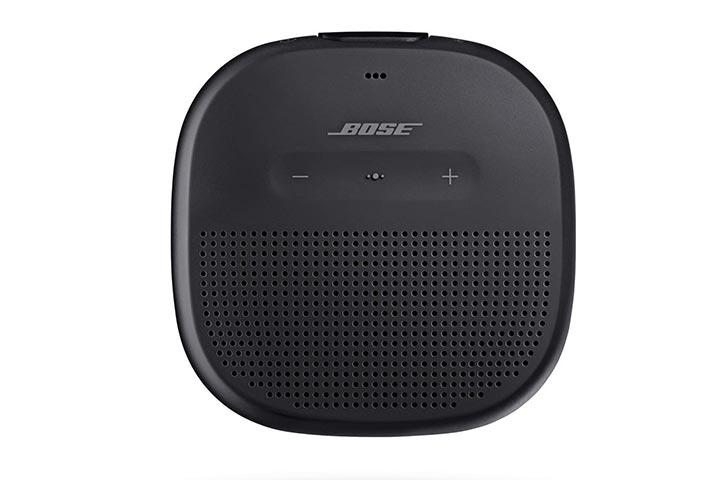 Is your beloved a music lover? Then this portable and wireless speaker could be a good, practical last-minute valentine gift option. It has a built-in speakerphone to take calls or access your mobile phone. It can be put on a party mode or stereo mode. The waterproof speaker can be taken to camping trips, beaches and other outdoor spaces. It can play music up to six hours on one charge, delivering balanced and crisp sound. It is an ideal gift for your boyfriend or girlfriend.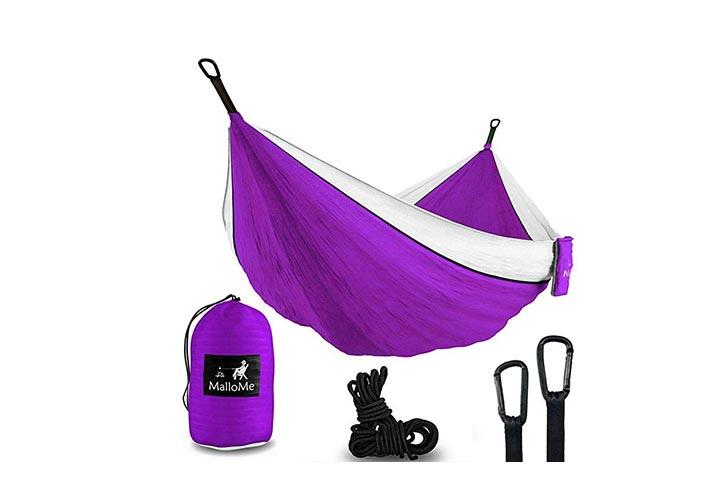 If you and your partner love going outdoors, then this outdoor hammock could be one of the right choices as a valentine's gift. It is made of breathable nylon material and is triple stitched for secure support. The unique strap design has a breaking strength of 1000lbs, which means you and your partner can comfortably relax in it. It is compact and ultralight, comes in a bag, and can be easily set up.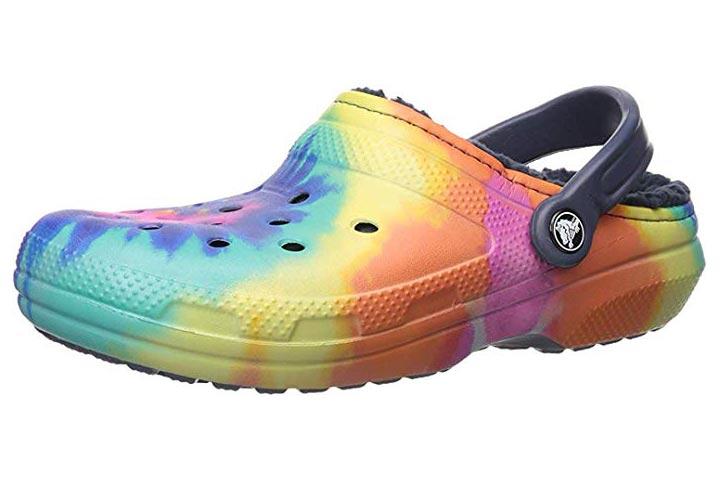 This colorful pair of clogs is 100% synthetic and designed for men and women. You can buy it at the last minute and gift it to your beloved. The pivoted heel strap offers a secure fit to your feet, and the synthetic sole and lightweight of the clog provide the utmost comfort. It comes in two different colored patterns and is available in all sizes for men and women. It could be a thoughtful and sporty Valentine's Day gift.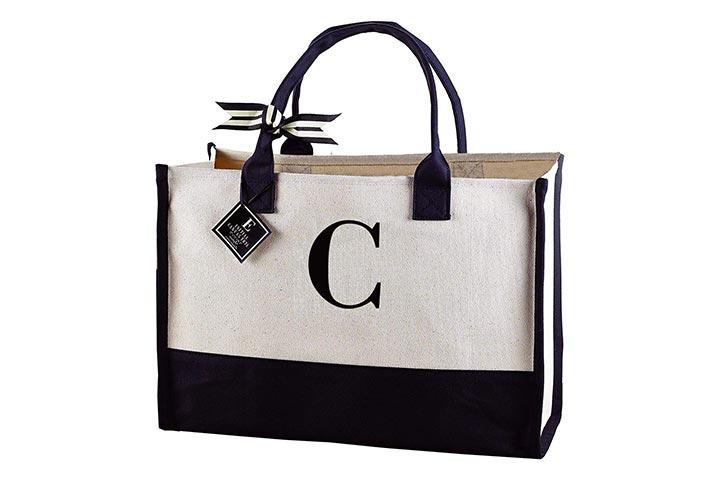 If you are looking for a usable last-minute valentine gift for her, then this initial canvas tote from Mud Pie could be an ideal option. It measures 17 x 19 x 2 inches and has a bow on it. You can pick a bag with your beloved's initials on it to make it special. It is made of cotton and is suitable for everyday use. It can be used for shopping as well!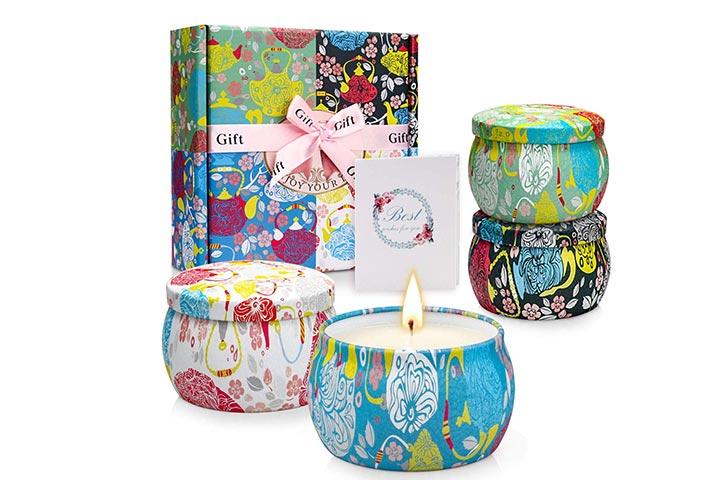 This gift set includes four different scented candles in small and cute boxes. The candles are made of natural oils and 100% pure soy wax, and the four different fragrances include jasmine, lavender, French vanilla, and gardenia. The soothing scents help in relaxation, and the boxes can be used later for any purpose. This eco-friendly set could be a romantic last-minute valentine's gift for him or her.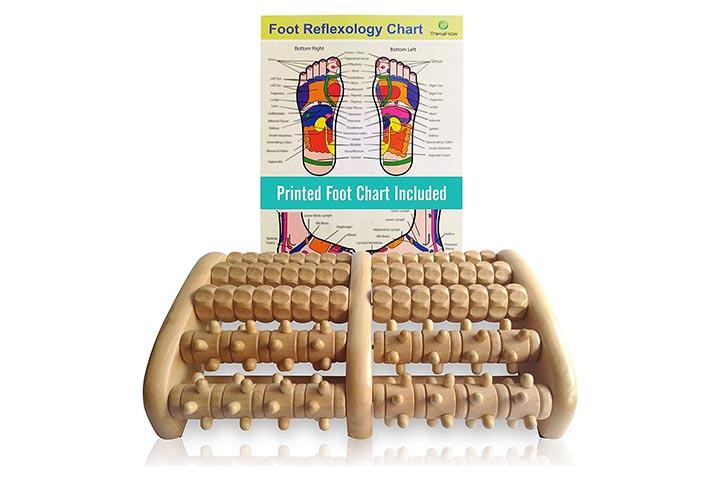 This foot massager comes in dual patterns with enhanced arched design and additional acupressure rollers that help provide relief from foot pain, plantar fasciitis, and other foot problems. This massage roller comes with a free foot chart and one eBook on treating foot ailments with massage and reflexology. This Valentine's Day, choose this gift to make life a little painless and more relaxing for your loved one.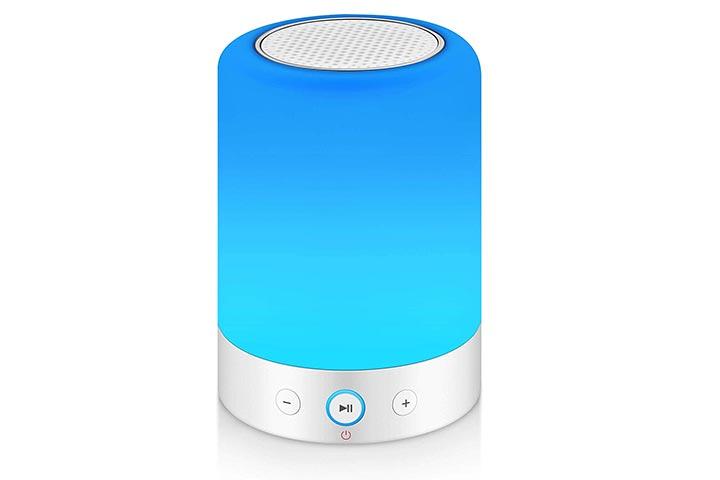 This is two in one product that works as a wireless Bluetooth speaker and a sensitive touch light control lamp. The portable speaker is easy to use and gets connected fast too. It has buttons to play, pause, and stop the music and change the radio channel. And the tap feature allows you to change the light color ranging from hypnotic light to dynamic light. It could be a simple yet cool last-minute valentine gift.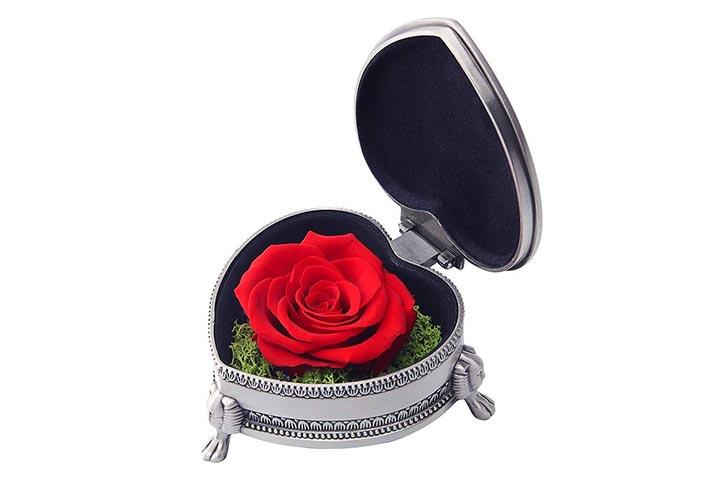 This unique product can be an appropriate last-minute valentine gift. The preserved rose is real and feels soft as a fresh flower and lasts for two or three years. It comes in an exquisite heart-shaped box that could be later used as a jewelry box too. It is non-toxic, and there is no need for watering or protecting it. Just make sure it is not kept outside. It could be a sweet way to express your love for your beloved.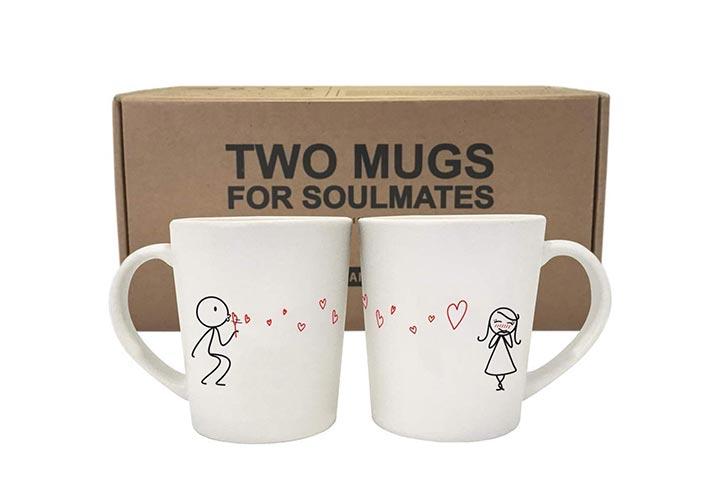 This could be a romantic last-minute Valentine's Day gift for yourself and your loved one. It comes with two mugs, which are microwave and dishwasher safe. The matte finish and cute print of a girl and a boy with hearts could be an ideal choice. Also, it is a useful product that your partner would use daily. These two cups come in neat packaging as well.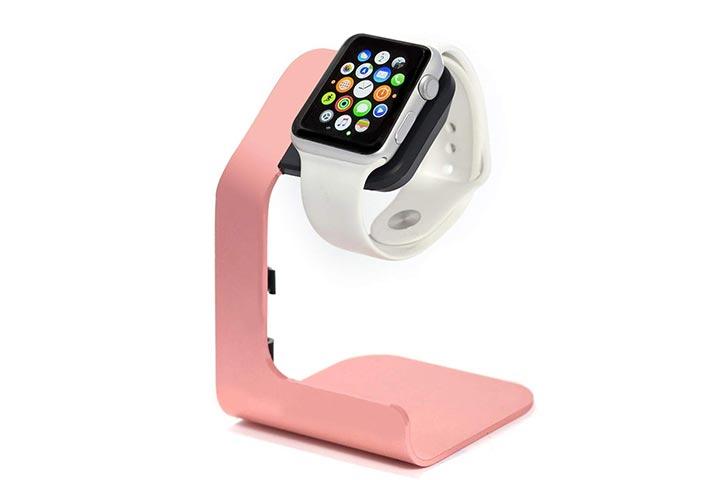 If your loved one has an Apple watch in series 5/4/3/2/1, then this aluminum-crafted watch stand with a charger could be the right Valentine's Day gift. The firm-gripped rubber at the back of the stand provides safety, and the cable manager prevents entanglement of cables. The ergonomic design of the stand keeps the watch at a 45-degree angle, ensuring its stability. Small, compact, and reliable, this is a good option for gadget freaks.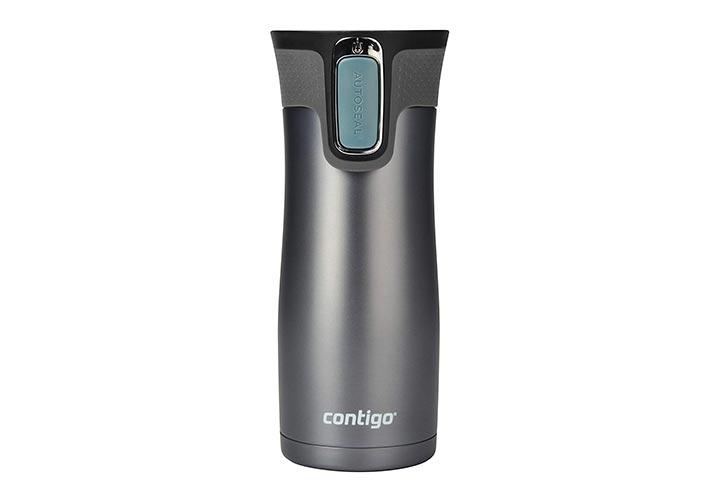 This mug is made of stainless steel and has an auto seal technology that prevents leakage and spills. It has thermalock vacuum insulation, which keeps drinks hot up to seven hours and cold up to 8 hours. It comes with an easy-to-clean lid and button lock. It is available in 21 colors and different sizes, including 16, 20, and 24 ounces. It could be a good last-minute Valentine's Day gift.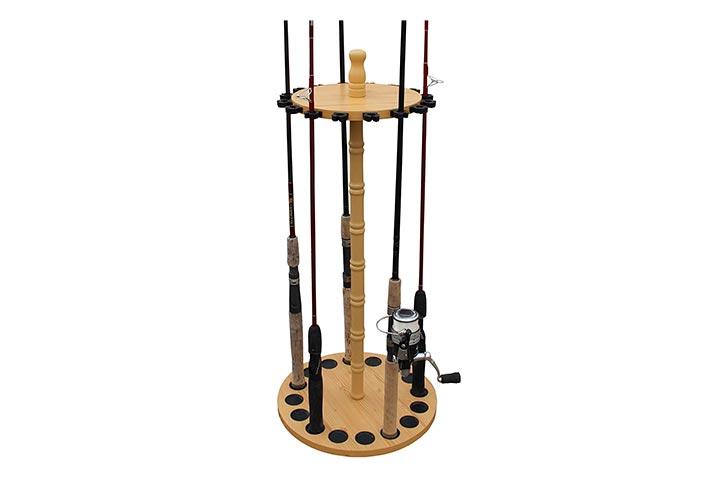 The round storage rack is hand-crafted and can store up to 16 fishing rods. It has a traditional design with16 soft rod clips that can firmly support the rods. If your partner likes fishing, then this could be a good option as a last-minute Valentine's gift for him or her. It does not require any tool for assembly and comes with a waterproof handle and solid wood center. It measures 13.3 x 13.3 x 30 inches, and it comes in three different colors or varieties.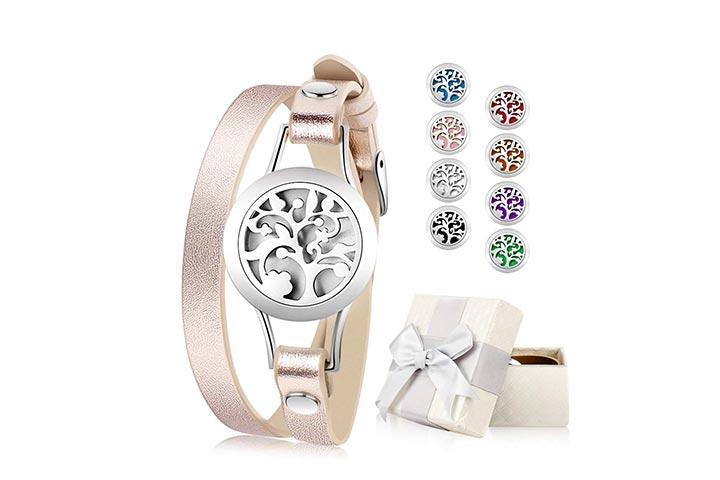 This last-minute Valentine's Day gift could be a special one for your lady love. The stainless steel bracelet is lightweight and can help calm your senses and relieve stress. The size can also be adjusted as per the wrist size. The bracelet comes with eight different colored reusable pads, on which you need to add two or three drops of your favorite essential oil for aromatherapy. The oils can be beneficial and help improve sleep and attention, and also calm your emotions.

It could be an appropriate gift choice for someone who likes playing golf and wants to practice at home. This 9-foot long and 16.25-inch wide accelerator pro indoor putting green comes with a ball return feature. It fits well indoors and outdoors and helps you practice different strokes without any interruption. This could be a thoughtful choice for your valentine.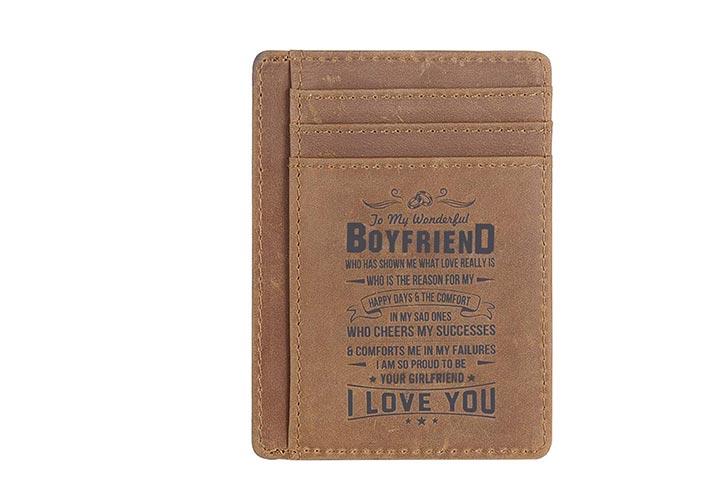 This minimalist wallet could be a friendly and sweet Valentine's Day gift for your husband or boyfriend. It has six slots to place cards, one picture slot, and one for cash. If your man is looking for a slim and thin wallet, then this leather wallet could please him. It also has a beautiful message, along with the phrase 'I Love You,' printed on it.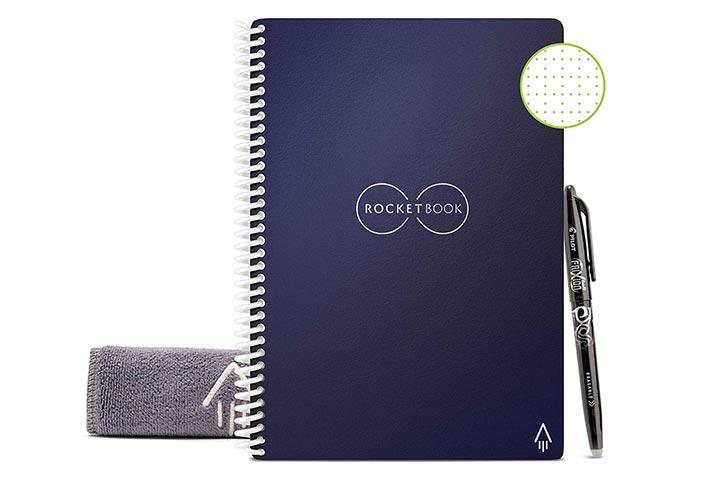 This notebook has been designed and made using AI technology that lets you use and reuse it as many times as you want to. It contains 36 dotted grid environmentally friendly pages on which you can write and then wipe with a cloth. Your content or notes can be scanned and stored on Dropbox, Google Drive, or iCloud. It comes with a Pilot Frixion marker and a cloth. The size of the notebook is 6 x 8inches, and it comes in eight colors.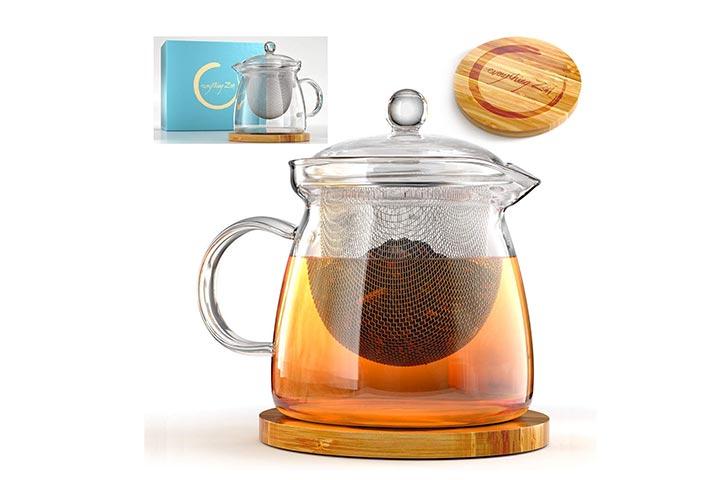 The glass teapot comes with a steel infuser and a bamboo coaster. The pot can hold around two cups of tea and has a slip-free handle. The strainer can be easily removed and washed. The 100% heat-resistant glass is microwave and dishwasher safe too. It measures 4.5 x 6 x 6 inches and comes neatly packed in a gift box. It is a stylish and practical gift for a tea lover on occasions like Valentine's Day.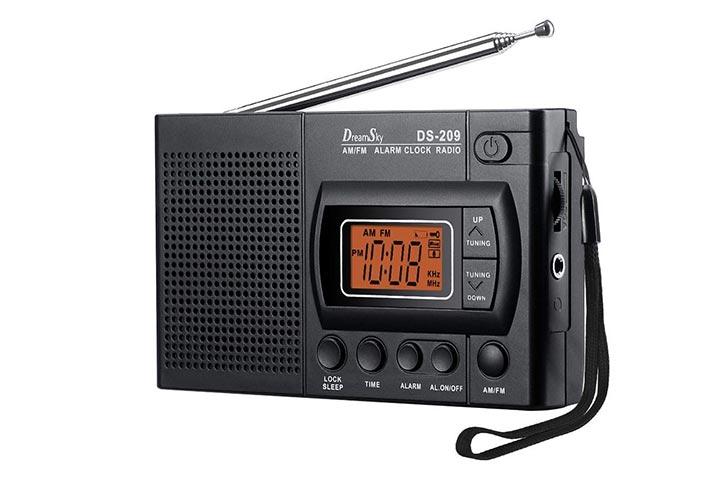 This portable radio with good reception comes with a built-in loudspeaker, earphone jack, and AM and FM bands. It also has a 3.5mm jack to put in earphones. It is operated on two AA batteries and also has a sleep timer function with an alarm. The clock display comes with a backlight too. If your partner enjoys music and traveling, then this could be a practical last-minute Valentine's Day gift for him or her.

This beautiful fiber optic LED light is solar-powered and can be a unique gift option for your valentine. They are waterproof, durable, and can be easily installed in a garden, on the porch, or other outdoor spaces. They switch on at dusk and off at dawn automatically. The three different designs include butterfly, dragonfly, and hummingbird. Gift them these to give their surrounding a luminous effect this Valentine's Day.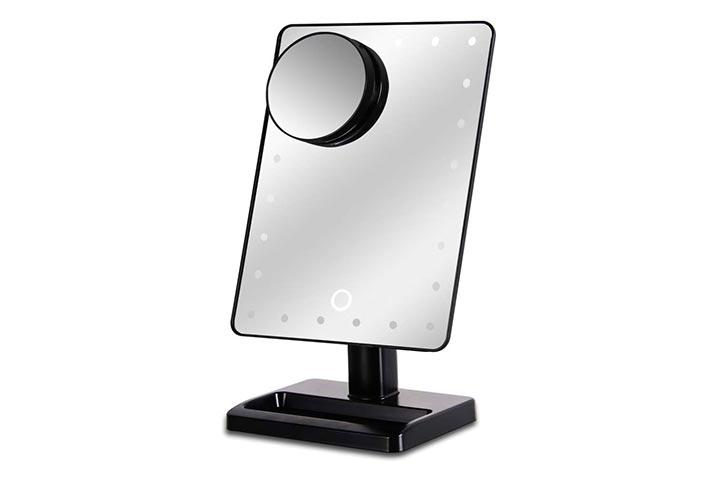 This cosmetic mirror has 24 LED lights with a touch function to give 30% more brightness. It also has a small, round 10X magnifying mirror to help you with detailed eye makeup. The 12-inch mirror rotates 360 degrees, which makes the adjustment easy and convenient. This battery-operated mirror could be a perfect gift option for your pretty valentine.
How To Choose The Best Last-Minute Valentine's Day Gift?
With such busy lifestyles these days, most tend to purchase a Valentine's Day in a rush. Thanks to the internet and digital technology, you can buy last-minute Valentine's Day gifts without any hassle. Here are some tips to keep in mind.
Find websites that can offer you delivery in less time or even the same day. They could be your savior during a time crunch.
Pick gifts that can express your love for your valentine. Or try and get something unique that your partner would surely love to have.
Another tip is to look for an item that your beloved has been yearning for. A practical gift would always be a great option. For instance, women would like to have a handbag or jewelry, and men would like a wallet or grooming kit. On the other hand, a Bluetooth speaker, charger, and mug would be suitable for both men and women.
Remember these tips while you are looking for a last-minute gift for your valentine. And pick a gift that would impress your beloved. Select any from the list and buy it now. But make sure you are not delaying it anymore. The right gift can help create special memories that you would remember for many more coming years.
Recommended Articles: