A lazy Susan is a circular, rotating tray that can be placed on the tabletop or countertop, so the dishes served are accessible to everyone. The best lazy Susans are extremely functional and make organizing things easy.
Usually made of plastic, glass, steel, or wood, a lazy Susan makes a great cabinet organizer in the kitchen and can also be used just about anywhere in the house. Here, we bring you a curated list of the best lazy Susans. Pick one that can give your kitchen a tidier look and makes accessing and organizing things easy.
Top Products From Our List
11 Best Lazy Susans
For those who love to keep everything organized, this two-tier tabletop lazy Susan is an impeccable choice to keep small items handy. This plastic lazy Susan lets you create more space in any cluttered corner. Use it as a spice rack in the kitchen cabinet or as an organizer on your kitchen countertop to store more things.
Features:
Measures 12X12X7.5in
3/8in rim edge prevents items from falling
Easy-glide revolving storage space
Non-skid surface
Multipurpose organizer
This two-tier turntable metal lazy Susan can be placed in the kitchen, fridge, and even bathroom cabinets. Designed to make the optimum use of storage space in small kitchens, it is suitable for keeping food, spices, napkins, condiments, and more.
Features:
360-degree rotatable
Made of durable stainless steel
Stain- and fingerprint-resistant brush surface
Non-slip surface
3/8in ledge to prevent items from falling
Measures 6x10in
Bring this simple, effective, and convenient lazy Susan home to keep small things in the kitchen or bathroom in an orderly manner. It is a perfect-sized turntable, with a soft and non-slip base, which allows easy access to smaller items. The easy-to-clean and durable lazy Susan turntable is designed to keep your tabletops and cabinets tidy.
Features:
Deep ledge to keep items upright
Large base to ensure tumble-free spinning
Measures 16in in diameter
Non-slip rubber feet for protecting surfaces
Has durable steel ball bearings
Ideal for counters and cabinets, this sturdy two-tier lazy Susan is a favorite pick for many reasons. The steel hardware construction makes it an efficient organizer rack, bakeware rack, and storage space for bathroom cabinets. Keep small stuff in your house well-organized with this mini lazy Susan.
Features:
Two-tier, 360-degree rotatable rack
Measures 10.5in in diameter and 6in in height
Made of premium stainless steel
Resists stains and fingerprints
Raised rims prevent items from sliding off
The large lazy Susan from Lipper International offers generous space to keep your condiments and spices on the dining table. Known for its functionality and finish, this wooden lazy Susan makes a lovely housewarming gift for someone special.
Features:
Measures 18in in diameter and 1.25in in thickness
Made of durable acacia natural wood
Can be easily washed with mild soap and water
Rotates for easy access
No assembly required

The two-tier turntable organizer is designed for keeping your kitchen spice cabinet neat and tidy. With this smart spinning rack, even the smallest of the cans are within your reach. Make the best use of your limited space in a diligent way with this lazy Susan for cabinets.
Features:
Unique D-shaped revolving turntable
Fits in cabinets with 11-inch deep shelves
Can hold up to 24 cans or 50 seasoning containers
Made of high-impact polymer plastic
Non-slip, machine-washable shelf liner
Strong and durable
Designed for small spaces, this two-tier lazy Susan for corner cabinets creates a compact storage space. It can be used in refrigerators, inside kitchen cabinets, and pantry shelves. This full-circle construction gives you a comfortable option to place your condiments, spices, and seasoning containers.
Features:
Two-tier 360-degree rotating shelves
Made of chlorine- and BPA-free plastic
Smooth gliding stainless steel ball bearings for comfortable rotation
Elevated edges to prevent things from falling
Measures 9in in diameter and 7.8in in height
The multipurpose wooden lazy Susan made of bamboo provides generous space to organize stuff on the dining table, kitchen cabinets, and pantries. It allows easy access from any side and makes for an eco-friendly option with great functionality.
Features:
Made of natural bamboo
360-degree rotatable
Measures 13in in diameter and 1in in height
Designed to support weight up to 25lb
Resistant against rust and breakage
Make the most of the corner spaces in your cabinets with this two-tier turntable. The strong and sturdy construction, with independently rotating shelves, makes it easy to grab the hard-to-reach things in the cabinet.
Features:
Made of polymer
Two 360-degree rotating shelves
Comprises double-wall rims
One-inch ledge to keep contents in place
Fits comfortably in shelves measuring between 25.5in and 31.5in
Add a rustic look to your dining tables with this wooden lazy Susan. With each piece handcrafted individually, this turntable makes spices and condiments readily accessible. One of the best, this lazy Susan is a blend of beauty and functionality.
Features:
Made of durable acacia wood
Sizes range from 13.75in to 16in
Can be easily hand-washed with mild soap and water
This wooden turntable blends in with different interiors and adds elegance to your kitchen or dining room. With this large lazy Susan, you can comfortably organize small food containers and always keep them handy.
Features:
360-degree rotating turntable
Measures 21in in diameter
Made of pine and MDF
How to Choose the Right Lazy Susan?
If you are planning to buy a lazy Susan for your kitchen cabinet or dining table, here are a few guidelines to keep in mind.
Choosing the right type: Considering where you wish to install the lazy Susan, you can select from different shapes such as full circle, pie cut, D-shaped, and half-moon.
Material: You can find lazy Susans made of wood, polymer plastic, and chrome. Each comes with its own strength, appeal, and durability.
Size: Based on where you wish to install it and how much stuff you want to keep on it, you must check the size of the lazy Susan.
Ledges: It is always a good idea to pick turntables with ledges so that your stuff doesn't fall as you rotate the table.
Ease of cleaning: Go for turntables that are easy to clean and maintain so that you can clean them often and have them looking tidy always.
With a good lazy Susan, you can optimize your kitchen storage space and keep things accessible. It makes an easy and perfect solution for organizing food cans and seasoning containers on tabletops and kitchen counters or inside the cabinets.
You also don't have to worry about the dead corner cabinet spaces when you get home a functional lazy Susan. It offers a multipurpose solution that is not just limited to the kitchen or dining spaces, but also bathroom cabinets and dressing tables.
The following two tabs change content below.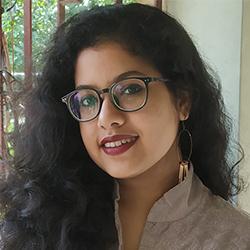 Poulami Nag
Poulami Nag is a writer and associate editor at MomJunction. She did her MA in English from Miranda House, University of Delhi and has qualified UGC-NET. Her journey as a content writer began in 2017 and since then she has garnered diverse interests along the way. Her knowledge of literature and language has given her an eye for detail and...
more