Leaf blowers are a necessity in autumn, although they are useful throughout the year. With an in-built pressure that creates a strong wind, leaf blowers clear the dry leaves and even other dust particles from the surroundings, creating clean space in minutes.
The handy cleaning unit is multifunctional and offers much-needed help, especially if you have a huge garden. Read on to know about different types and a list of the best leaf blowers available online. We also share a few safety tips and features to look for in a leaf blower.
Safety Tips When Using A Leaf Blower
Follow these steps for your safety and durability of the leaf blower.
Remove any tree branches, rocks, or other debris from the yard before using a blower.
Keep children and pets away from the area of usage.
Use the blower at the lowest speed to reduce noise.
Do not leave a running leaf blower unattended.
Always use the nozzle attachment to reach higher places.
Wear goggles, dust masks, earplugs, and heavy-duty gloves while operating a blower. Avoid wearing any loose garments, scarves, or cuffed pants during usage.
Tie your hair up when using the blower.
For gas models, use only the instructed mixture as fuel.
Always empty the fuel tank of gas models after using them.
Read the instruction manual carefully before using any leaf blower.
11 Best Leaf Blowers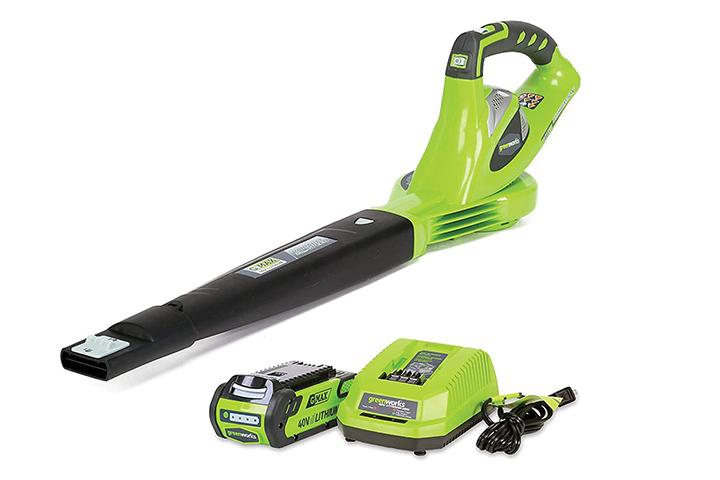 If you are looking for a hassle-free way to clean your garden, you can consider the Greenworks leaf blower. It works on a rechargeable lithium battery, which provides unrestricted movement during the cleaning and a run time of 14 minutes. With a push-button start, this tool is easy to use, maintain, and provides controlled sweeping of leaves with its two-piece blower tube.
Specifications
Airspeed: 150mph
Weight: 3.3lb
Type: Battery-powered
Air volume: 135cfm
Pros
Noiseless operation
Lightweight design
Low charging time and variable speed
Adjustable speed for efficiency
Push-start button
Cons
Battery may not be durable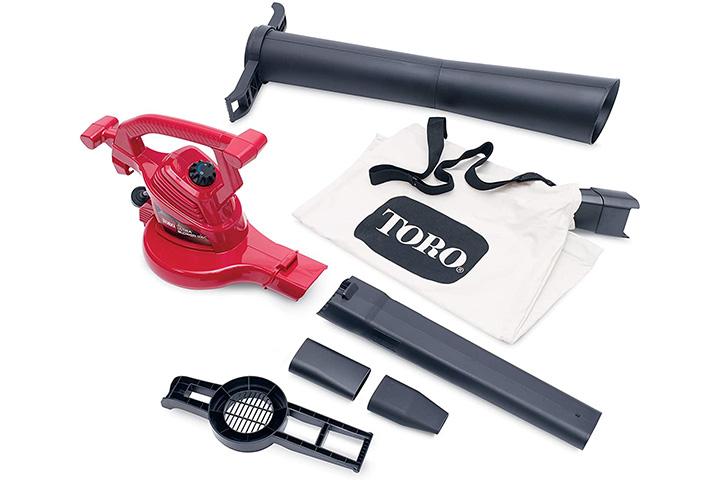 The Toro electric leaves blower offers a powerful air stream with variable speed to clear leaves of all sizes. Its powerful engine allows this tool to be used as a vacuum and a leaf shredder. You can convert it into a vacuum without using any additional tools. A strong and large metal impeller provides improved mulching, which reduces the debris and provides a mulching ratio of up to 88%.
Specifications
Airspeed: 250mph
Weight: 8.5lb
Type: Corded
Air volume: 350cfm
Pros
Easy control with its speed options
Comes with a durable vacuum bag
Has a cord lock to hold the wire in place
Compact design
Vacuum tube, power insert, cord storage hook, and nozzle included
Cons
Motor may take time to start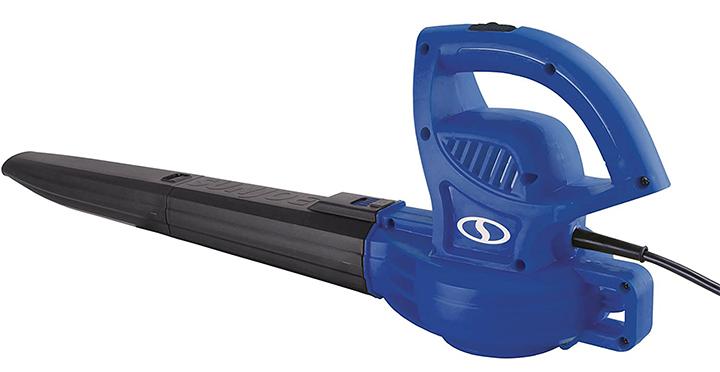 The electric leaves blower from Sun Joe is multifunctional and can be used to clean patios and decks. Its high speed provides easy and efficient cleaning, and its compact size lets it fit into your backpacks, allowing easy storage during off-seasons. The no-load speed of 12,000rpm allows efficient and hassle-free cleaning of your yard.
Specifications
Airspeed: 155mph
Weight: 3.9lb
Type: Corded
Air volume: 260cfm
Pros
Easy to use, maintain, and store
Powerful motor for efficiency
Concentrated nozzle for increased air velocity
Versatile, lightweight, and portable
Cons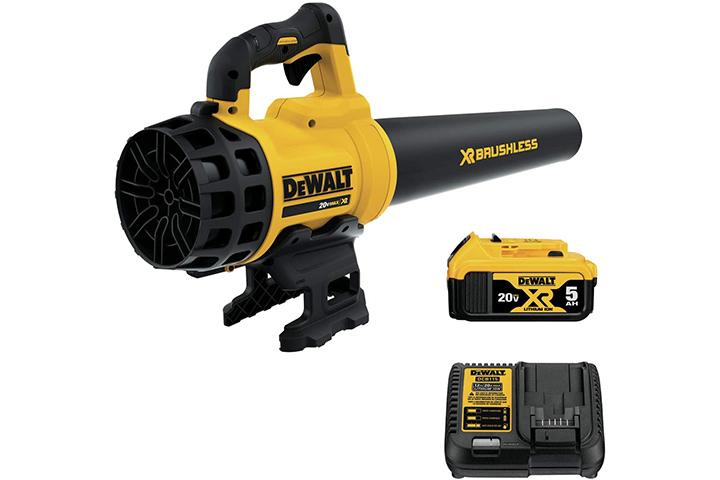 The Dewalt's blower has an innovative fan design to maximize the output. With its variable speed, you can have complete control over the air discharge, while its lithium-ion battery can provide a long-lasting, cordless function. Its ergonomic handheld design makes it a hassle-free tool by putting little pressure on your arms.
Specifications
Airspeed: 90mph
Weight: 7.1lb
Type: Battery-powered
Air volume: 400cfm
Pros
Noiseless function
Portable, lightweight, and compact
Provides high run time
Can cover a large area
Easy to start
Less maintenance required
Cons
May not be a multifunctional tool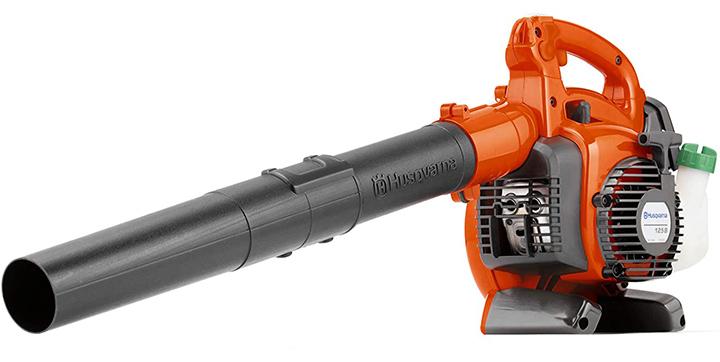 The handheld blower from Husqvarna has a powerfully designed fan to aid in easy cleaning. Ergonomic design with anti-vibration dampeners helps to reduce the stress on your arms when using it. It is easy to operate and has adjustable tube length and speed variations for better performance. With a sound power level of 112db, this leaves blower offers noise-free operation.
Specifications
Airspeed: 170mph
Weight: 9.4lb
Type: Gas-powered
Air volume: 425cfm
Pros
Has an auto-return stop switch for easy start
Easy to handle and access controls
Intuitive with cruise control
Adjustable tube length
Versatile and long-lasting
Cons
Maybe a little heavy for some
May have lower speed and power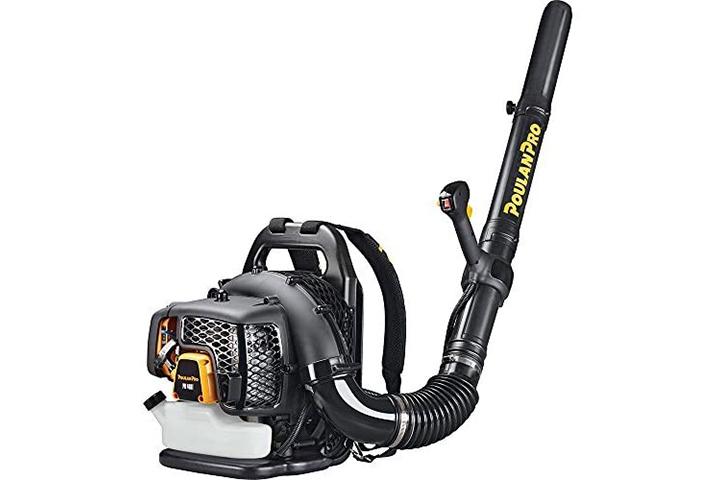 The Poulan backpack leaf blower has excellent power and blowing force. Its ergonomically designed shoulder straps prevent fatigue while providing superior comfort to you. An adjustable speed control throttle gives you a controlled cleaning process. Its 2-strokeengine capacity of 48cc provides efficient functioning, while its heavy-duty frame and cruise control feature makes this blower easy to use and maneuver.
Specifications
Airspeed: 200mph
Weight: 22lb
Type: Gas-powered
Air volume: 475cfm
Pros
Puts minimal strain on the back
Adjustable shoulder straps
Easy to start and use
Lightweight and durable
Cons
May not function well with homemade premixed fuels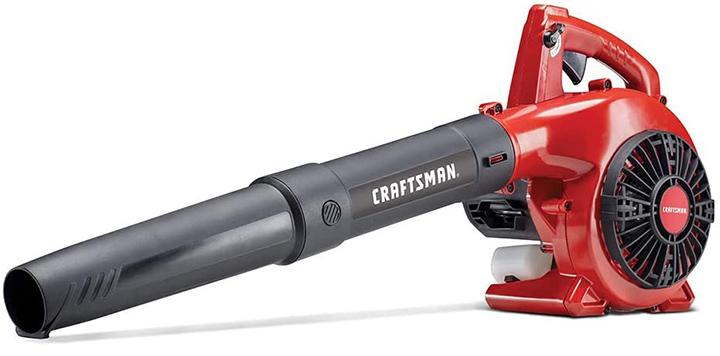 With a high-performing engine, this lightweight handheld blower is efficient in cleaning your yard, patio, and much more. With simple prime, choke, and pull motions, you can start this tool with ease. Its ergonomic design is built for comfort and offers a smooth function for extended periods. The leaf blower's 25cc 2-cycle engine provides smooth and efficient operation.
Specifications
Airspeed: 200mph
Weight: 11lb
Type: Gas-powered
Air volume: 430cfm
Pros
Has a variable speed throttle
Extended nozzle for efficiency
Easy to use and maintain
Ergonomic design and powerful engine
Translucent tank for easy indication of fuel level
Cons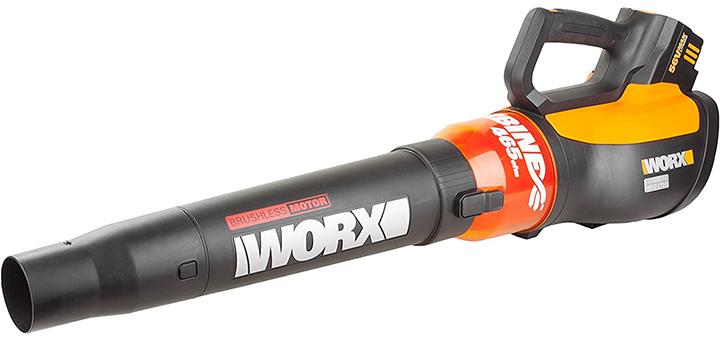 The lightweight, maneuverable battery leaf blower from Worx doesn't require high power to function. As it is cordless, this blower doesn't restrict your movement and provides comfort even when used for a longer duration. Its high speed and impressive air capacity provide blow in a streamlined motion for efficient cleaning. This leaf blower is ideal for larger landscapes as its 90-minute charging time delivers a high run time.
Specifications
Airspeed: 200mph
Weight: 8.1lb
Type: Battery-powered
Air volume: 465cfm
Pros
Hyper-stream air nozzle for efficiency
Ergonomic design and lightweight
Adjustable speed control
Turbine fan and variable speed
Versatile with serious blowing capacity
Cons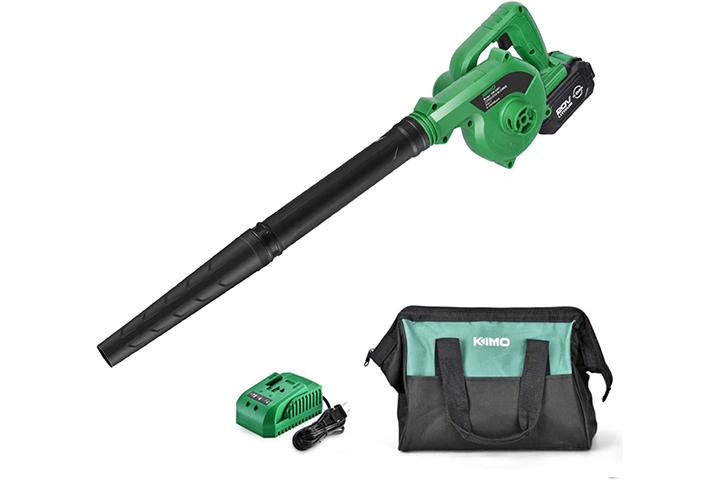 The Kimo lightweight cordless leaf blower is an ideal option for routine house cleaning. With its improved battery power, it can be used outdoors for an extended duration. You can convert it to a vacuum cleaner to clean both wet and dry places simultaneously. Its powerful suction allows you to clear minute sawdust, pet hair, cookie crumbs, and much more effortlessly. With a run time of 30 minutes, this leaf blower is ideal for small landscapes.
Specifications
Speed: 20,000rpm
Weight: 3lbs
Type: Battery-powered
Air volume: 400cfm
Pros
Easy maneuverability
Comes with two reusable carrying bags
Accessible switches
Suitable for light works
Portable and compact
Cons
Nozzle maybe small
May have a low battery capacity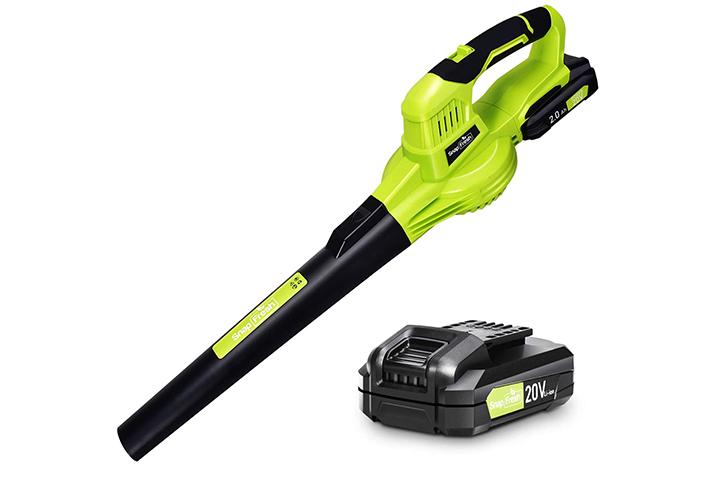 Equipped with a powerful battery, SnapFresh's electric leaf blower is easy to assemble and functions through one button. Its power indicator helps in determining the amount of charge left. The ergonomically designed handle provides a firm grip for safe and efficient operation. You can choose between two speeds to blow leaves or dust on the ground or your patio. Its lower speed mode works efficiently to clean indoor areas. With a charging time of 60 minutes, this leaf blower provides a run time of 15 to 30 minutes, ideal for small yards.
Specifications
Airspeed: 130mph
Weight: 2.7lb
Type: Battery-powered
Air volume: 998cfm
Pros
Functions in two gears to suit different needs
Multipurpose tool
Two section tubes for accessibility
Noiseless performance
Adjustable and powerful motor
Lightweight body and easy to use
Cons
May have a high charging time
May have low velocity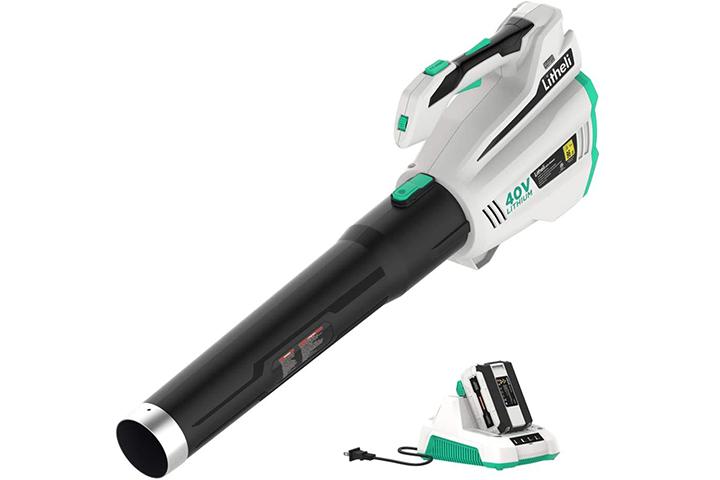 The low-noise cordless blower operates quietly and smoothly. Its adjustable blowing speed makes it useful for cleaning decks, grass, patios, driveways, and other areas efficiently. An ergonomically designed handle provides minimal stress on your arms while providing maximum function. This lightweight blower is easy to use and has a sound power level of less than 66db, making it ideal for noise-restricted areas.
Specifications
Airspeed: 45-98mph
Weight: 5.8lb
Type: Battery-powered
Air volume: 480cfm
Pros
Compact design
Detachable blower for portability
Instant start mechanism
Longer run time and reduced vibration
Soft handle to grip
Turbo functioning and variable speed dial
Cons
May have low battery power
How To Choose The Right Leaf Blower?
If you are looking to purchase the best leaf blower that suits your requirements, here are a few points to consider:
Fuel type: Leaves blowers are available in gas, cordless, and electric models. Electric blowers are lightweight and require low maintenance. Gas-powered models require additional fuel regularly and are highly efficient, portable, and have higher run time. Cordless models have an in-built battery that should be recharged frequently.
Portability: Depending on the area of usage, you can choose among handheld, walk-behind, or backpack models. If your landscape is more extensive, you can select a cordless or backpack model that provides unrestricted movement.
Storage: You must also consider the storage options when purchasing a leaf blower. Electric and cordless models can be stored safely at homes, while gas models require emptying the tank before storing them away. It is highly recommended to keep gas models away from your living area.
Power: The amount of air and the speed with which a blower pushes out air determines its strength. The blowing speed is measured in miles per hour (mph),and the amount of air released is measured in cubic feet per minute (cfm). If you have a large landscape, consider a model with high power.
Noise level: Noisy leaf blowers are disturbing for you and the neighbors. Most areas have noise regulations; hence it is preferable to consider a blower with low sound. Usually, cordless and electric blowers produce little sound.
Weight: A heavy model can be uncomfortable and tiresome for use. Cordless and electric blowers are usually lightweight and suitable for multiple purposes.
Leaf blowers are multifunctional. Though their primary role is to steer away leaves from the yard, many blowers these days also function as vacuums to facilitate complete cleaning of the house. We hope that our list of the best leaf blowers helps you make an informed decision. Select a model ideal as per your needs for hassle-free cleaning.
Recommended Articles: