Using the right lighting in an aquarium is imperative to see the activities within the aquarium and bring life to your fish tank. Furthermore, proper lighting ensures the plants and the fishes are at the peak of their health. Experts recommend light-emitting diode lights (LEDs) since they come with advantages such as low energy consumption, low heat output, and longer life as compared to incandescent lighting. LED lights come with customizable colors and intensities as well.
Are LED Lights Good For Growing Aquarium Plants?
LED lights aid in the healthy growth of the plants within the aquarium since they can penetrate as deep as 24in within the aquarium. Different plants require different intensities of light, and since the spectrum of LED is vast, it is a better option than fluorescent light bulbs. LEDs also provide an optimal photosynthetically active radiation (PAR) level for plants to convert water and carbon dioxide into food.
If you plan to set up a new tank or replace the old one, you might want the best LED aquarium lights to make your aquarium aesthetically appealing and help the plants and fishes thrive. Here's a list of the 15 best LED aquarium lights that would be oh-so suitable and comfy for your tiny friends in the water.

Top Products From Our List
15 Best LED Aquarium Lights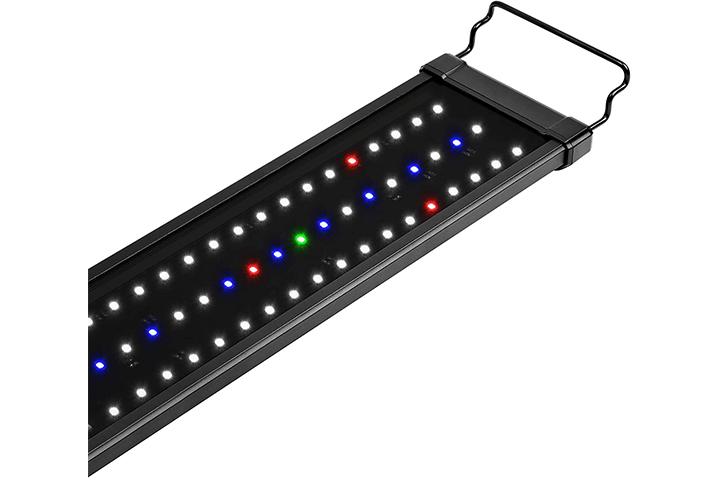 Nicrew'scoloredLED light comes with a polished black aluminum alloy shell body, which looks chic and is extremely durable. The display incorporates a combination of blue, red, green, and white LED lights. It can fit into 30-36in aquariums, and the adjustable mounts ensure trouble-free adaptability. It runs on corded electricity and can be used in either freshwater or saltwater.
Pros:
Night mode and day mode
Energy efficient
Suitable for any type of water
Lightweight
Extendable mounting brackets on both ends to fit both rimless and framed aquariums
Cons:
More suitable for an acrylic canopy or glass-covered aquariums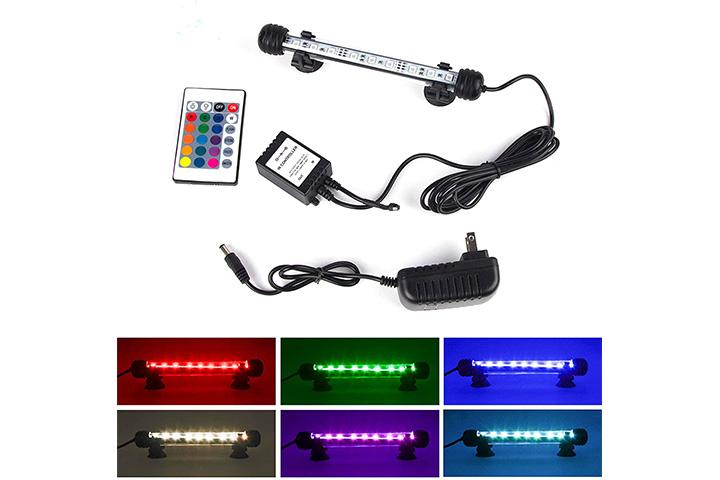 This LED aquarium light fromSmiful has a sleek look and is highly user friendly. You can choose from 16colors and four modes. The light bar can be submerged entirely in water or anywhere else as it comes with two suction cups. It features a handy wireless remote with different options, and this ABS plastic light bar is claimed to be 20% brighter than others. It can be fitted in an aquarium measuring 23-46in.
Pros:
Adjustable color-change speed and lighting brightness with wireless remote
Safer and brighter
Versatile in usage
IP68 waterproof bar
Cons: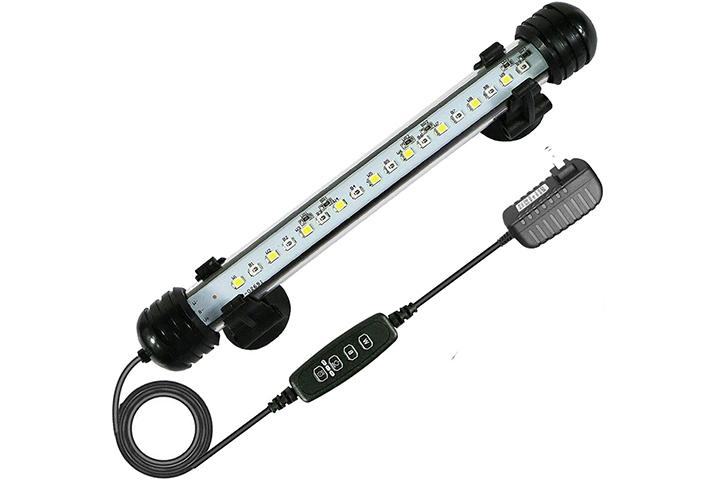 The LED aquarium light by MingDak comes with a built-in timer and adjustable intensity. The brightness can be changed from 10%-100%. The lights can be switched on for six, ten, or twelve hours and turn off automatically. This underwater LED aquarium light comes with suction cups that are moveable. The lights can be lit in blue, white, and blue and white combination. Lightweight and sleek, this LED light can be one the best-LED aquarium lighting for plants you can lay your hands on.
Pros:
Can be used for both plants and fishes
Budget-friendly
Adjustable lighting modes and timer
IP68 waterproof
Built-in dimmer
Cons:

This fish tank lighting system comprises extra bright LEDs, making your fish tank 35% brighter than others. It comes with built-in memory that remembers your last saved settings. The compact and small LED aquarium light includes two firm suction cups and is easy to fix. It consumes less voltage and can be used for fish tanks, pools, and aquariums.
Pros:
Sealed design
Dustproof and IP68 waterproof
Explosion-proof glass tube
Over 50,000 hours of usage
Handy remote control
16 colors and four lighting modes
Cons: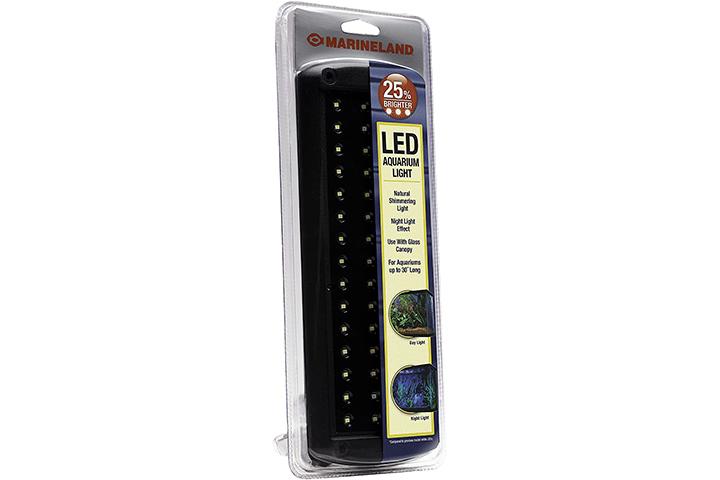 This slender product comes with a blue LED aquarium light and is perfect for any 30in aquarium. The LEDs promise a shimmering effect. The light has rubber feet to minimize slipping. Besides, it uses a low amount of voltage and is energy efficient.
Pros:
No mercury in the bulbs, making them environmentally friendly
No need to replace the bulbs
Night light effect
One-year warranty
Cons: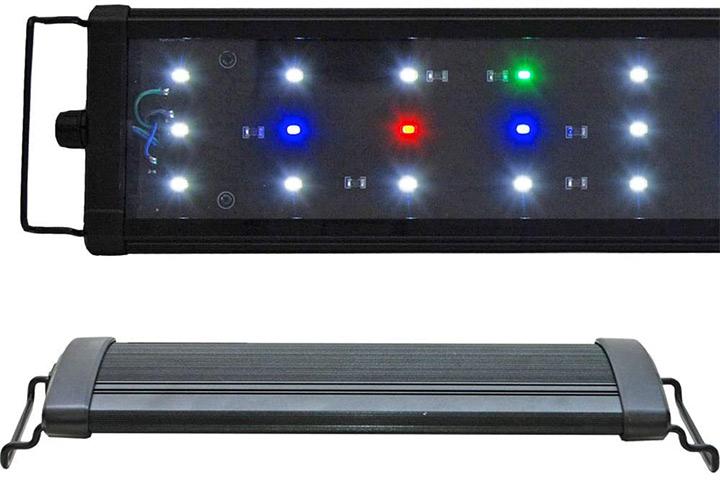 Beamswork'sfreshwaterLED aquarium lighting is a power saver. It comes with day and night modes, and the product does not require any bulb replacement. The compact design makes it look contemporary. It is suitable for plants and includes blue, red, green, and white light.
Pros:
 Extendable brackets
Sleek design
One-year warranty
Cons:
Timer has to be bought separately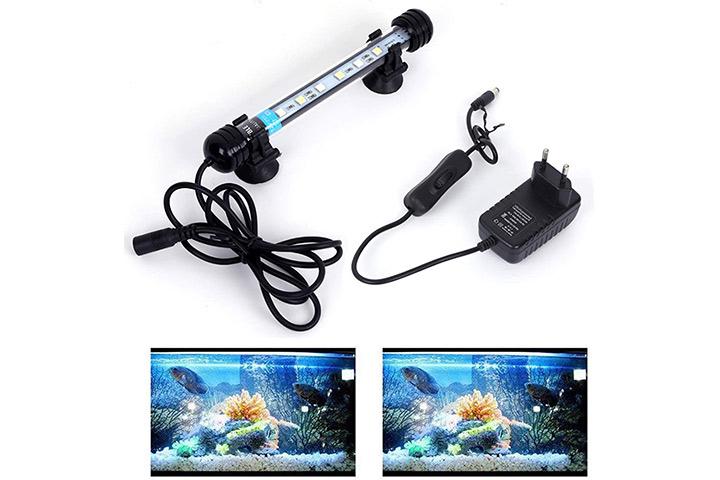 MLJ's LED aquarium light has a transparent acrylic glass that is explosion-proof. The suction cups make it adjustable for any location, and the rubber caps on both ends prevent damage and crash. It can be used in cisterns, fish tanks, and aquariums and has a bright light through which your aquatic animals can be easily seen. This product uses less voltage and provides you with an entire spectrum of RGB lights.
Pros:
Available in different sizes
Budget-friendly
Lightweight
 Sleek and compact design
Fully sealed design
Cons:
 No timer is provided
No brightness adjusting options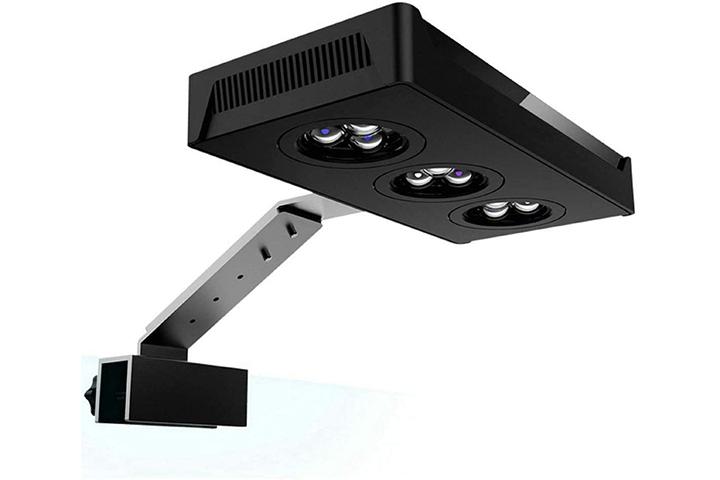 With a lightweight body, this product has blue lights that generate the perfect quantity of vitamin D3 for your plants. It comes with a touch display wherein the lights and their intensity can be changed and adjusted according to your needs. It also has two roller fans that help you maintain a suitable temperature.
Pros:
Adjustable brackets
Top-quality acrylic lenses
Includes authentic and high-quality Cree chips
One-year warranty
Cons:
Suitable for rimless tanks only
Tanks have to be thinner than 20mm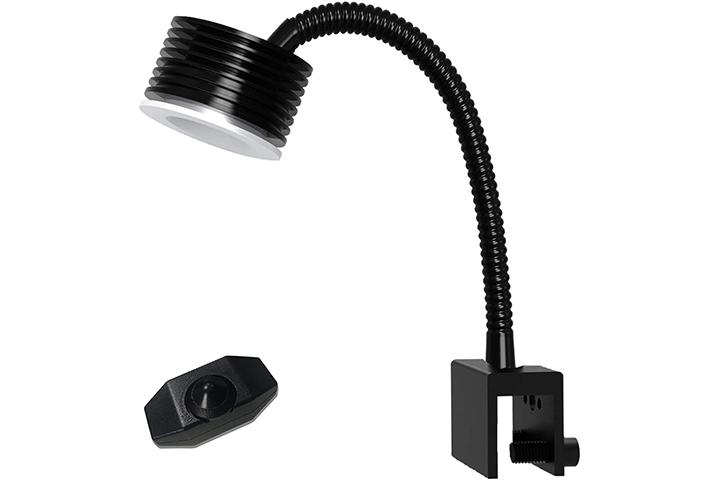 This clip-on LED aquarium light is wide enough to clamp onto a 25mm thick glass and offers an amazing lighting effect. The rustproof neck is adjustable, and the lamp has a proficient cooling system that increases the lifespan of the bulbs. It can be used as a freshwaterLED aquarium light and comes with a default 180-degree optical lens and a bonus 60-degree lens. The lamp is suitable for an 8-18in fish tank.
Pros: 
Premium aluminum covering
Manual dial to change the intensity of lights
Provides high brightness and uniform illumination
Features a dimmer
One-year warranty
Cons:
LED lights are only of white color
Cannot be submerged underwater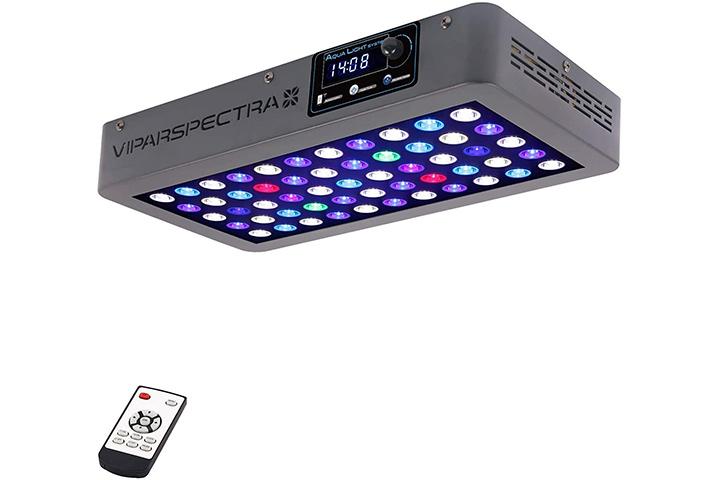 This LED aquarium light comes with a painted iron body and an in-built timer that can be controlled either separately or automatically. It is equipped with two high-speed fans that are extremely quiet. The light comes with an advanced version of heat sinks made of aluminum. The hanging kits are adjustable, and the intensity of the lights can also be changed.
Pros:
Can easily be controlled with the help of a remote
Two operators to change the brightness
Use of 90-degree optic lenses helps conserve energy
Suitable for all photosynthetic corals
Cons: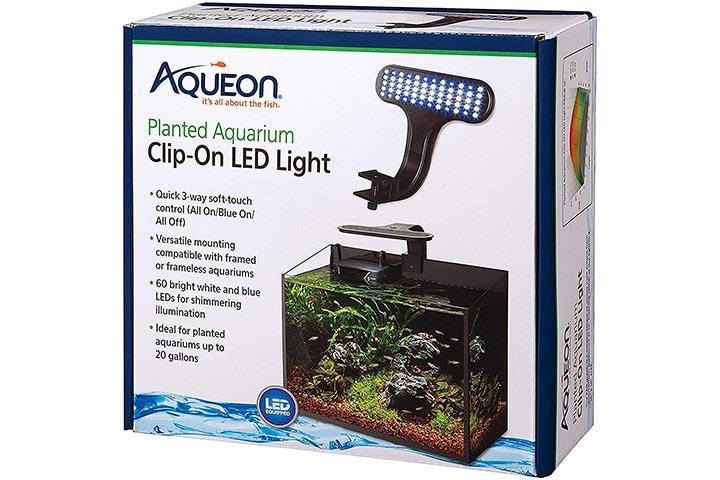 Aqueon's three-way soft-touch clip-on LED aquarium light is ideal for aquariums with a capacity of about 20 gallons and with or without a rim. It is one of the best LED aquarium lightings for plants since it provides optimal lighting for the growth of plants. The 60 LEDs provide a great illumination effect, making your fish tank look beautiful.
Pros:
Easy to mount
Reasonable price
Sleek design
Includes 21 bright LEDs for shimmering illumination
Cons:
Cannot be submerged underwater
No dimmer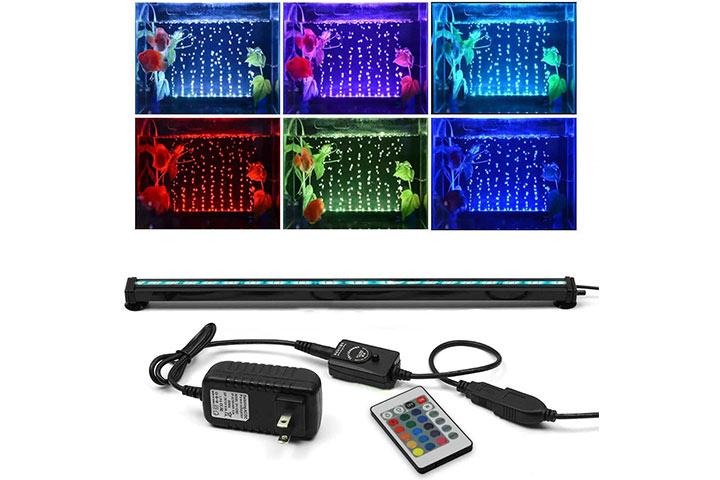 The product comes with a 24-key remote that can be used to control the colors and the atmosphere within the aquarium. It has a sleek body and an inbuilt air tube that provides oxygen for the fishes. It also comes with strong yet easy-to-use suction cups, allowing you to fit it anywhere. Besides featuring smart waterproof technology and a plastic body, this light is also energy efficient. The air pumps used offer a channel for the free flow of air bubbles.
Pros:
Long-lasting bulbs
Comes with four modes and 16 colors
IP68 waterproof, making it submersible
One-year warranty
Cons:
Air holes might get blocked due to water stains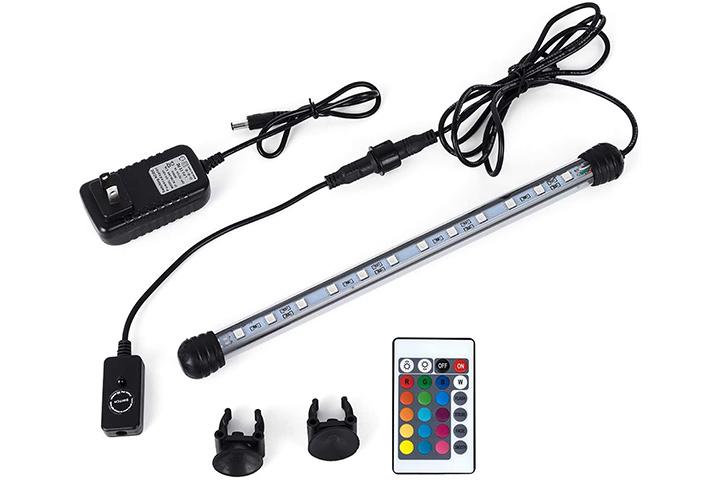 With a colorful illumination effect, this underwaterLED aquarium light can add color to any room. It can be used in any kind of tank as it has two strong suction cups. With lights that are 35% brighter than the rest, this small LED aquarium light provides a suitable environment for plants and aquatic animals. The remote provided can be used to adjust the brightness and lighting effect. The ABS plastic body ensures a long shelf life.
Pros:
 Low-heat and long-lasting LEDs
Comes with a transparent and explosion-proof acrylic glass
IP68 waterproof
Four modes and 16 colors
Rubber caps on both ends for durability
Cons:
Remote may not be durable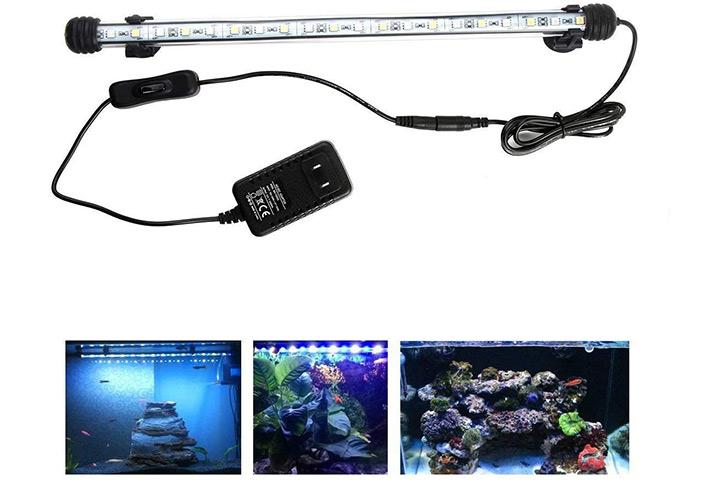 Primarily used for aquariums, this LED light is ultra-bright and gives an admirable effect to your tank. The white LEDs provide a soothing effect at night. It can be used underwater and takes minimal space due to its slender and modern design. The light uses very little voltage, making it suitable for every household. It can also be connected to an air pump to create several effects.
Pros:
Budget-friendly
Excellent sealed design
Suction cups for easy fitting
IP68 waterproof, making it fully submersible
Long lifespan of at least 50,000 hours
Cons:
Air pump has to be bought separately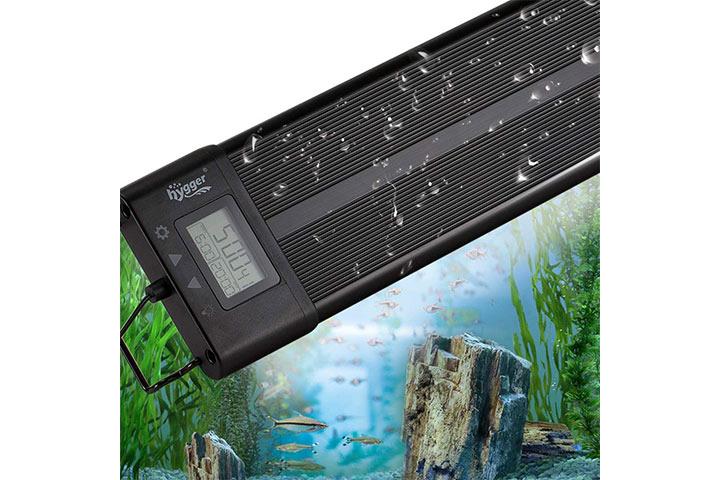 This LED aquarium light comes with a unique gradient mode and a wide spectrum of colors. The brackets can not only be adjusted but also bent according to your convenience. The product comes with high-quality beads and a separable security adapter, making it even more user-friendly. The light is soft and does not hurt the eyes.
Pros
Night colors can be changed in six different ways
DIY modes to give a special customized effect to your fish tank
Up to 10 brightness levels
IP68 waterproof
Cons
How To Choose LED Lights For An Aquarium?
Consider the following factors before choosing the right LED.
Proper lighting helps you see the activities of the fishes and help the fishes thrive. Lakes, rivers, and seas have natural daylight, and LEDs mimic the natural lighting. Also, plants require light for their organic growth. LEDs provide various artificial nutrients that help stimulate plants' growth.
Spectrum and intensity of the light
The intensity and spectrum of the light not only make you change the décor of your aquarium, but also add life to it. Spectrum refers to a mixture of different colors, while the intensity of the light refers to its brightness. Lights with higher intensity can promote the growth of algae, whereas the spectrum can add different color effects to your aquarium, affecting the temperature and the survival of plants and fishes.
The size of the tank is a significant factor to consider while choosing the perfect light. Larger and deeper tanks require lights with higher intensity, whereas smaller tanks require soft light.
Frequently Asked Questions
1. How much light does my aquarium need?
Experts suggest that an aquarium requires 8-12 hours of light daily, with the color temperature ranging from 5500°K–6500°K, which is ideal for the survival of plants and animals.
Choosing the right LED for your aquarium can be a tricky task, but if you have the right knowledge, you can choose the perfect product according to your needs. Pick one from this list based on your requirements and add glamor to
Recommended Articles: