Technology advances with time, and it impacts the TV industry too. Newer, better, and upgraded versions of LED TVs keep entering the market. As several brands offer a wide range of products, it's good to evaluate your requirements and then buy an LED TV that suits your preferences.
Some of the essential features you should look at are resolution, ports, processor, sound quality, and budget. We have listed the best LED TVs available online for you to choose from. Also, read the buying guide to pick the most suitable TV.
10 Best LED TVs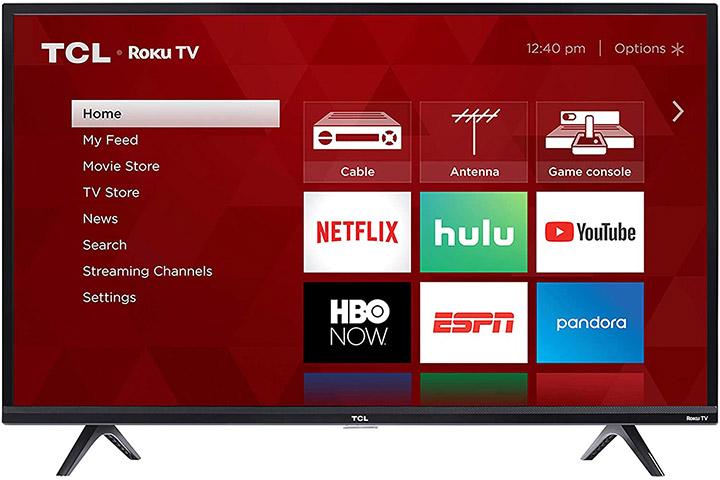 The high definition, stylish, sleek LED TV from TCL has in-built apps, streaming channels, and smart features, making it one of the best LED TVs to invest in. It works well with Amazon Alexa and Google Assistant and offers a full HD resolution with a spectacular display. Thanks to its 60Hz refresh rate, the fast-moving scenes are visible with almost no motion blurs, and its direct-lit LED screen offers good picture quality.
Features
Measures 35.6×7.2×22.7in and weighs 18.7lb
Can be wall-mounted
Offers 1080p resolution
Has three HDMI and one USB port
Headphone jack and an optical audio output
Has dual-band Wi-Fi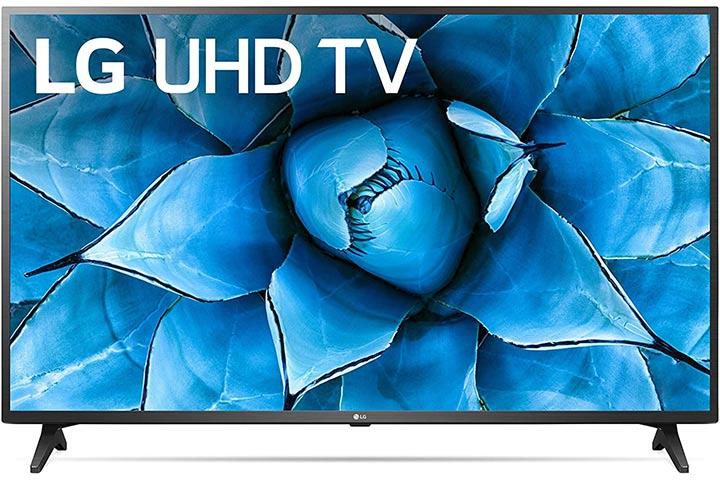 The LG smart TV is one of the best LED TVs as it offers a 4K high-resolution display with enhanced color, contrast, and clarity for an ultimate entertainment experience. The webOS platform of the TV makes streaming shows and movies fast and easy. It has in-built Alexa, Apple airplay 2, and Apple HomeKit to give you a hassle-free experience when watching your favorite shows. The weight of the TV stand is 24.9lb while the TV weighs 9.98lb, and its dimensions are 44.5×9.3×28.3in.
Features
Can be mounted on the wall
Three HDMI ports, two USB ports, one ethernet port, one digital audio output, and one composite input
Comes with remote control, power cable, and an e-manual
Has Bluetooth connectivity
Smart quad-core processor for enhanced light and color from source to screen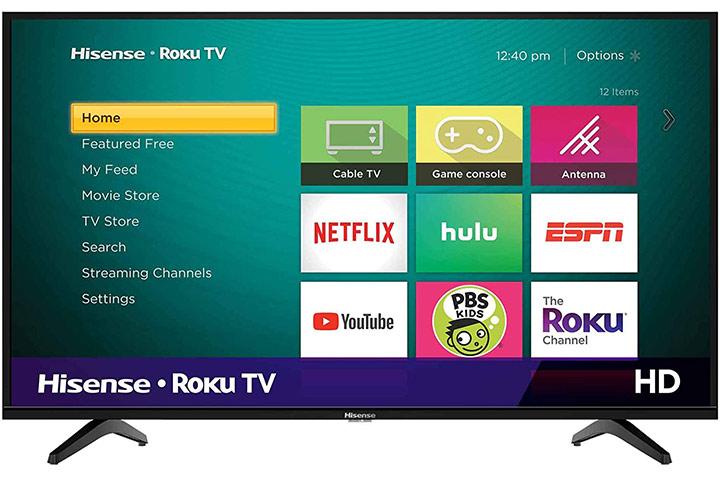 The 32-inch Alexa compatible LED TV has an HD display to offer the perfect entertainment package to streamers and binge-watchers. Its integrated speakers of DTS TruSurround sound give you a theatrical experience at home. The TV home screen is easy to access with your device using the Roku TV remote app. It uses a corded electric power source, weighs 8lb, and measures 28.9×2.8x17in.
Features
Can be wall-mounted
Comes with a Roku remote, power cable, and a quick start guide
Has 720p picture quality and built-in Wi-Fi
Connectivity technology- wireless, HDMI
Comes with a yearlong manufacturer warranty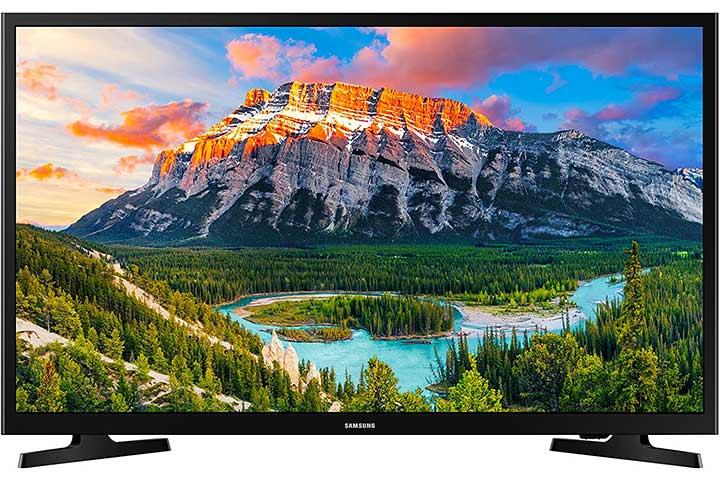 The full HD Samsung smart LED brings to life every movie or show that you stream. It is one of the best LED TVs as its vivid features, and superb display quality gives you a great viewing experience at home. The TV is fast, easy to use, and intelligent enough to stream your favorite shows by pressing just a button. Its Micro Dimming Pro offers enhanced contrast and vibrant picture. The TV's dimensions are 28.9×6.4×18.2inand weight is 9.5lb.
Features
Two HDMI ports, one RF, one USB port, one composite input, and one digital audio output
Can be wall-mounted
1080presolution
In-built Wi-Fi and dual-core processors to offer you a theatre-like experience at home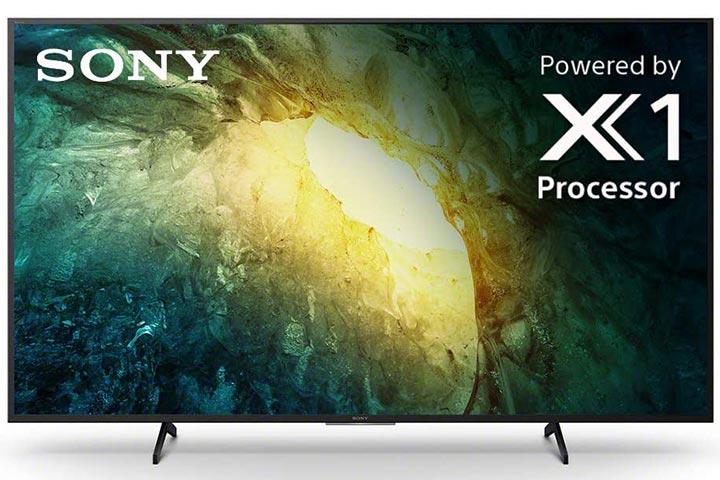 The stylish smart LED TV from Sony offers a vivid and vibrant screen display and an incredible movie experience with its 4K HDR display and immense sound clarity. It is one of the best LED TVs with a game mode feature that allows you to have a 4K gaming experience when connected with your PlayStation. The weight of the TV is 46.3lb, and its dimensions are 57.63×13.5×35.63in.
Features
Can be mounted on the wall
Uses wireless, Bluetooth, USB, Ethernet, and HDMI connectivity
Has 4K processor X1, compatible with Google Assistant
Equipped with Motionflow XR240 to offer reduced blurriness in fast scenes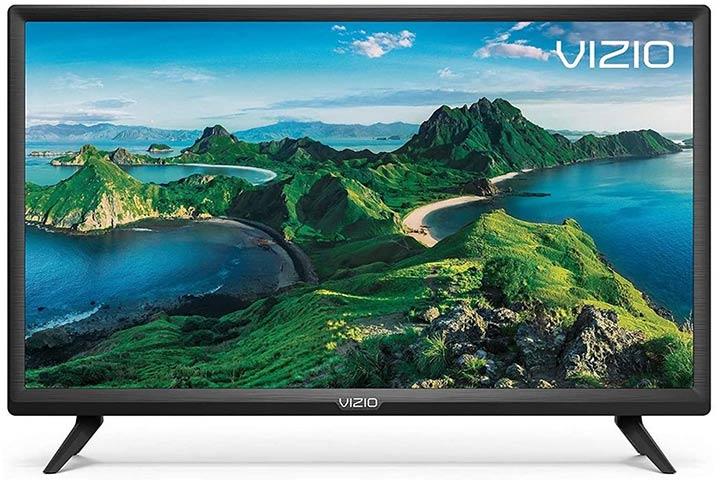 The pre-owned model of Vizio is a full-array LED LCD TV backed with the 90-day amazon renewed guarantee. It is compatible with Siri, Google Assistant, and Alexa. The TV weighs 8.7lb and measures 31.1×5.2x20in. You can use the voice control feature for a hassle-free experience.
Features
Can be mounted on the wall
32in screen size
1080p resolution
Built-in Chromecast and a LED backlight distributes LEDs in the backlight
Built-in Wi-Fi, ideal for streaming 1000+ apps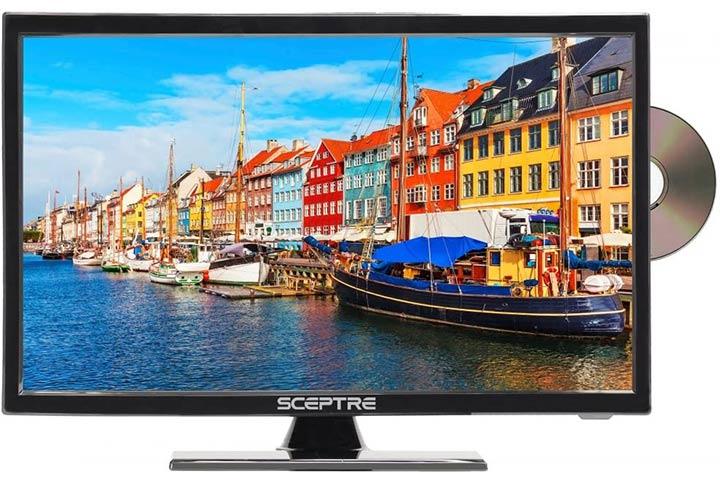 The Sceptre LED TV is an ideal small-screen TV offering multiple features and an excellent visual experience. It weighs 5.6lb and is 17.28×5.5×13.7in in diameter. It has a built-in DVD player to play movies, music, or TV shows of your choice with ease.
Features
Can be wall-mounted
One HDMI port and one USB port
HDMI connectivity
720p resolution
Has a built-in DVD player to stream movies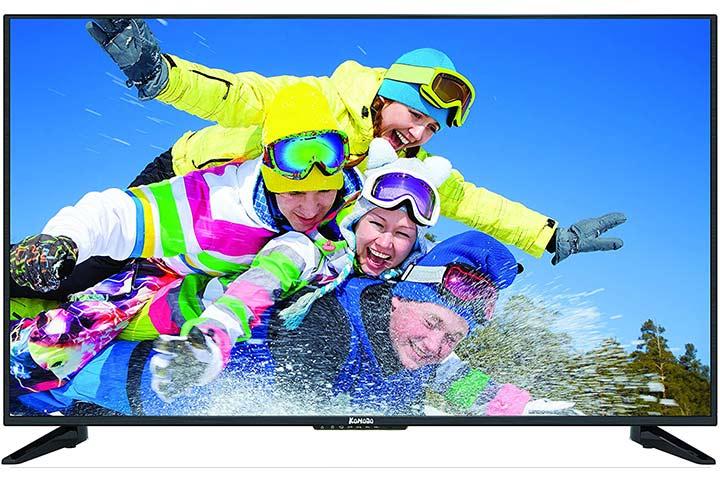 The Komodo by Sceptre 4K Ultra HD TV offers you a spectacular display and amazing UHD visual experience. The wide-screen TV has consumer electronics control (CEC) that allows you to control HDMI connected devices with a single remote. It weighs 25lb and is 44.57×8.52×27.59in in dimensions.
Features
Four HDMI ports and one USB port
Connection technology is HDMI
Delivers 1080p resolution
Mobile high-definition link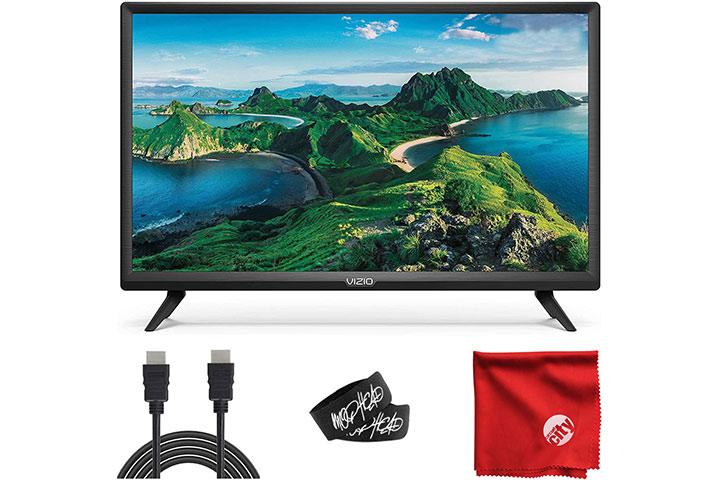 The Vizio Smart LED TV allows you to watch over 100 free live channels. Using the Vizio SmartCast app, you can control the TV from your phone or the remote. This smart TV weighs only 5.73lb and measures 22.13×2.87×13.26in.
Features
Comes with a circuit city six-feet UHD 4K HDMI cable
Equipped with 2x Mophead Velcro cable ties and circuit city microfiber cloth
Offers 1080p resolution
Comes with a one-year warranty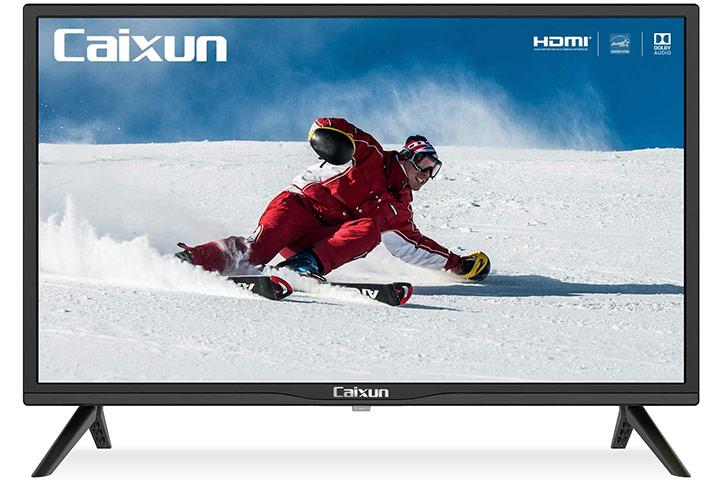 The Caixun TV features Dolby audio for great sound quality with an enhanced viewing experience. Its screen adjusts horizontally and vertically up to 178° visual angle to offer you a real and better visual experience. The TV weighs 5.3lb and is 21.65×2.75x13in in dimensions.
Features
One HDMI port, one USB port, one audio input, one earphone, and one AV input
Can be wall-mounted
Offers a resolution of 720p
Comes with a yearlong warranty
How To Choose The Right LED TV?
The key features that you should consider for buying the right TV are as mentioned below:
Screen-size: The basic parameter you must consider when buying a TV is its screen size. Consider the number of people who would be watching your TV and the space available in your room for mounting. Accordingly, decide whether to opt for a small or large screen size of the TV.
Screen resolution: The screen resolution over a wide range of TVs is either HD, 4K, or 8K. The more pixels, the better the quality of the display and hence higher resolution. Consider this parameter to have a better visual experience.
HDMI and connections: The HDMI ports offer versatility to your TV. You may want to buy a TV with multiple HDMI and other port inputs to easily and simultaneously connect to other devices.
Televisions have become the most popular source of entertainment. Nowadays, smart TVs remove the need to watch or stream TV shows on the laptop or tablet, letting you enjoy DTH channels and streaming networks all in one place. Hope you find the best TV for your home from our list of the best LED TVs.
Recommended Articles: