LED work lights are any worker's ideal partner when working in dark surroundings. Whether you are at a construction site or your garage, having sufficient lighting is essential. A good LED light will help you finish your job efficiently and is also important from the safety aspect.
When buying an LED work light, energy efficiency and brightness are the two most important factors. There are several options you can choose from depending on your requirements. In this article, we will list some of the best LED work lights to help you make an informed choice.
11 Best Led Work Lights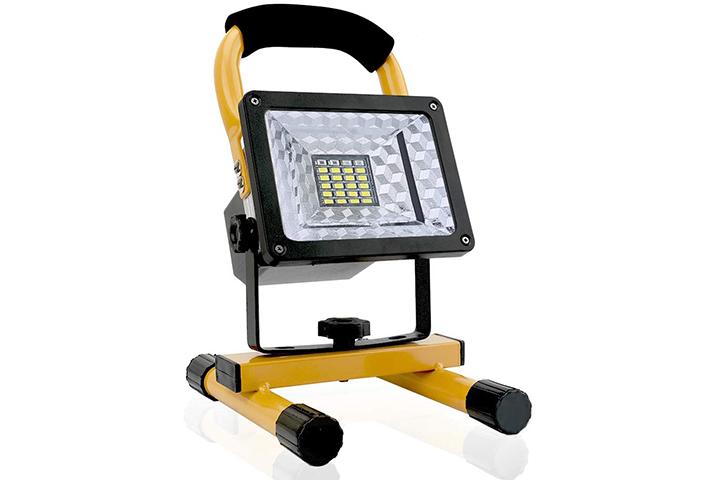 This is a convenient and versatile LED light by Hallomall. Besides your regular outdoor work, you can also use it for other activities, such as camping or roadside vehicle repair while traveling. Portable and lightweight, this LED work light is easy to carry along with you.
Features
15-watt power ensures the light is bright enough
Two USB ports for charging a mobile device
High-quality lithium battery
Two blue, two red, 22 white LED pieces
360° rotating spotlights
Waterproof and durable
Includes a stand with handle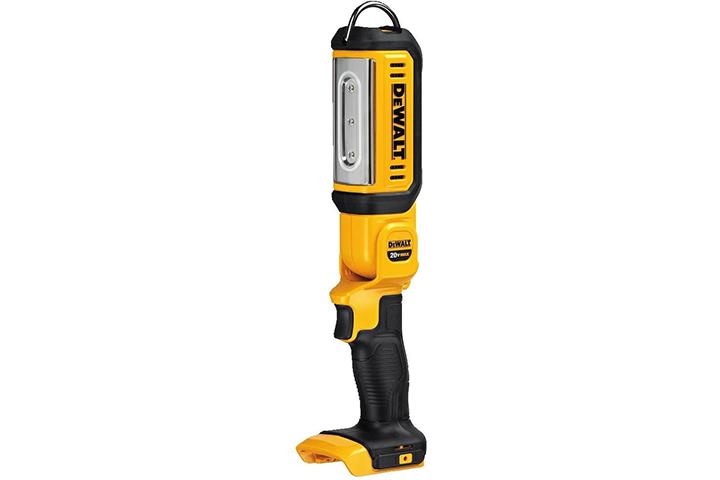 This Dewalt product comes with three bright LEDs, which are ideal for making dark jobsite work areas extremely bright. The two brightness settings at 500 and 250 lumens allow you to choose between maximum brightness and longer run time. You can rotate this LED work light to 140° for versatile illumination of surfaces.
Features
Comes with built-in telescoping and 360° rotating hook
Over-molded lens cover for better durability
Compatible with belt hook
Ease of handling and transportation
Maximum initial battery voltage of 20V (without a workload)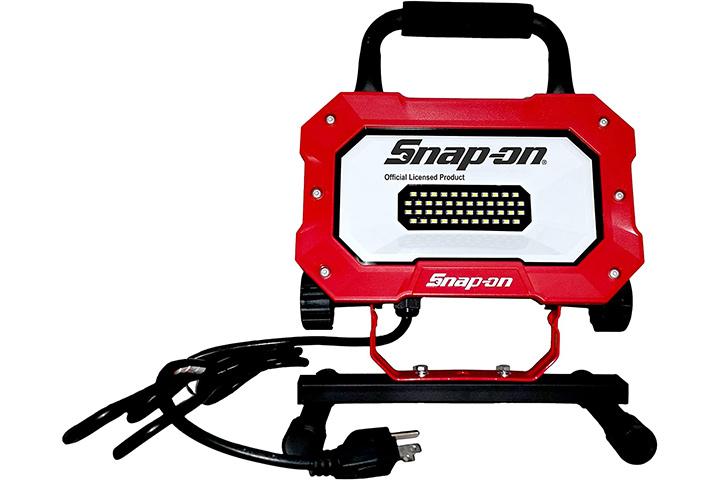 This Snap-on LED work light features a revolutionary design that allows it to remain cool even when in use. Unlike incandescent or halogen light bulbs, it does not radiate heat, which makes it safe. You can also combine it with other work lights from Snap-on. This makes it ideal for videography, photography, construction activities, sports, automotive repairs, and other activities. You can easily move it around as it is lightweight.
Features
Output of 2,000 lumens
Long-lasting integrated LED bulbs
Low power consumption
Ergonomically designed and padded carry handle
Adjustable angle knobs for easy tilting
Six-feet power cord length and grounded three-prong plug type
Sealed On/Off switch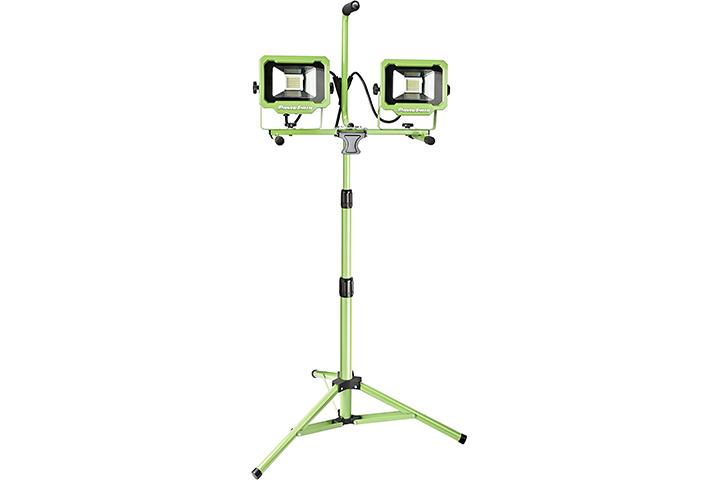 This LED work light is your ideal daily companion as it can withstand rigorous usage. It comes in a sealed die-cast aluminum finish and is also waterproof. The glass lenses are impact-resistant, making them strong and durable. The sealed power switch ensures all-weather dependability, while the 5,000K bright white color spectrum will give you the feel of daylight. This long-lasting LED light comes with a 50,000-hour rating with no maintenance cost.
Features
4,000 lumens brightness
Remains cool and is five times more efficient than halogen lights
Light extends to an overall height of 63in when used with a telescoping tripod
Power cord is nine-feet long and features a grounded plug
Easy to setup, breakdown, and store due to the innovative rapid-release clamp
Adjustable tilt of 30° down and 90° up
Sealed On/Off switch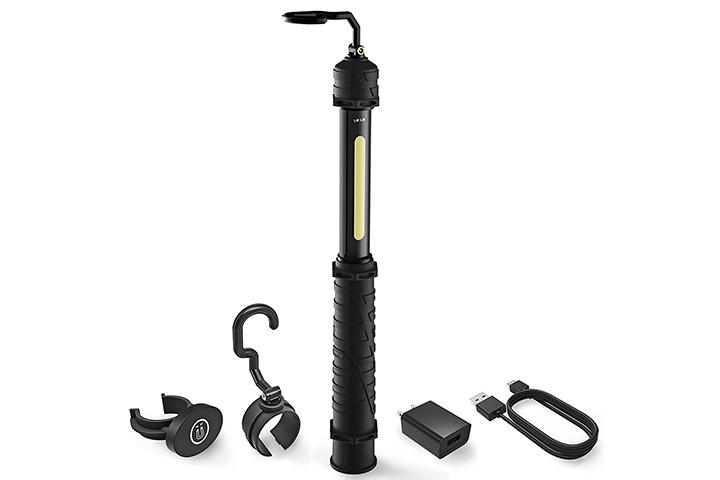 This magnetic work light comes with a detachable base and two all-angle swivel hanging hooks. The chip-on-board (COB) technology ensures that the lumen output per square inch is optimum. The three brightness modes make it suitable for varied needs. You can use it at home, auto shop, garage, or while camping.
Features
Three brightness modes, low mode (250 lumens), medium mode (400 lumens), and high mode (700 lumens)
Rechargeable battery of 3.7V and 4,400 mAh Li-ion
Low battery indicator to avoid work interruption
UL/CUL-certified USB charger with a three-foot-long cable
Portable stick design
Impact-resistant aluminum housing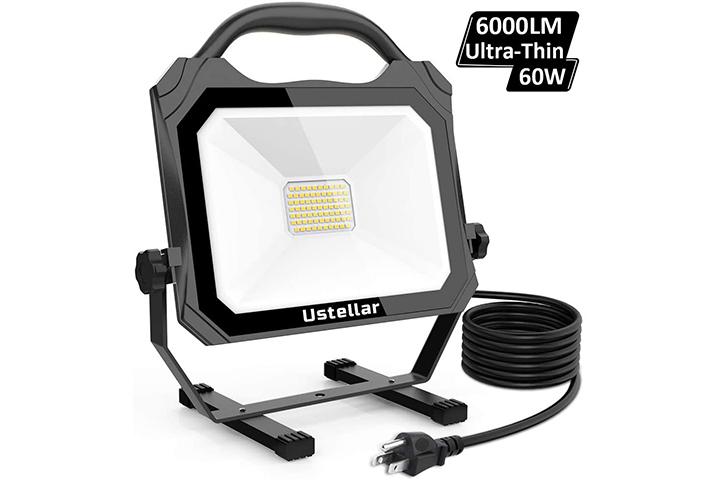 This smart LED work light from Ustellar offers excellent brightness, making it ideal for use at big work sites at night. It has two brightness levels that can be adjusted based on the environment. You also need not worry about the LED light overheating as it comes with an efficient cooling system. The knobs are easily adjustable, allowing you to tilt it in the direction of your liking.
Features
5,000 lumens output at 50W
Rotates 360° and turns 90° up and down for better flexibility and adjustment
IP65-rated waterproof design
The light beam angle is of 120°
Includes a 16-feet-long power cord
Durable and portable stand with handle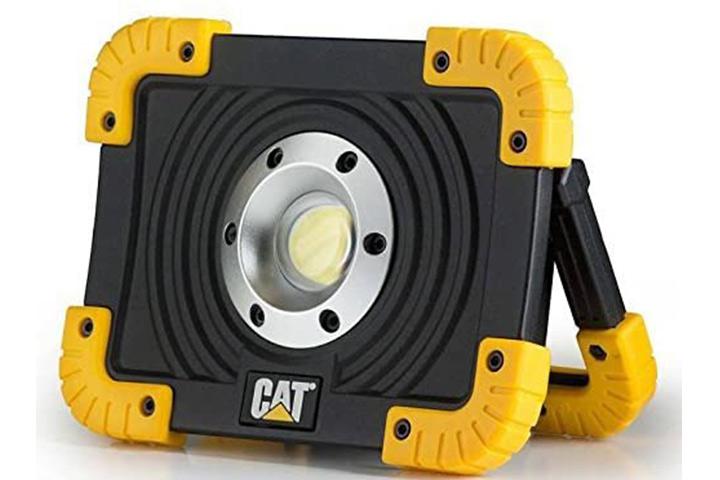 This rechargeable LED work light from CAT is ideal for use at some of the toughest worksites. It features a rugged aluminum body with additional bumper protection. You can also carry it around easily as it comes with a ratcheting handle.
Features
Two brightness mode, high (1,100 lumens) and low (550 lumens)
Water- and impact-resistant
Handle doubles up as an adjustable stand for better positioning
220ft beam distance
Lightweight design
Integrated rechargeable lithium-ion battery and charger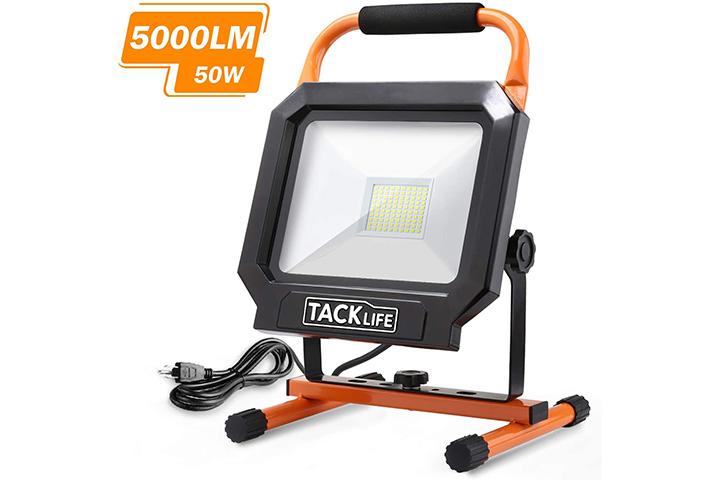 Featuring superior lamp beads and circuit boards, this is one of the best LED work lights you will come across. Equipped with a tempered glass panel, this LED light is durable and can withstand hammer blows. It also has excellent corrosion resistance and heat dissipation properties. The aluminum case and the back cover's cross design increase the service life of this LED work light.
Features
5,000 lumens ensure excellent brightness
You can save up to 80% on electricity bill as compared to lighting a 400W halogen bulb
120° beam angle reduces shadows and glare
Can be rotated 360° on axis and adjusted 270° up and down
Quick heat dissipation through heat sink fans ensures long life of the internal circuit
Can work up to 30,000 hours
IP65 waterproof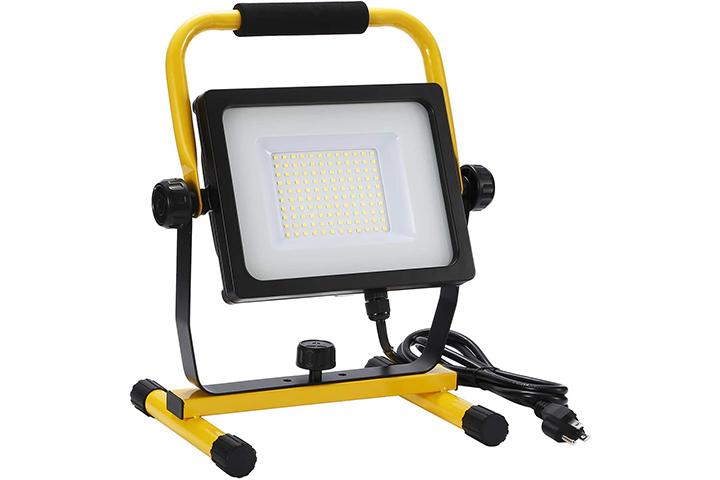 This innovative and portable LED work light comes with quality aluminum housing and a tempered glass seal, making it extremely durable. As compared to halogen lamps, it won't heat up, which increases its life. You can easily touch it even when it is in use, and the work light can be rotated 360°.
Features
120 LED chips offer excellent illumination of 7,000 lumens
Innovative fin-type heat sink design keeps it cool
120° beam angle ensures no shadows and glares
Lightweight, portable, and space-saving
Ideal for use in the backyard, garage, warehouse, workshop, studio, shed, etc.
Includes a five-feet cable
Dust-proof On/Off switch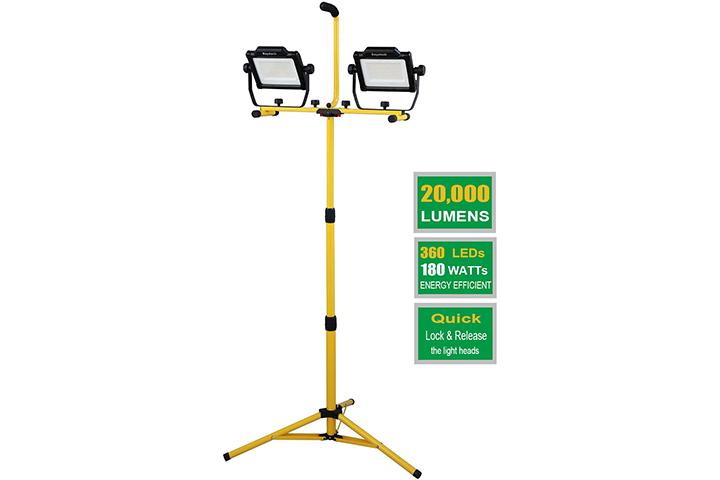 This LED work lights with 20,000-lumen brightness can last up to 50,000 working hours. The ETL-certified LED work light with stand comes with a weather-resistant design. Featuring a dual head, you can use it with or without the tripod stand. The clamp has an innovative rapid release that ensures better functionality, quick setup and breakdown, and easy storage. You can use it in your garage or even for highway emergencies.
Features
Excellent quality for varied conditions
Back ribs design ensures efficient heat dissipation
Easy to handle, adjust, and move around
Rugged die-cast aluminum body for protection and durability
Waterproof design
Adjustable knobs allow you to rotate the light 270° vertically and 360° on axis
Telescopic tripod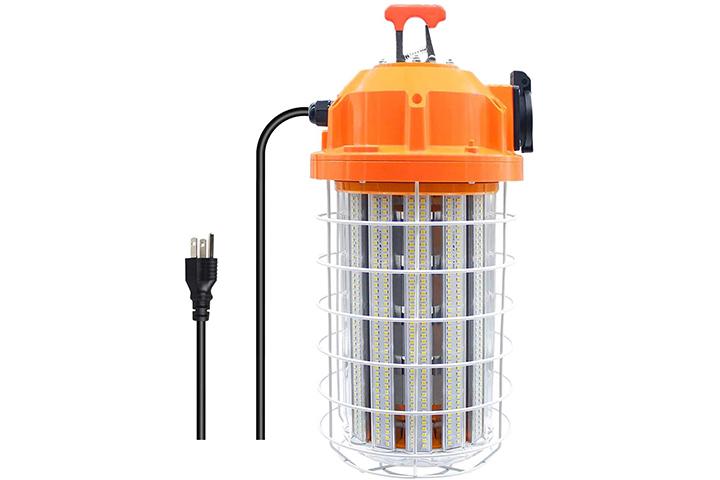 This portable LED lamp comes with a carabiner hook on the top, making it easy to install and remove. It is compact and lightweight and can be carried around easily. The intense brightness makes it useful for various construction and maintenance-related activities. This LED work light also offers easy installation, maintenance, and disassembly. You can use it at your garage, building site, temporary workplace, coal mine, factory, workshop, etc.
Features
20,250 lumens brightness
Equipped with a 16.4-feet extension cord
Features a steel safety spring lock
Energy-saving technology and omnidirectional lighting
Resistant to water, explosion, rust, and dust
Quick heat dissipation
Three-year indefinite warranty
How To Choose The Right LED Work Light?
Before buying an LED work light for yourself, consider your requirements carefully. Different lights provide different illumination based on their power capacity. It is also best to contemplate the amount you want to spend and the main aspects you are targeting. Consider these two important factors.
Project: You would need an LED work light for your garage or even a temporary workspace. Would it also be used for some professional work? Would you involve other people to work alongside you? When you answer these questions, you will understand what would be your ideal requirement.
Working condition: If the area you work has low light conditions, you will need an LED light that has strong illumination. If there's no power supply at your site, you will need something that can run on battery. Also, consider durability and waterproof aspects if you work outdoors.
We hope these tips help you make the right decision, considering the number of options you have. Go through the features of the LED work lights mentioned in this list, and read the online reviews to pick the best one for yourself.