The term "leg machines" is used for a range of devices that specifically target the lower body muscles. They primarily focus on calves, glutes, hamstrings and quadriceps. Leg workout machines are safe, comfortable and effective. They also maximize the effects of other non-equipment exercises like lunges or squats.
There are many leg workout equipment available in the market. If you want to get your hands on one, here is a list of the Top 11 Best Leg Machines.
Safety Measures To Take While Using Leg Machines
Before we move on to the list, let us look into few safety guidelines you may need while using leg workout machines:
If you are a beginner, consult a personal trainer before starting with the machines
Always warm up your legs before starting with the machines
Focus on slow contractions and start light
Maintain the right posture throughout the session
If you are a pregnant woman, using a pacemaker or suffering from skin infections, hypertension, or any other medical conditions, use the leg workout machines on a doctor's recommendation
11 Best Leg Machines for workout in 2021
The Vaunn's 2-in-1 arm and leg exercise equipment is suitable for beginners and people undergoing physiotherapy. You can use this low-resistance pedal exerciser in the comfort of your homes. It comes with an electronic LCD screen that displays calories burnt. You can also alter the resistance and the workout intensity with the help of an adjustable tension knob.
Features
Lightweight, portable
Non-skid ribbed rubber feet at the base for stability
Quick-release folding mechanism
You can use this compact and versatile exercise machine for both arm and leg workouts. The pedals have non-slip surfaces. It also comes with a multifunctional LCD screen that displays calories burnt, RPM, time, and speed. Beginners and people recovering from surgery can use this equipment too.
Features
Adaptable tension levels
Portable
Adjustable toe loops and pedals
Sunny under-desk elliptical equipment comes with a digital monitor that tracks speed, time, calories and distance. You can alter the resistance with an 8-leveled magnetic belt drive. This machine aims at improving lower muscular endurance and joint range of motion.
Features
Portable design
A center transportation handlebar
Non-slip foot pedals
This portable equipment with moderate tension aims to provide a great cardio workout whilst toning your arms and legs. The multifunctional LCD tracks distance, RPM, time, speed, and calories burned. You can reset and switch the data by pressing on the red button. You can adjust the resistance as per your preference by rotating the given knob.
Features
Ergonomically designed pedal
Adjustable straps for feet of varied sizes
Anti-slip rubber feet which provide stability
The Dominity leg stretcher focuses on the thighs and is made of iron. It's stretch capacity can extend up to 180 degrees. This portable heavy duty leg stretcher offers quality gym time with its adjustable pull bar and two leg extensions.  The center handle bar is equipped with foam rubber for a sturdy grip and comfort.
Features
Provided with six holes to adjust the length
Longest length: 40.5 inches
Shortest length: 24.8 inches
Available in two colors
This leg extension and curl machine by XMark focuses on strengthening your hamstrings and quadriceps. It comes with a 11-gauge steel mainframe and a rear weight post for stability. The adjustable backrest pad and the three inches Duracraft cushion make your workout comfortable whilst providing a full range of motion through your each movement.
Features
Thigh pad can be adjusted to 12 positions
Rubberized handle bars with molded grips
Stable and skid resistant feet
Contains vinyl covered rollers
Press arm can be adjusted to 20 positions
The Bookcycle mini bike pedal leg machine for home or office can also be placed on a desk to exercise arms. It uses 5-pound iron instead of plastic as a flywheel on the inside. The pedals have molded finger grips for a non-slip surface. It also has an LCD screen that tracks cycle counts, time, distance and calories burnt. You can also switch or reset the data with the red button provided.
Features
 Portable design
 Adjustable resistance through a rotary knob
The stability of the equipment is established through the steel frame
The AGM foldable, beginner-friendly pedal exerciser comes with a sequenced display for time, rpm, calories burned and revolution counts. It can be used to strengthen both arms and legs. By adjusting the tension knob, you can alter the resistance as per your workout needs. The four anti-slip rubber pads at the base provide stability by preventing sliding on surfaces.
Features
A light-weight, compact design
Flexible and adjustable foot straps
This multifunctional leg exercise machine helps to strengthen your lower body muscles and hip flexors. Its versatile design is suitable for everyone. The foot holder's length, rear cushion's height and angle can be adjusted accordingly. You can use this machine for multiple exercise modes.
Features
Made of steel, PP foam and PU leather
Max weight capacity – 330lb
Fold-able and movable
The Valor leg extension equipment will provide you an effective stretch in your hamstrings, glutes and lower back muscles. With a simple turn of the wheel crank, you can deepen your stretch. The wheel can also be removed for a good upper-body fold forward stretch. This machine will help you loosen tightness in groin, hamstrings and reduce lower back pain.
Features
Can be stretched up to an angle of 180 degrees
Padded seat, back pad, calf and thigh support
Adjustable back pad up to an angle of 110 and 115 degrees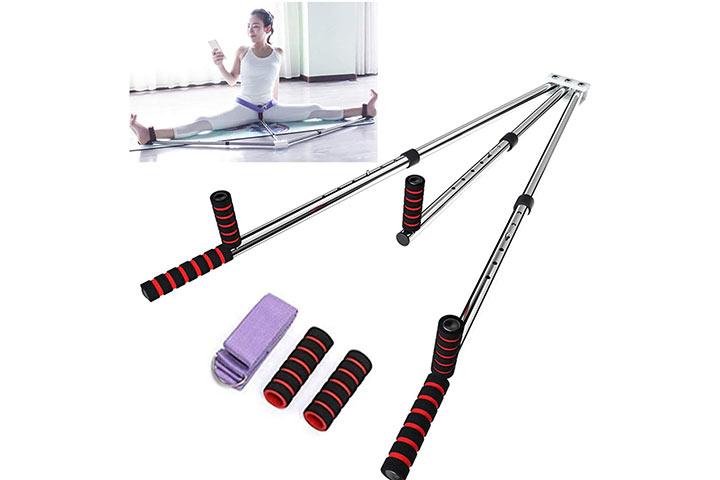 This portable exercise equipment is an effective way to improve your leg's flexibility and stretch abilities. The adjustable rods can be lengthened to 22.1 – 44.6 inches. It also comes with a non-slip foam on the feet to prevent scratches on the floor.
Features
Easy to assemble and store
Each rod has 6 holes for height adjustment
Made of stainless steel
How To Choose The Right Leg Machine?
The above-mentioned leg workout machines should have given you an idea of what to look for in exercise equipment. Here are a few more features for your consideration.
Fitness goals: It is important to understand your fitness goals. Few leg machines only target the lower body while others may incorporate upper body workouts too. Hence, consider purchasing one according to your need of focus. 
Workout routine: If you exercise your legs frequently, you might consider purchasing a machine. It can help you focus on specific muscles to enhance your efforts. 
Size: Leg machines come in varied sizes. Bulky equipment occupies space. If you plan to put it aside when not in use, you may think of buying a compact, portable machine. 
Features: Other than the types of machines mentioned above, here are a few more:
Leg press: This is an effective machine to target your quads, glutes and hamstrings. It involves pushing weights in a reclined position using your leg muscles.
Leg extension and curl: You can do both leg extensions and curls in this machine. Extensions work on your quads while curls strengthen your hamstrings.
Step machine: These machines help you burn fat while strengthening and toning your legs. They work on glutes, calf muscles and hamstrings while simulating the effect of stair climbing.
Squat machine: These machines help you in improving your glutes. You can also add weights to increase resistance.
Workout bench: This stable, durable equipment can be seen in most of the gyms. It can be used for extensions, curls, step-ups, and several upper body workouts.
Platform boxes: These can be used for lunges, step-ups and exercises that involve lower body muscles.
Price: The price of the equipment depends on its size, quality and complexity.
Frequently Asked Questions
1. What provides a better workout: machines or free weights?
You can do both simultaneously. While free weights engage and stabilize more muscles, machines are comfortable and safer. They also help you isolate specific muscle groups through guided contractions.
2. Should I invest in upper-body workout equipment as well?
Upper body muscles usually don't need specific equipment to target them. You can achieve good results with free weights, pull-ups or push-ups.
Going to the gym every day can be tiresome. If leg exercises are a regular part of your fitness routine, these machines will serve that purpose. Consult your fitness coach and strengthen your legs with these exercise machines. Pair them with some good cardio or upper-body workouts to enjoy wholesome fitness sessions.