When wearing outfits that flaunt your legs, the right makeup can enhance your look and cover scars and bruises. Leg makeup can give you a smooth, shiny look. There are various leg makeup formulations, from creams to sprays and more.
We bring you a list of the best leg makeup products to help you choose the right one.
Top Products From Our List
7 Best Leg Makeup Products
Sally Hansen's airbrush leg makeup adds a light glow to the skin. This spray-on self-tanner provides a sun-kissed look for your legs. Available in a 4.4oz pack, the airbrush leg spray is long-lasting and offers a natural look.
The sunless tanner provides maximum leg coverage and offers a natural tan without the harmful effects of UVA and UVB rays. Its formula is suitable for all skin types and water- and transfer-resistant. When applying, shake the product well and spray on the hands to apply on the legs.

With SPF 25, this leg and body makeup is formulated as a skin-perfecting foundation for the whole body. It provides a smooth and even finish, and its buildable coverage is available in 12 shades.
Suitable for sensitive skin, you need to apply a thin layer of this foundation to build up the necessary coverage. Active ingredients, such as octisalate and octocrylene, offer medium to full coverage of bruises, stretch marks, varicose veins, and other imperfections.

Skinerals self-tanner includes natural nourishing ingredients such as orange peel, shea butter, and minerals. Weighing 0.35lb, the mousse evens out various skin tones and helps reduce the appearance of blemishes to keep the skin youthful.
It is free of sulfate, paraben, aerosol, and cruelty, and this radiation-free tanning solution provides a long-lasting effect for up to seven days with a single application. Each bottle can provide between four and eight full-bodied applications.

The body blur instant HD skin finish from Vita Liberata Advanced Organics provides a smooth, tanned skin tone. Available in five shades, it is suitable for medium skin tone and uses ingredients such as homosalate, glycerin, and propanediol. You can use it on the face as well.
Suitable as a makeup prep, you can mix it with a foundation to cover up age spots, scars, blemishes, or uneven skin tone. It is formulated with light-reflecting properties to impart an HD skin tone and blends smoothly on the skin. Offering an instant natural tint, it is easy to wash off and free of allergens, parabens, and animal cruelty.

Westmore Beauty body coverage perfector has an aqua-based, nourishing formulation that can smoothen uneven skin and keep it soft.
The buildable formulation suits various skin tones- medium deep, light, very light, medium, and deep tones. Its waterproof and transfer-resistant coverage leaves a long-lasting finish for over 24 hours.

If you are looking for a leg foundation with a balanced blend of glow, nourishment, and even finish, the Ownest body luminizer can be a good choice. It provides a luminous glow offers light coverage, suitable for all skin types.
The luminizer gives a non-cakey finish, and its reflective, strobing effect can cover up blemishes, providing a sun-kissed look.

Glossiva concealer is formulated to suit your natural tone and covers up tattoos, scars, dark spots, vitiligo, and blemishes. You can use this cover-up makeup on your body and legs, and it provides light, non-cakey, and natural coverage.
Waterproof and sweat-resistant, you can mix the different color pastes to get the perfect skin tone.

How To Choose The Right Leg Makeup Product?
Consider the following tips when buying leg makeup products.
Form: Leg makeup products are available as powders, creams, sprays, etc., so choose an application type convenient for you.
Waterproof: Choose waterproof leg and body makeup for transfer-proof, long-lasting results.
Skin tone: Ensure the makeup matches your skin tone and is buildable to provide the required coverage.
Long-lasting: Ensure the concealer is long-lasting for hassle-free coverage for long.
Ingredient: Choose body makeup products with natural ingredients to keep the skin moisturized and nourished.
How To Apply Leg Makeup?
Applying leg makeup is simple and convenient. Follow the steps given below for an even application.
Skin cleaning and exfoliation: To start with, wash and exfoliate the skin on your legs and pat dry. It ensures even coverage for the best results.
Moisturization: Use moisturizer to prepare the skin for optimal coverage, ensuring improved smoothness and softness.
Leg makeup application: Apply the makeup to your leg, either through spray or liquid. Wear gloves or use a large body brush if it is a liquid to prevent uneven application. You can choose from full, medium, and light coverages to find the right finish and texture for your legs.
Blending: Once applied, blend it properly and buff it to leave your skin glowing and tanned.
Finding the right leg makeup for your skin can be challenging if you are unsure about your skin tone, required coverage, etc. You can take suggestions from professional artists and check customer reviews. We hope our list of the best leg makeup products can help you choose the right product.

Recommended Articles:
The following two tabs change content below.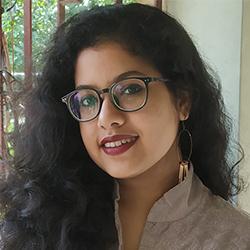 Poulami Nag
Poulami Nag is a writer and associate editor at MomJunction. She did her MA in English from Miranda House, University of Delhi and has qualified UGC-NET. Her journey as a content writer began in 2017 and since then she has garnered diverse interests along the way. Her knowledge of literature and language has given her an eye for detail and...
more