Hair color is something everyone is willing to experiment with this season. While we all love to hitch a ride on the trending color bandwagon, the one hue stuck through the thick and thin is the ash brown hair color.
The color is a blend of silver highlights with block brunettes and a smoky shade of classy brown falling somewhere between blonde and brunette. Also known as mushroom brown hair, this elegant hair color is low-key and subtle but has a professional and unique appeal.
If you plan to add cool tones to your locks for a perfect upgrade, then we have come up with a list of the best light ash brown hair colors that promise an inspiring transformation to your hair.

Top Products From Our List
11 Best Light Ash Brown Hair Colors
Developed by salon experts, this light ash brown hair dye from Revlon is rich in silk amino acid and keratin. The three-pack at-home permanent hair dye promises complete gray coverage. Free of ammonia, the high definition color promises long-lasting results with a perfect ash brown color to your hair.
A nourishing light ash brown hair color formulated using color boost technology is rich in olive, avocado, and shea oils. This permanent hair color is a comprehensive hair dye kit with a non-drip crème formula that colors and nourishes hair. It comes as a pack of two ash brown hair colors to enhance your hair's natural color.
Revitalize your hair with this best light ash brown hair color that promises gorgeous hair. Paired with a unique Care Supreme Conditioner, L'Oréal Paris light ash brown dye adds exceptional silk and shine to your locks. This permanent hair color from L'Oréal is a long-lasting formulation that is an ideal choice for temporary to permanent, semi-permanent, and roots touch up solution.
GreyFree conceals and covers grays instantly and requires no developer. The hair color contains no PPD or ammonia, and it stays on your hair until your next shampoo and leaves no build-up. This salon approved natural ash brown hair color is a mess-free formulation that comes with a mascara style wand for easy application.
A professional formulation provides perfect color equalization even on porous hair. Whether you wish for blonde highlights or caramel highlights, this hair color makes it possible. This color offers white hair coverage and exceptional color retention. This color in high definition makes a dependable brown hair dye.
This permanent hair color offers intense highlight and extreme brightness to give your locks a pretty makeover. Rich in proteins, this hair color dye promises healthy-looking hair and complete gray coverage.
Clairol offers a set of three kits for super shiny luminous hair color. Nice'N Easy hair color creme is suitable for different hair textures and types for permanent hair color solution. The kit comes with a CC+ ColorSeal Conditioner that hydrates the locks to give a vibrant shine with complete gray coverage, a beautiful blend of lowlights and highlights.
Rich in keratin protein and silk, Pravana crème hair color is curated to completely cover the grays and give exceptional shine and silkiness to your hair. The low ammonia hair color leaves you with long-lasting and natural-looking colored hair.
Satin offers aloe-vera based low ammonia hair color that leaves your hair looking healthier and shinier. Satin Professional Color is rich in beautiful pigments used for permanent or semi-permanent color and provides ultra-smooth hair every time you apply. The product contains micro-color molecules for super fade-resistant colors.
Colora Henna adds bounce and body to the lifeless and dull-looking hair. The hair color offers rich but subtle color changes, improves your hair structure, brightens, and highlights your hair. Colora is natural and organic without any chemicals.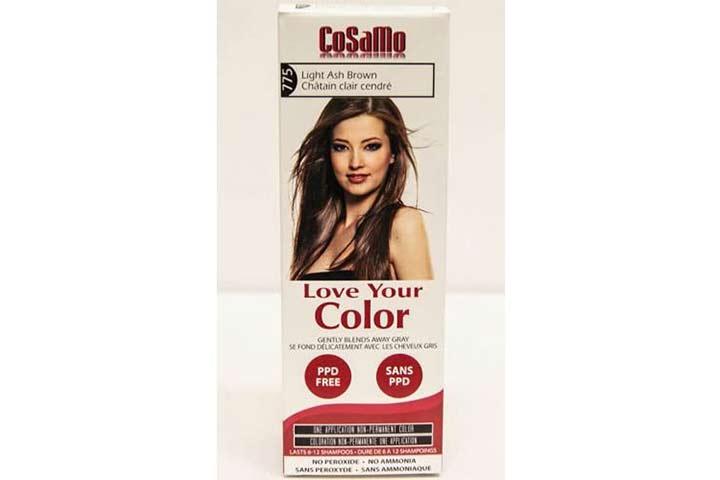 CoSaMo is a natural and healthy hair dye that does not contain ammonia, PPD, or peroxide. The hair dye includes revitalizing conditioner and gives your hair a healthy-looking shine. It gently blends the grays, and the semi-permanent color lasts for up to 12 shampoos.
Can You Dye Your Hair Ash Brown At Home?
Yes, you can dye your hair ash brown at home, but it is essential to use the right hair color and know if you need to lighten your hair. Ensure you follow all the instructions mentioned on the hair color pack and follow them step by step.
Ash brown hair color is a subtle blend of silver and brown that gives a smoky look to your hair. It makes a perfect combination of highlights and ombre. Before you choose a color to turn your hair ash brown, check the ingredients of the color and the instructions to understand whether or not the process is simple.
Recommended Articles: