Keeping the bedsheets, covers, and other linens fresh between their washes is easy when you have the best linen sprays. They are cleaning accessories made of essential oils with a subtle fragrance and distilled water or neutral alcohol. Linen sprays are great for eliminating odors from furniture and inside cars. A single spray of these aromatic linen sprays will instantly lift the ambient mood of your home. So, if you're looking for a linen spray, check out the list we curated. Pick a suitable one to add long-lasting fragrance to your linen.
10 Best Linen Sprays
Lavender Pillow and Linen Spray by Victoria is a kernel of lavender essential oil working aptly for promoting perfect sleep. The spray contains natural lavender extracts that have calming, soothing, and healing properties. Just a single dose of this linen spray can remove stress and promote comfortable sleep.
The superior quality lavender fragrance is subtle, and the aroma lingers around without being too strong or interfering with your sleep. The product is made of organic ingredients and not tested on animals, which makes it a good buy even for vegans.

A 16oz spray mist takes you closer to nature, to beguile your mind and reinvigorate your inner powers. Egyptian Cotton Linen Spray refreshes not only you but even your room and house. Light, scented mist, when drizzled on the linens, blends with the fragrances around to uplift the aroma of the office or home. This scented linen spray can also be used to capture the sultry summer sweat and brings out the fresh fragrance.

Environment-friendly, non-aerosol, clog-free, and stainless Best Press Linen Spray mist can also take care of the stubborn wrinkles on your linens. Use this when you iron the sheets or covers and enjoy the subtle aroma of the spray when you use them. A16oz bottle fits your budget and could help settle piles of linens that deliver a refreshing aroma for relaxation. This aromatic vetiver lurches your mind, makes you stress-free, and removes the need to use starch for linens.

Tree Activ is a one-of-a-kind mist, infused with high-quality natural ingredients like tea tree water, peppermint water, and others to calm your senses, guard your skin, and freshen up the room atmosphere. Abandon stomach-churning odors and treat the bacteria with a spray of this liquid. It works for your bed sheets, pillows, covers, clothes, and furniture too. Emulsify the natural aroma in the house and forget all the nerve-wracking problems. Tree Activ linen spray fumes aromatherapeutic properties to uplift subtle and serene fragrances.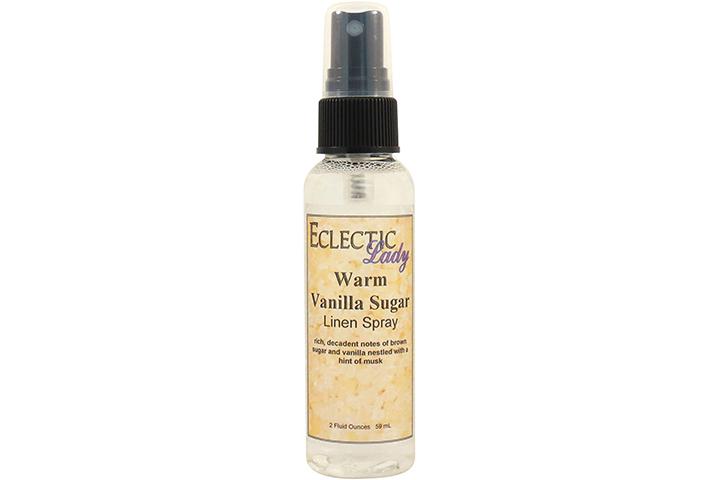 Warm Vanilla Sugar Linen Spray, with scents of vanilla and brown sugar, can make your linen closet sweet-smelling and appealing. With a phthalate-free formula, this mist also has a hint of musk that adds to the freshness of the linens. The aromatherapeutic properties, and subtle vanilla, can help calm your mood and promote peaceful sleep. It is free of preservatives or dyes and is available in 2oz bottles delivered with anti-leakage packing.

Rose Linen Spray emulsifies English rose and preservatives without any harm. Spray it on pillows or linens and feel the pleasant aroma around. The handmade spritz offers top-quality fragrance and is long-lasting too. It comes in a 2oz bottle, packed to be leak proof for delivery. A single spray on linen shuns lousy odor and bacteria. Enjoy the blend of roses with chemical-free dye and let your room be a place of calmness and serenity.
Indulge in bouquets concocted with ingredients like watery melon, and oils with the Glade Clean Linen spray, which comes in an automatic dispenser delivering the aroma at set intervals. Refill the batteries, set the diffuser and let it create the perfect, fragrant ambiance in your home.
A burst of fragrance leads to instant transformation in mood, alleviating the stress elements. Set a timer as per your desire to refresh the room. To enhance the level of fragrance, simply press the boost button and let the diffuser transform the room's ambiance.
Releasing high fragrances infused with natural ingredients like sandalwood, beach flowers, and vanilla sands, this is a perfect combination of linen spray. The irresistible aroma drizzled on bed sheets and covers through electric wax warmer brings a long-lasting effect. The 2.5oz linen wax shuns grime away from the house, turning it into a scented bouquet. Soothe your mental stress and walk the aroma of fresh gardens spritzed in rooms. Break the scorching heat and sweat odors to lighten your mood.
Available in a 2. 7fl.oz bottle, the Michel Design Works linen spray for sheets and pillow is infused with amber, watermelon, and bergamot, and dignifies the room by abandoning the unpleasant odors from the house. The mist fills the room with a super-fine aroma, giving it a heavenly feel. A whiff of it anywhere on the linens or pillow before or after bedtime smells entirely placid. Every room has its charm, and this mist will level it up.
From your living room to the dining room, kitchen to the bedroom, every corner of the house can be filled with the mild fragrance of this linen spray by Michel Design Works. Spritzing the mist on your linen brings life to stationery items. Being concocted with amber, plum, and peach, this spray leaves the rooms with a new, refreshing ambient smell created by emulsifying plat-derived ingredients. With this spray, give your linen a fresh breath of life! 
How To Choose The Best Linen Sprays?
To pick the best linen spray, look for sprays that:
Have aromas that you like and make you feel better
Can soothe and help you de-stress
Compliment your home's ambiance with their long-lasting fragrances
Are pocket-friendly and budget-friendly
Are safe for use on all types of linens, including bed sheets, pillow covers, curtains, and carpets. 
Frequently Asked Questions
What does a linen spray do?
Scented linen spray works sublimely with its mist. The aroma of spritz refreshes your bedsheets and bedcovers, giving you a revitalized feeling. A linen spray for sheets, clothes, or bed linens has a subtle aroma and can also make your ironing smooth.
Can I make these linen sprays at home?
Yes, you can try making linen sprays on your own. It is not arduous work as it takes some distilled or purified water infused with few drops of essential oils to pique aromatherapeutic properties in it. Additionally, use any essential oil for differently fragranced mists. You can even add a few drops of alcohol to make it an aromatic disinfectant.
Linen spray is suitable for your bed comforts as well as to alleviate your stress level. Natural or organic scented linen sprays are eco-friendly and top of all, safe for your kids. A scented room with natural oils enriches the day, making you work better. Use them in the right proportion and change your mood positively. No matter how the weather is and what your mood is, a whiff from the linen spray can make it all better.
Recommended Articles: