Hollywood's most famous star Angelina Jolie and our own Priyanka Chopra have something in common. Both have sensual and luscious, plump pouts.
Since lips are a prominent part of the face, plump and thick lips give women a sexy and attractive appearance.
Lip balms can make your lips look plump, smooth, and shiny. They  produce a slight tingling sensation on your lips, making them slightly swollen and giving you a plump pout. They also help treat dry skin, remove wrinkles and pigmentation, and nourish the lips. Have a look at our list of the best lip plumpers in India and make your lips enticing and kissable.
11 Best Lip Plumper In India


If you want soft, luscious, and fuller lips, Bella Vita Organic's Nicolips lip scrub balm is the right choice. The scrub balm helps moisturize and lighten dry, chapped, and darkened lips. It is formulated using coconut oil, a natural emollient that moisturizes and softens the lips, and olive oil, which has an anti-allergenic effect. The shea butter, cocoa butter, and vitamin E soothe and moisturize the skin, while avocado oil helps relieve irritation. Rich in antioxidants and jojoba oil, the balm can provide nourishment, heal damaged skin, and strengthen cells.

If you are looking for a painless way to make your lips look plump and luscious, try the Biotique plumping lip balm. The balm not only smoothes and enhances the lips but also minimizes the appearance of chapped skin and fine lines. Rich in natural almond oil, the balm nourishes the lips, leaving them soft and healthy. You can use it under lipstick or as a standalone lip balm.

This lip balm from e.l.f is rich in coconut oil and vitamin E, which provide nourishment and hydration to the lips. It has a soothing and cooling sensation and provides a high gloss finish. The plump lip balm comes in various colors with a natural shimmer and can be used for outings during the day and night.

Too Faced Lip Injection is a powerful lip balm that offers immediate results and is available in 16 charming shades. The scientifically advanced formula uses advanced lip enhancement technology to bring a juicy plush effect to your lips. The balm has hydrating agents, including Avocado oil and vitamin E, to smoothen the skin and make the lips look fuller and nourished.

For irresistibly attractive lips, try SolaceDeArtisan lip balm, a long-lasting formula that refreshes the lips and gives them a voluminous appearance. The lip balm contains a blend of five advanced biologically active ingredients that can moisturize, repair, and nourish lips. It also promotes collagen production and protects the skin from sun damage. Orange, pomegranate oil, evening primrose oil, Crambe oil, vitamin C, and aloe butter keep the lips healthy and luscious. The handcrafted formula does not contain parabens, waxes, petroleum, fillers, and harsh chemicals.

Revlon Creme has the Volulip formula that helps enhance the fullness of the lips and provides a cooling effect with regular use. Avocado oil and vitamin E nourish the lips, while the ultra-fine pigments provide shine. The creamy, glossy formula gives the lips a plump and soft texture, and it is available in ten shades.
Bare Body Essentials lip balm is a natural solution to plump your lips and repair dry, chapped lips. It is an easy-to-use, easy-to-carry roll-on balm that can instantly plump your lips. Essential oils of argan and sweet almonds keep the lips nourished, moisturized, and soft. The serum gives the lips a lighter and brighter tone. Its moisturizing formula can repair damage caused by cosmetics. It is best used overnight.

Say goodbye to dull, chapped lips with Seer Secrets lip balm. The hand-made natural balm contains turmeric, which protects the lips from dryness and makes your lips plump and soft. The rich ingredients of paprika, mint, and raw mangoes produce a tingling sensation when applied, making the lips look younger, more nourished, and plumper. The balm hydrates the skin and keeps the lips moisturized and smooth.

Sexy Mother Pucker by Soap & Glory is a plump lip balm that does not contain parabens, sulfates, and phthalates. Its moisturizing formula and triple-action peptides keep the lips hydrated and healthy and hides fine lines. The balm can almost immediately bring gloss to the lips and give them a more defined shape.
Wild Nectar Organic Lip Balm Scrub contains essential oils and plant extracts that can reduce dark pigmentation, especially for smokers. The ingredients, rich in flavonoids and antioxidants, can protect the skin from long-term damage, exfoliate dry, dead skin cells, and detoxify the lips. The organic formula is rich in minerals, vitamins, and emollient properties, promoting cell regeneration, soothing chapped skin, providing a moisturizing effect, smoothing the skin texture, and giving a plump and juicy appearance to your lips. The lip balm is free of parabens and sulfates.

DoYou lip serum repairs damage and improves blood circulation in the lips. Cinnamon oil combats infections, vitamin E strengthens the lips' natural protective barrier, while sunflower oil offers hydration. The non-greasy, lightweight serum does not contain parabens, silicones, phthalates, sulfates, and harsh chemicals. You can use it under lipstick or as a standalone lip serum to achieve a glossy, fresh look.
How To Choose A Lip Plumper
There are various lip balms on the market, but you need to consider the following factors before buying a lip plumper. 
Fine line and pigmentation reduction: Choose a lip balm that will not only camouflage but also reduce fine lines, dark pigmentation, and scars on the lips with regular use. A good lip balm will give lips a uniform tone and healthy appearance, especially for smokers.
Hydration: Lips usually look dry and chapped. Choose a lip balm that can keep your lips moisturized so that the lips are plump and shiny.
Natural ingredients: Several lip balms with organic and natural formulas are available in India. Choose a lip balm that does not contain parabens, silicones, sulfates, and harmful chemicals. Natural botanicals and essential oils are effective lip-care agents.
Tinted: Lip balms come in natural nudes or various tinted shades. You can use them as standalone lip balms or under lipstick to achieve a glossy tone. If you are looking for only shine and plumpness, choose a nude color. Choose a lip balm that suits your skin tone or matches the lipstick.
 Your lips need all the love and care. Lip balms target dry, chapped skin, dark pigmentation, and fine lines. They help rejuvenate the skin through cell regeneration and provide the lips with the necessary moisture. Choose a lip plumper from our list of the 11 best lip plumpers to get sexy, plump, healthy, and soft lips.

Recommended Articles:
The following two tabs change content below.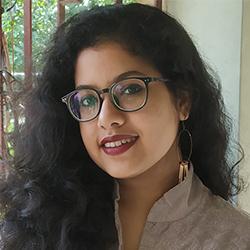 Poulami Nag
Poulami Nag is a writer and associate editor at MomJunction. She did her MA in English from Miranda House, University of Delhi and has qualified UGC-NET. Her journey as a content writer began in 2017 and since then she has garnered diverse interests along the way. Her knowledge of literature and language has given her an eye for detail and...
more