Nails speak volumes about your personality. So why keep them bare and boring when you can give them the color of your choice and paint some life on them?
A long-lasting nail color saves you the hassle of frequent application and keeps your nails vibrant for long. In this post, MomJunction presents some of the best long-lasting nail polishes available online.
10 Best Long Lasting Nail Polish


Heading for a party but your little black dress seems lackluster? Juliette can add sparkle to any outfit. This holographic nail polish is vegan, non-toxic, cruelty-free, and safe to use. And what's more, Juliette is chip-resistant, which means it can last long, really long.


Available in various shades of red, this nail lacquer can make your nails stand out. Its gel-like shine gives your nails a lovely glint. Formulated using ProStay Technology, its shine can last up to 11 days so you can go on without worrying about your nail color looking drab any time soon.


This holographic sparkle nail polish comes with a rainbow-like undertone. You do not have to worry about applying it when in a hurry as its quick-drying and long-lasting formula will dry the paint in a jiffy and can stay put for long. This nail polish is cruelty-free.


The night sky adorned with twinkling stars is a remarkable sight. Imagine stars twinkling on your nails? This black holographic jelly nail polish comes with some intense sparkles. It is resistant to chipping so it lasts longer. Despite the sparkles, it is very easy to remove unlike regular glitter nail paints.


Revlon's smooth and glossy enamel can never go wrong. Its ShadeLock formula keeps the shine intact for days, while the Chip Defiant formula coats your nails in a smooth color. It is chip resistant, which lets your nails look manicured for days. Available in 58 shades, this enamel can complement your every look and outfit.


This nail paint's creamy look makes it irresistible. Its sheer off-white color makes your nails appear pretty. It has toluene and formaldehyde-free formula that makes it safe and long-lasting. It is suitable for all skin tones.


This hologram diamond nail lacquer offers a glossy finish. The LED/UV cured nail polish does not fade or shrink and can last for weeks. The package comes with a free Dare to Wear nail lacquer.


As the name suggests, this long-lasting nail polish is meant to last you for weeks. In its two-steps to a great finish, you first apply the gel nail polish and then a top coat to get a professional manicure effect. It is available in many shades and is easy to apply and remove.


Let your nails shine bright like a diamond with this 2-in-1 base coat and color nail polish. This nail color comes in 46 stunning shades, and its life-resistant formula makes it long-lasting. For best results, complement it with the Revlon ColorStay Gel Envy Diamond Top Coat.


Sally Hansen Color Therapy nail polish is enriched with the goodness of argan oil, which makes your nails look gorgeous while also nourishing and moisturizing them. It is fade and chip-proof nail polish that comes in 40 vibrant shades.
How To Choose The Right Nail Polish?
There are no rulebooks to follow when it comes to nail colors. You can wear any color you love wearing. But, if you are unsure of what might work best, then you can start by determining your skin undertone. The undertone is the natural tint of your skin. The three types of skin undertones are:
Warm Undertone: Skin that is yellowish or golden in appearance
Cool Undertone: Skin that appears bluish, pinkish, or slightly reddish
Neutral Undertone: Skin that shows a mix of both cool and warm undertones
The following are some tips to keep in mind when picking a nail color that is ideal for your skin tone.
Light Skin: The key to get a good nail polish color for a light skin tone is to opt for the extremes. You can try the lightest of shades and darkest of colors. Consider nudes, pinks, reds, and purples as your go-to colors.
Medium Skin: Lighter or medium shades of brown, green, and blue go well with this skin tone.
Dark Skin: Avoid lighter or pastel colors and opt for darker colors that can give your nails that fresh appeal. However, avoid grey and black as these may not do much for your nails to look good.
These tips can give you a fair idea of how to pick nail polish shades based on your skin tone.
Chip-proof, long-lasting nail polishes feel like a blessing. These are our favorite picks for long-lasting nail polishes. Have you used any of these nail polishes? Share your experience with us in the comments section below.
Recommended Articles: 
The following two tabs change content below.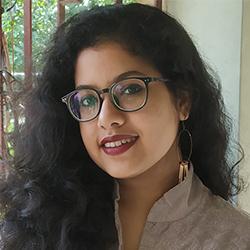 Poulami Nag
Poulami Nag is a writer and associate editor at MomJunction. She did her MA in English from Miranda House, University of Delhi and has qualified UGC-NET. Her journey as a content writer began in 2017 and since then she has garnered diverse interests along the way. Her knowledge of literature and language has given her an eye for detail and...
more