Removing makeup after a long day is quite annoying, and sometimes the regular cleansers that you find in the shops do not wipe off waterproof and heavy makeup that effectively. As a result, you'd end up scrubbing and spending significantly more time to cleanse your face properly. This is when the best makeup removers come to your rescue.
These products deeply cleanse your face, eyes, and lips and give you a fresh-looking appearance. They do not leave your skin dry; instead, they nourish your skin and speed up your skincare routine at night. Though some are oil-based, these products do not leave behind any greasy residue on your skin. So, choose the right one for you from our list of the 13 best makeup removers in India.
13 Best Makeup Removers In India
Cleanse your makeup with this micellar water that gently removes dirt and impurities off your face. It is one of the popular makeup removers in India known for being extremely effective as a cleanser. Its cleansing molecules, known as micelles, work like a magnet while removing waterproof makeup and any stubborn residue from your skin minus the mess. This product easily cleanses your skin without the need for rubbing and causes no skin irritation. It is non-sticky and non-oily with no paraben, alcohol, or artificial fragrance. Therefore, it is suitable for all skin types, including sensitive skin, and is ideal for everyday use. Use a cotton pad to soak the micellar water and then gently wipe the makeup off your face.
If you experience breakouts because of your sensitive skin, use this Bioderma Sensibio H2O Makeup Removing Micelle Solution that is best suited for sensitive and reaction-prone skin. This formula contains ingredients that are found in your body, and when used regularly this makeup remover strengthens the skin's natural barrier. It deeply cleanses impurities as well as stubborn makeup from your eyes and face. Its cleansing molecules— micelles, keep the moisture balanced, maintain the sensitivity, and improve skin texture. You can wipe your face with this micellar water cleanser using a cotton pad to achieve a soft and clear face. After cleansing with this fragrance-free product, you will not need to use water to wash your skin.
Removing waterproof makeup with a regular cleanser can be a difficult task, therefore, try this super effective makeup remover that is ideal to get rid of stubborn makeup. Whether you use it on your face, lips, or eyes, this liquid remover wipes off the makeup in seconds. Its fast-acting dissolving agents can defeat any kind of makeup as well as dirt and impurities. It deeply cleanses your skin and is safe for all skin types. This makeup remover is allergy and dermatologist-tested, which makes it safe and efficient for your face, eyes, and lips. Gently clean your face with this water-based cleanser using a cotton pad, and this makeup remover can even be used on a regular basis.
Wiping off makeup from your face is easier than removing it from your lips and eyes. However, to successfully get the makeup off your eyes and lips, this Lakmé Absolute Bi-Phased Makeup Remover is best-suited! This cleanser not only gives you a clean face but also a hydrated and fresh-feeling skin. Your face will not dry out after using this product and you don't even have to rinse your skin with water. It will offer a moisturized finish as it is a unique blend of oil's cleansing properties and water's refreshing benefits, leaving you with healthy skin. This cleansing spray is dermatologist-tested and is suitable for sensitive skin and eyes.
This L'Oreal Paris makeup remover is gentle and suitable for all skin types, including sensitive skin. Plus, it works well for the eyes and lips without causing any irritation. It can wipe off waterproof and long-lasting makeup, including mascara, kajal, matte lipsticks, etc. and it can also remove all the dirt and pollution build-up from your face. Enriched with pro-vitamins, this formula makes your skin softer, smoother, and healthier. It is also infused with essential oils that do not let your skin get dry after removing your makeup. You can achieve a clean and refreshed face just after one use. This makeup remover in India is a safe product, recommended by dermatologists and tested by ophthalmologists.
This makeup remover will make all Ayurveda lovers happy! Its key ingredient is almond oil that not only removes makeup from your face, eyes, and lips but also nourishes your skin without making it dry and parched. Enriched with vitamin E and antioxidants, this soothing makeup cleanser is formulated with a blend of almonds, sesame, staff tree oil, safflower, and neem to make it safe for sensitive skin and eyes. It is an organic product that deeply cleanses your face and unclogs pores, leaving your skin nourished and hydrated. This cleanser can break down heavy and waterproof eye and face makeup gently without any mess and leaves you with fresh-looking and silky soft skin.
Cleanse your makeup quickly with this foaming makeup remover that comes with a gentle scrub. This makeup remover is highly effective at cleaning dirt, pollutants, makeup, and impurities without leaving your skin dry. It contains rose water that has soothing properties and helps to keep the pH balance of your skin in check, glycerin that keeps your skin deeply hydrated, and glycolic acid that acts as an excellent exfoliant to get rid of impurities and tighten your pores. This makeup remover can be used every day to remove makeup or as a gentle face wash or scrub. It is safe for all skin types and is dermatologist-tested. This product is made of natural contents and does not contain SLS, sulfates, petroleum, parabens, artificial colors, or preservatives.
When it comes to skincare, natural and ayurvedic products are the best! And, this makeup remover checks both the boxes. It is made of natural ingredients such as rose water, argan, aloe vera, and cucumber. Rose water minimizes acne, redness, and puffiness of your skin while brightening your skin tone. Argan comes with anti-sebum effects that prevent your face from secreting excess oil, leaving you with smoother and healthier skin. Aloe vera boosts the production of collagen and offers moisturizing, soothing, and hydrating effects. Cucumber is a gentle and natural face cleanser that prevents dryness and itchiness, giving you nourished skin. Along with all these benefits, this oil-based micellar water also wipes off heavy and waterproof makeup gently and efficiently. Suitable for all skin types, it is an organic product that is not tested on animals and is free of sulfate, paraben, harsh detergents, and non-toxic ingredients.
This Revlon Eye & Lip Makeup Remover helps to lift away waterproof, transfer-resistant, and long-wearing makeup with ease. While it deeply cleanses your face, eyes, and lips, it does not irritate your skin, and instead, leaves it smooth, clean, and soft. Also, it is ophthalmologist-tested, making it safe to use around the eyes to remove eye makeup. It does not dry your skin by keeping it hydrated without leaving any residue behind. This incredible makeup remover is non-sticky and can be used on a regular basis. You just need a small amount of this lightweight makeup remover on a cotton pad or cotton ball to wipe off your makeup and impurities gently throughout your face.
If you are looking for a non-sticky cleanser, this makeup remover is the right choice for you. It deeply cleanses your skin without leaving any residue behind that might make your face feel greasy or sticky. This product comes with 3-in-1 benefits— it moisturizes, deeply cleanses, and is sensitive to eyes and skin. It can remove light, heavy, and waterproof makeup while retaining the natural pH balance of your skin. The makeup remover is formulated with antioxidants, skin lightening agents, witch hazel extract, and cucumber that help to decrease the size of your skin's pores and provide a soothing feeling to your face. This cleanser is alcohol-free, rinse-free, and is suitable for all skin types.
Get this vegan makeup remover that also works wonderfully as a face wash. This gel formula removes makeup, dirt, dust, pollutants, impurities, and excess oil from your skin, leaving you with a clean, brightened, and nourished face. It does not make your skin dry, instead, maintains the natural moisture balance of your skin. This makeup remover is formulated with aloe vera, neem extract, menthol, vitamin C, and vitamin E. Aloe vera helps to fight the signs of skin aging, neem soothes skin dryness, vitamin C helps to diminish wrinkles and fine lines, and vitamin E acts as an antioxidant, reducing scars and dark spots. This cleanser cum face wash is alcohol-free, cruelty-free, and is ideal for all skin types.
This makeup remover consists of micellar cleansing water that helps to remove smudge-proof, transfer-proof, and waterproof makeup. While cleaning your face with a single swipe, it also nourishes and hydrates your skin to maintain the moisture balance, preventing your skin from dryness. Its micelle particles also get rid of dirt and impurities that settle on your skin due to pollution. This cleanser contains argan oil that helps to maintain the natural pH balance of your skin. With no paraben in the formula, this product is safe and suitable for all skin types. Before soaking the cotton pad with this cleanser, shake the bottle well and then gently dab and swipe the pad to wipe off the make-up properly.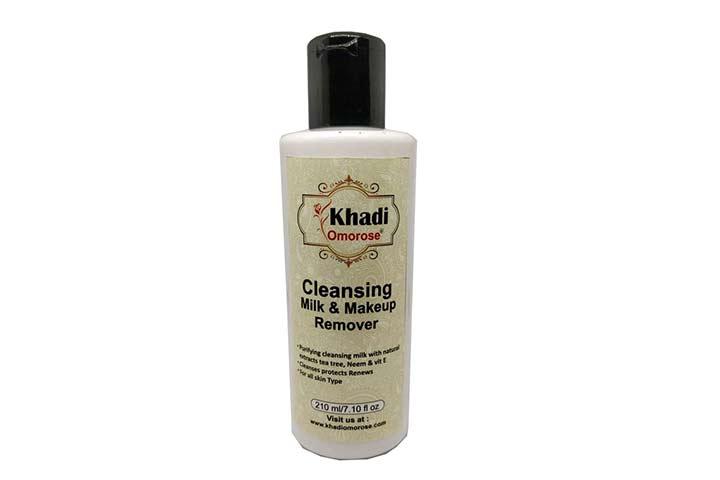 This Khadi Omorose Cleansing Milk & Makeup Remover deeply cleanses your skin by removing dirt and impurities along with heavy makeup from your face. This milky formula also locks in moisture and offers intense cleaning to your pores, leaving you with nourished and hydrated skin. It is infused with tea tree, neem, and vitamin E that relieves dryness, reduces black spots and blemishes, giving your skin a brightened and fresh appearance. While you can use this makeup remover at any time of the day, it is best to use it before going to bed. Take a small amount of this cleansing milk on a cotton ball and gently wipe it on your face to remove your makeup with ease.
If you are still confused about investing in the right product, take a look at this comprehensive buying guide that will help you to make the right decision.
How To Choose The Best Makeup Remover?
While choosing a makeup remover, you should be aware of the type of the product. You must check whether the formula is oil-based, water-based, or cream-based. Different kinds of makeup removers suit different skin types. While oil-based is great for dry skin, water-based is well-suited for combination and oily skin.
Like every skincare product, your makeup remover should also be free of harsh elements. Look for a makeup remover that does not contain paraben, alcohol, sulfate, or any other type of harmful ingredients as these can irritate your skin or can be harmful for your skin in the long run.
Greasiness and stickiness are the biggest concerns when you want to purchase makeup removers. Choose a makeup remover that is non-greasy but hydrates and soothes your skin. A greasy makeup remover can leave your skin feeling oily.
While most of the makeup removers are made for all skin types, making it a point to check if it suits your skin type is a good idea. It minimizes the chances of discomfort or displeasure with the product.
Makeup is all fun and games till you have to take it off. Cleansing can be time-consuming, and the right products are usually hard to find. However, you shouldn't go to bed without taking off makeup, as it will irritate your skin and cause irreversible damage. To combat this problem, you need the right makeup removers that can easily take off the dirt and residue, leaving you with healthy skin. Before selecting a suitable makeup remover, use a base formula suited for your needs and skin type and choose one without harsh chemicals. We hope our list of the best makeup removers in India can help you understand the various available features.
Recommended Articles:
The following two tabs change content below.

Poulami Nag is a writer and associate editor at MomJunction. She did her MA in English from Miranda House, University of Delhi and has qualified UGC-NET. Her journey as a content writer began in 2017 and since then she has garnered diverse interests along the way. Her knowledge of literature and language has given her an eye for detail and...
more