Matte lipsticks come in several shades and suit various skin complexions, including those that range from tan to dark. They can make your makeup pop, complement several outfits, make you look stunning, and ensure that you radiate subtle elegance when you are photographed. So, if you are looking for the best matte lipsticks for dark skin, continue reading. Here, MomJunction lists some of the best.
15 Best Matte Lipsticks for Dark Skin
This liquid matte lipstick is designed to last for up to 16 hours once it is applied, even if you eat or drink. It comes with an arrow applicator that lets you apply the lipstick outwards from the middle of the lips and covers the lips in color with one sweep. The lipstick is also resistant to transfers and does not stain cups and cutlery. At the end of the day, it can be removed with the aid of a lipstick remover from Maybelline. You can watch this video and understand how the product works before making your choice.
Pros
Highly-pigmented
Long-lasting
Can be combined with a lip liner
Available in 35 different shades
Cons
May not be cruelty-free
May feel slightly sticky
This lipstick comes in an eye-catching shade of magenta and is perfect for pairing with party wear. It is especially ideal when sparkly outfits have to be toned down. The lipstick does not have a glossy finish, which makes it perfect for everyday use and provides a touch of color to somber-colored office outfits. Created with a combination of precious oils, the lipstick is creamy and feels light once applied. It does not dry out the sensitive skin of the lips and provides long-lasting coverage.
Pros
Lasts up to 12 hours
Can be removed easily with Micellar water
Formulated with honey nectar
Has hydrating properties
Traditional bullet format
Cons
May be slightly thin
May smudge slightly
This is one of the best matte lipsticks for dark skin as it delivers a spicy finish to the lips. It has a creamy formula and is designed for easy application. Once applied, it lasts for several hours and does not require reapplication after every meal. The color of the lipstick is pigmented to provide the perfect amount of coverage to your lips. It does not dry the sensitive skin of the lips and keeps them hydrated and smooth all day long.
Pros
Suitable for all skin types
Velvety formula glides smoothly on the lips
Can be wiped off smoothly with any makeup remover
Available in different shades
Cons
May be somewhat sticky
Some may not like the smell
This lipstick by NYX is targeted at professionals who want a well-balanced, long-lasting angel color on the lips. Designed to glide on the lips effortlessly, this lipstick delivers a rich hue. Once applied, it stays in place and keeps the lips coated for several hours without transferring onto cups when drinking. The lipstick has not been tested on animals.
Pros
Highly pigmented
Glides on smoothly and evenly on the lips
Does not smudge or transfer
Easy application with traditional design
Cons
May slightly dry out the lips
Shade of the lipstick may not be the same as displayed
This matte lipstick for dark skin comes in a striking nude shade and is ideally suited for pairing with a variety of neutral-colored dresses during summer. Compared to other matte lipsticks, this one offers a slightly glossy finish and is ideal when paired with minimal makeup when heading to the office or business events. It is formulated with vitamins A and C that nourish the skin of the lips and rejuvenates it. The lipstick is also certified cruelty-free by PETA.
Pros
Pleasant fragrance
Rich pigmentation
Keeps lips moisturized
Smooth-gliding traditional bullet design
Cons
May not offer great coverage
May be somewhat thin
If you are looking for a pink matte lipstick for dark skin, then this is one of the best options. It comes packaged in a striking bottle and has an expertly designed doe-foot applicator for easy application. This patina shade of pink lipstick provides full coverage and provides a creamy finish that lasts for up to 12 hours. Infused with avocado oil and rejuvenating vitamin E, it provides hydration to the lips while remaining light and color-rich. Click this video to learn more about the product.
Pros
Suitable for all skin types
Creamy liquid form delivers intense moisture
Offers good shine
Offers full-coverage
Cons
May not be transfer-resistant
May not be water-resistant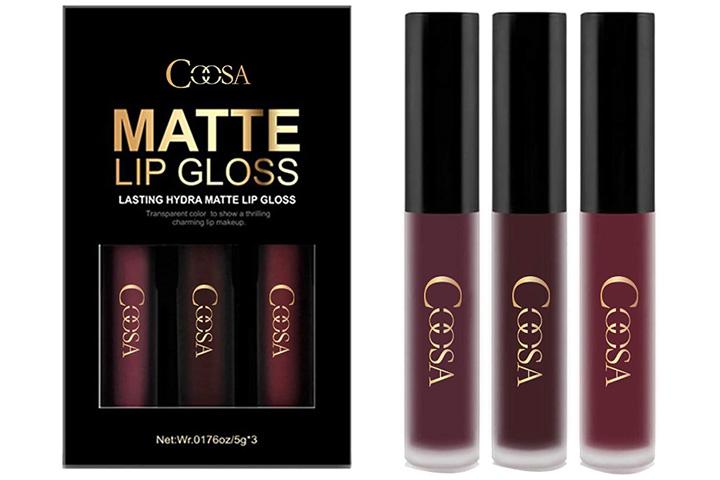 This is a matte lipstick and lip gloss combination designed to last all day. Available in three colors, the set of lipsticks is ideal for all-day use and provides the right shine when heading out to a party. Each lipstick is waterproof, and when applied with its included lip brush, it delivers a bright finish. Created with ingredients that provide hydration to lips, it ensures that sensitive skin does not become dry. It also does not get transferred on to cups and other cutlery when eating.
Pros
Highly pigmented color
Long-lasting
Suitable for dry, normal, combination, or oily skin
Smooth consistency for easy application
Cons
May not apply evenly
May not be transfer-proof
Use any of these shades of matte lipsticks on dark skin to step out of the house looking elegant and polished. This set consists of eight shades that include peach and spicy touches and are waterproof to ensure that your lips look perfect, come rain or shine. They are transfer-resistant, do not fade, and make your lips look flawless all through the day. The lipsticks can also be used to make your lips appear fuller when you apply them after lip plumping.
Pros
Smoothing and moisturizing
Infused with oils
Non-sticky
Easy to remove
Has no harmful substances
Cons
May not stay long
May not be chip-resistant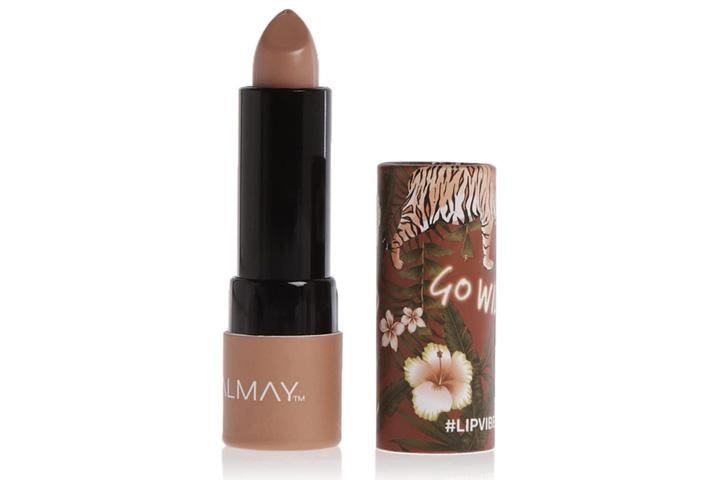 The "Go Wild" shade delivers a rich hue to the lips and makes them stand out. It, therefore, helps you make a statement when heading to a party or walking the ramp or the red carpet. Once applied, it lasts long and does not dry and crack, as the formula includes nourishing and rejuvenating vitamins, such as vitamins E and C, combined with shea butter. It has a creamy finish and can be applied easily. Check out this video to learn more about this product.
Pros
Non-sticky
Non-drying formula
Hypoallergenic
Fragrance-free
Dermatologist-tested
Cons
May not be long-lasting
Color may be slightly different from the one advertised
The subtle matte lipstick is ideal for everyday use and helps create a striking and sophisticated look. It comes in a tube that is embossed with the Revlon logo and is easy to use. Formulated with botanical ingredients, such as cupuacu butter combined with moringa oil and agave, it leaves your lips feeling smooth and hydrated. It lasts long and keeps you comfortable without making the lips sticky or drying them out.
Pros
Suitable for all skin types
Traditional bullet form
Velvety finish
Make lips supple and smooth
Cons
Could have been more hydrating
Might be a bit smudgy
One of the best red matte lipsticks for dark skin, this liquid-based product delivers a vibrant shade of red that is ideal when heading out for a date or a party. The applicator included allows for precise and easy application of lipstick when contouring the lips from the middle towards the edges. The lipstick is enriched with the scent of mango and vanilla, while the microfine powders used in its formulation allow for it to smoothly glide onto the lips.
Pros
Lightweight
Smudge-resistant
Non-drying feel
Smooth
Cons
May not last long
May be pretty messy
Providing the perfect plum shade, this lipstick is ideal for office wear and comes in liquid form. It is designed to provide full coverage and a striking matte finish. It lasts for up to sixteen hours reduces the need for frequent reapplying of the lipstick.
The applicator has a precisely fashioned tip that allows for easy outlining and shaping of lips, while the formula ensures that the lipstick remains non-sticky after application.
The chocolate shade liquid lipstick is infused with the aroma of chocolate and is designed to stay on the lips all day long. It provides full coverage with a single stroke and lasts for up to 16 hours, irrespective of how much you eat and drink during the day. The pro-tip applicator provided with the lipstick ensures easy application. The liquid lipstick does not dry out and is non-sticky too.
Pros
Offers a sheer finish
Formulated for dry skin
Transfer-resistant
Quick-dry formula
Cons
Color may be a tad darker than expected
May be slightly thick
If you like a bit of shine, then this lipstick is for you. It delivers a nude shade to lips and is ideal for all-day wear, whether you are heading to the office or out on a shopping trip. Formulated with orchid extracts, it leaves the lips looking hydrated and healthier, while its 3D pigments ensure that the lips appear wide and plump. Oils included in the lipstick, in addition to the wax, allow it to easily glide onto the lips, and its square tip ensures that the application is precise.
Pros
Hydrating formula
Suitable for all skin types
Glides smoothly
Fades dry lines on your lips
Cons
Color may be somewhat different
This red lipstick with a matte finish is the perfect option when heading to a party or a date when you want your lips to look stunning. It is specifically formulated to provide a richly pigmented color and high-fashion texture to the lips with a non-shiny finish. The combination of blue-red tones makes the lipstick a favorite among those who want to create a fashionable look that screams glamor and never goes out of style.
Pros
Suitable for combination skin
Doesn't bleed
Long-wearing
Moisturizing
Cons
Color may be lighter than expected
Texture may be a bit dry
How To Choose The Right Matte Lipstick For Dark Skin?
Your skin undertone and complexion will make some matte lipstick shades pop while causing others to fade into the background. So, if you want that perfect shade of matte lipstick that complements your undertone and dark or tan complexion, then you may follow these tips.
Check your skin undertone
Skin undertones are divided into cool, neutral, and warm, which can be determined by checking the color of your veins. People with bluish veins have a cool undertone, while greenish veins indicate a warm undertone, and a mixture of green and blue veins suggests a neutral undertone. Dark skin comes in a variety of shades, but people with darker skin generally have neutral or warm undertones.
Find matte lipsticks that suit your undertone and complexion
Matte lipsticks in shades of plum, brown-rose, warm brown, chocolate-brown, peachy-nude, red berry, copper, and bronze are ideal for everyday wear and suit darker skin tones. Shades of striking red with blue tones are also ideal for people with darker skin, as are lipsticks in magenta, purple, and violet that are better suited for parties. While red lipsticks that are combined with orange tone are ideal for tan skin.
Why Trust MomJunction?
Poulami Nag is our in-house product writer and researcher who loves reviewing skincare, beauty, and fashion products. In this post, she has compiled a list of the best matte lipsticks for dark skin after comparing several products and considering user reviews. Poulami has also provided a detailed description of each product and included a buying guide to help you pick the right lipstick. These lipsticks are safe and have nourishing ingredients for a smooth finish.
Recommended Articles :