If you love cooking the perfect meals, you probably understand the importance of measuring ingredients. Any recipe can be made to perfection when you accurately measure the ingredients, and lack of a good measuring tool, such as a measuring spoon, can be a hurdle. Measuring spoons are handy kitchen tools that are available in sets and are built to last.
With so many brands offering measuring spoon sets in the market, it could be daunting to find the right one for your needs. This article gives you a list of the best measuring spoons and discusses the features that you should gauge before buying them.
13 Best Measuring Spoons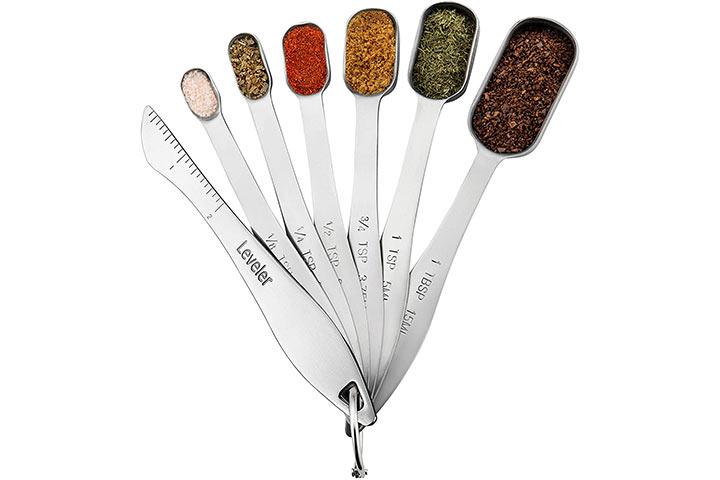 Spring Chef measuring spoons are built with heavy-duty stainless steel and are available in a set of six. These spoons have engraved the US and metric measurement markings and easily fit into most ingredient jars. You can take precise quantities of ingredients that result in perfect cooking or baking. The spoons come in sizes of 1/8tsp, 1/4tsp, 1/2tsp, 3/4tsp, 1tsp, and 1tbsp.
Pros 
Easy-to-read markings that won't fade or rub off
A convenient ring for compact storage
Rectangular spoons are ideal for jars with small mouths
Wide and long handles are comfortable to hold
Can be used for both dry and wet ingredients
Made of stainless steel that is free of chemicals and toxins
Dishwasher-safe
Cons 
Does not include a warranty
Spoons do not nest within each other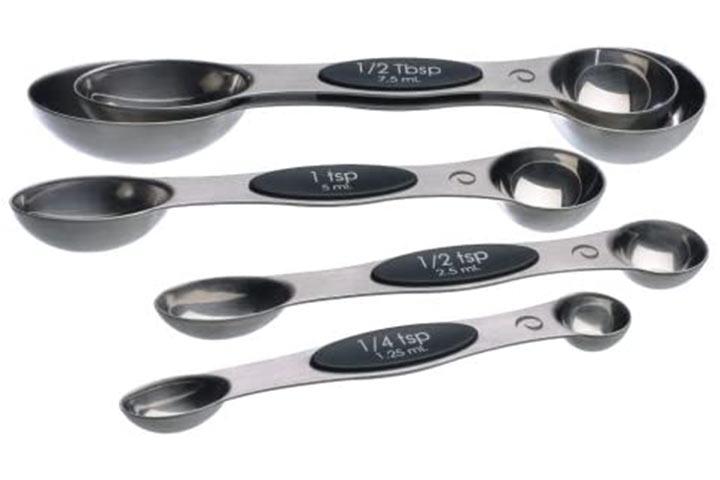 These two-headed spoons could be among the best measuring spoons to add some style to your kitchen. The magnetic steel spoons come in a set of five, including 1/4tsp, 1/2tsp, 1tsp, 1/2tbsp, and 1tbsp. One end is narrow and compatible with spice jars, and the other round end is ideal for liquids.
Pros 
Versatile design, multipurpose use
Built-in magnets make storage and organizing easy
Flat base allows them to rest on the countertop without spilling the contents
Printed measurements for identifying the right spoon
Dishwasher-safe
Cons 
Measurement labels may fade since they are not engraved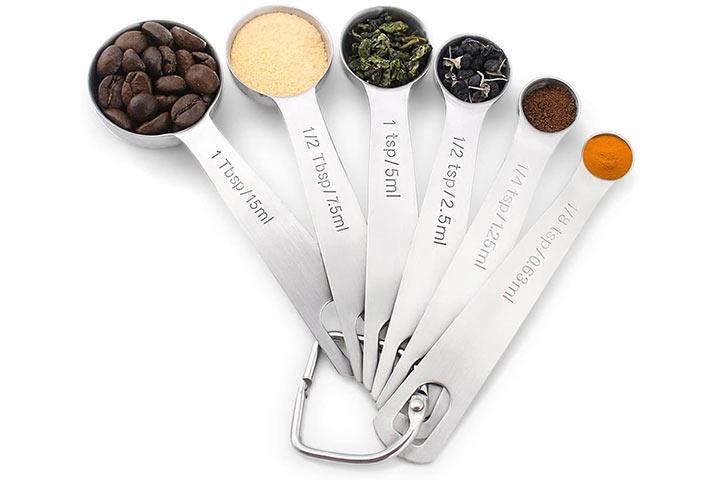 This set of six classic measuring spoons comes with a removable D-clip to detach the spoon you require for use. They are available in the measurements of 1/8tsp, 1/4tsp, 1/2tsp, 1tsp, 1/2tbsp, and 1tbsp. Each spoon is made of 18/8 stainless steel and has clear engraved markings. They are satin-brushed for a better appearance.
Pros 
Premium 18/8 304 stainless steel construction offers durability
Comes with a lifetime warranty
Easy to clean and dishwasher-compatible
Deep, elongated spoons for easy scooping
Can measure both wet and dry ingredients
Weighted handles prevent fumbling
Cons 
Can be difficult to reach containers with narrow openings
Some reviews report of rough and sharp rims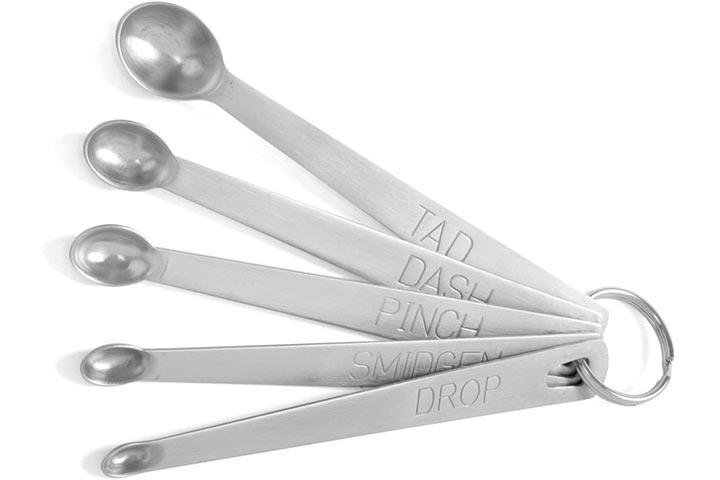 As the name suggests, the Norpro five-piece mini spoons are designed for measuring small amounts. They are made of stainless steel and are narrow spoons that fit into any container or spice jar. The handles have the measurements imprinted on them, to help you use the ingredients in exact quantities.
Pros 
Helps understand the exact measurements of a tad, dash, pinch, smidgen, and drop
Easy to store as they are held together by a ring
Features measurement labels
Can fit into any narrow container
Dishwasher-safe
Cons 
Some may find the measurements confusing since the actual amounts are not listed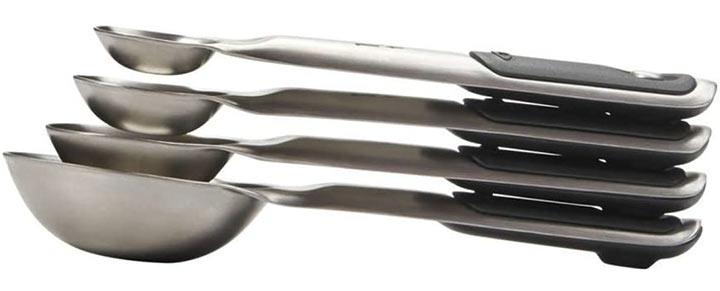 The Oxo good grips measuring spoon set is a classic and functional solution for measuring ingredients in appropriate amounts. They have magnetic snaps that allow you to remove one spoon at a time easily. It includes the sizes you will use most often: 1/4tp, 1/2tsp, 1tsp, and 1tbsp.
Pros 
Sturdy stainless steel construction
Spoons are conveniently held together by magnets
Great starter kit for making basic recipes
Allows for easy leveling and accurate measuring
Etched measurement markings
Soft, comfortable, and non-slip handles
Dishwasher-safe and easy to clean
Cons 
They may not reach deep into the containers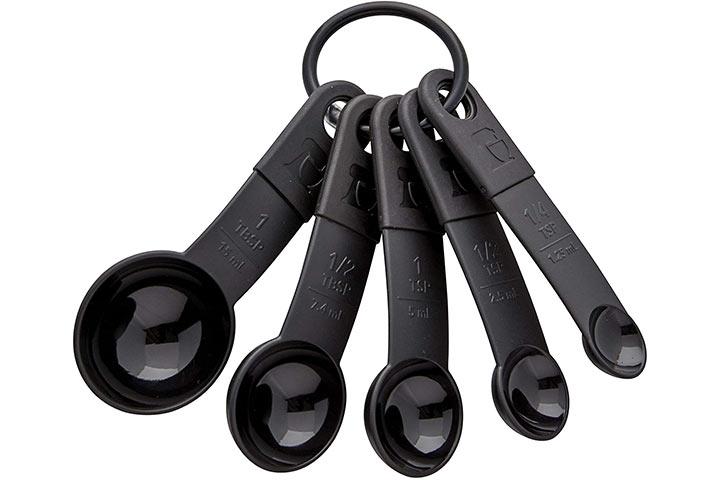 The KitchenAid plastic measuring spoon set comes with five different sizes of spoons—1/4tsp (1.25ml), 1/2tsp (2.5ml), 1tsp (5ml), 1/2tbsp (7.4ml), and 1tbsp (15ml). The BPA-free plastic spoons have a matte exterior and a glossy interior, along with a soft black grip and stand mixer icon. The spoons nest within each other and are held together by a thick plastic ring.
Pros 
Suitable for both wet and dry ingredients
Printed in easy-to-read letters on the handle, in both standard and metric units
Convenient ring for secure and compact storage
Dishwasher-safe and easy to clean
Come with a one-year hassle-free replacement guarantee
Cons 
Short and may not reach the depth of containers
Mixed reviews on durability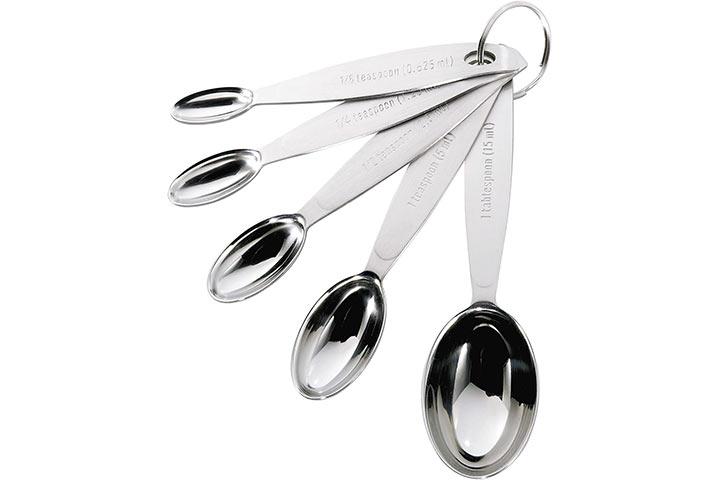 If you are looking for stainless steel measuring spoons, you may consider this set from Cuisipro. Manufactured using the toughest stainless steel, the oval spoons are likely to be durable. They also have a deep cup and are held together by a storage clip. The measurements are permanently engraved on the handles, and the set includes five spoons of ⅛tsp, ¼tsp, ½tsp, 1tsp, and 1tbsp.
Pros
Easily reach into narrow jars and bottles
Curved handle tips sit securely on the table without tipping
Clip to store and organize easily
Accurate and easy-to-read markings
Easy to wash in a dishwasher
Deep cups keep ingredients from sloshing out
Cons 
Edges may be slightly sharp
Not easy to take out the spoons from the ring when in hurry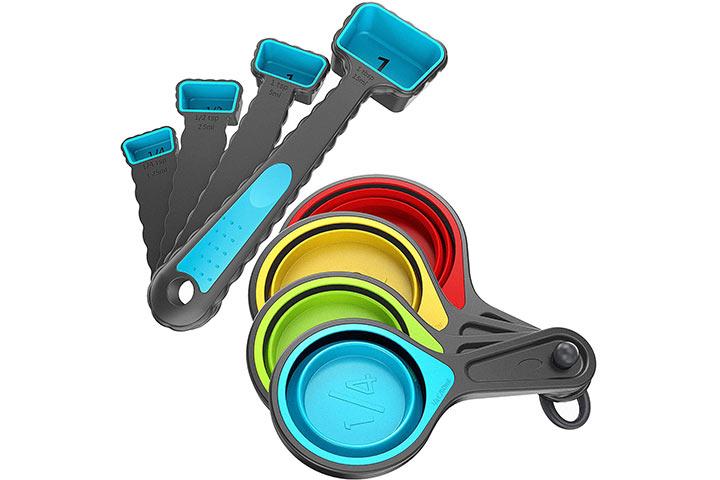 If you are an amateur cook, you may want to use proper measuring spoons and cups for the accuracy of the dish. The Kaptron set includes four measuring spoons of 1/4tsp (1.25ml), 1/2tsp (2.5ml), 1 tsp (5ml) and 1tbsp (15ml), and four measuring cups of 1/4cup (60ml), 1/3cup (80ml), 1/2cup (125ml), and 1cup (250ml). The collapsible silicone measuring spoons and cups could be ideal for your kitchen.
Pros 
BPA and toxin-free material is extra durable and built to last
Easy-to-read markings in US and metric measurements
Handles stay intact when handling dry or wet ingredients
Collapsible cups for easy and hassle-free storage
Spoons have extra-long handles to scoop from deep jars
Silicone hanging key ring for secure storage and organization
Do not melt, rust, break, or warp
Come with a lifetime warranty
Cons 
Spoons are difficult to clean because of their shape
Cup handles are short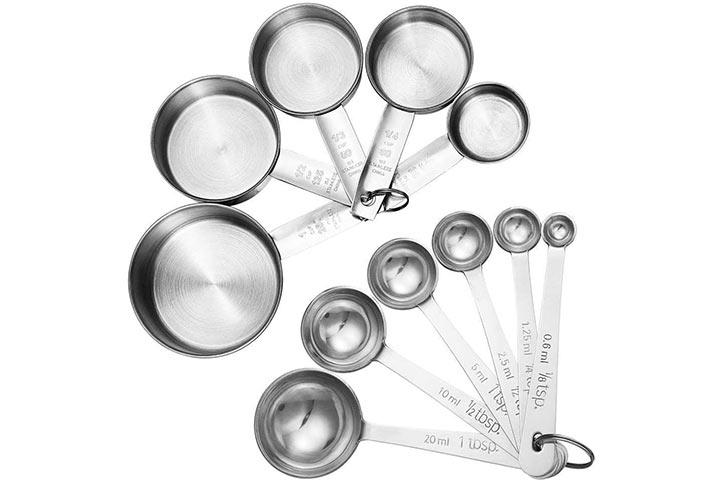 Accmor measuring spoons and cups are made of stainless steel with measurements engraved on the handles. They are stain brushed, which makes them look attractive. The round ends can fit most jar openings, and you may use them for both wet and dry ingredients. The set includes six measuring spoons—1/8tsp (0.6ml), 1/4tsp (1.25ml), 1/2tsp (2.5ml), 1tsp (5ml), 1/2tbsp (7.5ml), and 1 tbsp (20ml) and five measuring cups—1/8cup (30ml), 1/4cup (60ml), 1/3cup (80ml), 1/2cup (125ml), and 1 cup (250ml).
Pros 
Durable and long-lasting steel construction
Deep, elongated spoons for easy scooping
Firm and sturdy handles with a comfortable grip
Easy to store as they are held together by a small ring
Dishwasher-safe, can be washed by hand too
Suitable for homemakers and aspiring cooks
Cons 
Cup handles are short
Inaccurate metric measurements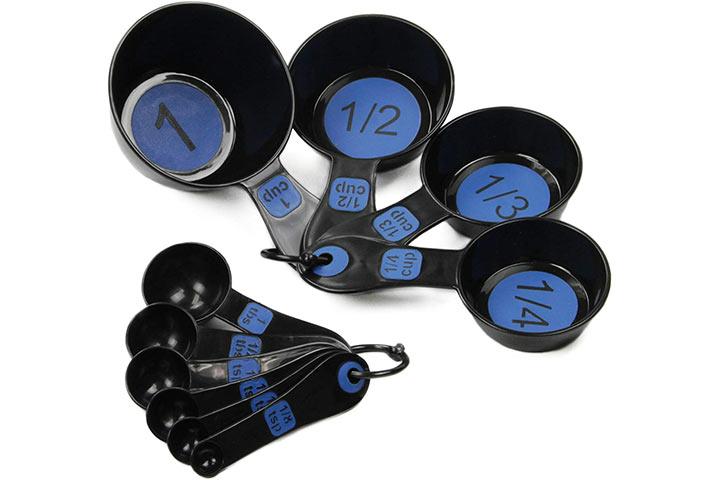 This ten-piece measuring cup and spoon set features double molded plastic with measurements embedded into the handles. Their attractive and bright contrasting black and blue colors can match any decor in your kitchen. The accurate measurements are ideal for measuring dry ingredients such as sugar, salt, and flour. The sizes include 1/8tsp, 1/4tsp, 1/2tsp, 1tsp, 1/2tbsp, 1/4cup, 1/3cup, 1/2cup, and 1cup.
Pros 
Made of BPA-free plastic
Easy-to-read large print measurements
Double molded for increased durability and function
Lightweight construction
Safe to clean in the dishwasher
Cons 
Short handles cannot reach deeper jars
Plastic tends to peel off with repeated washes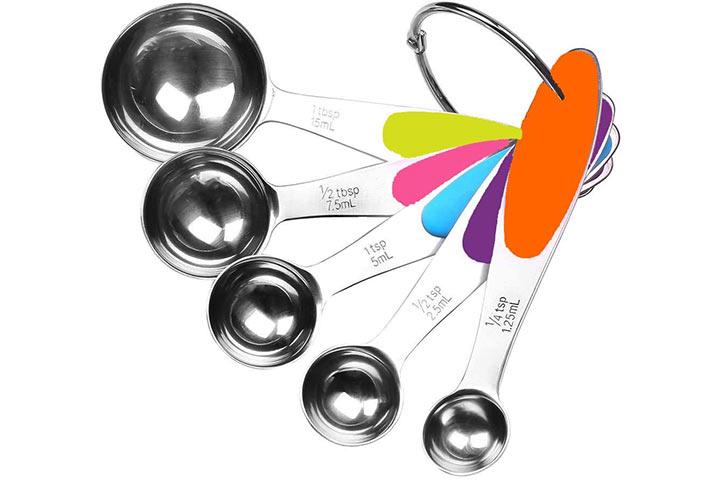 Simplify life in your kitchen with these beautiful stainless steel measuring spoons from Fsdifly. The set consists of five attractive spoons in sky blue, purple, hot pink, orange, and lime green, making it an ideal gifting choice. The spoons measure 1/4tsp (1.25ml), 1/2tsp (2.5ml), 1tsp (5ml), 1/2tbsp (7.5ml), and 1tbsp (15ml).
Pros 
Stainless steel construction makes them sturdy
Flat base allows the spoons to sit on the counter without tipping
Measurements engraved on the handles in both standard and metric units
Spoons nest within each other, saving storage space
Silicone handle enhances the grip
Dishwasher-safe
Cons 
Rubber handles tend to cause inconvenience when trying to remove them from the ring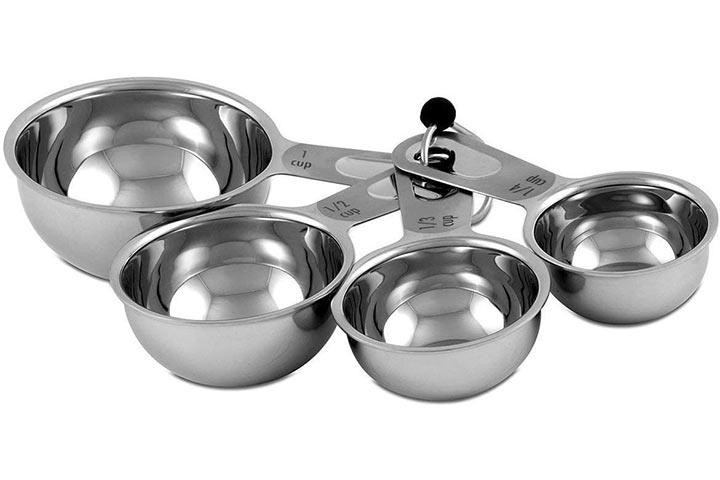 The CIA Masters collection is designed with ergonomic spoon handles for comfort. It comes with six measuring spoons of 1/8tsp, 1/4tsp, 1/2tsp, 1tsp, and 1tbsp. The rounded spoons make it easy to scoop the content from the jar. Crafted from 18/10 stainless steel, they feature metric measurements in standard milliliters.
Pros 
Comfortable and easy-to-grip handles that double as levelers
Easy-to-read measurements ensure fool-proof measuring
Durable and built to last for years
Spoons nest within each other for easy storage
Convenient ring keeps the spoons together for easy removal
Cons 
Spoons are a bit heavy and thick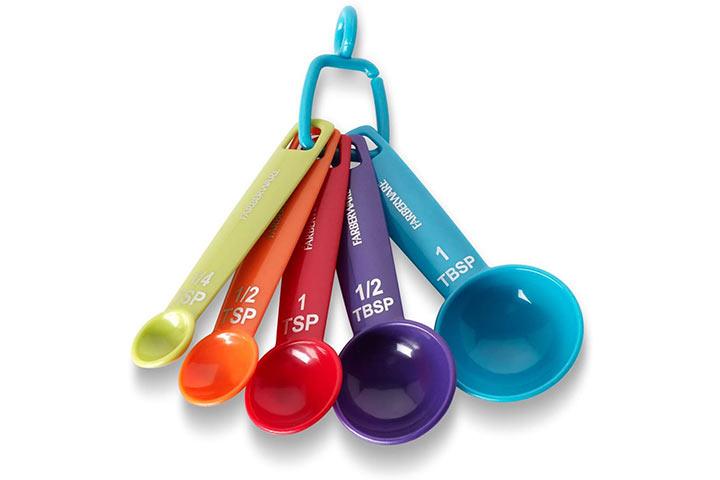 This could be one of the best cooking and baking measuring spoons available in fun colors and easy-to-read measurement markings. The set includes five measuring spoons—1/4tsp, 1/2tsp, 1tsp, 1/2tbsp, and 1tbsp. They have round heads to hold the contents intact and are light compared to other spoons.
Pros 
Made of durable and lightweight plastic
Convenient ring holds the spoons together
Provides accurate measurements
Can be used for both wet and dry ingredients
Dishwasher-safe and easy to clean
Cons 
May not last long because of plastic construction
Cannot reach deep inside the jars
How To Choose The Right Measuring Spoons? 
Here are some things you need to keep in mind when planning to purchase the best measuring spoons set.
Size and number: Each set comes with various sizes of measuring spoons, and some include measuring cups. Take time to analyze which measurements are essential.
Material: Measuring spoons are made of stainless steel, plastic, or silicone material. Stainless steel is a good choice if you are looking for durability. Plastic cups or spoons are a lightweight and less expensive option. You will also find ceramic measuring spoons that are attractive but not practical for everyday use.
Measurement readings: The primary purpose of buying measuring spoons is to use an accurate amount of ingredients. Ensure the markings are engraved rather than painted as they will be easy to read and don't fade away.
Storage: Most measuring spoons are stackable and nest within each other. Some can be folded, which further saves space.
Handles: Ideally, measuring spoons should have long and sturdy handles that do not bend. They make it easy to scoop out the ingredients from all kinds of jars and containers.
Easy to clean: They should have a design that allows easy cleaning without creating much hassle.
We hope the above list and the buying guide helps you make the selection process manageable. Evaluate each product, read the reviews, and choose the best measuring spoon set that fits your preferences.
Recommended Articles