If you prepare meaty delights often, having a meat slicer in your kitchen could be beneficial. A meat slicer can help you slice and cut varieties of meat, including roasted meats, frozen meats, and large chunks without any hassle. The tool lets you cut meat or vegetables with precision, giving you the desired shape for your culinary delights.
Having a meat slicing machine at home also saves money as buying perfectly cut or sliced meat could be expensive. Keep reading this post to know about some of the best meat slicers and tips to buy the right one.
Safety Tips When Using A Meat Slicer
Meat slicers, especially electric ones, have heavy-duty motors and sharp blades. Taking some precautions can prevent injuries. It is better to understand its function before you use it.
Place the meat slicer on a stable and hard surface to prevent it from slipping.
Use protective and heat-resistant gloves.
Focus on the task you are performing and avoid multitasking.
Disconnect the meat slicer when not in use, and put the thickness level to zero.
Clean the slicer machine carefully to prevent injury due to the sharp blades.
Keep the food in the refrigerator at least half an hour before cutting, because they may smear, making the entire fat leak out, resulting in contamination.
15 Best Meat Slicers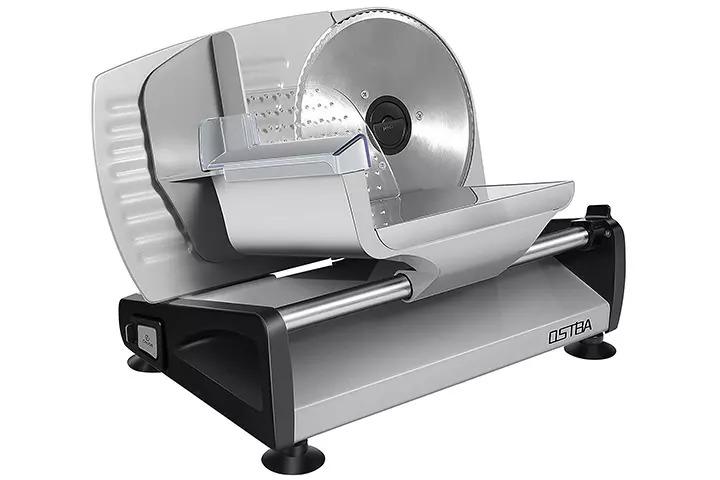 The cutting machine features blades of different sizes for cutting meat, cheese, deli, roast beef, turkey breast, fruits, and vegetables. It has safety protection and non-slip suction cup feet for steadiness and removable parts for easy cleaning. The electric meat slicer has a 7.5-inch stainless steel blade and 150W high-yield power motor. You also get a food carriage and a slide-rod extension in the package.
Pros
Child lock for extra protection
Strong suction rubber feet keep it from moving
Removable ring-guard cover prevents wreckage
Blades have an adjustable thickness up to ¾ inches
Cons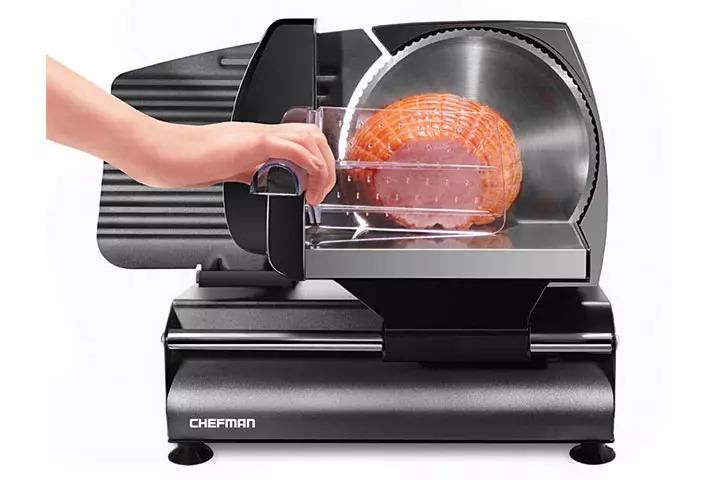 The Chefman electric meat slicer has a compact design that occupies little space on cabinets and countertops. It has a 180W AC motor and 7.5-inch notched stainless steel with an adjustable thickness dial. The cutting machine has removable parts and accessories making it easy to clean. Its robust non-slip feet, blade safety guard, and food pusher make it an ideal option.
Pros
On/off switch provides extra safety
Easy-to-clean die-cast aluminum
Smart and safe design
Modern, versatile, and durable
Cons
May not be suitable for cutting soft meats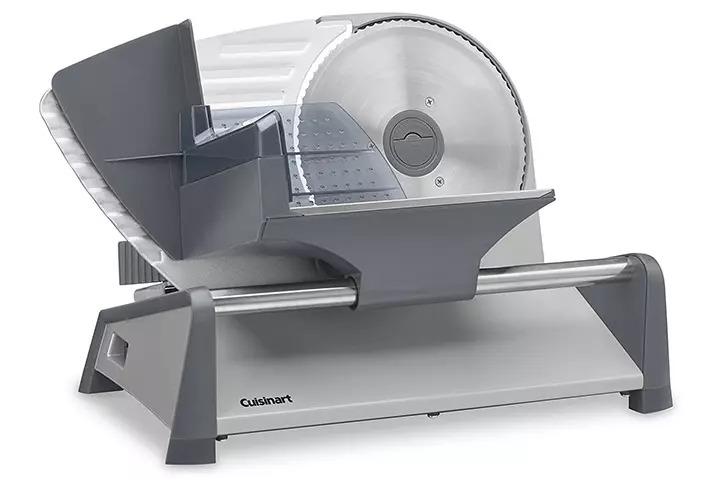 The Cuisinart professional food slicer has a heavy-duty 130W motor and measures 38in in length. With a 7.5-inch detachable rolled stainless steel cutting blade, the machine can yield slices of meat with thickness ranging from 1/32 to ½-inch. The hassle-free design and an adjustable slice control knob provide better control of the slicer.
Pros
Stainless steel detachable food carriage
Easy to clean by disassembling the parts
Made of premium-coated steel for durability
Non-slip feet for stability
Cons
Can only be used for slicing meat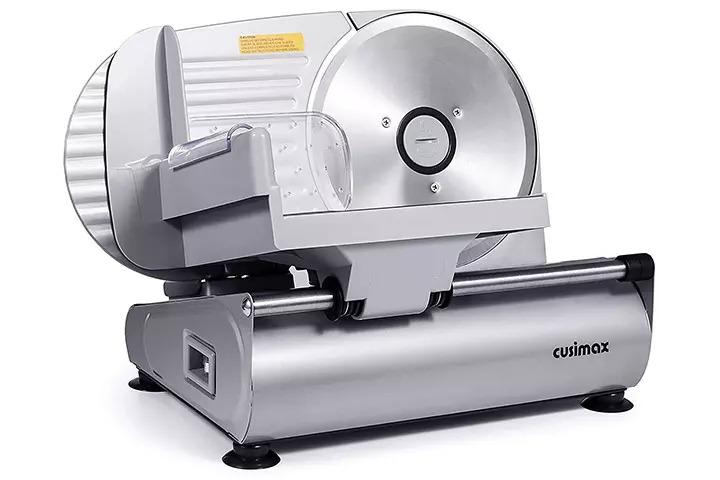 The Cusimax slicer machine has a novel bearing and belt-drive arrangement for blade processing. A hidden track design makes it easy to clean and use. It features an upgraded 7.5-inch stainless steel cutting blade for a slicing thickness ranging from super thin to about ¾-inch. The slicer has four pieces of silicone anti-skid pads for stability.
Pros
Advanced and upgraded design
Safety protection button to prevent cuts from sharp blades
Dishwasher-safe and removable parts
Doesn't require lubrication
Cons
May not be suitable for frozen meat or bones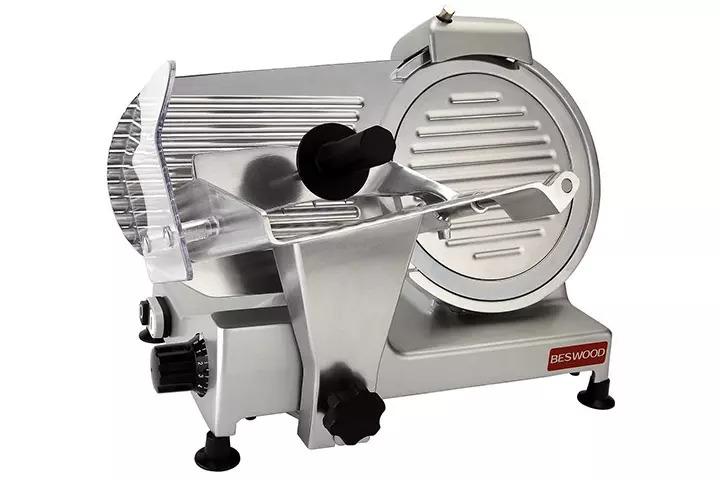 With an aluminum body and chromium-plated carbon steel blade, the commercial meat slicing machine has a 10-inch blade to cut and mince large meat quantities. It features a V-shaped feeding belt for the motor to function without making noise. As there are two whetstones fixed onto the top to sharpen the blade during operation, the edges need not be sharpened regularly.
Pros
Double illuminated 24V on/off switch
Skid-proof rubber feet
Prevents corrosion
Durable and versatile
Blade ring guard for safety
Cons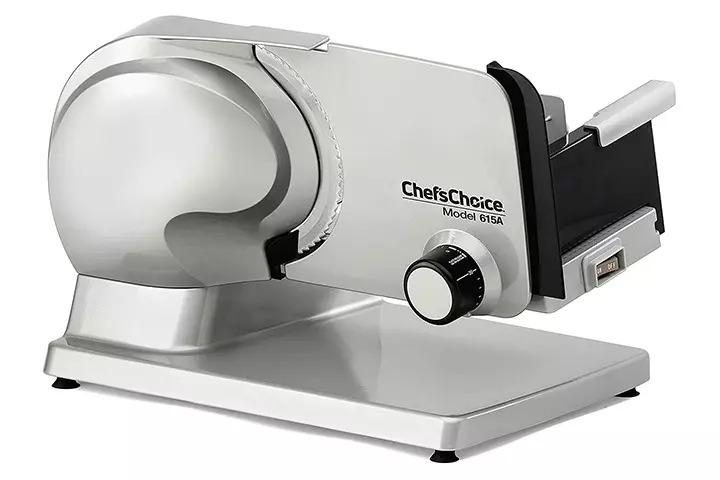 The meat slicer, made of aluminum and stainless steel, features a powerful high torque motor that runs on a gear drive. It comes with a metal food pusher, a serving tray, and a 7-inch stainless steel blade to cut various food materials. The machine can be adjusted to cut thin to 3/4-inch thick meat slices. It has a button to safeguard food carriage and keep it locked to limit access to the blade when not in use.
Pros
Tilted food carriage for quick and effective slicing
Detachable and easy-to-clean parts
Four suction feet for stability
Versatile, powerful, and multipurpose
Cons
May not provide slim cuts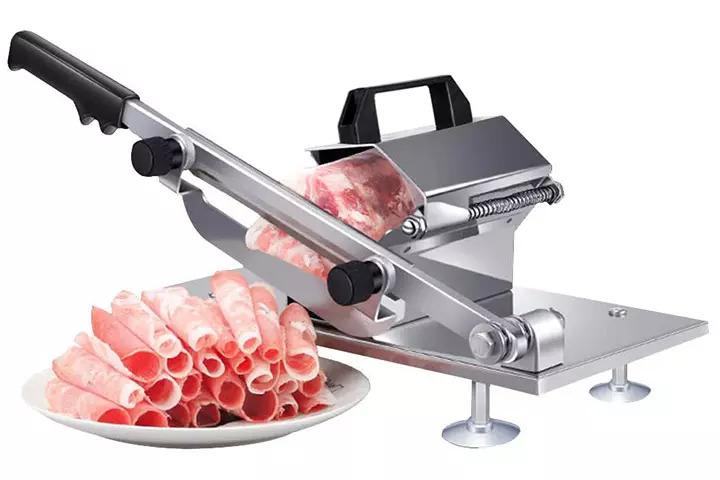 Made of high-quality stainless steel for durability, the Befen slicer is useful to cut various meats. It comes with a frozen meat slicer, a separate meat holder, two blades, ten meat bags, and two suction cups. The thickness of the slicer can be adjusted from 0.2 to 25mm. The manual meat slicer can be used to cut tomatoes, mushrooms, onions, and other vegetables.
Pros
Adjustable screws on each end of the blade arm
Can cut frozen meat
One extra blade included
Multipurpose, durable, and functional
Cons
May be difficult to clean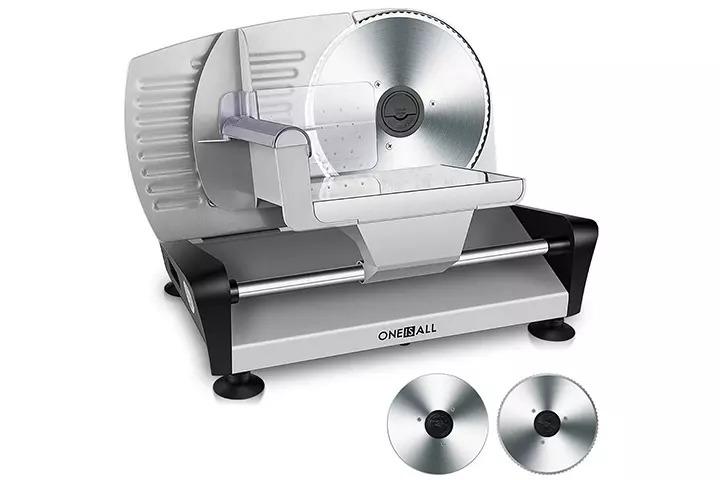 The electric meat slicer from One Is All has two 7.5-inch stainless steel blades and a strong aluminum body. The cutting machine features a compact design with robust non-slip feet and detachable blades. The machine's food holder protects your fingers while slicing.
Pros
Easy to use and clean
Smart, advanced, and saves space
Features a 150W powerful motor
On/off switch provides extra protection
Cons
May not be useful for big chunks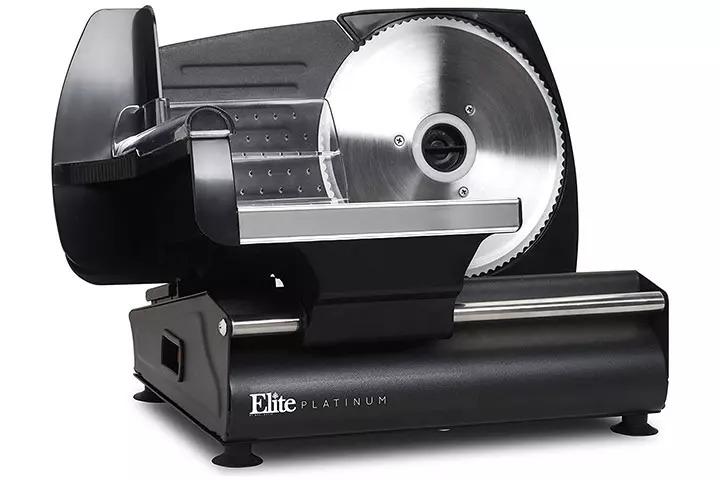 The electric meat slicer, made of durable aluminum material, is rustproof and easy to clean. Its blades are made of stainless steel and can slice razor-thin ½-inch pieces. The cutting machine has robust non-slip feet and a protective guard to keep your fingers safe from injuries. You can use it to cut meat, cheese, and vegetables.
Pros
Ultra-sharp 7.5-inch stainless steel blade
Detachable blade for easy cleaning
Easy-to-operate and adjustable dial
Sturdy and non-slip feet
Cons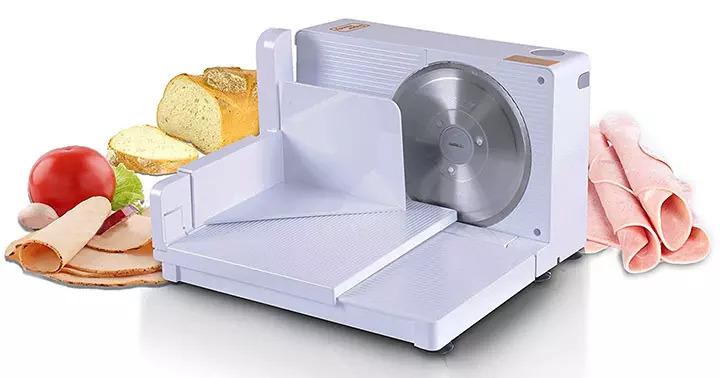 With a 6.7-inch stainless steel blade, the SuperHandy meat slicing machine can cut various foods ranging from thin deli meats to cuts with 4/5-inch thickness. The modern and compact design makes it fit on any surface. It is powered by a 100W gear transmission motor and has a blade, food carriage, food pusher, and food deflector.
Pros
Sleek and foldable design
Detachable and easy-to-clean accessories
Non-skip suction cup feet for stability
Convenient, easy to carry and store
Cons
Sliding tray could be delicate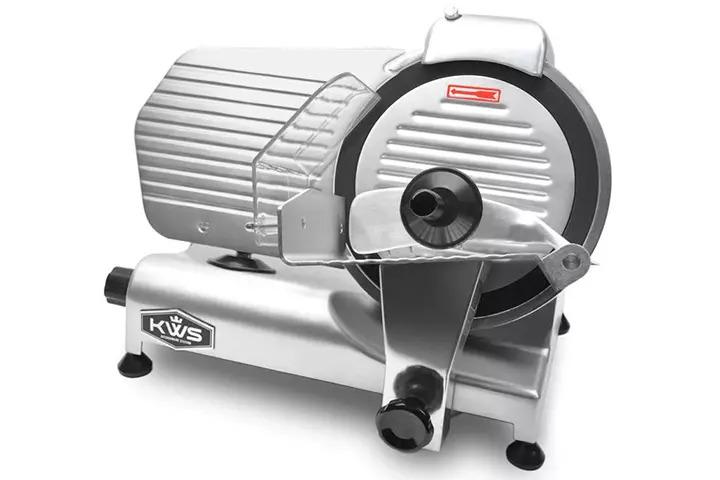 Made of aluminum, the slicer measures 20.5×18.5×15.3in and has a 10-inch stainless steel blade coated with Teflon. It is approved by ETL, NSF, and CE and can cut meat ranging from 0 to 0.4in thickness. The electrical machine can slice and cut large quantities of meat, making it ideal for commercial purposes.
Pros
320W motor for slicing large quantities
Sturdy aluminum base for stability
In-built dual whetstones sharpener and ring guard
Comes with one additional belt
Cons
Screws could be too tight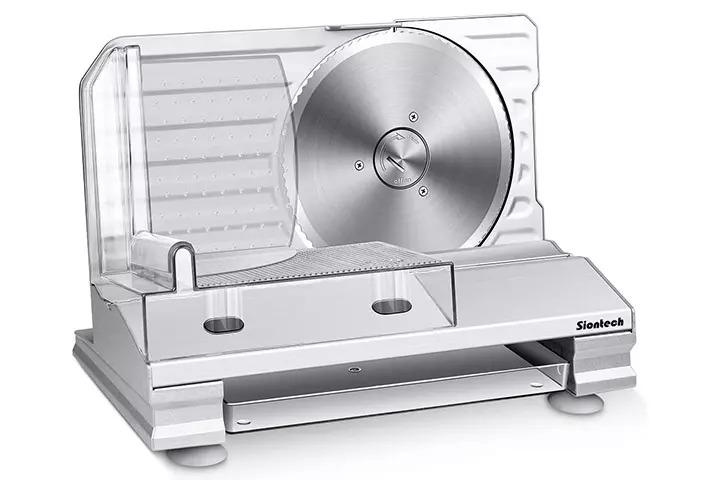 The 120W electric meat slicer comes with a 7.5-inch detachable stainless steel blade. It features adjustable thickness control from thin deli to 3/4 inches thick for slicing meat. The slicer's blade, food carriage, and food pusher are detachable for cleaning purposes.
Pros
Bearing and belt drive structure
Doesn't require lubrication
Non-slip feet and suction grip bottom
Removable and waterproof parts
Cons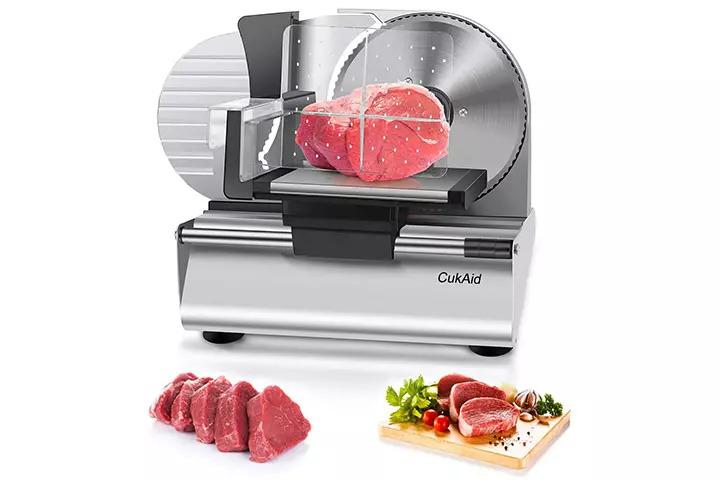 The CukAid cutting machine has 180W motor power with a removable 7.5-inch blade to mince and slice large meat pieces. It comes with a new patented bearing and belt transmission design for smooth functioning. The machine does not require any lubricant for operation, and its thickness can be adjusted as per preferences.
Pros
Four pieces of silicone
Anti-skid sucking pads for stability
Metal body provides long-lasting life
Recessed switch to prevent unintentional touch
Cons
Meat could get stuck inside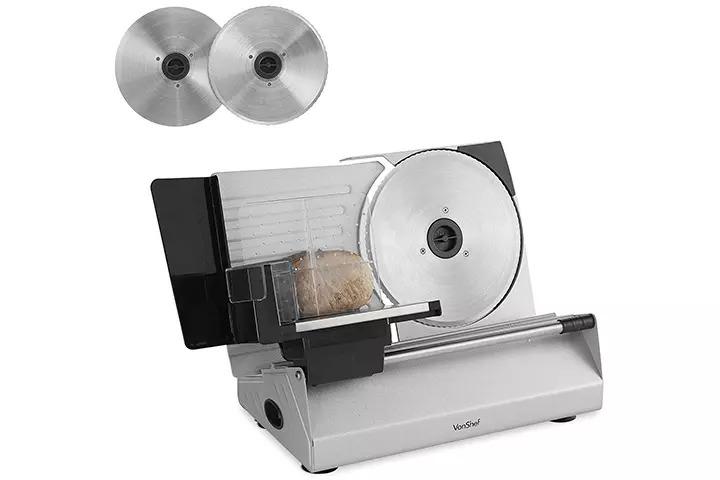 The electric slicer manufactured by VonShef is made of long-lasting stainless steel material. It has revolving blade bearings for efficient performance, a slicing thickness control dial ranging between 0 and 0.8in, and a control on/off switch. The machine has. The modern and compact design of the tool makes it a valuable addition to your kitchen.
Pros
Three 8.7-inch blades
Double rail sliding plate design
Suction cup feet offer enhanced stability
Easy to clean and use
Cons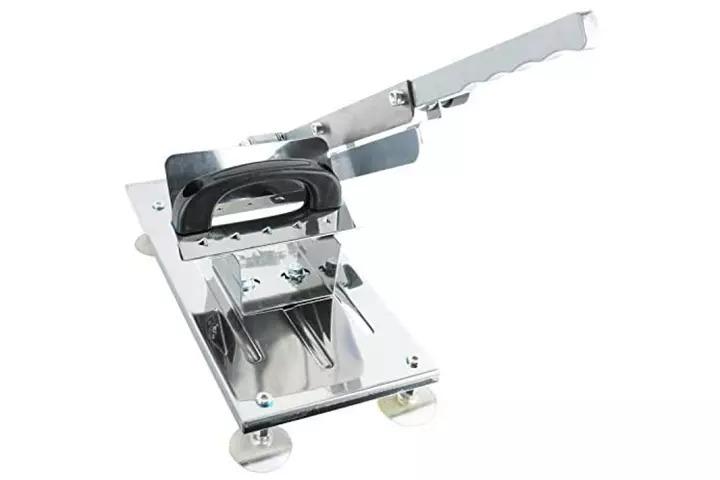 Made of stainless steel, the meat slicer is durable and easy to clean. It features an adjustment setting between 0.3 and 15mm for the desired thickness. The blade has a cutting distance of 150mm and a cutting speed of 60 pieces in a minute. You can use it to cut frozen meat, including beef, lamb, chicken, ham, and fish.
Pros
Versatile and sturdy
Durable and easy to clean
Sharp blade for thick meats
Cons
May not be suitable for smoked meat
How To Choose The Right Meat Slicer?
Be careful when choosing the right meat slicer for your home or commercial needs. Here are a few features to consider.
Motor power: The motor determines how your slicer works and how much energy it takes. Light meat slicers have 1/4 to 1/3 horsepower, which is usually suitable for cutting thinner meats. The medium power slicers have 1/3 to ½ horsepower, ideal for slicing meats for a few hours daily. The higher horsepower motors with ½ horsepower or above are suitable for handling larger quantities of meat.
Blade size: Meat slicers with larger cutting blades are ideal for heavy-duty use, allowing you to cut plain meat and vegetables as well. On the other hand, the meat slicers with smaller easy-to-clean blades are suitable for light-duty performance and can be used for cutting thinner pieces. Usually, the basic model meat slicers have 9 to 10in blades, while the high-performance slicers have 12 to 14in blade.
Safety aspects: Meat slicers come with sharp-edged tools that may harm your hands. You need to check for a blade guard or even consider buying cut-resistant gloves for extra protection to your hands.
Convenient: Meat slicers are available in two forms, automatic and manual. The automatic meat slicers are easy to use as they require less attention and effort to operate while giving you better cutting control. They are also ideal for chopping large quantities of meat. If you are a regular meat user, then automatic slicers are a better choice.
Another thing that needs to be considered before buying a meat slicer is a kickstand for easy cleaning. Also, check for the size of the meat trays. The larger trays may let you cut more meat.
Material: A good meat slicer should be durable. Ideally, meat slicers are made using strong steel, cast aluminum frame, or carbon steel blades, and heavy rubber stops on the feet. The nylon gears offer durability to the meat slicer.
Frequently Asked Questions
1. How to sharpen a meat slicer?
It is necessary to sharpen your slicer blade regularly to prolong its life. Some meat slicers come with sharpener kits, or you can buy them separately. Apply the recommended sharpening oil to the blade's edge and surface, and then regulate your slicer blade against the sharpening edge of the sharpener till it regains its edge.
2. Can a meat slicer cut through bone?
Yes, the machine can cut through bone as it cuts through the frozen meat. But there is a fear of blade damage, so it is not recommended.
3. Will a meat slicer cut bread?
Yes, meat slicers can be used for multiple purposes other than cutting meat. It can cut anything ultra-thin, including bread and cheese.
A meat slicer is a useful addition to any kitchen to enhance culinary skills. It can be used for multiple tasks, including cutting vegetables and other food materials. They are available in numerous models that can be compared to pick the best one to suit your preferences.
Recommended Articles: