Melissa & Doug manufactures a wide array of toys, including plush toys, creative gaming sets, arts and crafts, wooden puzzles, educational games, and a lot more. Their toys are interesting and safe and designed to teach children a variety of topics, including STEM subjects through play. Pick any Melissa & Doug toy, and you could find your children beaming in joy when they play with it.
In this MomJunction post, we give you a list of the best Melissa & Doug toys that you can buy for your children.

Top Products From Our List
15 Best Melissa & Doug Toys
Want to encourage your children to partake in household chores to keep the house clean and tidy? Then get this pretend and play wooden set that includes a mop, broom, hand brush, duster, and a dustpan. The toys are durable, easy to use, and come with a stand to hang all the cleaning tools. It is designed to be colorful and kid-friendly. Playing or using these can develop coordination and motor skills of the children. It motivates them to keep their rooms clean and improves their social skills too.
The pounding bench interactive toy is made sturdy with premium-quality materials, is colorful and attractive, and is suitable for children aged two to four years. The toy is said to help in the early brain development of the child as he or she uses the toy hammer to pound the pegs that are visible on the top. Playing with this toy regularly can improve hand-eye coordination and motor skills., and also teach the toddler to identify colors.
You can let your child have fun and develop strong motor skills by constructing buildings with the blocks set. The blocks are lightweight and durable, have round edges and smooth finish for children's safety. They are designed in four colors and nine shapes. All the blocks come in a wooden box for convenient storage. The set is suitable for children aged between three and eight years.
Children get to use their imagination and be creative by playing with this cookie set that contains a cookie sheet, knife, 12 toppings, kitchen mitt, 12 sliceable cookies, spatula, and a dough tube. All the things are made with premium-quality materials and have a durable construction. They are attractive, and children can learn numbers and develop their motor skills while playing with this toy set.
Colorful, vibrant, and soft, these pull-back vehicles can be an ideal choice of gift for toddlers. The vehicles are brightly designed as a police car, a fire truck, a family car, and a school bus. A little pull-back will accelerate and give a speedy push to your vehicle. Playing with these cars would not only provide a happy time for the children but also develop their motor, sensory, and communication skills.
Kids love ice cream! Why not get them to be the ice-cream seller instead of the buyer for once? This ice cream server set contains a wooden counter, scooper, wooden spoon, six toppings, eight scoops, and six pretend money bills. Your children can take orders, make ice cream, and take money in exchange for ice cream. Playing with this toy helps in developing creative skills and also basic mathematics.
Teach your children basic math concepts such as part and whole with this toy set of 17 pieces of fruits, including half and whole fruits, a knife, and a cutting board. They are light in weight, kid-friendly design, and vibrant in color. This Melissa & Doug pretend playset is ideal for children aged between three and five. The pack is portable and can be taken while traveling to different places.
Your child can learn sorting, sequencing, and counting while developing hand-eye coordination and motor skills with this Melissa & Doug kid's toy. The car loader is made of wood and comes with a red truck and four cars, which are all magnetic. It becomes easy to load and unload the cars with the magnetic arm of the truck. The design is vibrant and is suitable for children aged between three and six years.
The wooden dollhouse is creatively designed with colors and beautiful prints on it. There are four doors, and each door has a doorbell. It also has four cute dolls and a lock and key too. The dollhouse is durable and made with superior-quality materials, with a handle on top that makes it easy and convenient to carry it anywhere where your child goes. This Melissa & Doug toy gives a hands-on playing experience for the children.
Made of sturdy wood, this farmhouse play set is durable and allows your child to have a fun time. It is made of wood and comes with a wooden handle to hold and carry. The set has seven farm animals made of plastic. The sliding doors of the farmhouse can be open and shut, allowing children to pretend and play with the animals. This Melissa & Doug wooden toy allows your child to imagine and be creative.
The pack contains three coffee pods, two mugs, a menu card, a creamer, a spoon, sugar, and ice cubes. These are made of durable wood and are manufactured as per the safety standards. Children can pretend and play barista selling coffee. The set comes in a regular size, not scaled, and is light in weight, making it convenient for children to have an enjoyable time with their friends or family members.
Your child can make a pretend cake with this birthday party toy. It is a wooden playset that contains removable candles, cake slices, cake plate, server, and some toppings. It is a creative and educational toy that promotes hand-eye coordination and strengthens creative skills. All the things come in a wooden storage box that is light and portable. It can be a unique gift for children.
The colorful toy is ideal for toddlers to learn colors and improve fine motor skills. It contains six bright-colored gear pegs that can be rotated, rearranged, and removed. They are easy to place and spin in the wooden piece. The red piece is the face and has to be put in the front or first place. It is a good-quality Melissa & Doug toy set that can be an appropriate gift choice for toddlers and children.
You can teach your child shapes and colors with this wooden truck toy. The truck has spaces to fit in different shapes such as a square, triangle, star, oval, and more. It is suitable for toddlers aged two to five years, is made of durable material, and gives a hands-on playing experience for children. It could also help in the cognitive development of the child.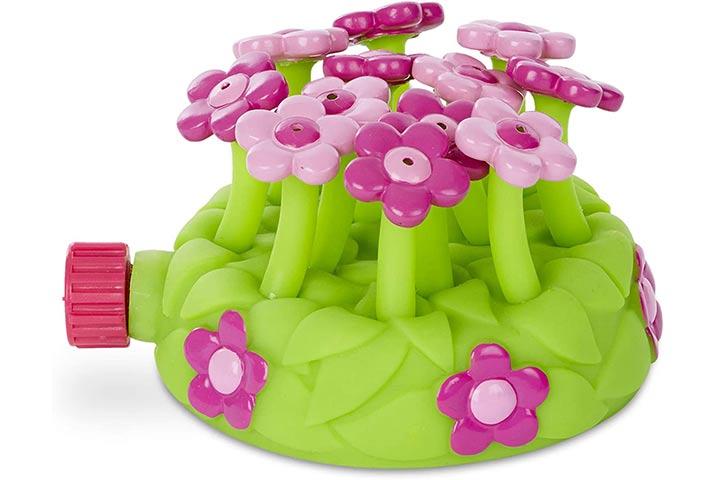 The sprinkler is an outdoor toy that can be used in the front or back yard for a fun time playing with water during summers. It is made with good quality material and has 12 flowers or sprinkler tubes on it. You can attach the water pipe or hose with this sprinkler and develop imagination and motor skills. This Melissa & Doug outdoor toy encourages children to play, run, and jump around while promoting social skills.
How To Choose The Right Melissa & Doug Toy? 
The huge assortment of Melissa & Doug toys in the market could confuse you. But following a few tips could make it easy for you.
Age: Melissa & Doug has toys for all age groups based on their creativity and imagination. For instance, you can buy soft toys for children aged zero to 12 months. There are cloth books and play activity toys for one to two-year-old children. You can pick stacking toys, art and crafts, and other interesting toys for children who are four and above.
Category: Think about the category before selecting the toy for your child. Some of the major groups are dollhouses, developmental toys, pretend play, puzzles, vehicles, and many more.
Skills: You can also pick a toy with regard to the skills you want to improve. For example, there are toys to improve cognitive skills, language and speech skills, motor skills, and social or communication skills.
Theme: Choose a favorite theme of your child and then look for the toys. If your child likes animals, then you can pick from farmhouse toys or animal stuffed toys. Some other themes are mermaids, dinosaurs, pirates, geography, space, and sea. 
Melissa & Doug toys are durable, safe, and of good quality. There are so many toys that your child might never get bored. They make great toys for preschoolers and can be used to teach your children something useful in a fun and interesting way. Just make sure that you are buying the right toy, and you will have the child engaged in educative play for hours.
Recommended Articles: