Do you struggle to keep your mic steady in one hand, and use the other to turn pages, read notes, play an instrument? You need a good microphone stand to keep your hands free, voice even, and noise to a minimum. For those who deal with sound daily, investing in a high-quality mic stand is the right decision.
Whether you are a recording artist, a singer, a public speaker,or a gamer, you will need a microphone stand.There are various options to choose from, making it difficult to pick one. Here, we list some of the best microphone stands to make your job easier.
13 Best Microphone Stands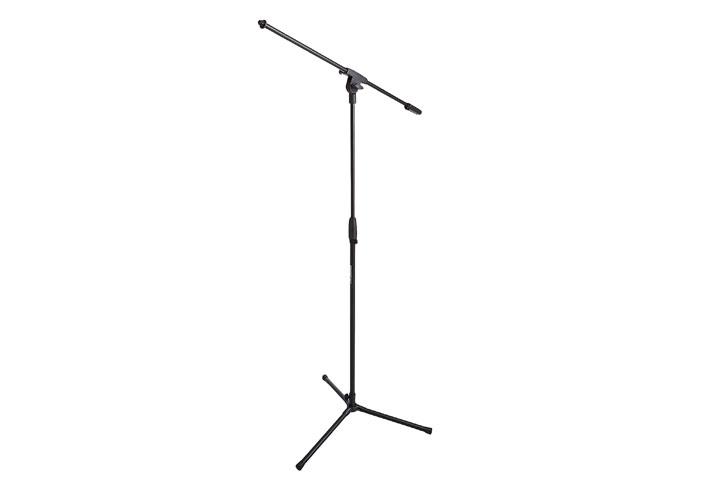 AmazonBasics microphone stand is lightweight and easy to carry. It has rubber feet to reduce vibrations and avoid scratches. The tripod boom stand can hold a variety of microphones and is compatible with a 3/8″-5/8″ adapter. It includes two clip-on cable holders that attach to a power cord along with the stand. The cable management holders keep the cords untangled and neatly tied out of the way to prevent accidents.
Pros
Sturdy steel construction
Adjustable
Compatible
Versatile and ergonomic
Cons
Boom may be permanently mounted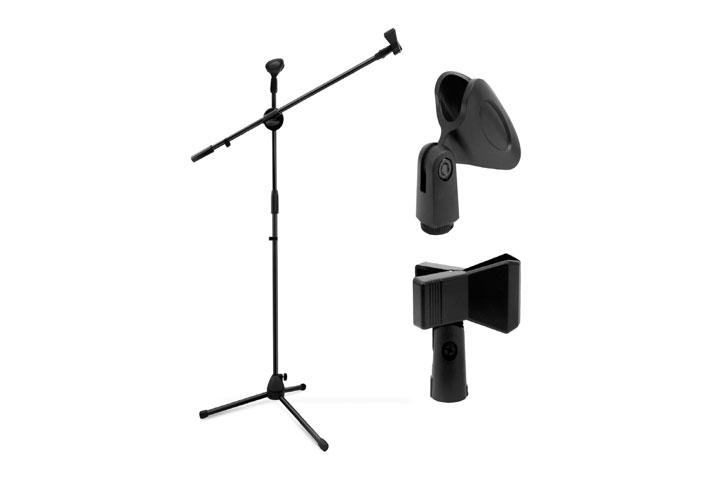 Ohuhu Microphone Stand is a perfect combination of portability and quality. The foldable stand, made of high-quality painted steel,can endure for years and is easy to transport. The studio microphone is rotatable, telescopic, and adjustable.
A quick-release clamp allows height adjustment from 29 to 52 inches, and the arms to any height. It also provides two microphone clips, a stable tripod stand, and rubber feet to minimize vibration and prevent scratches.
Pros
Lightweight
Versatile
Universal mic clip holder
Stable and sturdy
Cons
The microphone stand holder may not be sturdy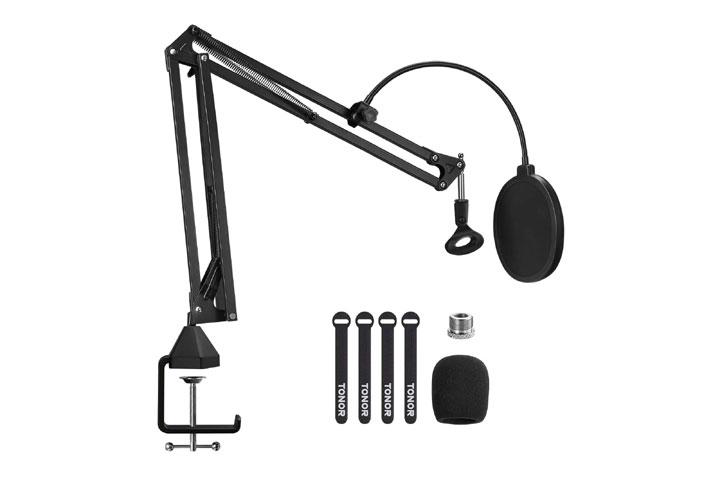 Tonor T20 offers a robust microphone stand made of durable steel, holding weight up to four pounds. Tonor provides a 3/8″ to 5/8″  adapter to support most microphones and shock mounts. It also has 360° full rotation with a 700mm horizontal/vertical distance so that you can turn the stand to any side of the table.
The clamping mechanism is robust and lets you attach the microphone to any desk with a large contact area of up to 2.4 inches. The headset hook is integrated into the desk clamp. Besides a detachable pop filter, the stand comes with four cable ties.
Pros
No cable clutter
Adjustable
Large contact area of clamp
Inclusive of pop filter
Cons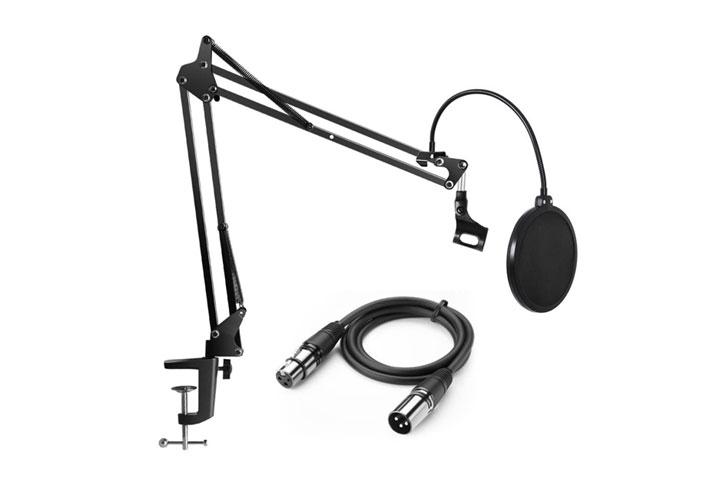 Innogear combo pack includes studio-grade sound and recording equipment, a microphone stand, pop filter, and 6.6ft male to female XLR cable. The cable, made of copper braided shielding, provides noise cancellation,while polyethylene insulation maximizes high-frequency response.
Metal connectors with molded threads are durable and easy to plug or unplug, while the heavy-duty microphone spring-protected stand prevents shaking or noise. It also includes a sponged table mounting clamp, an adjustment screw. The pop filters are double layered to provide sound clarity and high-quality recording.
Pros
Universal compatibility
Filters pop sounds and air blasts
Steady and stable
Professional grade combo pack
Cons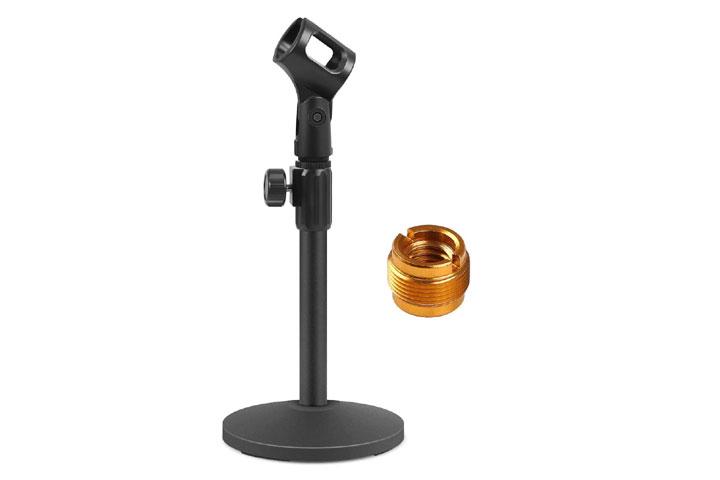 A steady and stable microphone stand has a heavy iron base with a diameter of 5.12 inches, which is incredible for desktops or stage performances. The bottom of the stand has four non-slip pieces of cotton, which prevents scratches or noise while moving it around.
The height of the desktop microphone stand can be adjusted from 10.6″ to 15.4″, while the screw-in style keeps it from sliding down. It comes with extra male/female screws for versatility. The stand is ideal for home recording, podcasts, broadcasts, and live interviews and is compatible with Blue Yeti, Blue Yeti Pro, Snowball, and other microphones.
Pros
Adjustable height
Steady base
Anti-scratch bottom
Easily portable
Cons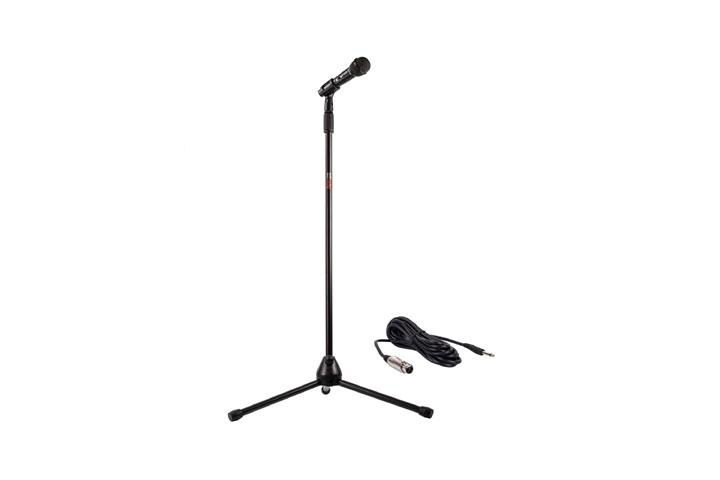 The center stage from Nady is an advanced high-output neodymium microphone with a clip and a tripod stand. The neodymium cartridge provides optimal clarity and definition, even in noisy environments. The microphone stand is a stable metal tripod with an external on/off switch and includes a 20-foot microphone cable and a microphone clip,which can be used with a standard or powered amp/mixer or microphone preamp.
The internal cartridge minimizes handling noise, while the unidirectional cardioid pattern reduces static, echo, and background sound. It can withstand high sound pressure levels without distortion.
Pros
Adjustable height
Folding legs
Full-frequency audio
Cons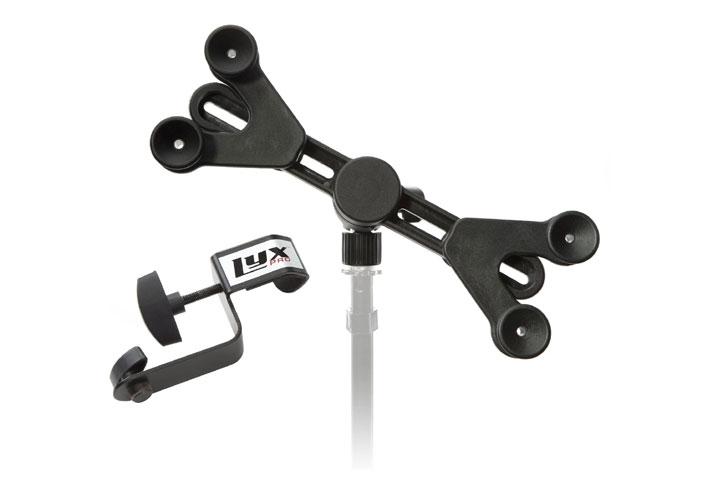 LyxPro microphone stand has an adjustable frame with support arms that can hold devices from 3 to 11.5 inches. The swivel action provides landscape or portrait viewing. The stand holder is easy to adjust for the best viewing angle. The versatile holder can be attached to any microphone stand, drum stand, cymbal boom, music sheet stand, etc., and is suitable for studio, stage, or sound booth performances.
Pros
Durable
Lightweight
360° full swivel movement
Adjustable tilt feature
Portrait or landscape mounting
Cons
May not be suitable for all phones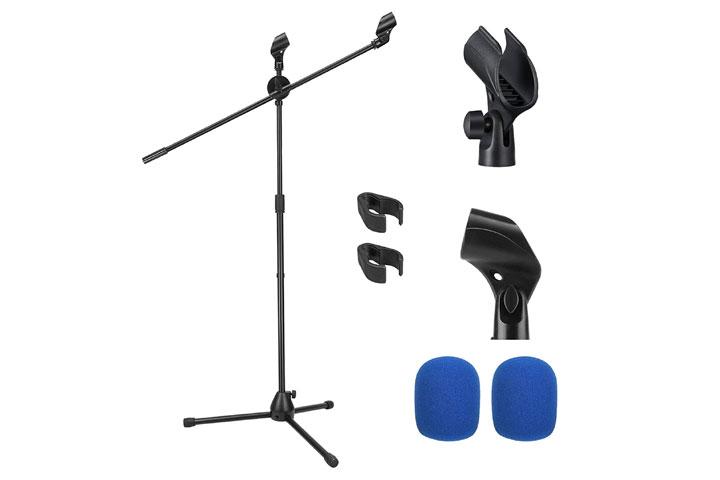 Moukey MMs-3 microphone stand is lightweight, collapsible, portable, and suitable for public places, conferences, church choirs, and studio recordings. The stand can be adjusted from 31.5 to 52 inches and has an ergonomic center height adjustment clutch. The tripod stand, made of sturdy painted ABS steel, offers excellent balance and stability even on uneven surfaces. This is a dual-mic holder with two arms and two mic protective foam covers with a maximum load of 2.2lb.
Pros
Collapsible
Adjustable
Ergonomic center clutch
Stable base
Cons
Too light, could be unstable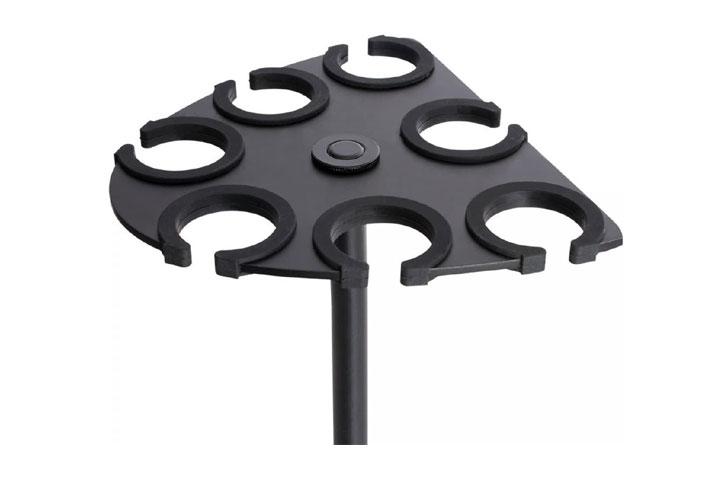 The On-Stage multi-mic holder can accommodate up to seven hand-held wired or wireless mics in different slots, allowing you to organize the mics in a staggered arrangement for clear viewing and ease of access. Silicone padding provides a better grip and protects the mic from potential damage. A removable 3/8″ adapter allows easy mounting on a mic stand and standard threading for attachments.The stand's semi-elliptical shape saves space.
Pros
Lightweight yet sturdy
Multiple mic holder
Scratch-proof
Cons
Doesn't come with a pole or a stand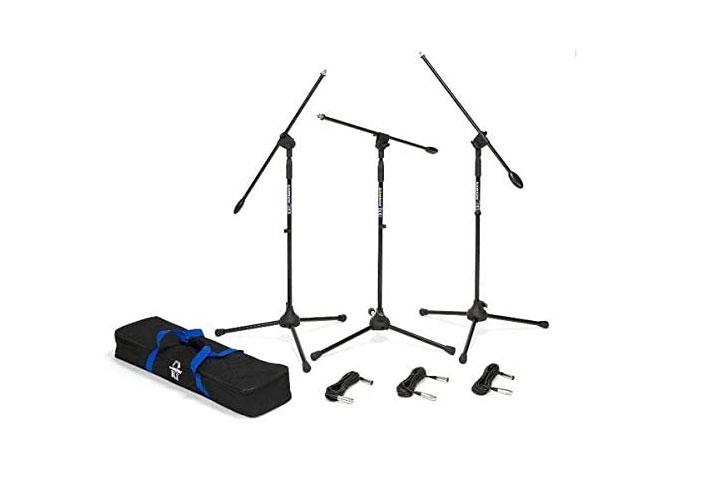 Samson BL3VP is a compact set of three boom stands and three 18 feet XLR microphone cables. The cables are gold-plated, and the stands are lightweight. The collapsible tripod stands offer stability and easy storage for carrying. The stand weighs 4.4 pounds and is three feet high. The set comes in an attractive nylon carry bag, making it convenient for travel.
Pros
Lightweight
Includes mic cables
Set of three boom stands
Includes a carry bag
Cons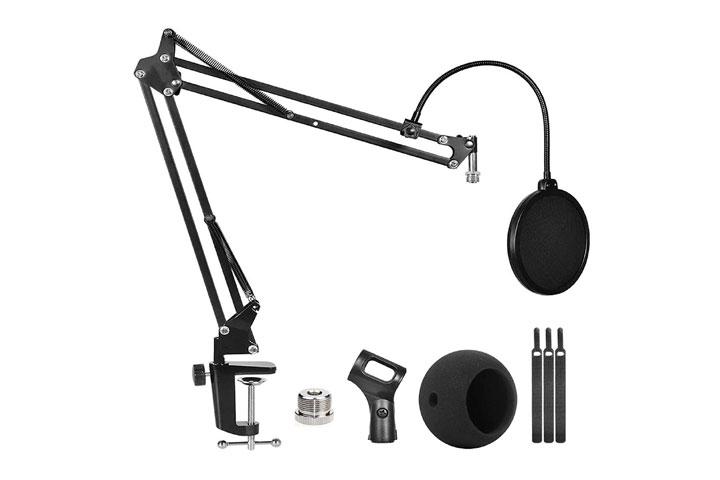 Blue Snowball stand is a suspension, boom, scissor-arm mic stand. It includes a windscreen and double-layered pop filter for undisturbed sound clarity. The stand, made of durable steel,can support 3.3lb weight and 360° full rotation. A standard 3/8" to 5/8" screw adapter is compatible with different shock mounts and microphones.
The pop filters with good elasticity and high density can filter background noise. The clamp is made of solid zinc alloy,while the desk mount includes an anti-scratch pad.
Pros
Universal compatibility
Professional quality
Durable accompaniments
Swivel mount
Secured fixing
Cons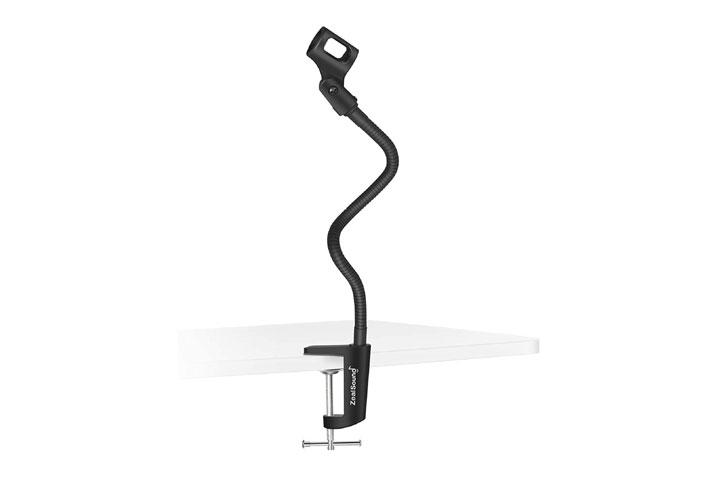 ZealSound mic stand is a flexible gooseneck holder with a 13-inch long stainless steel aluminum alloy that holds the mic in place. The mic clip has a maximum diameter of 1.38-inch and 3/8" to 5/8" additional screw adapters. The stand can support 0.66lb weight and allows a 360-degree mic adjustment feature.
The table clamp has a soft cushion to prevent scratcheson your furniture. This snake clamp is easy to mount with a 2.4-inch opening and allows hands-free streaming, chatting, and recording.
Pros
360 degrees swivel neck
Versatile and adjustable
Flexible
Durable
Cons
Not suitable for heavy mics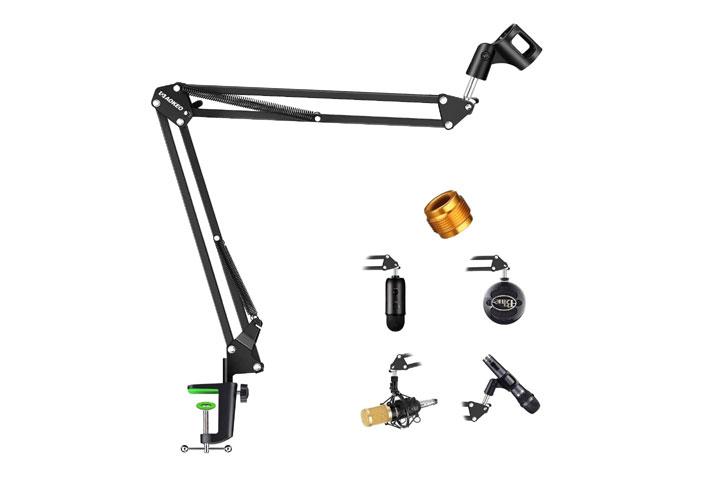 Aokeo mic stand, made of high-quality steel, has an anti-scratch powder finish. The stand is perfect for voice-overs, recordings, games, and streaming. With a simple movement, the spring support bends forward and back from the base to the desired angle. The stand comes with a detachable adapter and a threaded screw adapter. It can fit any desk of up to 3.9-inch thickness with 360° full rotation and suitable for Blue Snowball, Blue Yeti, and other microphones.
Pros
Flexible
Adjustable
Detachable adapter
Rust-proof
Suitable for professional recording or podcast streaming
Cons
May not be able to hold very heavy mics
How To Select The Right Microphone Stand?
Below are some points to consider while buying a microphone stand.
Height range:Height is an important consideration when buying a mic stand. Most microphone stands have an adjustable height range between 35"-65". A front-focused mic can range between 8"-12". For larger halls, you may require at least a10-feet high mic stand.
Clutches: The clutch allows you to adjust the height of the mic.Twist and grip are the two types of clutches. Twist clutches are popular because they have a tight lock mechanism. Grip clutches have a one-hand squeeze adjustment, suitable for live performances. Screw clutch is another type of clasp that tightens the inner tubing to lock the stand and prevent it from sliding.
Base:There are two types of bases for microphone stands: Flat and tripod. Flat bases are either round or triangular and usually heavier and not portable. Tripod stands are wider, stable, lighter, and foldable.
Weight and portability: A lightweight mic may not be portable. Lightweight mics may not be stable to withstand the rough and tumble. Features such as thicker, stable tubing, heavy-duty clutches, and a sturdy base increase the weight of the microphone stand but can handle travel and rough usage.
Accessories:Choose a microphone stand that offers necessary accessories or is compatible with different external fittings.
Frequently Asked Questions
1. Are the microphone stands compatible with all mics?
Typically, microphone stands have standard threads that can easily fit all mics and shock mounts. The microphone and the microphone stand should be weight compatible. Some microphones are heavier, and lightweight stands may not be able to support them.
2. Can I attach any other accessories with the stand?
Smaller and lighter microphone stands may not have enough load-bearing capacity to handle additional accessories. Therefore, you may want to consider buying a heavy microphone stand with multiple adapters, threads, and space for extra fittings.
There are different microphone stands available on the market and many factors to consider before buying the right microphone stand. When buying a microphone stand, think of how it will be used. We hope this list of the best mic stands helps you find the right one.
Recommended Articles: