Home appliances are among the few things that cannot be neglected in a household. One home appliance which is crucial and should be part and parcel of every kitchen is a microwave oven. Do you know when the very first commercially viable microwave oven was made? What started on a long journey since 1946 has revolutionized and transformed the way cooking, defrosting, and even reheating of food is done.
If your home is missing a microwave oven and you've finally decided to buy one, then you've landed in the right zone. We've covered a wide range of microwave ovens, ranging from microwaves with basic functionality to ones with fancy LED displays and convection ability. This may seem confusing, but it isn't. There are just three types of microwave ovens in India.
Types Of Microwave Ovens
1. Solo or conventional microwave oven
This type of microwave oven comes with basic functionality. Cooking, reheating, and defrosting food is all that can be done in it. They come in various sizes, capacities, with different types of buttons and turn-knobs. However, they are limited in terms of functionality.
2. Grill microwave oven
The name says it all. In addition to being able to cook, reheat, and defrost food, it can also grill food. They tend to be slightly more expensive when compared to solo microwave ovens. Like solo microwave ovens, they come in several sizes and capacities.
3. Convection microwave oven
These are the best microwave ovens in terms of their functionality. It is the best of both worlds, as it includes the functionality of the solo and grill microwave ovens, with the added function of baking. These tend to be the most expensive and come in a variety of sizes and capacities.
Safety Tips When Using A Microwave Oven
While using a microwave oven may seem easy, there are a few safety measures that must be followed.
First and foremost, always read the instructional manual for manufacturer related safety instructions.
Never use the microwave with the door open. Remember to close the door before starting it up.
Use microwave-safe containers. Do not use any metal utensils in the microwave. Check the containers or crockery to ensure that they are microwave-friendly.
Cooking or heating any flammable food or beverage in the microwave is a no-no. This can lead to an explosion and a life-threatening accident.
Check for possible radiation leakages from your microwave ovens. Over time, this can lead to severe adverse health conditions.
After cooking or heating food, let the food cool down before touching the utensils. Use heat gloves to remove the utensil inside the microwave.
Grab a snack and relax as we take you on a journey through the top 11 best microwave ovens in India.
Top 11 Best Microwave Ovens In India
This solo microwave oven by IFB is one of the best because of the value it adds to your kitchen. While it can only be used for cooking, reheating, and defrosting food, this 17L solo microwave is perfect for an individual or even a small family. The glossy white frame and black door give it a classy appearance. The controls can be found on the extreme right-hand side of the microwave. Plus, it has power as well as timer controls. Simple and easy-to-use presets are also present for easy operation.
Pros
3 auto cook options
5 power levels
Easy-to-turn dials
Compact design for small spaces
Cons
Lacks the ability to bake or grill
This all-black solo microwave has a sleek design and will blend in perfectly in almost any kitchen. This Samsung 23L Solo Microwave Oven has three basic features —  cooking, reheating, and defrosting food. With its capacity of 23L, it appears to be quite suitable for a family of three or four. The numerous healthy cooking options and power settings makes this one of the best solo microwave ovens in India. A neat and quick feature is the Indian Recipe 1 and 2 buttons present on the microwave.
Pros
Child lock
LED display
Energy-saving mode
Ceramic interior for easy cleaning
Cons
If you're looking to purchase a solo microwave oven, this may be the one for you. While it may not be packed with all the up-to-date features, its simple and easy operation is what attracts attention. Keeping to the basics, this solo microwave incorporates the necessary power and timer controls. Its small yet decent 17L capacity makes it suitable for bachelors. So, what can this microwave oven do? Well, it can cook your food, defrost your frozen meats, and even reheat your food just before your meal. This product is available in an all-white design with a black rectangular door.
Pros
30-minute timer
Compact design
5 cooking levels
Easy-to-use knobs
Cons
A blend of class and style is what comes to mind when viewing this LG 28L Convection Microwave Oven. It is certainly one of the best convection microwaves available in India. So, what makes it so good? Its stainless steel design, well-polished black finish, and feature-filled layout make it a worthy competitor on the list of our top microwave ovens in India. Its large capacity of 28L makes it suitable for families with many members. The controls for this LG microwave are laid out on a touch keypad. Fortunately, cooking, reheating, and defrosting are not the only things you can do. You can even fulfill all your baking desires with this microwave oven.
Pros
Child lock
Easy-to-view display
Sensitive touch keypad
Auto cook menu option
Cooking completion alarm
Cons
May be prone to overheating
This stainless steel microwave oven by Godrej has one unique and noteworthy feature — the floral white prints with a black background printed on the rectangular microwave door. This ingenious use of floral prints adds vibrance and freshness to its appearance. The shiny silver color complements the floral prints. This microwave is controlled through its tactile buttons and a turnable knob. It functions as a solo microwave, coupled with a grill and baking options.
Pros
Child Lock
Easy-to-view LED display
Comfortable tactical buttons
125 instant cook menu options
Stainless steel rust-free cavity
Cons
Only available in one color combination
If simplicity is what rocks your boat, look no further than this 20L microwave oven by Morphy Richards. Its charcoal color and compact design are some of the reasons why it's on our list of the best microwave ovens in India. The mirror finish on the microwave door makes it look ornate and luxurious. It has been stripped down to its essential functions and only includes the power and defrost timer settings.
Pros
Stylish design
5 power levels
Powder-coated cavity
Easy-to-turn jog dials
Cons
The mirror finish glass may get easily scratched.
The design and aesthetics of this microwave have earned it a spot on our list of the best microwaves. The light red and orangish door handle and control panel on the right-hand side make it look stylish and will also add flair to your kitchen. This microwave allows for baking, in addition to its basic functions. Its capacity of 23L makes it perfect for a family of three members. The microwave has keypad-like controls and is bundled with a ton of features. The vents are placed at the top that allow for the hot air to escape.
Pros
Child lock function
65 auto-cook menus
Easy-to-clean interior
Sleek and modern design
Cons
The warranty is only limited to 1 year.
This BPL 20L Solo Microwave Oven is available in an all-white design with a dark front glass. While it may not be bundled with revolutionary features, it is more than capable of living up to its name of a solo microwave oven. This microwave is equipped with basic power and timer functionality and is capable of defrosting, reheating, and cooking food. The vents located on the bottom left-hand side of the microwave allow for easy dissipation of heat.
Pros
Quick defrost mode
Cooking alert system
Easy-to-turn jog dials
Easy-to-open pull-door
Cons
It may be prone to overheating.
This stainless steel microwave oven comes in a classy white and black design. The curved door handle makes it easy to open. Its ability to combine microwave and grill mode is a bonus. The controls consist of tactical buttons and a jog knob while its large capacity allows for baking as well as grilling. The technology incorporated in this microwave allows for oil-free and healthy cooking. The presence of both top and side vents ensures that no hot air is trapped inside.
Pros
Deodorizer for eliminating odors
Motorized rotisserie
Stainless steel cavity
Steam cleaning functionality
Cons
It might not be the most compact.
What distinguishes this Whirlpool 20L Solo Microwave Oven from the rest is its creative design? Its compact and ingenious design with an all-black finish makes it look stunning. A highlight feature of this microwave, which makes it one of the best microwave ovens in India, are the neatly designed control layout and press-type door lock. To top it off, it is even equipped with a green LED display.
Pros
5 power levels
21 auto cook menus
Powder-coated cavity
Feather touch controls
Cons
It might be prone to overheating.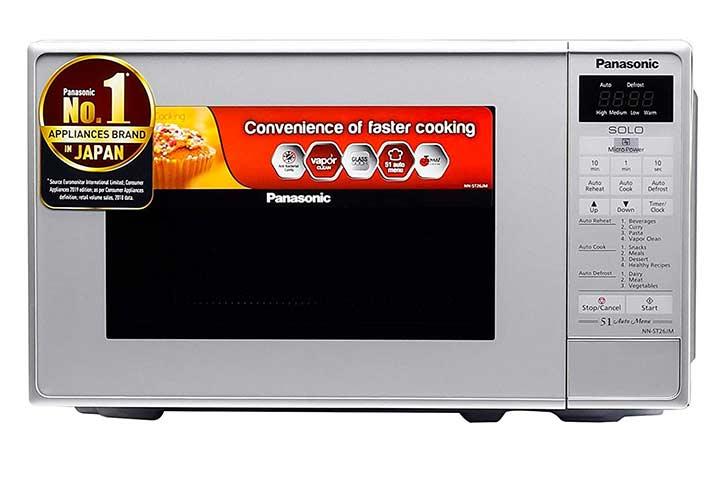 This silver colored microwave is devoid of any turnable knobs and makes use of a touch keypad. With its 20L capacity, it is suitable for at least two people. The company prides itself on its unique and cutting-edge technology that enables healthy and safe cooking. If hassle-free
defrosting, reheating food, and healthy cooking are at the top of your priority list, then this microwave will not fail to impress you.
Pros
Press type door lock
Vapor clean system for easy cleanup
51 auto cook menu options
Simple and easy to use presets
Cons
After looking at our list of the best microwave ovens in India, have you finally settled on one? Well, if you haven't and were confused about which one to get, here's all you need to know when choosing the right microwave oven.
How To Choose The Right Microwave Oven In India
1. Type of microwave oven
There are three broad categories of microwave ovens. A solo or conventional microwave oven can only cook, reheat, and defrost food. A grill microwave oven can perform all the functions of a solo microwave oven with the added benefit of having heating coils for grilling. The best kind of microwave is a convection microwave oven, which allows for basic functions, grilling, and even baking.
2. Size of the microwave oven
This is largely determined by the available amount of space in your kitchen. It is always preferable to purchase a compact microwave oven. However, it is also important to check that its compactness does not come at the cost of poor heat dissipation.
3. Capacity
This is the total amount of food that can be placed in the microwave for a given function. This is largely dependent on the number of individuals using the microwave. The standard size of 20-23L is suitable for an individual or a small family of three. A 25-28L is appropriate for a family of four or more.
4. Cooking power
Deciding how quickly you want your food to cook is another crucial factor when choosing the right microwave oven. So, what should you be looking for? Well, a higher wattage oven will cook food faster than their lower wattage counterparts.
5. Features
Microwaves usually come with numerous features, some of which are uniform throughout all microwaves. However, it is integral to check whether the microwave oven has the features you require. It's nice to have an LED display, easy cooking and baking options, quick defrosting, and a child lock function. These are some of the things you might want to keep an eye out for.
6. Control panel
This is where the magic initiates. There are generally three kinds of control panels, namely, mechanical, tactile buttons, and feather touch. The mechanical controls are easy to use and are usually very durable. The tactile buttons typically consist of a combination of buttons on a keypad with a jog wheel. The most modern and stylish out of these are the feather touch controls.
Frequently Asked Questions
1. Can microwave ovens eliminate bad odor?
This will entirely depend upon the type of microwave oven in question. Some microwave ovens come with a deodorizer function, while others require you to do it manually. Baking soda with water or even vinegar mixed with water is more than capable enough of getting rid of funky odors.
2. Do microwave ovens kill the nutrients present in the food?
While many believe that they do, it has been scientifically proven that microwave ovens don't destroy as many nutrients as cooking on a stove does. It helps preserve the nutrients in the food. To preserve the nutrients, the food needs to be cooked using a method that does not expose the food to very high temperatures for prolonged periods. Therefore, when cooking in a microwave oven, the food retains most of its nutrients and minerals.
3. How can I clean the interiors of the microwave?
This is quite simple. It can be done in numerous ways, by using either baking soda, vinegar, or lime juice. Vinegar and water can be added to a microwaveable bowl and placed inside the microwave oven for 5 to 10 minutes. Once it is done, remove the bowl and use a sponge soaked in a vinegar and water mixture to clean the remaining residue.
4. How do I know if my microwave is leaking radiation?
A simple way of checking this is by plugging in the microwave to the wall socket and turning on the switch. Place a mobile phone inside the microwave and close the door of the microwave. Use another phone to call the phone inside the microwave. If the phone rings, it means that your microwave is leaking radiation. A microwave that isn't leaking radiation will not allow any cellular waves to pass through it.
Microwave ovens are useful kitchen essentials as they come in handy when you want to cook, reheat, and defrost food or when you're in the mood to bake. The best microwave ovens listed here are multifunctional, durable, and easy to operate, so you can prepare your favorite treats just as you like them. When buying one, ensure that it's the right type, size, and capacity. Further, choose one that is compact and comes with different power levels, child-lock function, and an LED screen.
Recommended Articles:
The following two tabs change content below.

Sakshi did her graduation in Journalism from the Madras Christian College, Chennai, before starting her career as a freelance writer. She is into blog writing and for MomJunction, she covers various topics, including products to buy for your kitchen, furniture, and other home requirements. Previously, she interned as a content writer in a cyber security firm. As a content writer, Sakshi...
more