A milk frother is a simple device used for making milk froth. It is designed to aerate milk for creating the thick foam typically added to coffee. A milk frother helps create tiny bubbles in the milk, thereby increasing the milk volume and making the texture lighter.
For those who love cappuccino and latte, a milk frother is a must-have in the kitchen to make homemade coffee delightful.
Our list of the 13 best milk frothers can make a great addition to your kitchen.
Types Of Milk Frothers
There are three types of milk frothers.
Manual frother: A manual frother includes a cylinder and a perforated mesh plunger. To generate foam, you need to move the plunger vertically by hand. It usually takes about 20 seconds to increase the milk volume.
Handheld electric frother: The handheld milk frother is battery-powered and is equipped with a frother wand that works as an electric mixer. Compared with the manual frother, the electric milk frother can speed up the frothing process.
Automatic frother: The electric automatic milk frother allows hands-free operation. It includes a power base, a carafe, and a frothing disk. It has a large capacity to froth milk in large quantities.
No products Found
13 Best Milk Frothers
Ximu is an electric frother with a built-in rechargeable battery. It is an excellent device for making matcha, latte, hot chocolate, etc. The whisks are made of food-grade stainless steel, and the hand-held milk frother allows you to choose between three different whisking speeds. The product comes with 16 coffee stencils and an additional egg whisk head.
Pros:
Does not require replacing the battery frequently
Travel-friendly design
Easy to use and clean
Includes a stand for easy storage
Ergonomically designed handle
Lightweight construction
Cons:
Secura's electric automatic milk Frother makes milk froth faster and comes with a large-capacity milk frother jug, which can allow frothing or heating up to 8.4oz of milk. It has a transparent lid and a handle to keep it cool for safety. An automatic shut-off button ensures safe operation.
Pros:
Easy to use and clean
Dishwasher-safe
Comes with a removable lid and jug
Can be used for hot and cold beverages
Cordless design
Scratch-resistant body
Cons:
Nestle Nespresso milk-heater cum frother comes with one button for all kinds of preparations and is designed to offer three different styles of milk froth. The smart milk frother has a height of 6.7in and a diameter of 3.5in. It can hold 8.1oz of hot milk and 4.1oz of milk froth. The device can heat milk to between 160 and 170°F in no time.
Pros:
Comes with auto shut off function
Has a non-stick surface
Can be used for hot and cold milk froth
Compact size
Simple one-touch operation
Cons:
New version may not be very durable
Vava milk frother/heater is an impressive choice with four different settings, allowing you to enjoy café-style coffee at home. It uses a double-walled design with non-stick interiors. This heated milk frother has a Strix temperature controller that automatically shuts down the device when froth or milk is ready.
Pros:
Comes with an ergonomic grip
Includes additional whisks
Scratch-resistant design
Has non-slip rubber feet
Cons:
Lid design may not be great
Capresso milk frother is designed using a patented technology that provides the most extensive froth with the least effort. It has a milk frother pot with a frothing capacity of 8oz and a heating capacity of 12oz. The product has illuminated controls, and you can easily choose from warm, cold, and hot.
Pros:
Dishwasher-safe pitcher
Comes with a removable pitcher and a see-through lid
Convenient to store
Auto shut off operation
Scratch-resistant design
Comes with a cool handle
Cons:
This milk frothing steamer is made of food-grade stainless steel and has Strix temperature control. It comes with an exclusive spinning whisk, which can effectively create tiny bubbles for hot and cold beverages. The milk steamer with a detachable milk frother has a capacity of 16.9oz for heat and 8.5oz for froth.
Pros:
Dishwasher-safe
Auto shut off feature
Durable
Non-stick interiors
Unique chocolate protective cover
Cons:
HadinEEon milk frother is designed around the latest magnetic rotation and heating technology, providing creamy, consistent, and dense foam every time. The 5-in-1 multifunctional cold and hot milk frother allows you to enjoy café-like beverages. The one-touch button allows you to select the ideal setting to whip the perfect coffee at home.
Pros:
Made of durable stainless steel
Easy to clean
Has non-stick coating
Comes with an auto shut-off feature
Has angled spout for no spillages
Cons:
Button may be hard to press
Basecent offers a milk steamer wand that produces creamy and rich foam like a professional barista. The mini-rechargeable milk frothing wand is equipped with a super motor that runs at two different speeds. The milk frother, made of food-grade stainless steel, can also be used as an egg whisker as it comes with a double steel whisk. The food-grade stainless steel makes it durable.
Pros:
Has a convenient detachable design
Wireless frother
Easy to charge
Convenient to clean
Comes with a bonus steaming cup
Cons:
Aevo offers a milk frother equipped with independent buttons for heating and frothing. It consists of a die-cast aluminum pitcher for quick heating and has a lid with an integrated frother to ensure more delicate foam. This steamed milk frother has four modes to choose from.
Pros:
Dishwasher-safe pitcher
Auto shut-off feature
Compact design
Minimum and maximum capacity marks
Easy-to-pour design
Anti-skid base
Cons:
May take long to heat the milk
Sboly milk frother offers various functions, from creating soft foam to heating hot milk and whisking barista-like coffee. It comes with two whisks to make the foam rich and creamy. The milk frother has a non-stick coating and a stainless steel housing with Strix temperature control to prevent the milk from overheating.
Pros:
Easy to use
Quiet operation
Convenient to clean
Lightweight and portable design
Ergonomic structure
Cons:
Performance may drop with time
This top-of-the-line milk frother allows you to get customized beverages instantly and heats milk without much effort. It is designed to heat 10.15oz of milk and 5oz of foam to enjoy a pleasant coffee at home. The jug is made of high-quality food-grade stainless steel with a non-stick coating.
Pros:
Easy to clean
Comes with automatic temperature control
Offers four different settings
Compact design
Cons:
May not heat milk effectively
The 4-in-1 electric milk frother comes with a large-capacity jug that can froth milk up to 5.1oz and up to 10.2oz of warm mil. The markings inside the jug ensure you do not spill the drink. It is equipped with a multipurpose milk frother whisk, allowing you to make your favorite beverage.
Pros:
Convenient to clean
Has a non-stick coating
Comes with auto temperature control
Has anti-slip rubber feet
Cons:
Level of warmth may be inconsistent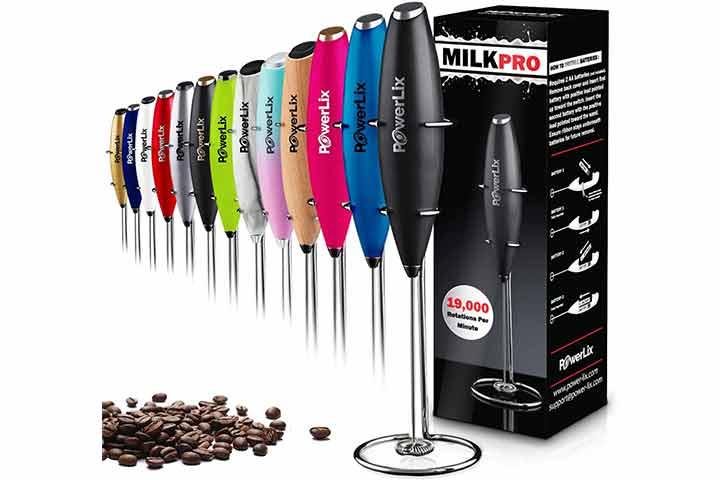 The convenient milk frother works on batteries and can instantly create perfect foam. This milk frother, made of high-quality stainless steel and equipped with a powerful motor that can provide 1900RPM, gives you an impeccable homemade latte and allows you to whisk eggs and dressings.
Pros:
Comes with a stand for comfortable storage
Easy to use and clean
Equipped with low-noise motor
Lightweight and portable
Ergonomically designed
Lifetime warranty
Cons:
Requires you to hold the power button constantly
How To Choose The Right Milk Frother?
Before proceeding to buy the best milk frother, we recommend you consider the following factors.
Type: Depending on your needs and budget, you can choose between automatic, hand-held, and manual milk frothers.
Material: Always consider the material used for the frother. Generally, frothers are made of food-grade stainless steel.
Temperature control: Some frothers heat the milk, so when buying the product, you must look for temperature control functions for convenience.
Ease of cleaning: A high-quality frother should be easy to clean, so you don't have to waste time cleaning it every time you whisk a cup of coffee.
Settings: Some frothers provide different settings to help you create different kinds of hot and cold beverages. According to your requirements, you can consider the different settings offered by the manufacturer.
If you want to taste and enjoy the best Barista-style brew, the right milk frother is a must-have. With the right milk frother, you can make a delicious latte or cappuccino in the comfort of your home in a few minutes and at a low cost. We hope the extensive choice of milk frothers shared in this post helps you determine which milk frother suits your needs.
Recommended Articles: 
The following two tabs change content below.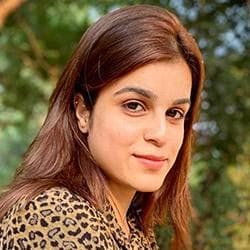 Sakshi John
Sakshi did her graduation in Journalism from the Madras Christian College, Chennai, before starting her career as a freelance writer. She is into blog writing and for MomJunction, she covers various topics, including products to buy for your kitchen, furniture, and other home requirements. Previously, she interned as a content writer in a cyber security firm. As a content writer, Sakshi...
more