Frothy and creamy milkshakes are loved by the young and old, especially during the hot summers. A glass of cold beverage can completely turn an ordinary party into a refreshing treat. Making a milkshake within the comfort of your kitchen can be easy when you have a good milkshake machine.
With the best milkshake makers at home, you can always experiment and customize the beverage by adding healthy ingredients to make it more nutritious.  From the plethora of milkshake makers available in the market, we bring you a list of some of the best milkshake machines to pamper your taste buds. Scroll down to pick according to your requirements.
Benefits Of A Milkshake Machine Over A Blender
A milkshake machine offers the following benefits compared to a traditional blender.
Less time consuming: Due to a longer shaft, the milkshake maker mixes and froths your milkshake or cold coffee faster while maintaining your drink's temperature. In the case of a blender, it takes longer, and the drink also loses its chill.
Better blending of creams and liquids: A milkshake maker has the correct blades to blend ice-cream and milk, forming a creamy, frothy, and rich blend. A blender does not mix these two evenly.
Safe to use: A blender requires you to push the ingredients to the bottom for even mixing. It might cause cuts and snags due to the sharp blade. A milkshake maker will evenly mix and smooth the ingredients as you put your ingredients in it.
Rich taste: A milkshake maker blends and froths both milk and ice-cream. It results in a thicker, creamier, frothier drink.
Better control: You can have more control on a milkshake maker, while with a regular blender, you throw all your ingredients in the container and turn on the button to start/stop the mixer as required.
11 Best Milkshake Makers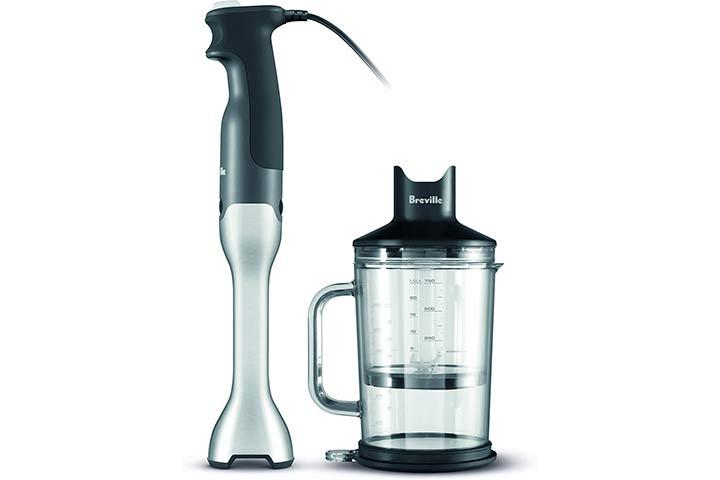 The Breville has a 280W motor that gives adequate power to the blades. The blades are made of rust-proof stainless steel and have a whisking attachment. It includes a 42oz jug with a storage lid, an anti-slip base, and a 25oz chopper bowl. The six-foot extra-long cord allows easy maneuverability. There is a power button at the front of the trigger handle and a speed control dial at the top.
Pros
Not loud
Easy to use and clean
Multiple attachments
Sharp blades
15-speed options for precise control
Cons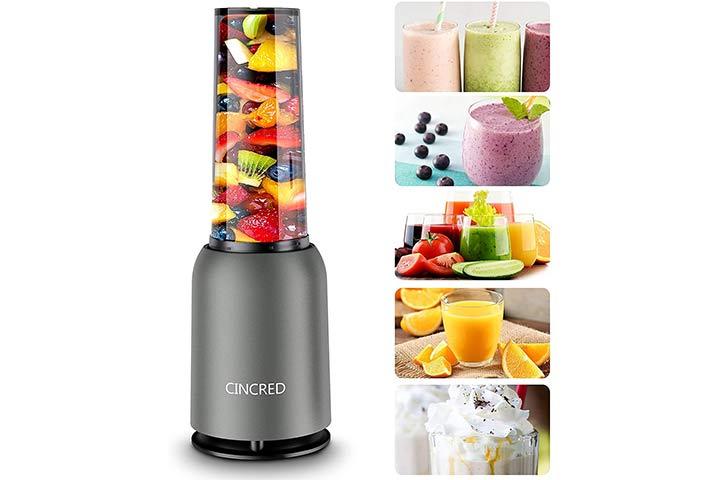 Made of durable and strong material, the Cincred blender has a stainless steel body with a glass cup attached on top. It is dust-proof and leak-proof and can be safely carried in your handbag. The buttonless blender has steel blades with cyclonic action. A powerful motor, along with these steel blades, breaks down various ingredients from soft fruits to hard ice. The ergonomic design ensures the blender base and top are correctly aligned. The portable blender has a cooling power base to extend the life of the blender.
Pros
Dishwasher-safe
Compact
Lightweight
Lifetime warranty
Cons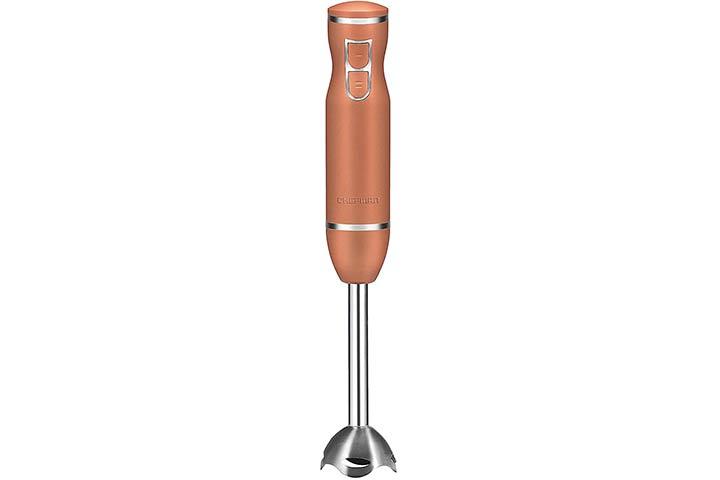 CETL-approved with advanced safety technology, the Chefman hand-blender has a powerful 300W motor. Compatible with 120V, it blends easily and quietly. The specially designed cross blades enable perfect pureeing. Its soft-touch rubber handle with a push-button for dual-speed control is ideal for effortless blending. This stick blender can easily reach into large vessels, pots, jugs, and mixing bowls.
Pros
Dishwasher-safe
Ergonomic grip handle
Detachable parts
Easy to clean
Available in multiple colors
Cons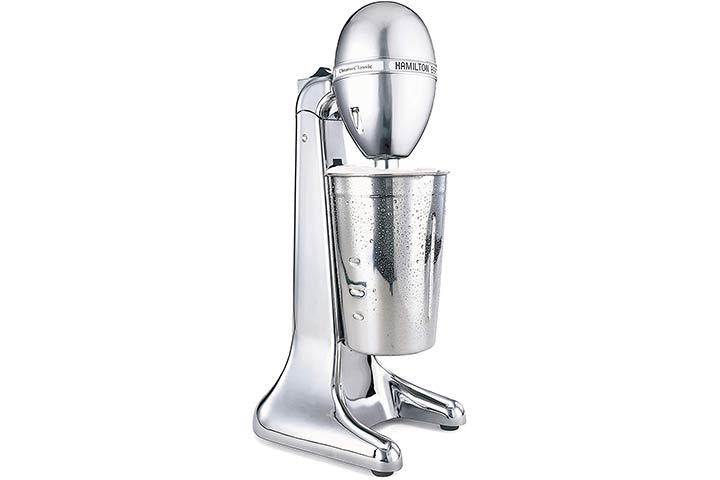 The soda fountain -style Hamilton Beach DrinkMaster Mixer helps you make milkshakes, malts, ice-cream shakes, and health drinks. It has a 28oz stainless steel mixing cup that is spacious. The two-speed settings blend your ingredients to a perfect texture. The drink mixer is designed with a tilt-back head that allows you to add ingredients easily.  It also is easy to clean as it has a detachable spindle.
Pros
Easy to clean
Vintage look
Dishwasher-safe
Can mix batter and eggs
Con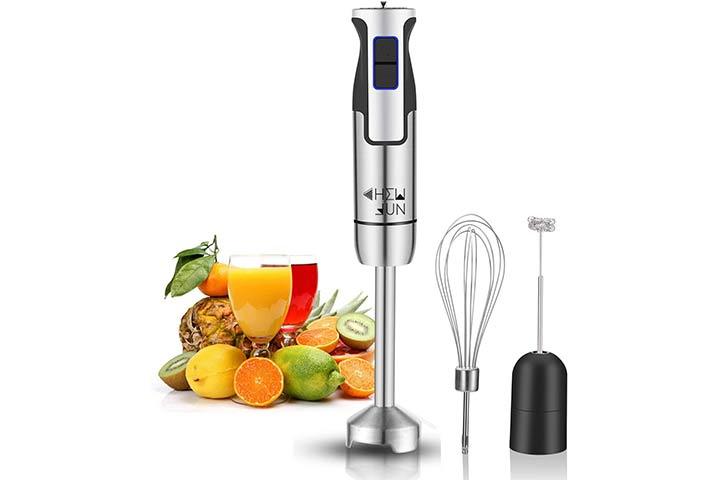 The 500W motor of the Chew Fun Hand Blender is powerful with a low noise level. It has two push buttons for speed control and adjustment. Above these two buttons, there is a nine-speed adjustable control. The handle is ergonomically designed with buttons on it for easy adjusting. This standing mixer can be used with one hand and is suitable for making shakes or whisking eggs. The detachable shaft is easy to clean.
Pros
Low-noise operation
Easy-to-clean detachable shaft
Versatile
Multifunction attachments
Cons
Attachments may seem flimsy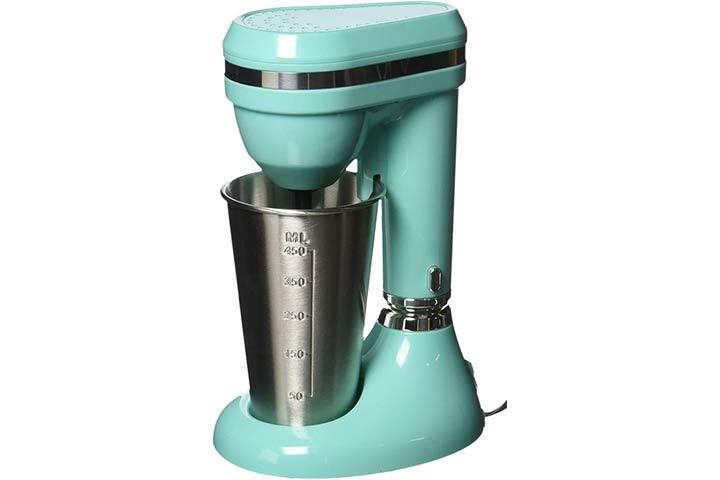 The Brentwood Milkshake Maker has a classic soda fountain-design. Great for mixing thick milkshakes and smoothies in less than two minutes, it features high and low-speed features. The stainless steel spindle is durable and rust-proof. The mixer has a safety-lock system to prevent leaks and spills. It has a 15oz full-size stainless steel glass with measurement markings.
Pros
Adjustable height
Anti-slip rubber feet
Tumbler lock
Corrosion-free
Cons
Size may be relatively small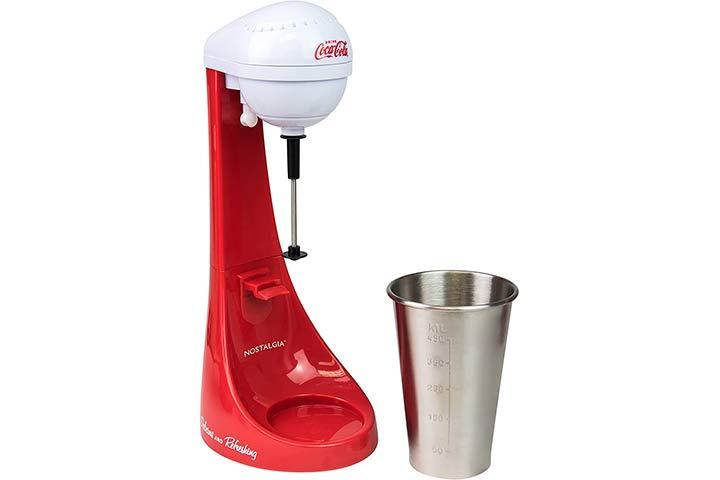 A Coke collector's envy, the Nostalgia limited edition two-speed versatile blender has a powerful 100W motor that allows you to customize the thickness of your shakes. The unit has a heavy stable base and a stainless steel glass and rod. It also has a tilt-back head and a detachable spindle for easy access and simplified cleaning. This mixer can be used for making many things from ice-cream sodas to health shakes and pancake batters.
Pros
Chrome-plated motor
16oz blending cup
Compact and lightweight
Can make the batter too
Cons
Some users reported motor issues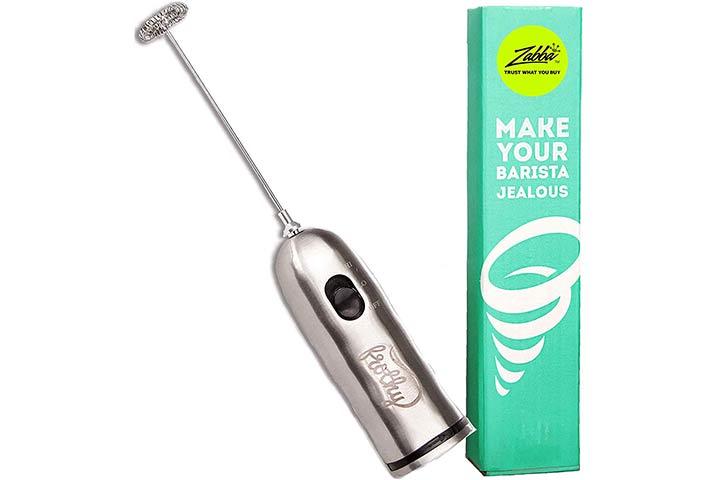 The Zabba Electric Frother is an 8.5oz weighing multiple-use mixer. This mini hand whisk has two-speed settings and is powerful. The stainless steel body and a sturdy, firm grip with a curved design make it fit comfortably in hand. Perfect for coffees, cold or hot chocolates, and milkshakes, this hand mixer is easily portable in your handbag.
Pros
15-second froth time
Includes recipe eBook
Lightweight
Battery operated
Cons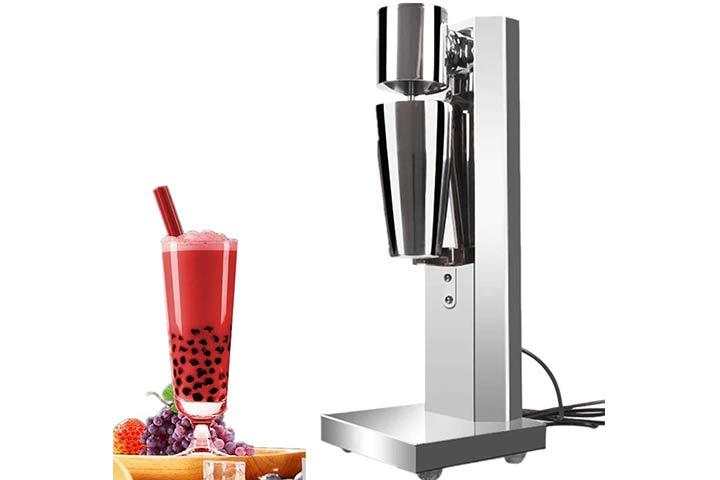 Suitable for wine bars, tea/coffee shops, and beverage counters, the Kunhewuhua Milkshake Maker is a multi-functional commercial mixer. It is made of durable and strong stainless steel with a single head. It comes with a 28oz stainless steel mixing cup of 650ml capacity.
The machine will start to stir when the cup is inserted between a stopper and a touch- microswitch. The stirring stops automatically once the cup is removed, causing no safety hazard for the user. It features a 180W power motor and two-speed options.
Pros
Pure copper motor
Good for commercial use
Auto stirrer
One-year warranty
Cons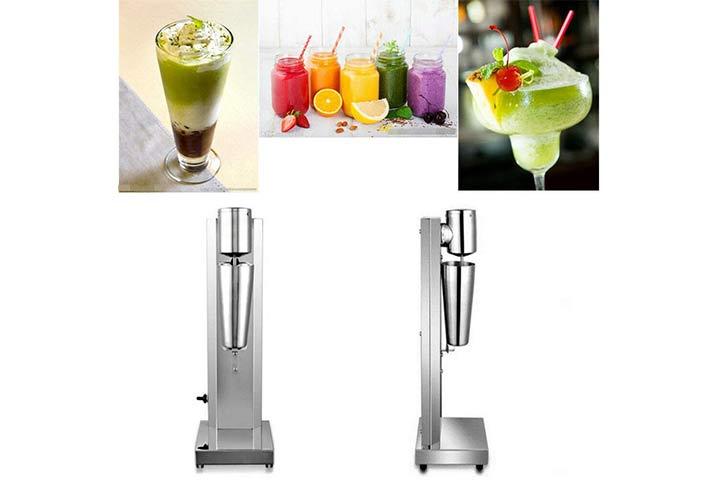 Popular among tea/coffee shops, juice counters, and bars, the Dyrabrest Electric Milkshake Maker is suitable for commercial purposes. It has a solid stainless steel body and a pure copper motor resistant to damage and pressure. The disc design and a stirring shaft combine to stir the ingredients uniformly.
A microswitch starts as you turn on the cup rotation switch. With two speed settings, the 180W motor allows stirring up to 18,000rpm and is the quickest way to make whipped cream or stiffen egg whites.
Pros
Removable stirring shaft
Safe to use
Anti-slip feet
Additional steel stirring cup
Broad base pedestal
Cons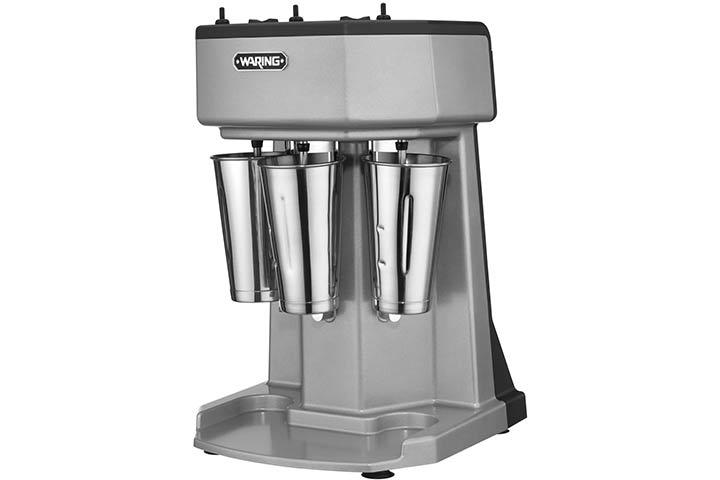 The Waring Milkshake Mixer is a double-spindle blender made of a heavy-duty die-cast body. It has two independent motors for high performance, making the mixer durable and long-lasting. It mixes hot or cold drinks quickly and is suitable for milkshakes, cold coffees, and other frothy drinks. A three-speed rocker switches up to 24,000rpm and can stir the hardest of ice-creams.
The mixer includes a butterfly agitator to mix softer ice-creams and can be used with different cups. Measuring 21.50x12x13.50in, it has an increased cup clearance that allows you to slide your cup without tilting or dropping the ingredients.
Pros
Includes two stirring glass
Sealed, lubricated ball-bearings
Mixes two drinks at a time
Increased cup clearance
Auto on-off switch
Cons
Suitable for commercial use only
How To Choose The Right Milkshake Maker?
Here are some points to consider when buying a milkshake maker.
Motor power: Milkshakes and health drinks require different ingredients with various textures, from fruits and vegetables to creamy ice-creams, sauces, and hard ice. Buy a mixer with a powerful and versatile motor. For thick shakes, a minimum of 500W is ideal. Juices and less thick beverages can be made with low-powered models. If you need to crush ice or similar, hard-textured ingredients, a power of more than 500W works.
Speed settings: Speed settings can range from two basic high and low to 15 additional speed options. These speeds will be marked by rpm (rotations per minute). The quality of your food will depend on how well it is mixed and stirred. Different food mixes require different speeds. Look for one with a pulse mode that is a quick start/stop option for easy operation.
Portability and size: There are hand blenders such as standing models or small thin models that are easy to carry around. So, if you need one for travel purposes, look for a smaller frother. For commercial use, heavy blenders are better. For household use, choose a lightweight blender to reduce arm fatigue.
Capacity: Depending on your needs and what you want to mix in the mixer, check the size of the mixing bowl or stirring cup.
Compatibility and sound: Pick a blender that is not loud and noisy, and preferably dishwasher-compatible.
Material: Strong, durable metal alloy blenders are suitable for commercial use. Consider BPA-free, rust-proof, corrosion-free stainless steel, plastic, or silicone build. Also, if you are buying a countertop mixer, check for an anti-slip bottom or feet.
Frequently Asked Questions
1. Can I use a milkshake maker for anything other than milkshakes?
Yes. A heavy-duty milkshake maker can whip and stir various creamy drinks, smoothies, cold coffees, and fruit milkshakes. It can also accommodate pieces of nuts, cookies, or candies for a fancy concoction.
2. Are milkshake makers easy to clean?
Most milkshake makers have detachable parts that are either easy to wash by hand or dishwasher-compatible. The stainless steel ones are also rust- and corrosion-proof and can easily be cleaned with soap water.
A good milkshake maker will allow you to make your tasty treats at home with fresh ingredients. Go through our above list of the best milkshake makers to buy one.
Recommended Articles: