A mixer grinder is one of the most common and useful household appliances in Indian kitchens. The versatile and multipurpose appliance reduces manual effort and makes cooking less tedious. It is used for various tasks like grinding, peeling, chopping, and even grating. There are several mixer grinder models available in the Indian market. So much so that choosing the right mixer grinder can be tricky.
In this post, we have listed some of the best mixer grinders in India. We also give you a buying guide that helps you choose wisely.
Safety Tips While Using A Mixer Grinder
Always check the secure jar safety lock feature before turning the blender on
Never attempt to unlock the lid of the jar when the mixer is in action
Ensure the bottom of the jar is dry to avoid short circuits or electric shocks
The mixer grinder should always be placed on a stable and level surface to ensure that the machine doesn't slip
Avoid filling grinder jars to the nib, as the pressure could forcefully push the ingredients out
13 Best Mixer Grinders In India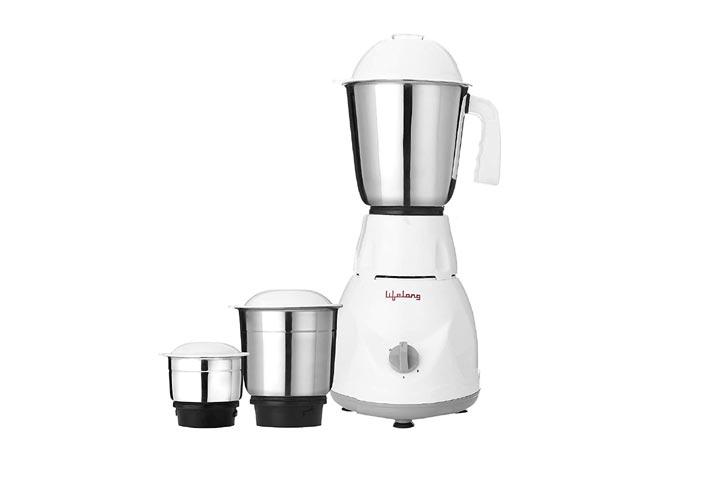 Lifelong power pro mixer grinder is a wonderful addition to your kitchen as it makes cooking less tiresome. The grinder has a sturdy stainless steel build and comes with three different anti-rust jars for multiuse. The blades are razor sharp and can be used to grind pastes or spices(masalas).
The PP lids secure the ingredients in the jar and prevent spillage. The jars, measuring 1.25 liter, 0.88 liters, and 0.3 liters, are convenient to handle without the fear of slipping or breaking. The 500W motor hastens the grinding job and provides satisfactory results.
Pros
Anti-rust blades
Sleek design saves space
Three levels of rotations
Easy-to-grab handles
Overload caution
Anti-skid vacuum feet
One-year warranty
Cons
May need breaks in between long runs
May be slightly noisy
May not be suitable for constant tough grinding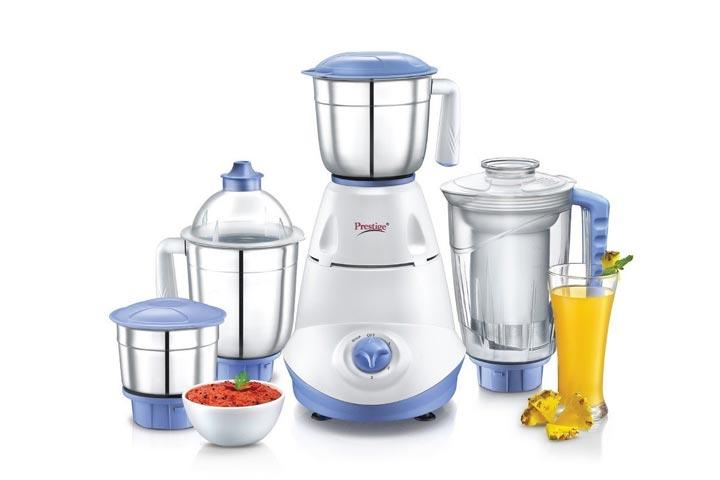 Prestige Iris comes with a powerful 750W motor and four jars. Three of the four jars have a stainless steelbuild, and one is a centrifugal polycarbonate juicer jar. The high power performance helps in grinding contents quickly while the super-sharp blades perform efficiently compared to other machines.
If you are looking to reduce the kitchen load using one appliance for most cooking tasks, this is for you. Along with the grinding, it can be used for blending and making healthy juices. Prestige's cutting edge technology makes Iris mixer grinder a favorable option and a tough competitor.
Pros
Sturdy handles with good grip
Multi-utility blades
Overload protection
Slender look
Three levels of speed and whip
Two-year warranty
Cons
May be noisy
May give out a burning smell initially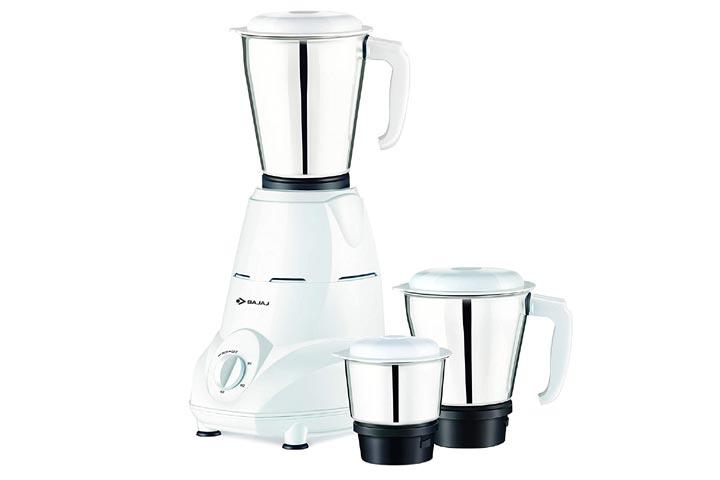 Bajaj Rex 500 is a versatile and economical mixer grinder that is easy to maintain. The three different jars have different capacities for blending a variety of ingredients. The largest jar measures 1.2 liters and can make juices, milkshakes, or other drinks. The 0.8-liter jar is designed for grinding dry contents and spices. With a 0.3-liter capacity, the smallest jarcan prepare chutneys, pastes, and purees for pasta or curries. The mixer grinder comes with different speed control options for ease of use.
Pros
Stainless steel anti-rust jars
Easy to hold handles
Overload protection
Smart look
One-year warranty
Cons
May be noisy
May have burning smell initially
May not be suitable for tough grinding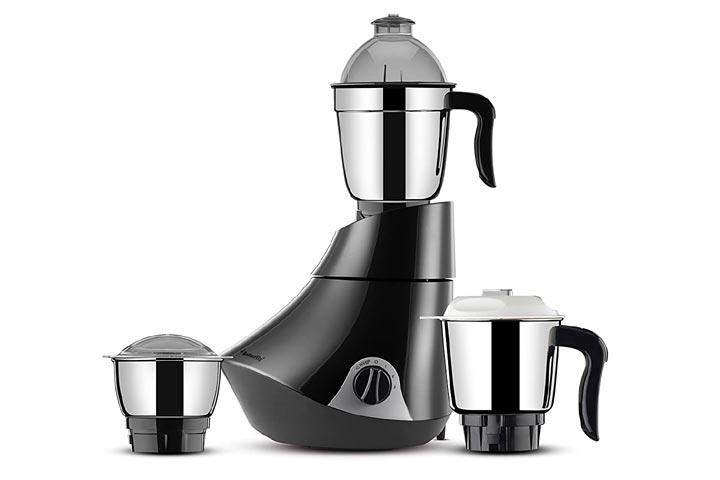 Butterfly offers one of the top mixer grinders with its wonderful design and round stainless steel jars. The strong dome-shaped lids are flat at the edges and secure tightly to prevent leaks. The lids made of ABS plastic are flexible and strong. A powerful 750W motor can easily handle different ingredients with a three-step rotation control and whip.
The speed is between 17,000 and 20,000 RPM, with extremely sharp blades. The three jars measure 1.5 liters, 0.75 liters, and 0.4 liters. The vacuum rubber shoes offer a firm grip on the surface and ensure safety. The overload is taken care of by the automatic cut-off to protect the motor from mechanical damage.
Pros
Unbreakable polycarbonate lids
Cuts, chops, and mixes ingredients of any shape and size
Sturdy and modern jar handles
Two-year warranty
Cons
May break between long usage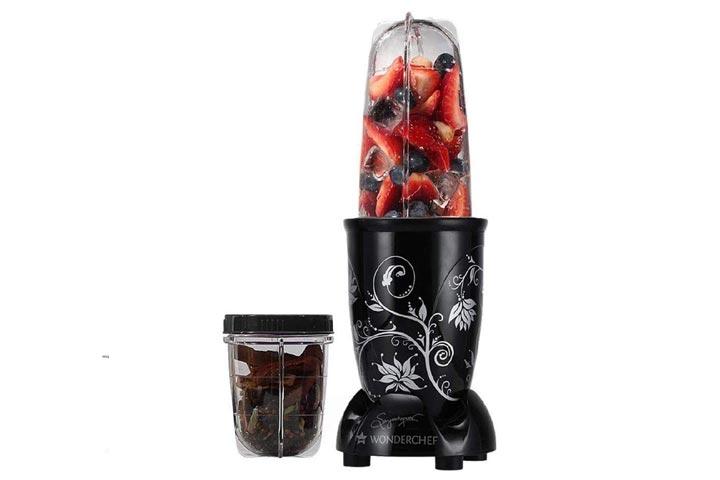 Wonderchef Nutri-blend mixer grinder's sharp blades and fast motor completely break down the food to give you fine pastes or coarse spice powders.The best part is that you will not lose out on the ingredients' nutritional essence when grinding. The two interchangeable jars ensure multi-usability, and the anti-skid rubber footing makes the fierce grinding a less scary experience.
The 400W motor effectively grinds the hardest of spices and helps you make smooth'chutneys. You can even prepare smoothies and drinks conveniently with the tumbler.
Pros
Compact design
Stylish and elegant make
No spillage while blending
Attractive slender look
Unbreakable polycarbonate jars
Two-year warranty
Cons
Motor may heat up if used for a longer duration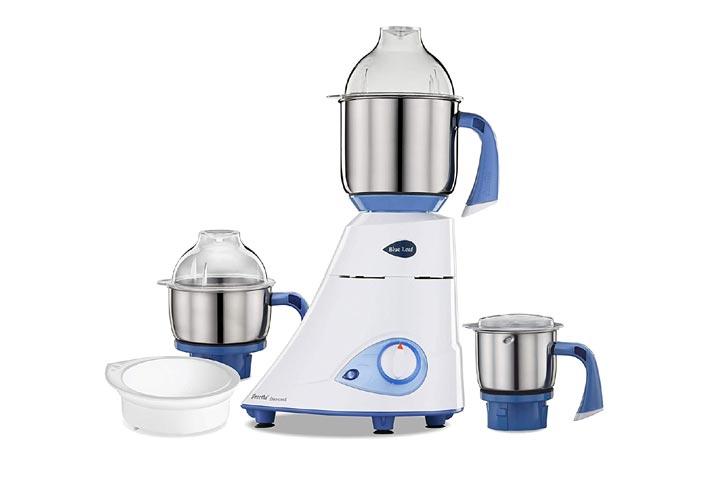 Preethi blue leaf mixer grinder is the best workmate for making complex recipes. The 750W machine with anti-rust stainless steel jars is designed to endure rough grinding conditions and allows easy usage. The shock-proof body is made of ABS plastic to ensure safety and flexibility.
The grinder has a pulse feature and can be operated at three speed levels. The superior blades are quick at their job and save you a lot of time and energy. One of the bonus features is that it comes with a flexi-lid that enhances the jar capacity, thereby providing ultimate convenience.
Pros
Dry and wet grinding
Polished blades for high performance
Good handle grip
Slender design
Two-year warranty
Cons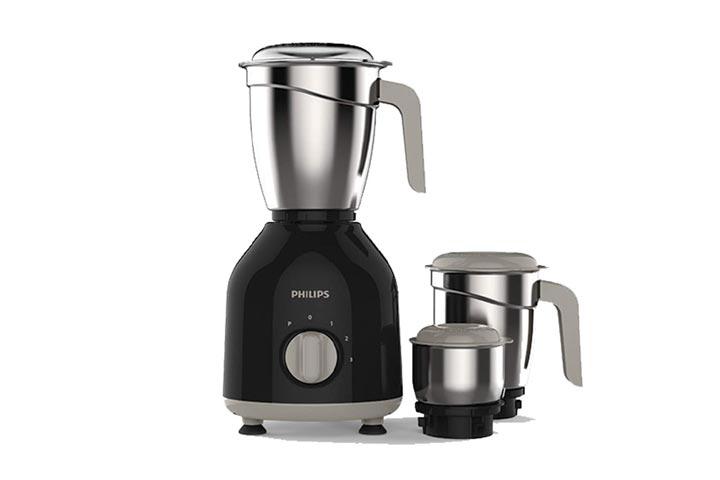 Philips offers high-quality stainless steel jars that can withstand rough grinding. The 750W turbo motor with advanced features ensures that the machine doesn't succumb to mechanical stress. The mixer grinder is provided with a well-designed air ventilation system that allows you to grind hard spices or grains for 25 minutes at a go without glitches.
The jars assist you in grindinga variety of content with ease. The lid is semi-transparent, so you can view the ingredients without opening the lid. The blades are ultra-sharp and can grind hard and stubborn nuts or solid spices. The tight rubber rings on the lids support wet grinding without mess or spillage. The safe lock adds to the benefits of rubber rings.
Pros
Sturdy and can last long
Three jars with three speed levels and a whip feature
Triangular compact body
Few groves for easy cleaning
Two-year warranty
Cons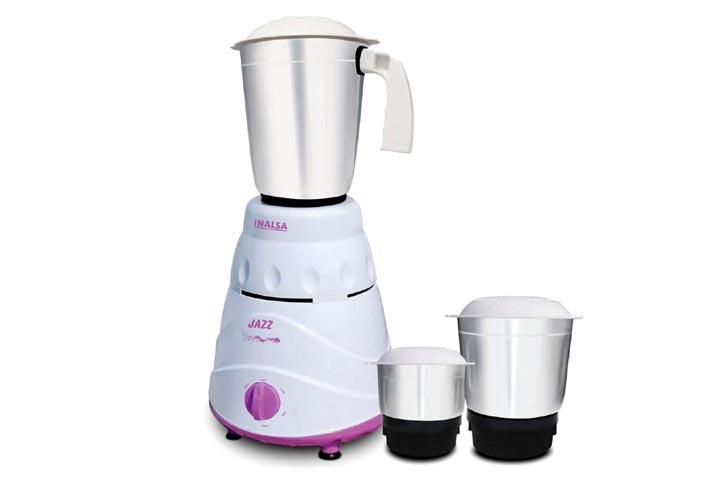 Inalsa Jazz Mixer Grinder, with its 550W motor, offers great assistance to the cooking enthusiasts in the kitchen. The sturdy body and compact design of the machine can easily fit into a limited space. The mixer grinder comes with three strong stainless steel jars with compact handles that offer a good grip, even when your hands are wet.
The PP lids prevent spillage during operation, and the three different speeds along with the whip option are perfect for grinding coarse/fine/smooth/rough ingredients. The blades are designed skillfully for uniform grinding and fierce action. A 30-minute continuous functioning poses no threat to the equipment if you can manage to take short breaks in between.
Pros
18,000 RPM
2-liter liquidizing jar, 0.8-liter dry grinding jar, and 0.4-liter chutney jar
Tough nylon couplers
Concealed bushes to prevent contamination
Two-year warranty
Cons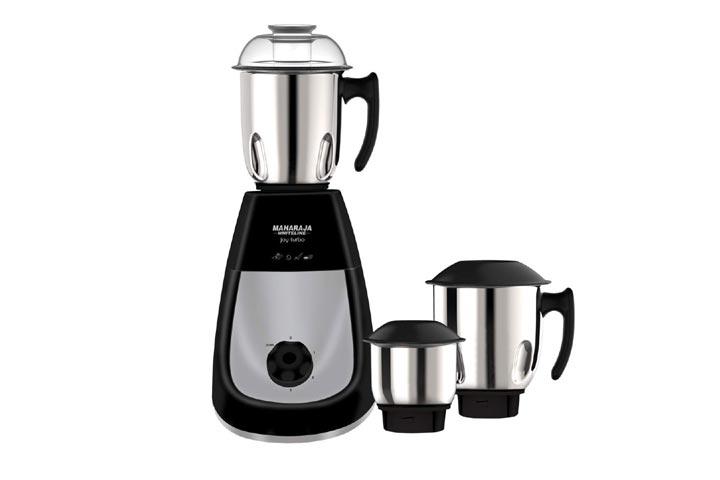 Maharaja Whiteline offers a fantastic 750W super mixer grinder to handle the entire pre-cooking tasks skillfully. The strong handles, three high-quality stainless steel jars,and its impressive design and features make the Maharaja grinder stand out from the rest. A five-year motor warranty by the manufacturer and the ergonomic design make the mixer grinder a good buy.
The unique jar flow breakers ensure proper grinding and prevent spillage during usage. The multi-functional grinder can be used for mixing, grinding, chopping vegetables, mincing, and blending.
Pros
20,000 rpm
30 minutes of continuous grinding
Air ventilation prevents overheating
Durable nylon 66 couplers fitted
Two-year warranty
Cons
May be a little noisy
May smell during initial usage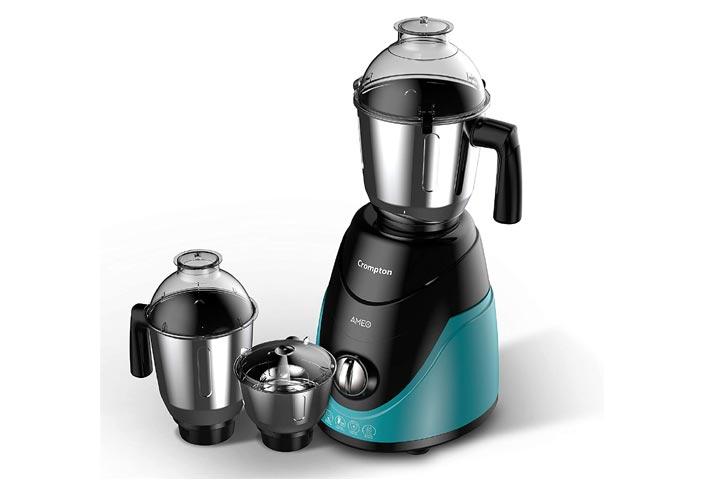 Crompton stands by the concept of providing the finest cooking experience with its Ameo 750W mixer grinder.The maxi grind technology ensures a faster and uniform grinding experience. The three stainless steel jars and blade designs fall in sync with the ultra-fast grinding nature.
Crompton mixer grinder is a perfect combination of design and efficient working. The copper motor with a five-year warranty is an added feature to provide longevity and low maintenance. The machine comes with three speed levels and one pulse option. It has features that prevent motor overload and glitches.
Pros
Ergonomic jar handles
Additional spatula provided
Jars measure 1.5 liter, 1 liter, and 0.5 liter
Firm cushion pads under the machine
Anti-corrosive jars with flow breaking feature
Advanced motor ventilation
Two-year warranty
Cons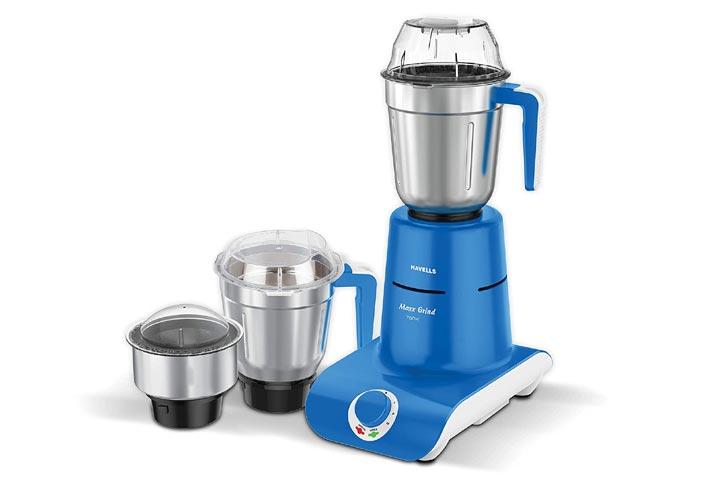 Havells offers a seamless machine with aunique,flat, and stable base for sturdiness and stability. The 750W copper motor provides desirable results and lasts longer. The jars are made of strong stainless steel,and no amount of moisture exposure leaves any traces of rust on them.
The lids are transparent, and you can checkthe ingredients without having to open the entire lid.The three speed settings allow you to control the grinding process, and the sleek design makes it suitable for the modern kitchen.
Pros
Comfortable hold
Polycarbonate lids
Dry and wet grinding and blending
Jar capacity (1.5 liters, 0.8 liters, and 0.4 liters)
Two-year warranty
Cons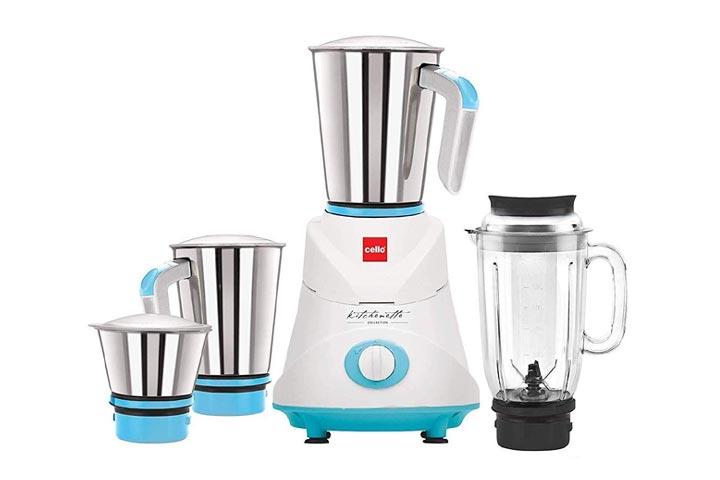 Cello offers a 500W mixer grinder to meet all your mixing, grinding, and blending needs. The grinder is a combination of three good-quality stainless steel jars and one polycarbonate jar. The motor is equipped with overload protection that prevents the breakdown of the machine even after prolonged use. The polycarbonate and anti-breakable lids sit well in their grooves and do not come off mid-way while grinding. The vacuum feet ensure stability while the machine is running. The optimal steel blades provide an efficient grinding experience without heating the jars much.
Pros
Sleek model
High-grade nylon couplers
Can be used for wet and dry grinding
Copper motor
One-year warranty
Cons
May not be suitable for tough grinding
May be a little noisy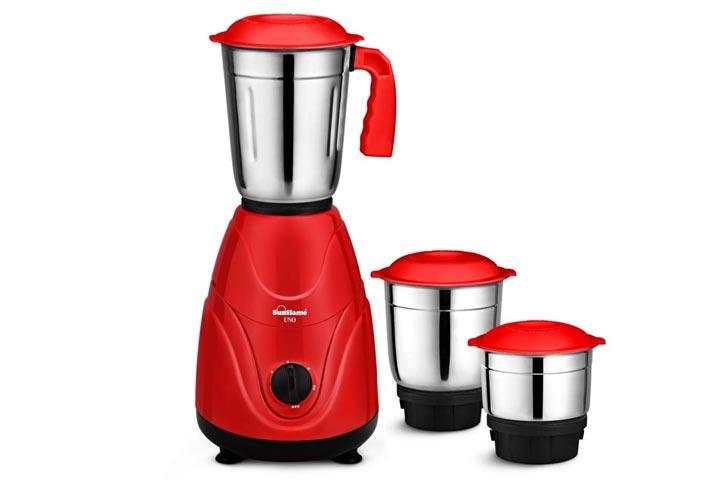 Sunflame presents a 500W sturdy machine to handle the kitchen conveniently and ease off the pre-cooking work. The three sturdy stainless steel jars help you elevate your culinary skills with its dry and wet grinding features. The machine comes with vacuum feet to give stability. The ergonomic body and comfortable handle make it easy to use, and the three speed levels allow you to control the mixer as needed.
Pros
Shock-absorbing ABS body
Contains four blades
One-year warranty
Multipurpose jars
Cons
Makes noise
Tough grinding to be avoided
How To Choose The Right Mixer Grinders In India?
We have listed some important factors to consider for choosing the best mixer grinder based on your needs.
1. Power: The motor capacity of the mixer grinder should be the top priority when you one. If you want to grind pepper, onion, garlic, or nuts, a 450W motor is good enough. But if you are looking for some tough jobs like preparing 'dosa' batter or grinding rice, you will need to choose machines with 750W motor capacity. However, keep in mind that the more powerful the motor, the noisier the machine will be.
2. Safety lock mechanism: The safety lock mechanism is a must-have feature as it prevents accidents. Until the jar is placed perfectly on the motor, it will not start. You should choose a mixer grinder that comes with an efficient safety lock mechanism.
3. Material body and blade quality: Always choose a sturdy mixer grinder to prevent breaking in case of simple slip and fall. Mixer grinders come with different blades for different kinds of grinding tasks. Most mixer grinders offer good quality rust-proof stainless steel blades for longevity and robustness. You will need to clean and maintain the blades for efficient functioning for a longer period.
4. The number of jars: Typically, mixer grinders come with separate jars for wet and dry grinding and a juice jar. A perfect mixer grinder should have at least three jars, but four jars are better. The varied shapes and sizes of the jars help achieve your cooking tasks efficiently.
5. Speed: Motor speed, which is measured in RPM, is extremely important.Typically, motor speeds range between 18,000 to 22,000 RPM. You can control the motor speed from turning the knob to low, medium, or high depending on the grinding need.
Frequently Asked Questions
1. How much power does a mixer grinder Consume?
If you use a mixer grinder with a 500 – 750 W power motor capacity, for approximately one hour each day, you will consume about a total of about 0.5kW of electricity.
2. What are the advantages of using a mixer grinder?
Mixer grinders are multi-functional to perform various tasks like dry and wet grinding or to make shakes, juices, purees,or other liquid drinks.
When you have the right kind of appliances in your kitchen, cooking becomes an enjoyable task. A good mixer grinder will not only save time and energy, but it also helps in making healthy meals.Take your pick from the 13 best mixer grinder list we shared and experiment with your culinary skills.
Recommended Articles: