Some people have drier skin prone to discoloration and, sometimes, dark spots on the face. Also, the lack of moisture can make the skin feel tight and uncomfortable.
If you live in a place with a dry climate, your skin needs to be moisturized with high-quality, safe ingredients and ingenious formulas to truly nourish your skin. Moisturizers can protect your skin. Choosing the right moisturizer will help in retaining the skin's glow without causing any side effects. Moisturizers come in two types, cream or lotion. Although lotions are water-based and lightweight, their moisturizing effect may not be better than creams.
We have narrowed down the list of the 15 best moisturizers for dry skin in India. Take your pick to make your skin healthy and youthful.
15 Best Moisturizers For Dry Skin In India

Aveeno daily moisturizing lotion contains natural colloidal oatmeal and rich emollients, helping the skin retain its moisture and replenish itself. The fast-absorbing formula makes the skin soft and supple. The lotion is also fragrance-free and non-greasy.
Pros:
Suitable for sensitive skin
Long-lasting moisturization
Gentle on the skin
Cons:
May not have SPF formulation

The Pond's moisturizing cream is lightweight and made with a non-oily formula. The moisturizer can be used all year round and is easily absorbed into the skin. SPF 15 protects the skin from UV rays. The moisturizer is also clinically proven to make your skin glow with even tone. It is also rich in vitamins, flower, and fruit extracts, which brighten the complexion and provide anti-aging benefits.
Pros:
Non-sticky feel on the skin
No white cast
Available in multiple sizes
Affordable
Easy to spread
Cons:
Contains silicon
Not paraben free

The cream provides strong and lasting moisture, replenishing sensitive, dry skin. It is also suitable for eczema and extremely dry skin. Like all products under the Cetaphil brand, this moisturizing cream is dermatologically tested and proven to provide immediate and long-lasting hydration. The cream does not contain parabens and is suitable for all skin types.
Pros:
Does not clog pores
Non-greasy and light on the skin
Fragrance-free
Suitable for acne-prone skin
Cons:
May be heavy with a thick texture
May not have SPF
Skin may feel sticky

The Face Shop moisturizing lotion contains rice extract, which helps correct skin texture and reduce dark spots and pigmentation. Ceramides are fat molecules (or lipids) that maintain the skin barrier. The lightweight formula makes it a perfect moisturizer during the day and provides radiance to the skin.
Pros:
Quick absorption on skin
Can be used beneath makeup
Lasting hydration
Cons:
May not work for extremely sensitive skin
Overly fragrant

Mamaearth Ubtan uses natural and healthy ingredients that penetrate deeply into your skin and nourish it. The moisture provided by body butter will make your skin feel refreshed all day long. The presence of nourishing oil helps improve skin elasticity and reduce premature aging. Your skin will become soft and supple if used regularly.
Pros:
Suitable for all skin types
Dermatologically tested
Paraben and sulfate-free
Antioxidant and anti-inflammatory properties
Cons:
Consistency may be thick
Fragrance may not last long

Venusia intensive moisturizing cream is suitable for dry skin and is designed to provide strong hydration for dry to extremely dry skin. The cream is designed to make the skin smooth and supple. The mixture of glycerin with dimethicone and four kinds of butter prevents moisture loss, and glycerin in the cream can repair skin damage.
Pros:
Mild and pleasant fragrance
Long-lasting moisturization
Suitable for any age
Non-greasy
Cons:
May contain parabens
Skin may feel oily after application

The FDA-approved Pilgrim body butter suitable for daily use and works best when applied immediately after a shower. With shea butter and cocoa butter made with Korean formula, the moisturizer also contains white lotus extract rich in vitamins and antioxidants.
Pros:
Paraben-free
Cruelty-free
Ideal for stretch marks
Boosts skin elasticity
Cons:
Skin may feel oily
Doesn't get absorbed well

The Jergens moisturizing cream instantly hydrates and repairs rough and dry skin. It also makes the skin four times smoother, and regular use will give you radiant skin. The moisturizer also provides continuous multi-layer moisture and improves skin tone, texture, and brightness.
Pros:
Doesn't wash away with water
Long-lasting moisturizing up to 24 hours
Fragrance-free
Makes skin 4x smoother
Cons:
Not free of parabens
Not fast-absorbing

Smart and effective anti-wrinkle and eye serums provide good treatment effects and fill the skin with moisture, thereby masking aging. The skin is filled with moisture to stimulate healthy cell growth and leave behind smoother, younger, and radiant skin. The serum is made of hyaluronic acid serum, avoiding unnecessary ingredients, and fillers.
Pros:
Non-sticky
Mild smell
Easily absorbs into the skin
Prevents dehydration of dry skin
Reduces dark spots
Cons:
May not work on hyperpigmentation
Glass bottle may be risky to carry

The gel and oil formula can keep the skin's moisture throughout the day and restore dry skin to its optimal moisture state. Its effective formula blends emollients (such as shea butter) and humectants like glycerin with skin-soothing ingredients (such as vitamin B3) to provide excellent moisturizing effects. The bio-oil gel does not clog pores.
Pros:
Resists moisture loss
Suitable for sensitive skin
Works for concerns like stretch marks, scars, etc.
Cons:
May feel sticky
May contains ingredients that can cause allergy

The mCaffeine Naked and Rich Choco Body Lotion is a soothing moisturizer that replenishes dry skin and makes it soft. The lotion can replenish moisture for a longer period. The aroma of chocolate is a plus. It is suitable for treating dry and sensitive skin and removing dry patches.
Pros:
FDA-approved
Paraben-free
Suitable for all skin types for men and women
Vegan
Cruelty-free
Cons:
May not have fast absorption
May not provide a long-lasting moisturizing effect

Cipla Excela Moisturizer is the best solution for all acne-prone skin. The light and creamy texture blends easily into the skin and gives a matte effect to it. With no harsh ingredients, this moisturizer can be perfect for daily use.
Pros:
No allergens
Paraben-free
Fragrance-free
Anti-inflammatory
Cons:
Doesn't work for combination skin

Vanalaya lotion is rich in shea butter and cocoa butter, which can penetrate deeply into the skin and cause skin cell regeneration. This lotion's ingredients have been clinically tested, and vitamin infusion is suitable for all skin types of men and women. It is gentle even for the most sensitive skin. The natural pH balance of the skin is maintained and restored.
Pros:
Deep, long-lasting hydration
Chemical-free
Cruelty-free
Restores skin elasticity
Cons:
Sticky
Doesn't get absorbed by the skin easily

Derma Essentia ultra-moisturizer helps restore the skin barrier. It is can also replenish the skin in harsh weather. The non-greasy formula allows it to be used under makeup. Enriched with ceramide, Provitamin B5, and Aquaxyl, the cream can strengthen the skin barrier function and reduce the loss of epidermal moisture, leaving the skin almost twice as hydrated.
Pros:
Paraben- and Sulphate-free
Dermatologically tested
Instant hydration
Mild fragrance
Cons:
Not suitable for acne-prone skin as it may clog pores
Not long-lasting
May feel greasy

The protective lotion nourishes the skin all day long. It maintains the PH balance of the skin and enhances its moisturizing ability. Cocoa honey moisturizing lotion contains plant extracts to improve skin firmness and elasticity.
Pros:
Non-sticky formula
Made with nourishing ingredients like cocoa butter, honey, licorice, aloe vera, and vitamin E
Suitable for men and women
Travel-friendly bottle
Cons:
May not have SPF
May not be paraben-free
May not work well on dry skin
Tips For Dry Skin Care:
Avoid hot showers or baths. The hot water breaks down the lipid barrier in the skin, which results in reduced moisture.
Exfoliate with a light scrub to get rid of the dead skin cells. Ensure you don't over-exfoliate.
You may choose to add moisture into your home's air with a humidifier to prevent dry skin.
Wear gloves and layers of clothing to avoid skin exposure to the cold weather.
Moisturize with a heavier, oil-based moisturizer as it traps existing moisture in your skin.
Dry skin and loose skin can be very annoying. However, it is important to understand various moisturizers and use the products for the skin carefully. You need to pay attention to the ingredients because some may cause allergies and further irritate your skin. We shortlisted the 15 best moisturizing creams for dry skin for you to choose the ideal moisturizer that suits your skin, budget, and lifestyle.

Recommended Articles:
The following two tabs change content below.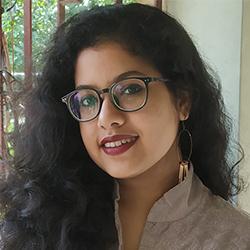 Poulami Nag
Poulami Nag is a writer and associate editor at MomJunction. She did her MA in English from Miranda House, University of Delhi and has qualified UGC-NET. Her journey as a content writer began in 2017 and since then she has garnered diverse interests along the way. Her knowledge of literature and language has given her an eye for detail and...
more