The best monster toys can make playtime interesting for your little ones. They can enjoy imaginative games and activities with these cute toys and stay away from gadgets and TV screens. So be it a Halloween gift or to satisfy your kid's monster fantasy, take a look at our list of most popular monster toys and make the right pick for your kiddo. Our post also provides you with the details of every product to help you make the right decision.
15 Best Monster Toys To Buy In 2022
The Mega Grave Digger features a robust all-terrain remote control that puts you in charge. The detailed graphic body, superb headlights, and sturdy chassis make this monster truck stand out from the rest. Learn more about this product in this video.
Features:
You can control and drive it in any direction from up to 250 feet using the 2.4GHz dual joystick controller.
The monster truck measures over two feet long.
It comes with gigantic tires, working lights, rubber treads, mega-sized shocks, and authentic graphics.
A built-in USB cable helps you to power up the Monster truck.
This Hot Wheels Monster Truck Downhill Race & Go Playset is nothing like other generic monster truck toy sets. The set includes a 2-in-1 transporter and raceway, a Hot Wheels die-cast car, and a Hot Wheels monster truck. Let your kid get the car and truck racing downhill and enjoy the ultimate smash and crash experience. This video will provide you with added insights about the product.
Features:
The four-feet long race track can accommodate up to six cars.
The track can be folded for easy storage and transport.
The toy set can double up as a car transporter and accommodate up to 12 cars.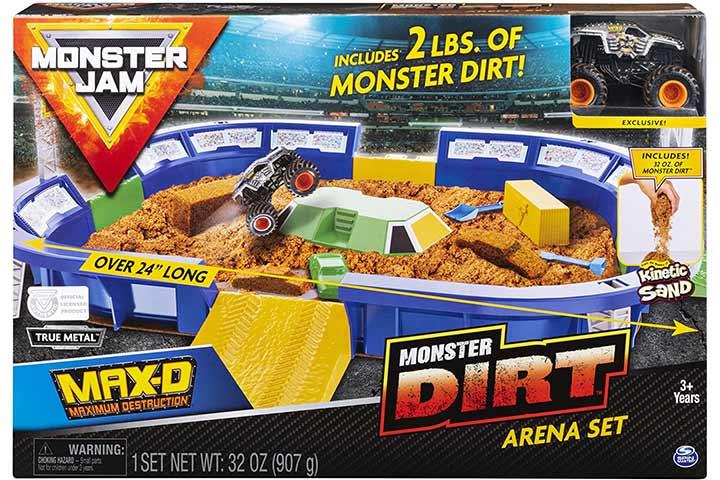 Now, it is super easy to create your own epic Monster Jam stadium and course with this Monster Dirt Arena! At over 24-inches wide, you get to build endless Monster Jam courses just like at Monster Jam events. Take a look at this video to know more about the product.
Features:
The Monster dirt arena comes with two pounds of kinetic dirt that feels and looks like what the professionals drive through.
The wide monster stadium allows your kid to play in different ways! So, now, they just need to rev up their engine and show the high-flying, gravity-defying moves.
The playset also comes with four entry ramps, a scoreboard, a large ramp mold, a crushed car mold, a shipping container mold, two sculpting tools, a sticker sheet and an official Monster Jam monster truck.
You can also add an extra track or even a launcher for better speed and some grinding power.
Are you looking for a monster toy car that will keep your kid entertained for hours? Get them this set by Art Creativity. The transparent monster wheels with eye-catching chassis and shocks and the cool gear decals set it apart from other monster toy cars. This monster car is designed to be the pride of their collection and one that stimulates all their senses.
Features:
It is fitted with a cool friction motor that helps in smooth operation. So, just rev it up and accelerate away.
This jumbo monster truck comes packed with features like multi-color LEDs, cool lighting effects, etc. to keep your kids excited for hours!
The truck is easy to use and is suitable for kids below three years of age as well.
The monster truck comes in different colors and is designed to grab some attention with its cool graphics.
It is also an excellent gift for your little one, be it for a birthday, holiday, or even just for rewards as it comes packaged in an elegant box.
Measuring nine-inches long, six-inches wide, and eight-inches tall, this monster toy with light-up wheels is ready to topple anything that lies in its path. Your kid needs to simply roll the tractor to activate the supercool light-up wheels for the Green LED lights to come to life.
Light up your little one's off-road adventures with this monster truck.
Features:
This John Deere Monster Truck is just ready to tackle any obstacle that lies in its path and treads off to a great start.
The wide and sturdy wheels make this truck suitable for all terrains.
It is easy to use and suits both indoor and outdoor play.
These two monster trucks are purposely paired to compete in a race with their giant wheels. Every hot wheels package is sold individually, and includes two cars along with stats and details about each truck.
Features:
These Hot Wheels monster trucks come with wide wheels and rad details.
The trucks are perfect for one-on-one battles.
The trucks are available in different colors and designs.
The Fisher-Price monster machine pals include your kid's favorite Blaze, Crusher, and Pickle.
Features:
The three die-cast trucks come packaged in an elegant colored box.
The colorful paints do not fade easily.
The wheels are wide and sturdy.
This mega-fun freestyle playset features four unique ramps, a truck launcher, a connecting bridge, and a launch stabilizer to help you perform infinite epic stunts. Bring the excitement of a monster Jam event to your home with these monster trucks.
Features:
The play set is very easy to set up and even easier to disassemble.
This playset includes an exclusive truck, the Son-uva Digger monster truck, which can't be found anywhere else! It is a must-have for Monster Jam freaks.
The four ramps allow for unlimited fun and endless stunts.
Are you looking for a monster truck set that is easy to play with?
This set of Friction Powered 3-Pack Mini Push and Go Car Truck Jam Playset is your answer. It is ideal for kids aged above three years as it is easy to operate and doesn't involve any complex winding mechanism. Plus, it is easy to be carried around in a bag or pouch, wherever your kids want to go.
Features:
The trucks feature 360-degree rotating wheels that are wide and anti-skid.
The trucks are made of sturdy ABS plastic that is non-toxic.
Encourage imaginative play in your kid with these lifelike EZFun Godzilla figures.
Features:
This EZFun Set of 10 Godzilla Toys consists of seven figures with movable joints and three figures with immovable joints.
These figures look lifelike and are ideal toys for pretend play.
These Godzilla toys are environmentally friendly, non-toxic, waterproof, and non-radioactive.
The toy pieces come packaged in a drawstring carry bag.
This set of four monster trucks is suitable for gifting on a birthday or even holidays. It comes with transparent multi-color wheels that light up. These are available in different colors and are made of 100 safe and non-toxic plastic to keep your child safe.
Features:
The transparent monster wheels that light up with multi-color LEDs readily attract your child's attention and keeps them engaged for a long time.
This package set includes four cars in red, yellow, blue, and black.
The push-and-go mechanism lets children just push the monster trucks in living rooms or other places and play with them to have fun.
The Melissa & Doug creative monster bowling set adds color, warmth, and texture to a familiar game of bowling. It includes six textured and furry monster pins along with one beastly ball. It makes an awesome gift for kids aged two years and above.
Features:
These six bowling pins and the bowling ball come packaged in a zippered carrying case. It helps in easy storage and portability.
This fun bowling game helps kids develop motor skills, hand-eye coordination, and balance.
The bowling pins come with weighted bottoms and are easy to set up.
Are you ready to let your kid take part in head-to-head battles with this Hot Wheels Tiger Shark Monster Truck? Each truck comes with its stats, including name, strength, truck type, unique crash attack, and some motivation to inspire your kid.
Features:
This truck set is an outrageous assortment of 1:24 scale monster trucks with sturdy die-cast metal bodies.
Plus, the oversized sturdy bodies and giant wheels give these monster trucks an edge on mega rough terrain.
This monster truck toy is endowed with features and graphics that can easily keep your kid busy for hours.
Features:
It comes with BKT rubber tires that provide excellent traction.
The working suspension system readily absorbs impact and takes the  monster truck to new heights.
This monster truck toy is a perfect holiday or birthday gift for kids.
This monster toy is ideal for pre-schoolers. Your kid can now explore numbers with their favorite Sesame Street characters!
Features:
This package consists of 20 colorful play pieces and includes ten cookies and numbers which can be stored very easily.
The monster cookies, when lifted, reveal a Sesame Street character.
It is super easy to carry around and is ideal for both indoor and outdoor settings.
How To Select Monster Toys
There are several monster products to choose from. The following steps could help you select the best monster toys:
Understand your kid's needs. Look at what they are looking for. Are they looking for some hot wheels to race or something to keep them engaged for a long time?
Check if the toys are safe for the child.
Try selecting monster toys that will boost your kid's creativity and help them learn something new every day.
Look at the price so that you do not break the bank.
Why Trust MomJunction?
Priti Bose is a skilled writer and researcher who loves reviewing children's toys and gift items. She recommends the best products to you after analyzing several products and considering various reviews. Here, she brings you a list of the best Monster toys that can engage your children for hours. In addition, Priti has provided a brief description and highlighted the main features of each product to help you make an informed choice.
Recommended Articles :