If you love collecting watches, you would indeed love having a moon phase watch in your collection. Moon was the first method to determine the passing months, unlike the sun deciding days and seasons. A moon phase watch tracks your lunar cycle, and it is believed to connect with your behavior. While this may be a spiritual belief, moon phase watches are becoming popular for their intricate craftsmanship and complex mechanisms. There are two types of moon phase watches, one with a half-crescent aperture and another with a full-moon aperture.
We have compiled a list of the best moon phase watches to choose from that adds to your watch collection.

Top Products From Our List
9 Best Moon Phase Watches
The diamond-encrusted men's mechanical moon phase watch features dazzling 405 SI3 diamonds around the case and a 42.5mm white dial with a Roman numeral indicator. It has a skeletonized face with a dual-time sub-dial and sun/moon (AM/PM) indicator at 3:00 position. The watch has a genuine 7¼ inches long brown alligator leather band of 22mm width and a deployment-buckle closure. The wristwatch is water-resistant to 50m, and its self-winding mechanical movement that utilizes hand movement keeps it functioning for longer. The watch comes in an elegant box with a stylish cushion and a two-year manufacturer warranty.
The stylish retro-designed classic men's watch is one of the best moon phase watches in the market for its smart look, silver dial, Arabic numerals, and Breguet-style hands. It has a sleek 40mm stainless steel case with sub-dials for date and day, and a red-tipped pointer for indicating the week's number. The moon phase sub-dial is at the 6:00 position on the dial with a Hesalite dome crystal. It has a hand-made black leather strap with matching stitching and buckle closure. Powered by an LR44 battery, it works on a Swiss Ronda 706B quartz movement. It is water-resistant to 30m and includes a two-year manufacturer warranty.
The Stuhrling Moon Phase Watch features a stainless steel case with an analog white dial and a brown embossed leather band. It is powered by an accurate JP24 movement and has a blue Celestial dial at 6.00. The watch is water-resistant up to 50m, and includes a two-year warranty.
The August Steiner Designer Watch has two bordered sub-dials with a moon phase indicator. It features an embossed black alligator leather strap with a stainless steel tang buckle. The black case is made from high-quality alloy and an aluminum bezel. The date sub-dial is at 3:00 position and the day sub-dial at 9:00 position with a push pin date corrector at 2:00. Designed with strong mineral crystal, it is water-resistant up to 30m. It uses the Swiss quartz movement for accurate time-keeping and has an easy-to-read convenient three-hand movement with luminous fill. It has a polished coin-edged bezel and two diamonds at 12:00 position. It is packed in a stylish box with a designer cushion and has a two-year manufacturer warranty.
The elegant-looking unisex moon phase watch offers the perfect classy look when worn. It has a rose gold-plated 38.5mm round case, silver-white dial, an analog display, and a black leather strap. It has a moon phase at 6:00 position and a separate blue-colored hand to point the date. The watch is water-resistant up to 30m and has a two-year guarantee.
The Men's Windsor Moon Phase Watch features a stylish black embossed leather strap with a buckle and a silver stainless steel case with a white-colored dial. It has Roman numerals and leaf hands and is water-resistant to 50m. The 40mm case diameter is shielded by a sapphire glass, and the watch functions on quartz movement powered by a CR2 battery. The moon phase is positioned at 6:00, and three additional sub-dials display the month, day, and date.
The stylish women's analog moon phase watch has a silver stainless steel case and a 33m blue dial. It has a bracelet with a folding clasp, and the water-resistance of the clock is up to 50m. The moon phase indicator is at 6:00 position, and there are diamonds around the dial case and on the adjustment crown on the side. It could make a unique gift option for a mother, sister, daughter, or wife.
The Zeppelin Moon Phase Watch comprises stainless steel case with a dark blue dial and white digital markers. The diameter of this analog watch is 36mm and is water-resistant up to 10m. It has a blue leather strap and is powered by quartz-controlled Ronda 706B movement. The watch has a moon phase indicator and two additional sub-dials, displaying the day and date.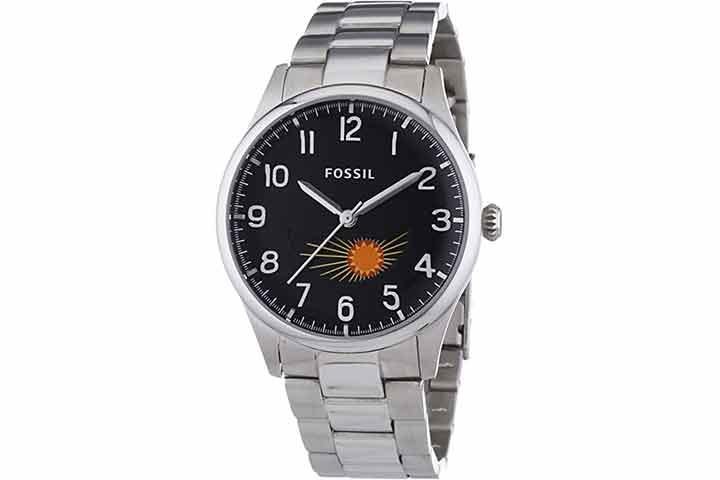 The Fossil Moon Phase Watch features a stainless steel silver case and bracelet. It has a 38mm black analog dial with silver hands and Arabic numeral luminescent hour markers. There are minute markers in the outer rim and a sub-dial indicating day and night. It has a quartz movement and is made from scratch-resistant mineral crystal. With an adjustable pull/push crown, you can adjust the time accurately. It has a deployment clasp to secure the bracelet belt, and the watch is water-resistant up to 200m.
How To Choose The Right Moon Phase Watch?
Here are some factors to consider while buying a moon phase watch.
Quartz or mechanical: Depending on the frequency of use, you may buy a quartz or mechanical watch. Purchasing a mechanical watch may require you to self-wind, while the quartz watch works at any time.
Watch strap: Some have leather belts, while others have bracelet bands. Pick the right one, depending on your comfort, usage, and occasion.
Compiling some of the best moon phase watches, we have highlighted the specific features such as the dial's diameter, movement function, water resistance, warranty, strap type, sub-dials. Based on your use, occasion, personal preference, and other features, you can choose the best moon phase watch from the list above.
Recommended Articles: