Most of us wish to have beautiful hands with trimmed nails and vibrant colors on them.And to color your nails as you want, you need a good quality nail polish remover, which gets out the paint easily and does not contain any harsh chemicals that could weaken and damage the nails or make them brittle.
What you require is a premium-quality nail polish remover that wipes off the paint and nourishes your nails.In this post, we list the best nail polish removers that moisturize, soothe, and strengthen nails after wiping the paint. Read on and pick one that you can use.
Tips For Using A Nail Polish Remover
Remember these tips when using the nail polish remover.
Most nail polish removers are high on acetone that can be flammable. So, avoid it when you are close to afire.
Keep nail paint removers out of children's reach as they have chemicals that could be harmful for them.
Do not keep the bottle or box of nail polish remover open, as it evaporates faster.
Use the right amount of nail polish in one swab for perfect shiny nails.
Do not store the remover in huge quantities for safety reasons.
Avoid inhaling the nail polish remover.
Always massage your nails with olive or vitamin E oil after using the nail paint remover to make them strong and firm.Wait for at least an hour before you go for another application.
Rinse your hands thoroughly with water after using the remover.
15 Best Nail Polish Removers To Buy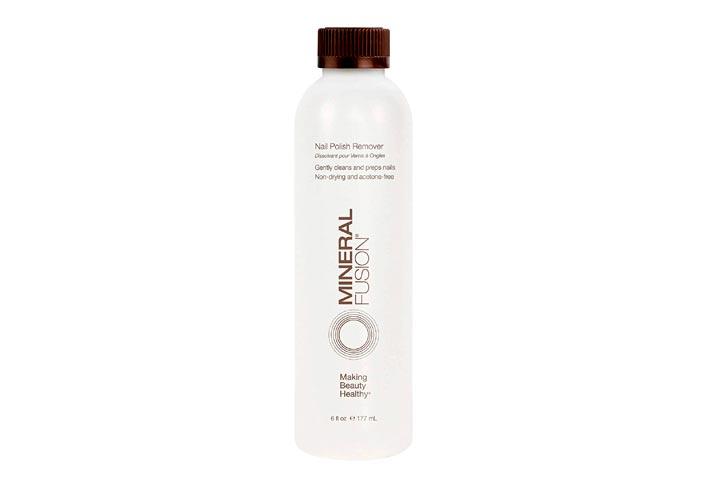 The Mineral fusion remover helps to remove dark shade nail paints.It has a gentle and acetone-free formula to moisturize nails and prepare the nail surface to retain the new color for a long time. This remover prevents stripping and over-drying nails on shellac polish, regular nail polish, and mineral fusion gel polishes. With a pleasant fragrance, this remover is a safe addition to your nail care routine.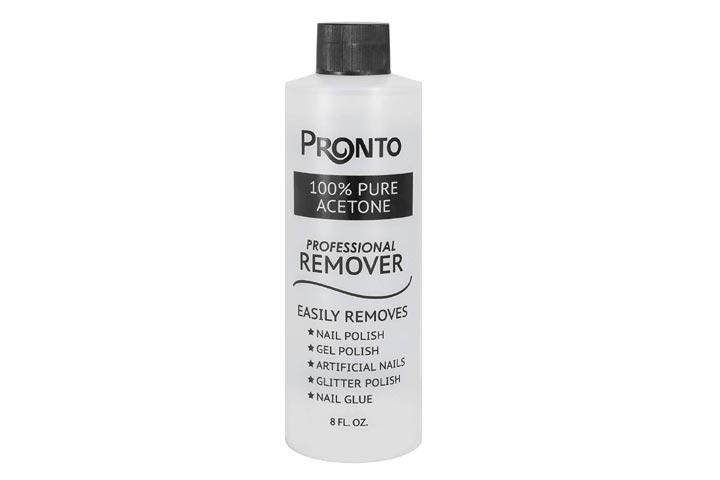 The 100% pure acetone professional remover from Pronto is highly effective in quickly removing the toughest nail polish. The gentle formula will not leave any greasy residue on your nails and prepare them for your next salon visit. It removes glitter, nail glue, artificial nails, sculptured nails,and shellac polish without damaging your nails. Use this easy-to-use professional remover straight from the bottle or from an acetone dispenser and nourish your nails.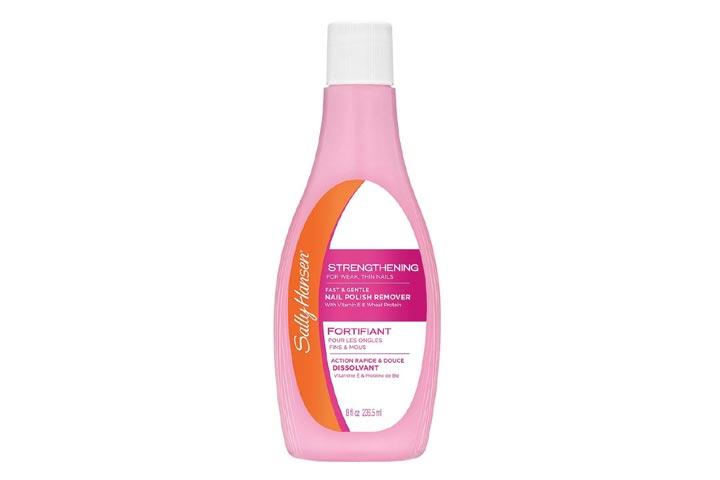 The Sally Hansen remover has nail strengthening gelatin that works wonders on weak and brittle nails. The nutrient-enriched formula helps to keep your nails and cuticles healthy while fortifying them. The combination of vitamins and protein sin the remover makes the nails strong and gets rid of your polish in no time by softening your cuticles. With a mild fragrance, this acetone-based remover contains Bitrex, which is not too harsh for your nails.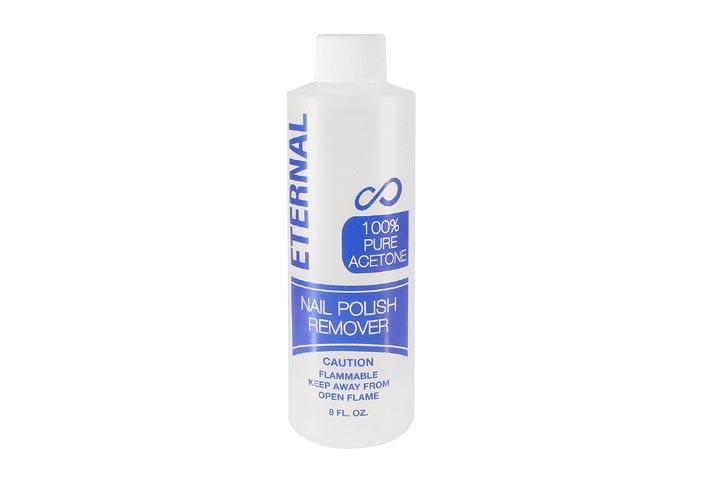 The Eternal nail polish remover with 100% pure acetone effectively gets rid of tough enamel in no time. Remove nail glue, gel, shellac, glitter, dark colors,and even artificial nails with this easy-to-use remover with no side effects. It keeps the nails conditioned and prevents drying while preparing them for your next mani-pedi session. Formulated to leave no oily residue, it works efficiently without weakening the texture of your nails. Use this oil-free, odorless remover to get a salon experience at home.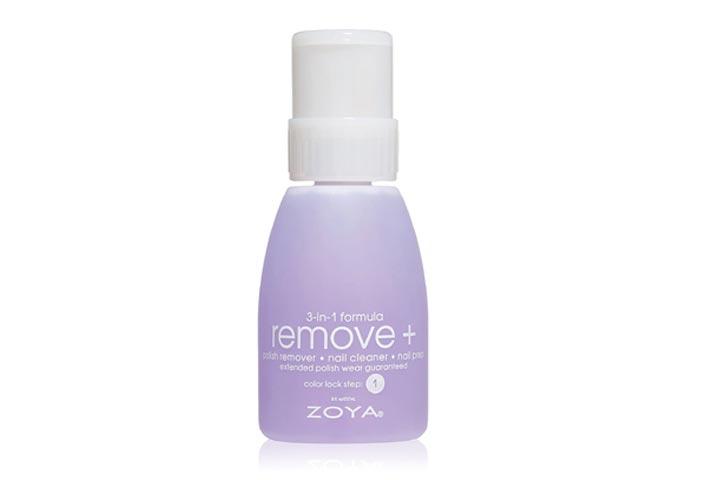 Zoya's three-in-one nail polish offers multiple benefits,including removing the paint, preparing nails for the new paint, and nourishing nail surfaces. It protects the nails from staining and streaking while keeping them hydrated. After using it, the nails emerge clear of lacquer, fortified, and ready for the next coat. If you want the nail polish to last longer, this brilliantly packaged moisturizing high-quality remover could be just the right fit.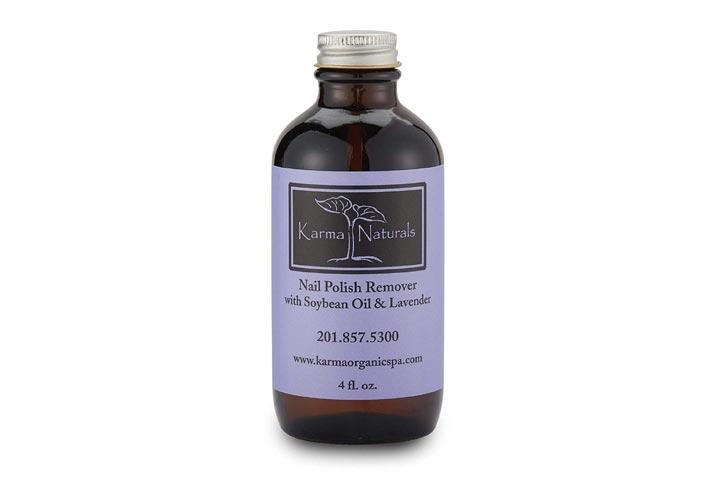 The soybean oil and lavender nail polish remover from Karma Naturals will surprise you with its aroma and fast-action properties. Its oil-based formula fortifies the nail bed and does not dry your nails. This acetone-free remover cleans even the darkest polishes efficiently. Just one well-soaked cotton ball is enough to remove the paint from all your nails. Though this organic, non-toxic remover does not work on the gel and acrylic-treated nails, it is vegan and cruelty-free with a lavender scent that nourishes your nails.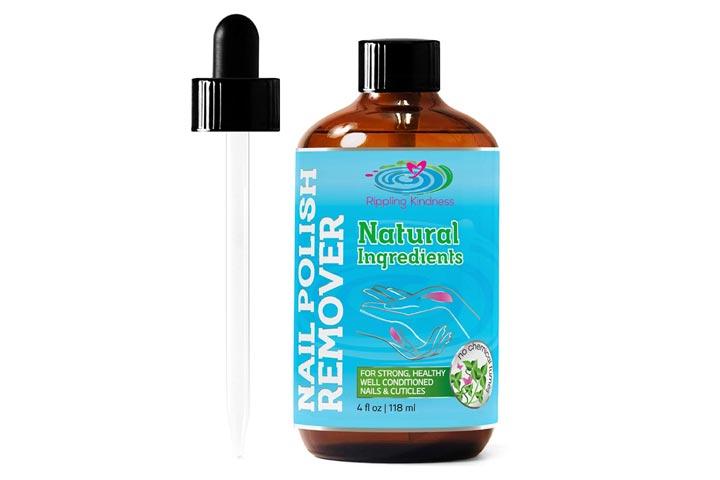 Your search for a chemical-free, non-toxic remover ends with Rippling Kindness. With a non-hazardous and non-carcinogenic formula, this remover is safe for cancer patients and pregnant women. The plant-based ingredients will moisturize and enhance the quality of your nails. It is free from acetate, ethyl lactate, and petroleum chemicals and gives you stronger and well-nourished nails. You can even get rid of stubborn UV gel nail polish with ease using this natural formula. With no harmful fumes, this one is a pleasure to use.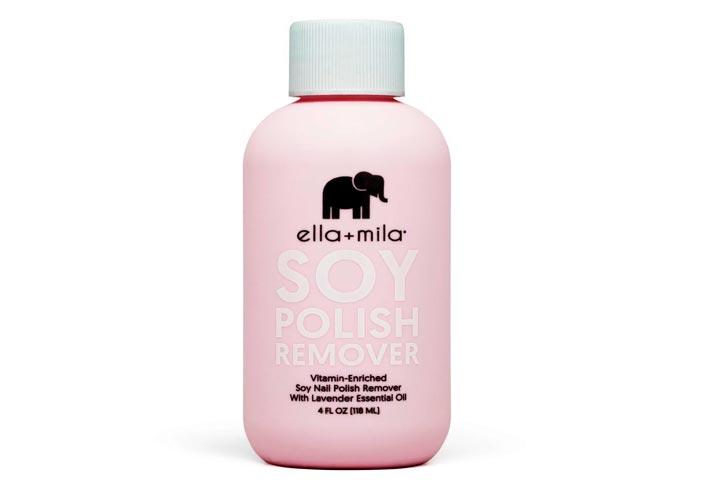 The Ella+Milla soy remover is a 100% non-toxic remover,fortified with vitamins A, C, and E and lavender essential oils. Its natural ingredients will moisturize nails and cuticles, and the soy-based formula will not damage your cuticles or dry out your skin as it is free of harsh acetates and acetone. The adorable packaging and mild fragrance make it attractive, and it is suitable for pregnant women and children.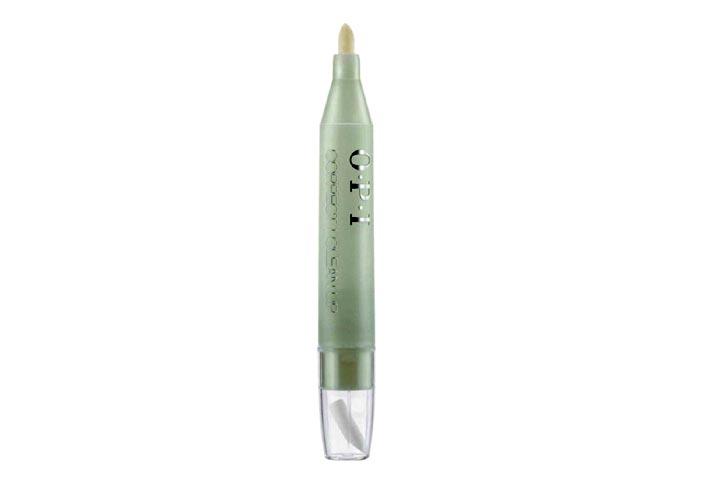 Remove extra nail polish from cuticles and nail edges easily with this O.P.I corrector pen. Apply the pen around the nail bed to get a perfect salon-finish to your manicure. It can be easily refilled with the O.P.I expert touch lacquer, making it reusable. This corrector pen is gentle enough and can be used daily to moisturize your cuticles.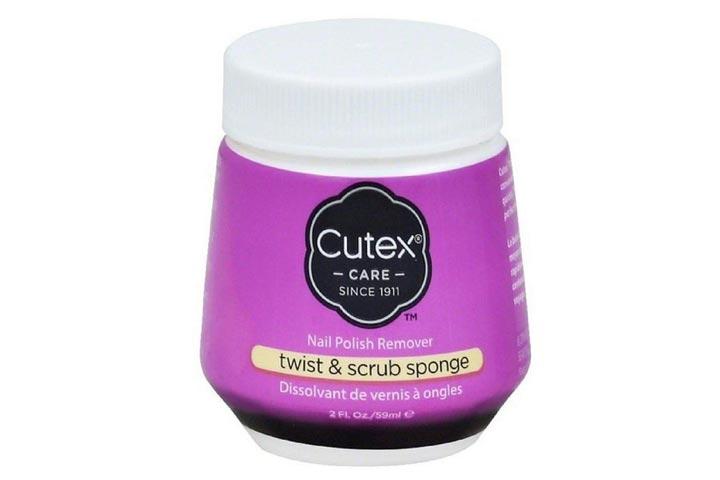 The innovatively designed Cutex sponge remover is enhanced with a protein-rich formula. Fortified with ingredients to improve your nail health, it provides nourishment to give you healthy cuticles and nails. It is blended to remove the polish instantly with no scrubbing required. With a pleasant fragrance,the nail polish remover improves your overall manicure experience.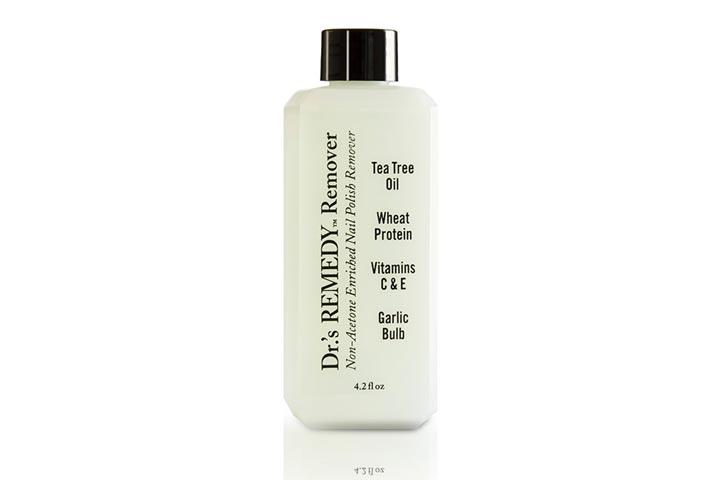 Treat your nails withDr.'s Remedy remover that is packed with natural ingredients like wheat protein, tea tree oil, garlic bulb, and vitamins C & E. It also moisturizes and builds the nail strength. Fortified with Biotin, this organic nail polish remover has antifungal properties to keep your nails healthy. The revolutionary formula encourages cell growth and reconstructs damaged cells to strengthen brittle and weak nails. Cruelty-free and vegan, this product is also environment-friendly.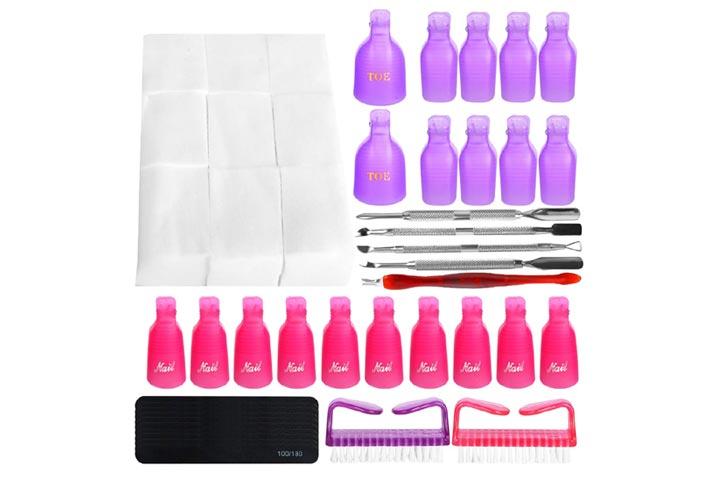 With the Esarora Clips Set to remove gel polish, you can minimize your visits to the salon. It includes all that you require to dissolve gel nail polish, from cuticle peelers, nail brushes, remover pads, nail clips, nail files, to nail buffers. The high-quality tools are gentle and will not cause any damage to vulnerable skin and nails. With 500 cotton swabs, you can rely on this all-in-one kit to remove all traces of gel from your nails quickly, leaving them healthy and residue-free.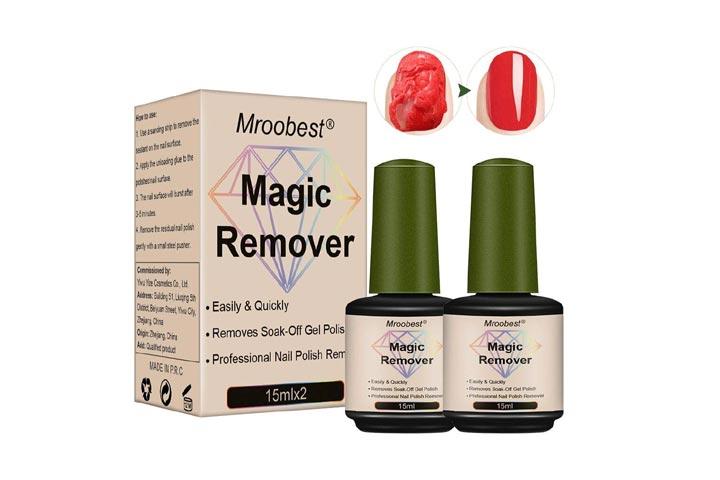 If you want to remove your stubborn nail polish comfortably at home, Mroobest Magic Gel remover is designed for you. The remover will not damage your nails as it facilitates quick removal of different paints. Made of natural ingredients, this innovative gel remover is odor-free and removes the gel in less than five minutes. The compact size of the bottle makes it easy to carry. The gentle soaking gel formula makes it suitable for UV plastic nails, acrylic nails, and natural nails. Choose this non-irritating remover to save your valuable time and money.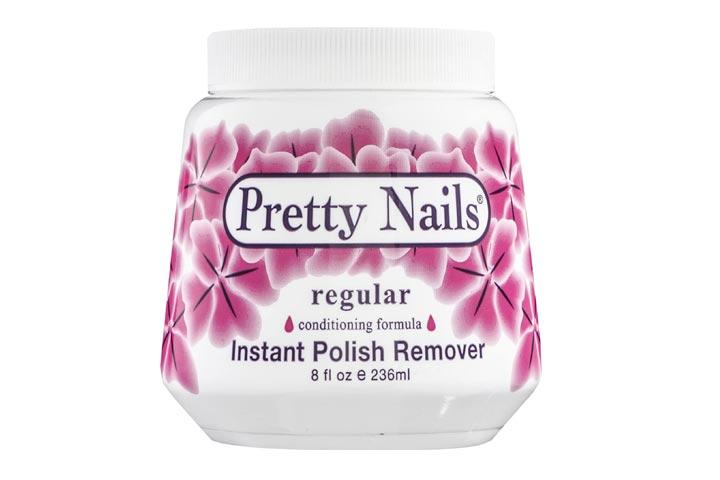 The Pretty Nails regular remover takes off your polish with a just quick twist. It is a hassle-free method of removing lacquer. You need to immerse your finger in the remover-soaked foam inside the bottle, give it a swirl, and watch how the polish disappears magically. Unlike traditional nail polish removers, no scrubbing is required.
The acetone remover also has ingredients that help moisturize and strengthen your nails. An additional sponge is provided for toes, which makes this remover convenient and easy to use. Give yourself beautiful, resilient nails in an instant with this revolutionary remover.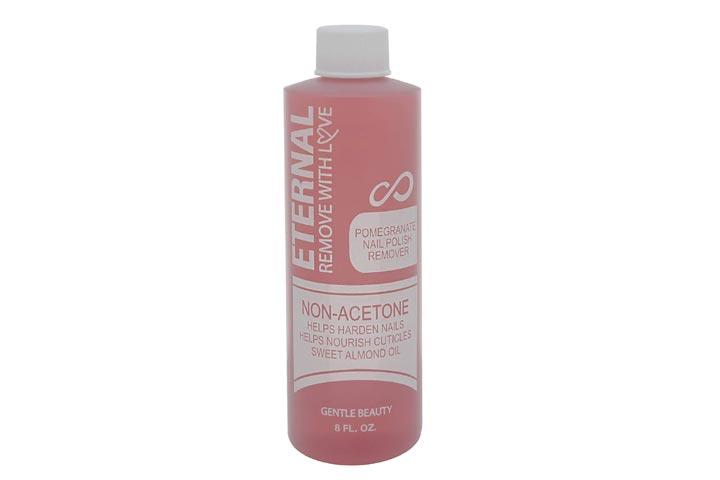 Pure pomegranate extract gives the Eternal remover anti-oxidizing benefits to rejuvenate and foster nail health. The remover is fortified with sweet almond oil and alpha hydroxy acids to be gentle yet effective in removing glitter, nail art, and dark polishes without any drying side effects.
It has superior ingredients to soothe and moisturize your cuticles and nails. The acetone-free remover will not damage your nails and can be used on natural, sculpted, or artificial nails. The mild pomegranate aroma and a red translucent texture add to the benefits of this remover. You can strengthen weak nails,give your nails a neat, healthy finish, and prepare them for a perfect manicure.
How To Choose The Right Nail Polish Removers?
Here are a few tips to keep in mind to select the best nail polish remover.
Choose a gentle, non-acetone formula if you get frequent manicures. It has moisturizing properties to strengthen your nails.
Acetone removers will remove nail polish instantly but can be harsh on your nails and skin if used frequently. But they are quick in removing tough layers of lacquer. So, choose an acetone-based remover for tough-to-remove gel, nail glue, shellac, glitter, and dark colors.
It is always a wise decision to go for vegan, cruelty-free, and organic So, try looking for them.
Pick the child-safe removers if you have children at home.
Nails can reveal secrets about your inner health that even you are not aware. Your nails are exposed continuously to a lot of objects.Just as you are quick to address skin and hair problems,you should take care of your nail health too.
Frequent salon visits are inconvenient and will also burn a hole in your pocket. But it is effortless to strengthen and protect your nails by using good quality nail products in the comfort of your home. Get the suitable nail polish remover to get a head start to that perfect manicure.
Recommended Articles: