You'd only want the best for your baby and may try to keep any harmful, artificial stuff away from them. Simply put, you would want the baby to have everything natural, healthy, and safe.
You can rest assured that natural or chemical-free products are safe and effective in protecting the baby's delicate skin. But not all natural products are meant for kids, and not all are safe or appropriate to them. So how do you know what natural products to buy for the baby?

Top Products From Our List
13 Best Natural Products For Babies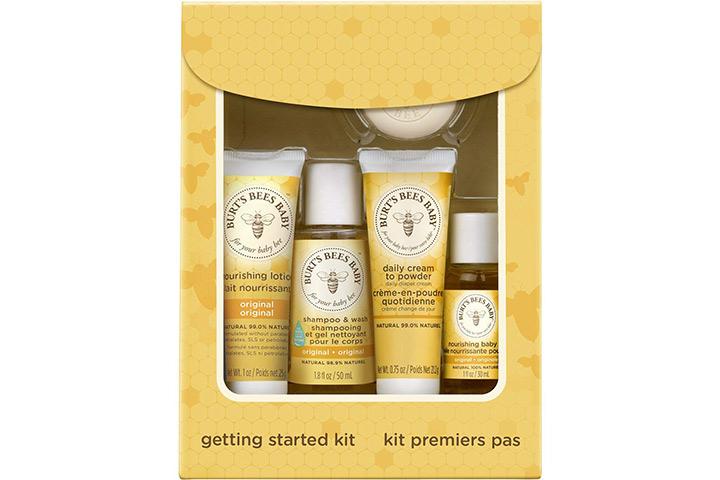 Start your baby's day with Burt's Bees Baby products that are formulated using natural ingredients. This gift set comprises of lotion, shampoo and wash, daily cream-to-powder, baby oil, and soap. It is safe for baby's delicate and sensitive skin.
Pros:
Pediatrician tested
Non-irritating
Free of phthalates, parabens, or petroleum
Comes in travel size pack
Cons:
Doesn't have a great fragrance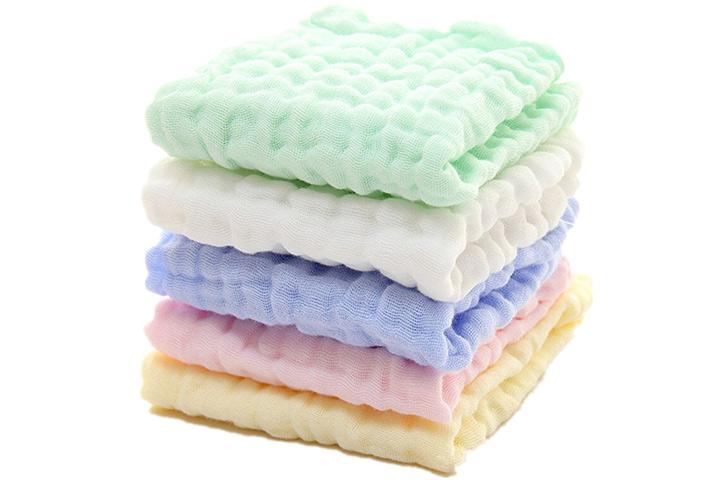 The baby bath towels from Mukin are made of 100% natural muslin and offer ultra softness. They are gentle on the baby's delicate skin. The washcloth is machine washable and gets softer with each wash.
Pros:
Durable
Reusable
High absorbance
Doe not contains formaldehyde, decolorizer, heavy metal, or cancer-causing aromatic amines
Cons:


The unscented wipes from WaterWipes have been specially designed to suit the baby's delicate skin and are gentle enough to use on premature babies too. They can be used as an alternative to cotton wool and water. The National Eczema Association of America approves them.
Pros:
Contains 99.9% of water and a drop of fruit extract
Vegan
Cruelty-free
Soft and safe
Cons: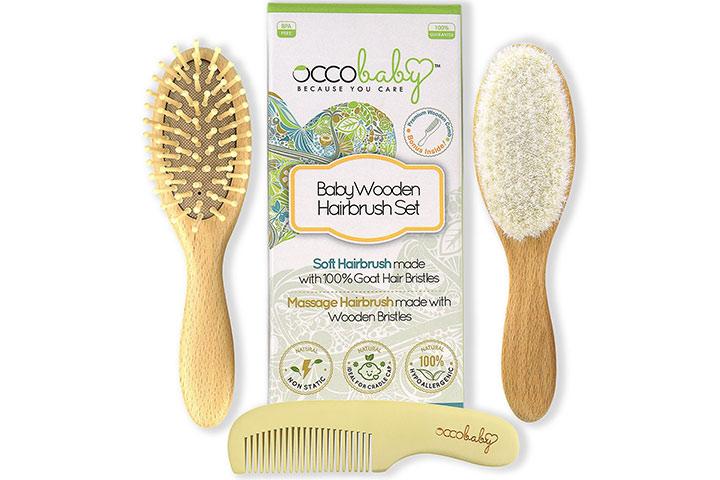 The natural baby brush set from OCCObaby is the perfect grooming set for baby's hair. The wooden hairbrushes use soft, natural goat hair as the bristles. The bristles prevent cradle cap and brush out the dead skin cells on the baby's scalp. Also, it conditions and softens the baby's hair by evenly spreading the naturally produced oils on their scalp.
Pros:
Made with natural and hypoallergenic materials
Enhance blood flow and circulation
The wooden bristle brush detangles hair, massages and stimulates the scalp
Soft bristles prevent static
Cons:
May not work smoothly on curly hair
Not vegan or cruelty-free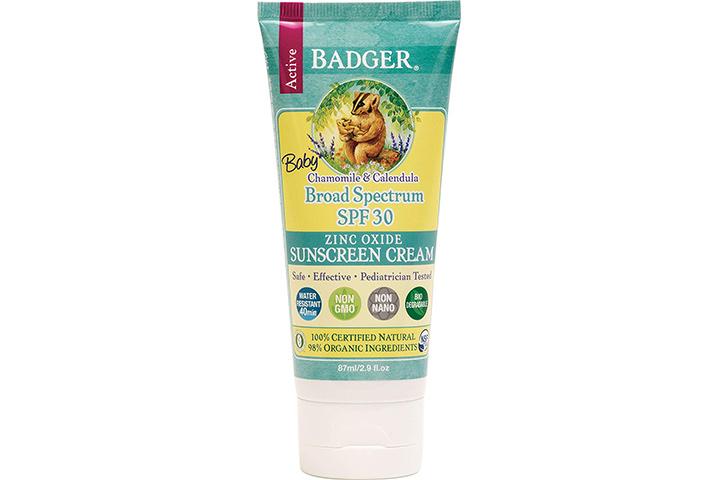 The broad spectrum SPF 30 sunscreen from Badger is a natural product specially formulated for protecting the baby's skin from harmful UVA/UVB rays. It contains the safe mineral Zinc Oxide as well as organic products and is completely free of any chemical ingredients. It is pediatrician tested & approved safe for babies & kids.
Pros:
Hypoallergenic
Biodegradable
Cruelty-free
Coral reef safe
Water and sweat resistant for 40 minutes
Cons:
Takes time to be absorbed by the skin


The organic wooden baby rattle from Homi Baba is perfectly curated with a mixture of organic coconut oil and beeswax. The toy is made from maple and birch and uses 100% non-toxic paint and dyes to make it a safe toy for the baby.
Pros:
Great quality
No wooden or dye smell
Smooth to touch
Great for teething
Cons:
Leaves oil stain on clothes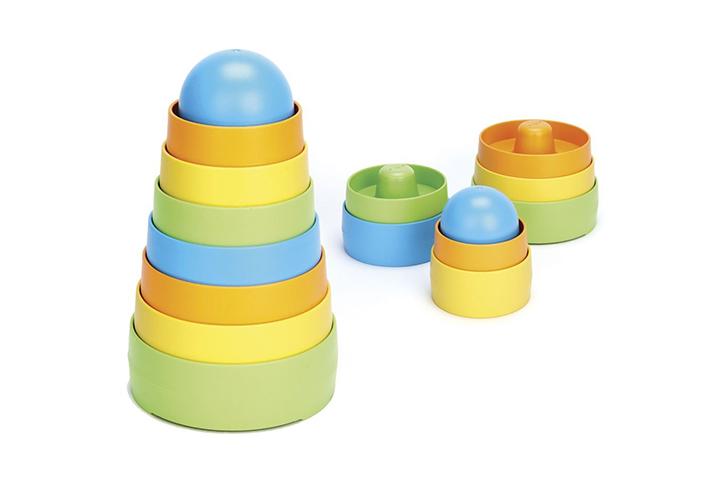 The colorful stackable pieces from Green Toy have been constructed from recycled milk jugs. It is completely safe for kids and comes in eight colorful pieces. The toy helps enhance motor skills along with hand-eye coordination.
Pros:
Eco-friendly material
No rough edges
Dishwasher safe
Lightweight
Easy to assemble
Cons:
Colors are not very bright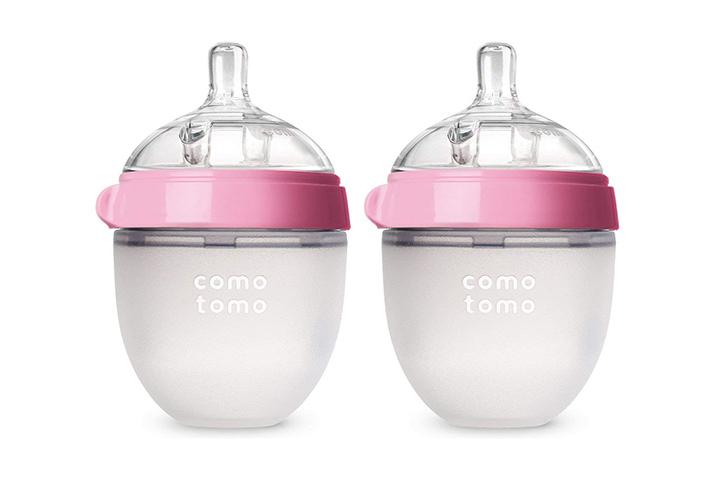 It is a uniquely-designed baby bottle from Comotomo that mimics breastfeeding, thereby reducing bottle rejection and nipple confusion issues. The bottle, along with the nipple, is made of 100% safe, hygienic silicone. The wide opening of the bottle makes it easy to clean.
Pros:
Safe in boiling water and dishwasher-safe
Slow-flow nipples
Non-leaking design
Two anti-colic vents to ensure good air circulation in the bottle
Cons:
Hard to read the markings
Tips off easily if not kept on a flat surface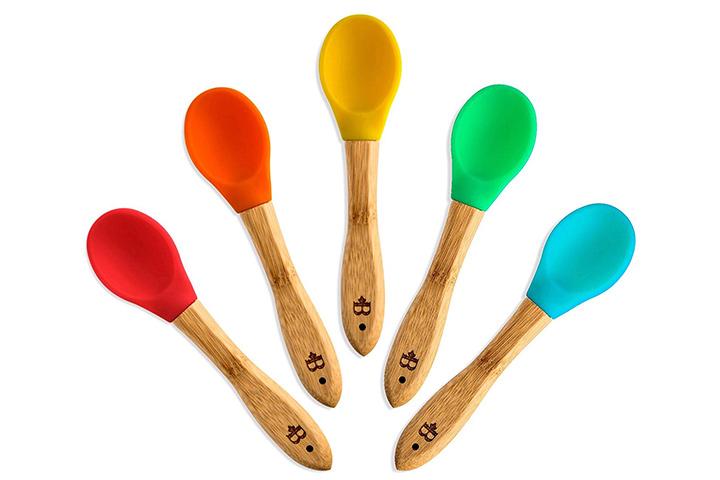 The bamboo baby spoons from Belmint are made from natural bamboo and have flexible, BPA-free, silicone tips. These spoons are gum-friendly and designed for first-time solid eaters. This spoon set also makes an ideal gift set for baby showers, birthdays, and other occasions.
Pros:
Ergonomic design
Light and portable
No metal and no rough edges
Durable
Easy to clean
Cons:
The spoon is a little big for an infant's mouth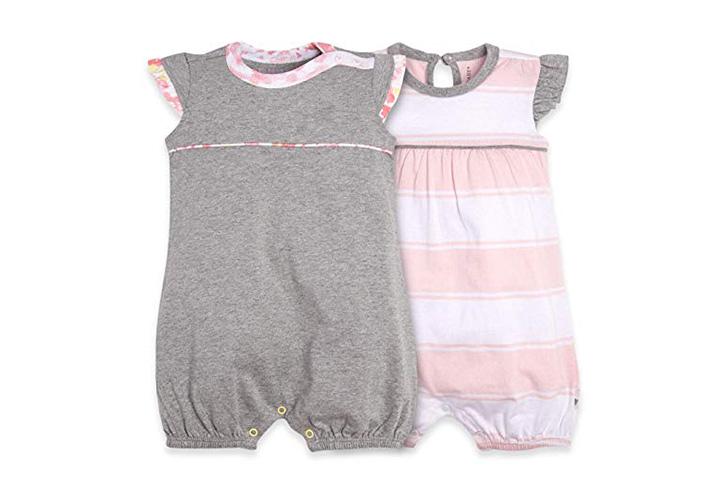 Burt's Bees Baby girl rompers are made from 100% organic cotton featuring elastic leg openings that are gentle on the thighs and have ring snaps at the diaper line. The outfit is easy to wear and is great for sensitive skin.
Pros:
Machine-washable
Fabric is combed and ring-spun for durability and softness
Hand-drawn and painted prints inspired by nature
100% organic cotton
Cons:
Limited design and color options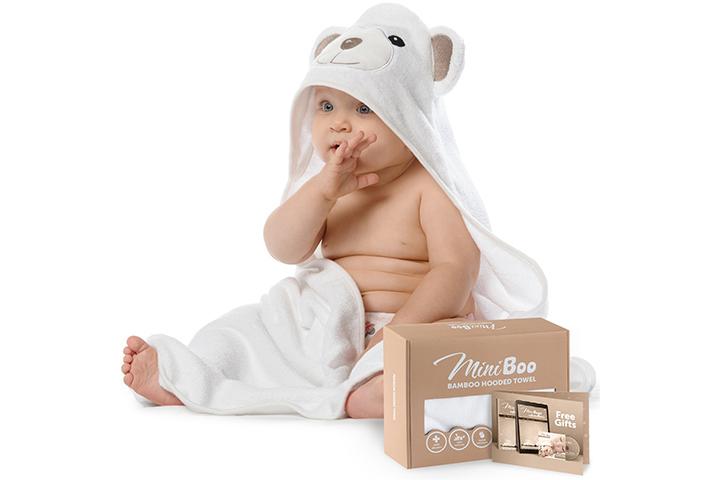 The ultra soft hooded bath towel from Miniboo is made of premium bamboo fiber, which is soft and safe on the delicate skin of the baby's. This baby bath towel can be used for infants, toddlers, and children up to the age of 5 years. The fabric is a blend of 70% bamboo and 30% natural cotton that keeps the baby cozy and warm.
Pros:
Extra soft, thick, and durable
Hypoallergenic
Remains soft even after several washes
Anti-bacterial and super absorbent
Cons:
Available only in one color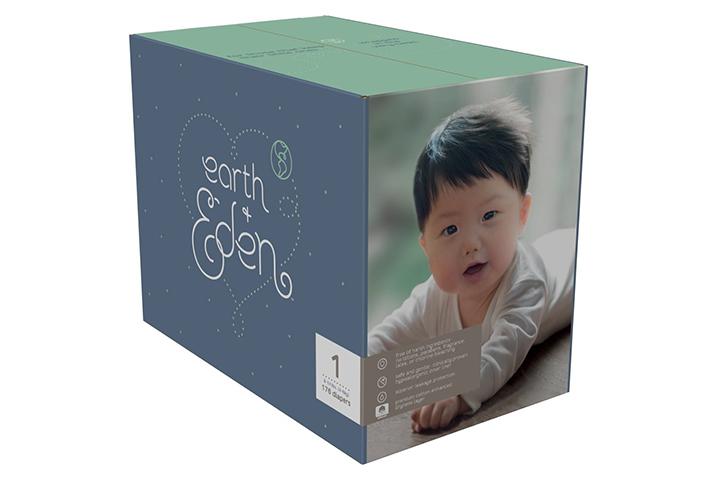 Earth and Eden diapers for babies are fabricated using premium quality cotton. It is free of harsh chemicals, fragrances, or chlorine bleaching. It is designed to keep your baby dry and comfortable throughout.
Pros:
Hypoallergenic
Cruelty-free
Superior leakage protection
Diapers in each pack come in 7 unique prints
Cons: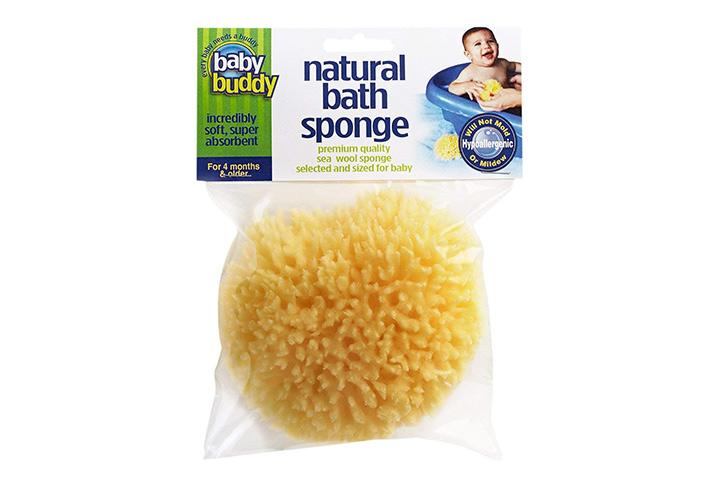 The natural sea wool bath sponge from Baby Buddy is an Ultra Soft Premium sponge that is gentle on the baby's skin. The sponge lathers up extremely well with the baby wash. It needs to be rinsed thoroughly before the first use to remove the fine sea particles embedded in it.
Pros:
Biodegradable
Hypoallergenic
Ultra absorbance
Will not grow mold or mildew (a thin whitish coating of fungus)
Cons:
Needs to be replaced every eight weeks to keep it fresh & clean
What To Consider While Choosing Natural Products For Babies?
You will have to look for more than the 'natural' label when choosing a product for your baby. Here are a few other things you must look for to ensure if the product is actually natural and safe to use for babies.
Certifications: Products need to meet certain standards and obtain certifications to claim that they are natural or safe. You can check for these certification labels: Global Organic Textile Standard (GOTS), USDA Certified Bio-based Product, Bluesign, EWG Verified, Safer Choice, and Oeko-tex, to name a few.
Materials used: Ensure that the product is made of natural or organic materials. It should be free of BPA plastic, phthalates, parabens, or polyfluoroalkyl substances (PFAS).
[ Read : Himalaya Refreshing Baby Wash Review ]
Different Natural Products Available For Babies
What type of baby products can be made purely from natural ingredients? Keep reading to know.
Bedding: This can be made from cotton or wool and not necessarily synthetic material used in memory foam beds. But make sure that the bedding is certified natural before buying it.
Toys: Children always end up putting toys inside their mouth. So it is essential that the toys you purchase are made of natural products, safe and toxin-free.
Utensils: Homemade food is always a healthy option for the baby, so choose that over processed food. The food prepared must be stored in steel utensils instead of plastic ones for the baby's safety.
Diapers: Look for diapers that use cotton as the absorbent material and are free of any chemical and fragrance. Natural diapers mean no rashes or allergy on the delicate skin of the baby.
Wipes: Fragrance and chemical-free wipes are safe to be used on the baby's skin. Make sure to look for ones that have more water content and natural extracts, which have a soothing effect on the baby's skin.
Baby shopping is not an easy task, but when it comes to safeguarding their health, we go to any extent to find the right product. If you are expecting a baby or already have one, then make sure to go through the buying guide. It will certainly help you to zero-in on the best one for your baby.
Recommeded Articles