Nerf guns come with foam-based rounded darts that are safe for children to play with. Hasbro, the manufacturers of Nerf guns, claims that these guns are also tested rigorously to meet the global standards of safety when it comes to children's toys.
However, these toys should only be bought for kids of the specified age group as recommended by the manufacturer.
MomJunction gives you a list of the best Nerf guns for kids, considered to be unique according to their reviews and ratings. But before you buy one for your child, it is important to understand the safety measures to follow when playing with these toys.
Safety Tips While Using Nerf Guns
Keep the following precautions in mind while your children are playing with Nerf guns:
Teach them to hold the gun properly and aim so that they do not hit someone accidentally
Explain how to load the barrel correctly
Never aim the gun at another person's eyes or face, or other sensitive parts
Do not look down the barrel even if it is not loaded
Keep the finger off the trigger and point it towards the ground until they are ready to aim the target
Do not leave the gun loaded
Wear eyeglasses and face mask for safety
Most importantly, you must make your child understand that playing with toy guns is merely for fun and sport, while real guns are extremely dangerous and not meant for use by children.
17 Best Nerf Guns For Kids

The NERF N-Strike Elite Triad Ex-3 toy gun is compact and easy to use. It offers three-barrel blasting and activates only when the darts are placed in each of the barrels. It is recommended for kids aged eight years and above.
Features
Has a three-dart blaster
Made of smart technology that tells you which barrel is loaded.
The darts could be fired up to 90 feet
Fires three darts in a row quickly
Cocking the handle enables the shot

Available in simple brown packaging, this blaster has a modular design that allows attaching and detaching the parts of the gun to enhance its performance. It is recommended for children above eight years.
Features
Can create more than 30 combinations
Kids can customize their blaster
Blaster includes ten darts and a banana clip
Darts fire up to 90 feet
Includes targeting scope, drop grip, dual-rail barrel, and a storage stock

This may be one of the best Nerf guns for kids owing to its advanced design and performance. It is known to deliver extreme accuracy, distance, and speed. The comprehensive design enables the darts to fly farthest.
Features
Blaster has a 25-dart capacity and includes 25 ultra darts
Darts feature Aerofin technology, an innovative flight tip, and lightweight foam
Darts can fire up to 120 feet
High-capacity drum enables firing over two dozen darts in a row
Compatible with only Nerf ultra darts

The Nerf N-Strike Elite Jolt Blaster is small but offers super stealth basting. The barrel could be loaded with only one dart at once and reloaded after you fire it.
Features
Micro-size blaster with a single barrel
Comes with two elite darts
Compact and easy to use
High-firing performance

The Nailbiter Zombie Strike Blaster offers a fast-firing option with no priming and can be customized for enhanced performance. From the Zombie Strike range of Nerf guns, this one may be a great toy for kids with an active imagination and aids role play games.
Features
Blaster with eight dart capacity
Comes with eight Zombie strike elite darts
Reloading the gun is not required
The dart clip automatically indexes the next dart
Part of the Zombie Strike Survival System of blasters and accessories

This Gun N-strike blaster from Nerf is a cool toy for long-distance shooting. It is a double-barreled gun and produces a more significant impact on firing the darts together. There is an option to switch to slam fire mode and shoot the darts quickly.
Features
Smoothly fires two darts at once
Fires darts up to 75 feet
Launches up to eight mega darts without reloading
Available in different color combinations of white, orange, or gray

It is another kids' Nerf gun that is compact and can be taken anywhere. The micro size blaster is easy to carry in pockets and backpacks. The built-in dart storage also makes it easy to store and use.
Features
Single-dart blaster
Comes with three Nerf Elite darts
Can fire one dart a time
Built-in area to store two additional darts
Available in red and blue colors; each sold separately

The Nerf N-Strike Elite RaptorStrike is a part of the AccuStrike series that creates darts with higher accuracy. It comes with an extendable bipod that is used for adjusting the height to aim accurately.
Features
Blaster contains two six-dart clips
Comes with 18 darts
Compatible with Nerf Elite darts
Pop-up site for aiming the target
Recommended for kids aged eight years and above

The AlphaPoint Laser Ops Pro Blaster offers kids' everything they need in a head-to-head live-action battle. The blaster comes with light and sound effects, a quick-reload button, unlimited ammo, and indicators for ammo, health, and more.
Features
Two laser ops pro blasters that require batteries (not included)
Fires a single shot at a time
Option to track your performance by connecting to a smart device (not included)
Two armbands to hold the smart device
Indoor and outdoor switch to adjust to the environment

A good little gun that shoots far with accuracy, this Nerf N-strike bow strike blaster could help your kid win the competition. All they need to do is to pull the handle to locate the target for shooting.
Features
Blaster has one barrel
Includes three darts
Blaster could fire one dart at a time
Bow arms open and the sight flips up
Recommended for ages eight and above

Your child would love to use this Doomlands blaster when their imagination takes them to a post-apocalyptic land. This comes with a hammer-action blasting where it has to be pulled and pressed to fire the dart.
Features
Four-barrel blaster
Four Nerf foam darts that are flexible and have hollow tips
Fires four darts in a row
Tactical rail to customize accessories
Requires no batteries

If your kids love playing with Nerf guns, this Glowshot gun may be one of the best choices to consider.  It not only enables spontaneous sneak attacks but illuminates the battlefield too.
Features
Single-barrel blaster
Includes three darts
Can fire one bullet at once
Blaster glows
Compatible for Nerf suction cup bullets

The Nerf Fortnite Dart-Firing Blaster is inspired by the rocket launcher used in Fortnite video games. It is a micro shots series in a scrunched down style of an original blaster. It allows one dart in the blaster.
Features
Single-shot blaster
Comes with two Nerf Elite darts
Can fire one dart at once
Powered manually; requires no batteries
Recommended for ages eight and above

The Nerf Elite Titan CS-50 Toy Blaster has a motorized shooting capacity and its rotating barrel adds fun. It runs on battery power and has an automated function and large capacity that let the child shoot more darts in less time.
Features
Blaster has a capacity of 50 darts
Comes with 50 Nerf Elite darts
Barrel has a shoulder strap for carrying it
Darts are designed for distance and tested for performance
Darts have flexible and hollow tips

Another Nerf blaster Fortnite model with mini-sized micro shots, this one is inspired by the blaster used in the popular Fortnight Royale video game. The scrunched-down style of dart firing blasters mimics the look of original blasters.
Features
Comes with two darts
Fires one dart at once
Single-shot blaster
Requires hand power and has no battery slots
Compact size

The Nerf mega talon blaster is compact, which makes it suitable for indoor shooting games or in small play areas. There is power in every shot, and it is easy to reload the barrel. Darts are designed for accuracy.
Features
Comes with three Accustrike Nerf mega darts
Storage area to keep the darts for quick reloading
Fires only one dart at a time
Darts are flexible with hollow tips

This is a revolving blaster that adds fun to zombie fighters with its power shock electronic lights and sounds. It makes blasting, sparkling, and revving sounds when you power it up and shoot.
Features
Comes with 18 dart clips and 18 darts
Motorized blaster
Fires all the 18 darts in a row
Darts are made of durable foam and designed for distance
Two tactical rails that could help customize the blaster with accessories.
How To Choose The Right Nerf Gun For Children?
To select the right gun for your kid, have the following checklist in mind.
Weight: Lightweight and compact guns are easier to handle. Prefer them over heavyweight ones as small guns are more comfortable to carry and run.
Age: This is an important consideration when choosing a Nerf gun. Check the recommended age before buying a gun.
Ease of loading: Find those that are easy to load. Some guns have a complicated technology that kids may not learn quickly.
Theme: Kids love themed toys, like Nerf guns that are designed to match popular themes, such as Fortnite, Marvel, Star Wars, and Overwatch.
Price: Check the price of the product. It is good to have a fixed budget in mind so that it can narrow down the option to buy the best and affordable gun.
Even though they are made of foam, the darts from Nerf guns could pose a risk when aimed at the eyes and sensitive parts of the body. To prevent injury, ensure that your child always has the necessary protective gear and follows guidelines to make playing with these toys fun. We hope our list of best Nerf guns could help you buy the right one for your child, keeping in mind the safety as well as your budget.
Recommended Articles: 
The following two tabs change content below.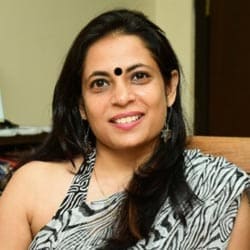 Priti Bose
Priti Bose is a poet, songwriter and blog writer. She did her masters in English, Public Relations and Advertising. Her creative skills and hunger for details make her do in-depth research on the topics she covers. For MomJunction, she writes on product analysis and reviews, especially for kids' products, toys and gifts. Before her association with MomJunction, Priti worked in the...
more