If you have ever felt that your shoes are smelly, you will require the best odor eliminators for shoes to keep them fresh and clean. The bad odor is caused due to bacteria that use your shoes as a breeding ground and can be an embarrassment and can annoy not only you but also those around you. However, odor eliminators help keep your shoes fresh and clean by neutralizing the odor and controlling the moisture. You can use them not only in shoes but also in places, such as lockers and gym bags. However, selecting one can be a daunting task, with several options to choose from. Therefore, we have listed some options to consider for making your shoes smell as good as new.
11 Best Odor Eliminators For Shoes
Price at the time of publication: $12.95
Lumi Outdoors shoe deodorizer is infused with the essential oils of lemongrass, tea tree, peppermint, and eucalyptus. The spray helps eliminate the most unpleasant odors. You can use it in kitchens, bathrooms, and homes too. The product is safe and non-toxic. Here's an honest review of the product.
Pros
Lasts for a long time
Pleasant citrus scent
Contains natural ingredients
Safe for kids' shoes
Not tested on animals
Cons
Some may find the dispenser difficult to operate
May be less effective on super stinky shoes
Price at the time of publication: $13.98
Marsheepy air purification bags are made of natural bamboo charcoal, which eliminates bad odor naturally. These bags do not require sprays, perfumes, or powders, and they do not leave any residue. The deodorizer bags are suitable for homes, closets, pet spaces, and shoes. They absorb and eliminate any sweat odor or excess moisture and naturally clear the air. Each bag measures 2.95×7.09in and weighs 55g, and can be reused for up to two years. Here's a video featuring a detailed review of the product.
Pros
Contains 100% bamboo natural charcoal
Suitable for all types of shoes
Non-toxic and eco-friendly
Easy-to-use
Multipurpose product
Cons
May not eliminate odors for long
May be less effective on highly stinking shoes
Price at the time of publication: $14.95
If you have unpleasant foot odor and smelly shoes, Sprayzee Natural shoe deodorizer is a good choice. The instant shoe smell eliminator is infused with 12 essential oils and enzymes that eliminate unpleasant odors. It includes a blend of peppermint, white thyme, eucalyptus, tea tree, cloves, apple cider vinegar, and bergamot with a fresh earthy, and minty fragrance. This video will help you understand the product better.
Pros
100% natural product
Easy to use
Safe to use on yoga mats, bags, helmets, and hockey pads
Pleasant scent
Prevents future odors
Gives lasting results
Cons
Some may find the spray bottle difficult to use
Scent may linger all day long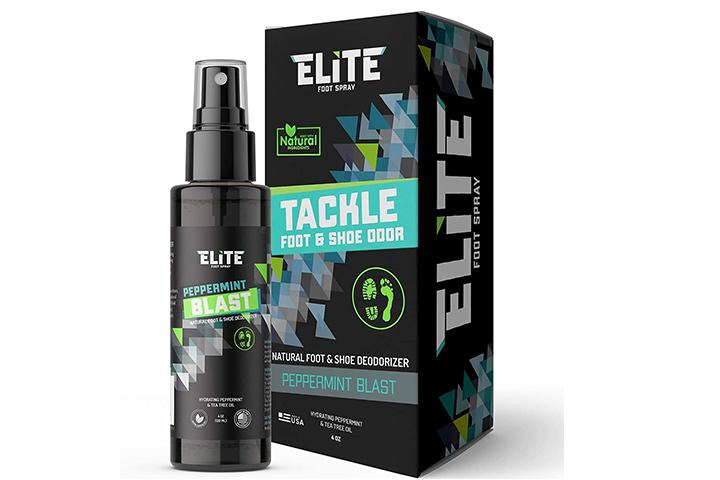 Say goodbye to foul odors with this foot and shoe deodorizer from Elite Sportz. It can be sprayed on all types of footwear and has antifungal properties that can help soothe the feet of athletes and hydrate cracked or dry skin. The odor eliminator is infused with the goodness of peppermint, lavender, and tea tree oils to leave your footwear smelling fresh for hours.
Pros
Easy-to-use spray bottle
Made of natural ingredients
Has cooling properties
Free of talc
Cons
Some may find the smell to be slightly intense
May take time to evaporate
Price at the time of publication: $11.99
Purggo deodorizer bag contains bamboo charcoal, which is a natural odor eliminator. The chemical-free air freshener for closets and shoes can last for more than a year. The product contains 100% bamboo charcoal, which can naturally absorb unpleasant odors and is safe for pets and children. The chemical-free shoe air freshener is safe for people prone to allergies or bronchial problems.
Pros
Contains sustainable hemp
Safe for pets
Easy to use
Fragrance-free
Contains no harmful chemicals
Biodegradable and natural fertilizer
Convenient-to-hang loops
Cons
Some may find them less effective than expected
May not be effective for some footwear
Price at the time of publication: $14.99
Sweat X brings you a multifunctional deodorizer for smelly sports accessories and shoes. It removes odor by neutralizing it instead of covering it with perfume. The environmentally friendly shoe smell remover spray is biodegradable and safe for the skin. It is suitable for shoes, closed skates, pads, hats, and clothes. The Smell of Victory scent is refreshing and pleasant.
Pros
Safe for pets and children
Non-toxic formula
Easy to carry
No lingering fragrance
Ensures lasting results
Cons
Scent may be stronger than expected
May not be effective on fungus-related odor
Foot Sense's natural shoe deodorizer is suitable for smelly shoes and smelly feet and also works as a body freshener. The formula contains zinc oxide, a natural skin protectant that is safe for adults and children. The natural formula also works quickly and prevents sweat and body odors. You can use the product on shoes, skates, gloves, and sports equipment that tend to collect sweat and produce foul odors.
Pros
Neutralizes foul odors
Ensures all-day protection
Light and calming scent
Talc-free formula
Cons
May dry the skin for some
May not be easy to apply
Price at the time of publication: $11.97
NonScents shoe freshener is suitable for gym bags, lockers, and closed shoes. It eliminates unpleasant odors at the molecular level instead of covering them up with fragrances. The odor remover does not contain fragrances, harmful chemicals, or toxic substances and eliminates unpleasant odors for up to six months.
Pros
Made of all-natural ingredients
Fragrance-free deodorizer
Long-lasting results
Easy and convenient to use
Safe to use in children's shoes
Cons
May have a slight bleach odor in the beginning
Some may notice fading in shoe color
Price at the time of publication: $6.35
If you are looking for a spray that can not just mask foul odor but eliminate it, then this one has got you covered. The spray works using a pump mechanism and can keep a check on any strong odor in your footwear. The spray has been formulated integrating the unique OM Complex that encases odor molecules. Apart from shoes, the versatile spray can also be used in car interiors, trash cans, and work gear.
Pros
Travel-friendly
Can be used on clothes
Fights odor at the source
Does not leave any residue
Cons
Some may find the scent a bit intense
May not be suitable for wet shoes
Sufuny Sneaker Balls are a pack of six balls to eliminate odors. These balls are natural odor eliminators suitable for shoes, lockers, and gym bags. The shoe deodorizer balls are filled with baking soda, which helps absorb unpleasant smells, and the Arm & Hammer clean burst scent makes your items smell fresh and clean. The pack of six deodorizer balls is sufficient for 60 days. Each ball needs to be twisted for activation and then placed in the shoe or desired space. You can carry it in hampers, athletic gear, or travel bags.
Pros
Provides lasting results
Does not fade
Easy and fun to use
Safe and non-toxic
Leaves no residue or stains
Cons
Some may find the scent weak
May be less effective on highly stinking shoes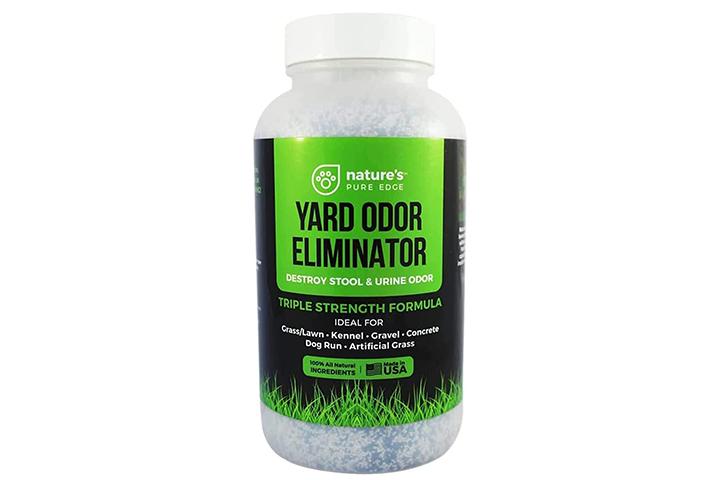 Price at the time of publication: $19.97
The odor eliminator from Nature's Pure Edge absorbs odor like a sponge and helps trap and neutralize odor. To use this odor eliminator, sprinkle some into the required area, and you are good to go. The odor eliminator is also pretty versatile–it can be used on artificial grass, garage, turfs, basements, or gravel.
Pros
Child- and pet-friendly
Eliminates urine and fecal odor
Non-toxic and natural
Acts fast upon application
Cons
May require more quantity for lasting results
Things To Consider Before Buying An Odor Eliminator For Shoes
When choosing the best shoe deodorant for yourself, consider the following points.
1. Fragrance
You need a deodorizer that will neutralize the unpleasant odors. Some natural products contain essential oils. These essential oils give out a natural, pleasant smell, and their antibacterial and antifungal properties eliminate foul odors at the molecular level. Oils such as mint or lemon smell fresh.
2. Longevity
The longevity of a deodorant determines how long its effect will last. Certain powders and sprays need to be used regularly. Odor-eliminators such as deodorant sachets, balls, pouches, and pods can last for up to six months.
3. Natural vs. chemical
Natural shoe deodorizers use activated charcoal, zinc oxide, or baking soda to absorb moisture and odors. They are skin-friendly, suitable for homes, and do not pose harm to pets or children.
Chemical deodorizers can quickly eliminate unpleasant odors. They can kill odor-causing bacteria and disinfect surfaces, thereby removing unpleasant odors. However, products that contain chemicals can be harmful to the skin and cause allergies and irritations.
4. Antifungal properties
Some foot products come in the form of powders, creams, and sprays and need to be applied directly to the skin. These products usually have antifungal properties and can prevent or treat infections caused by excessive sweating or wearing closed shoes throughout the day. Antifungal products mainly include miconazole nitrate, which is used to treat various fungal infections, such as athlete's foot.
5. Convenience
Sprays are easy to use and mess-free, balls and sachets are suitable for lockers, cabinets, and bags, and powders are best for home use. Before buying odor eliminators, determine whether you want to use them regularly and whether you want to store them in lockers or bags.
Why Trust MomJunction?
In this article, we have curated some of the best odor eliminators for shoes after conducting thorough research and going through numerous customer reviews. We have also brought you relevant information regarding the products and their pros and cons to help you choose the right one. The products have been chosen based on customer feedback to ensure quality and offer you an unbiased opinion. You can browse our buying guide to make an informed choice.
Recommended Articles: