Oil heaters, also known as oil-filled radiators, column heaters, or oil-filled heaters, are widely used for domestic heating. The electrically-heated device is filled with oil that acts as a buffer and not fuel for the heater. It is effective and efficient in heating small to large spaces by consuming approximately 1500w for roughly six hours a day and reducing energy bills. Most of the oil room heaters promise silent heating and are equipped with programmable timers.
In this post, we have shared information about energy-efficient and portable room heaters along with a list of the best oil filled room heaters in India.
Safety Measures While Using Oil Filled Heaters
Keep these points in mind when using the oil-filled heaters.
Do not use wiring that cannot take the load of the radiator. Use a hardwired system that is strong enough to handle the load.
Oil-filled radiator heaters with caster wheels must be placed in a secure place, especially with kids around.
Keep the radiator heater away from inflammable materials.
Do not place the heater in spaces that are damp and are not well-ventilated.
Keep children away from the heater to protect them from accidentally touching the hot surface.
11 Best Oil Filled Room Heaters In India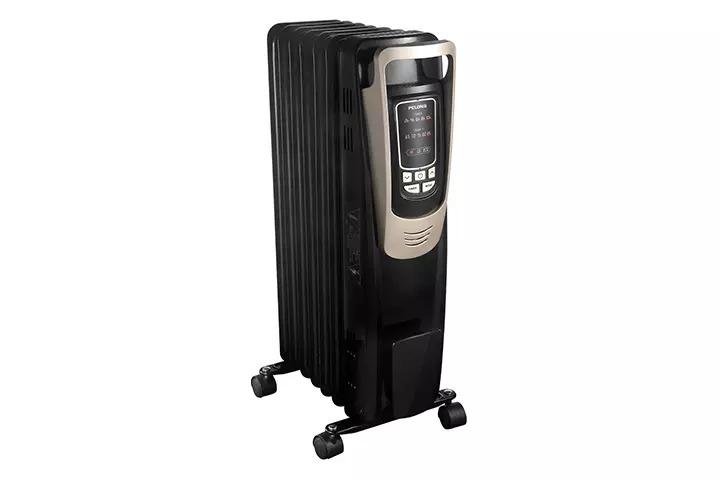 The oil-filled heater has three different heating modes and five temperature settings to warm up room sizes up to 164sft. It comes with a remote control so that you don't have to leave your bed. The four swivel caster wheels make it convenient to take it from one room to another.
Pros
User-friendly heater with LED
Comes with a digital thermostat
Ideal for medium to large rooms
Comes with a sturdy handle
Portable and durable
Has a power indicator
Backed with a one-year warranty
Cons
Remote may not be effective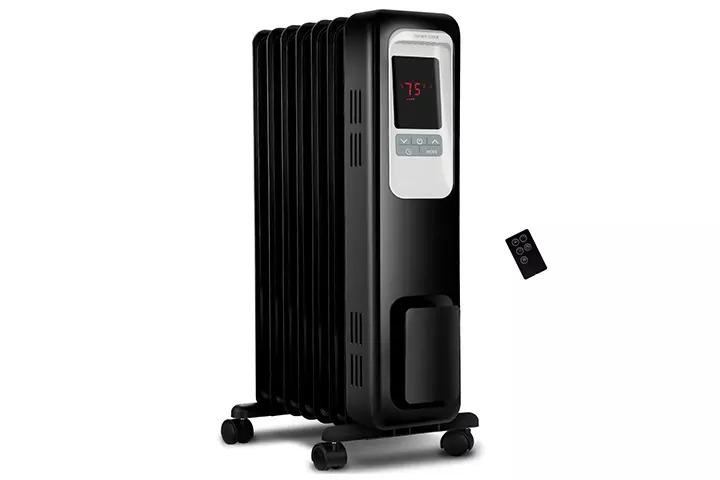 The Aikoper oil-filled heater is designed to run on three heat settings of 600w, 900w, and 1500w, suitable to heat medium to large rooms. It comes with a 24 hours auto on and off timer and a digital thermostat that allows customized temperature settings. The ECO setting lets you automatically adjust room temperature and heat settings for optimized consumption of energy.
Pros
Comes with large LED
Does not make any noise
Comes with an auto-shutoff feature
Has an anti-freeze setting
Portable and convenient
Lowers electricity bills
Cons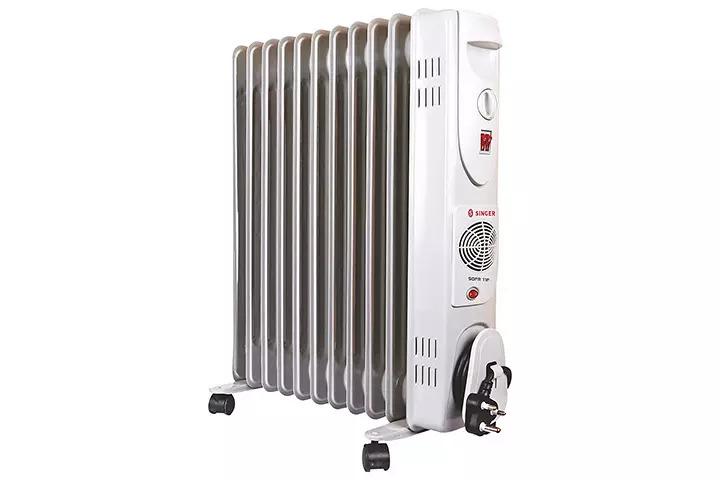 With three heating positions and a fan with 11 powder-coated fins, the reliable radiator room heater from Singer makes a good pick. The corrosion-resistant heating device is designed with a built-in tip-over switch for better safety and is ISI certified. It has a PTC fan that promises faster heating.
Pros
Comes with long-lasting caster wheels
Includes black metallic fin cover
Has an adjustable thermostat
Includes a cord winder
Two-meter-long power cord
Includes two years warranty
Cons
May not be effective for extreme winters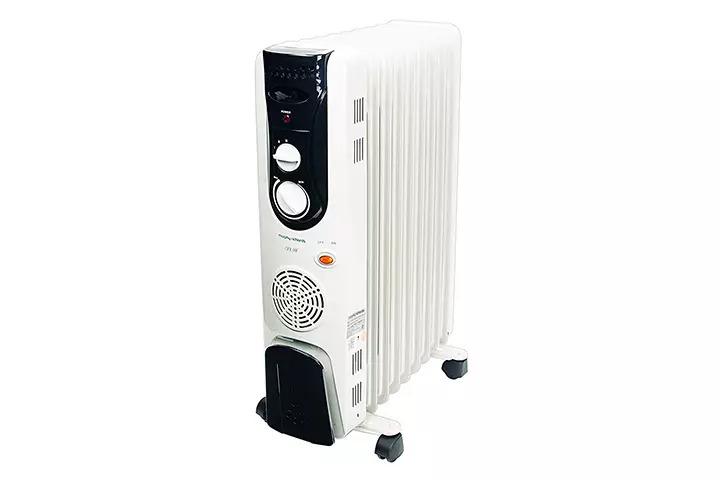 Make your winters cozy and warm with this portable room heater that comes with a 400w PTC fan. It has a cord winder for convenient cable management and is a durable solution for winters. The radiator has nine fins that promise reliability and instant uniform heating. It comes with a tilt to get the desired angle.
Pros
Includes an adjustable thermostat
Efficient heating
Comes with an automatic thermal shut off
Has caster wheels for easy mobility
Comes with two years warranty
Cons
May not be able to heat effectively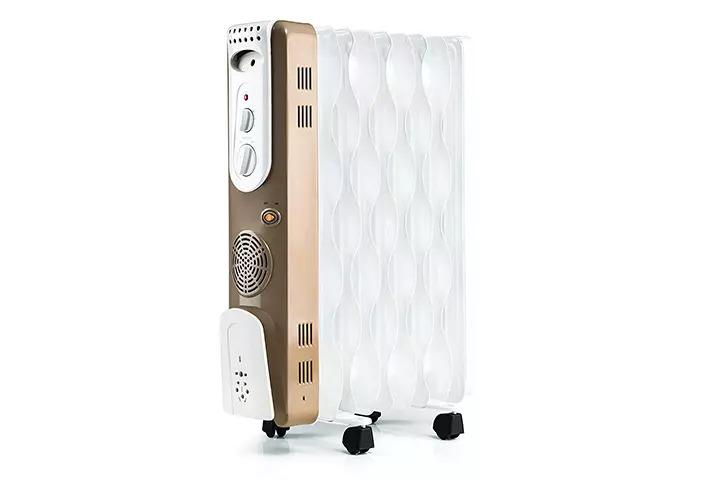 The stylish heater with three heating positions of 800w, 1200w, and 2000w is ideal for heating a medium room. It has wave-style fins for better heating and a PTC element for quicker operation, making a reliable and efficient heater. The oil-filled heater with ISI certified body comes with powder-coated fins with resistance against rust and is backed with a one-year warranty.
Pros
Includes a cord winder for convenient storage
Comes with castor wheels and a recessed handle
Includes a built-in tip-over switch
Features overheat protection
Cons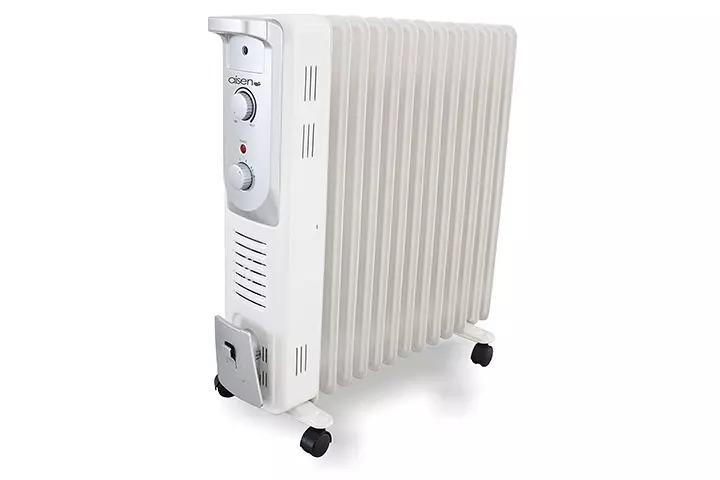 The environmental-friendly heater from Aisen has three power and five heat settings. It comes with a turbo boost fan made of ceramic and offers a warm sunlight feel. The oil-filled heater doesn't cause dryness, suffocation, and oxygen burning as it uses an environmentally safe, green conducting oil.
Pros
Comes with overheating protection
Has a thermostat for easy temperature maintenance
Backed with one year warranty
Includes handle and castor wheel for portability
ISI certified device
Cons
May not be effective in intense winters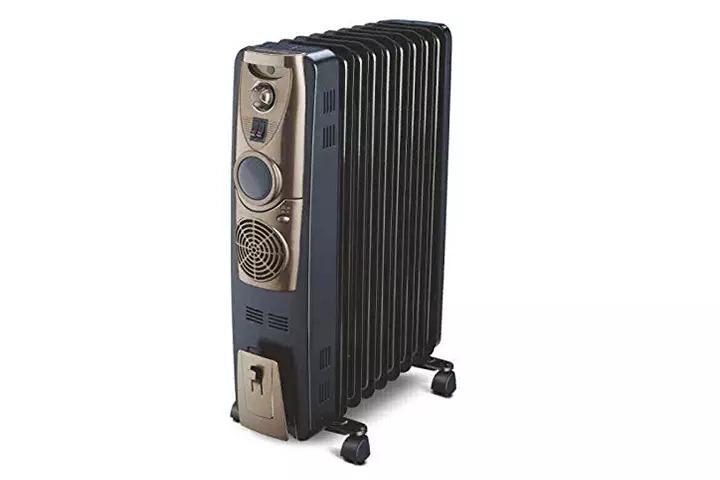 With a tubular heating element that offers greater heating efficiency, the Bajaj Majesty is the best oil-filled room heater with an international style and design. It is equipped with auto thermal shut-off and manual thermal cut-out, which ensures complete safety. The strong and effective ISI-approved room heater offers a noiseless performance and is suitable for your home.
Pros
Comes with tilt protection
Includes caster wheels for mobility
Has three different heat settings
Includes adjustable thermostat
Comes with two years warranty
Cons
May not be effective for big rooms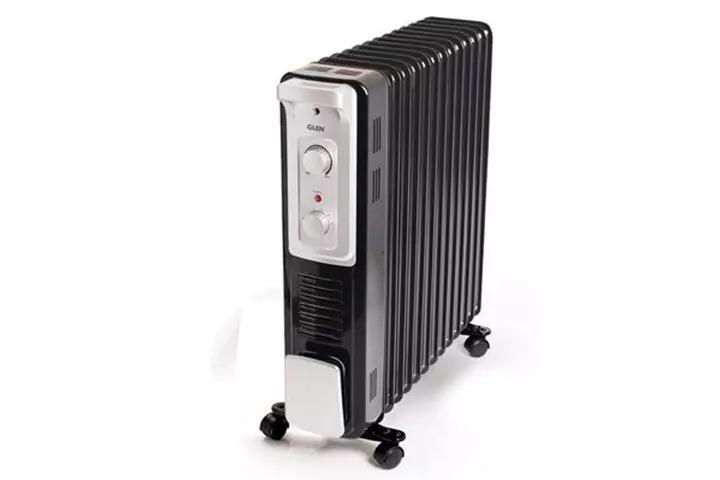 The Glen oil-filled room heater is designed with three power settings and 13 fins and is equipped with a turbo boost fan that ensures faster heating and quick distribution of warm air across the room. It doesn't cause dryness and suffocation and heats the room uniformly and silently.
Pros
Comes with handle and caster wheels
Includes a thermostat
Offers overheating protection
Backed with two years warranty
ISI certified design
Cons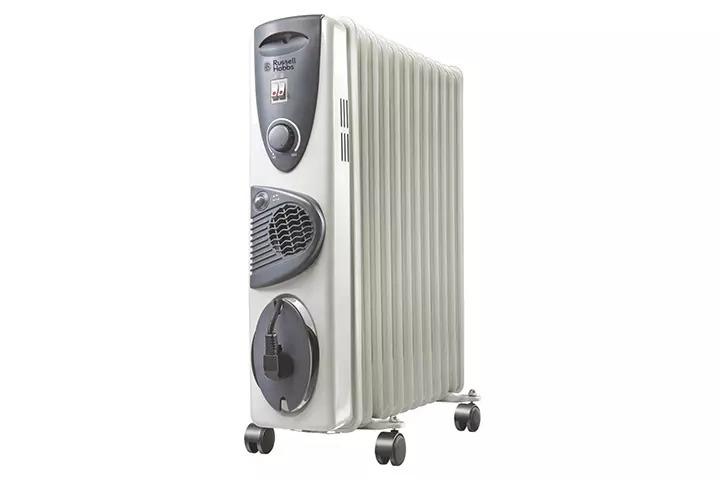 Warm your rooms this winter with this 2900w room heater from Russell Hobbs. It is equipped with highly efficient heat radiating fins that promise quick and uniform heating. With two heat settings and a cord storage facility, it makes a good choice to make your winters cozy and comfortable.
Pros
Comes with caster wheels for easy portability
Includes variable heating system with thermostat
Offers overheat protection
Comes with anti-tilt protection
Has a fan-forced convection
Cons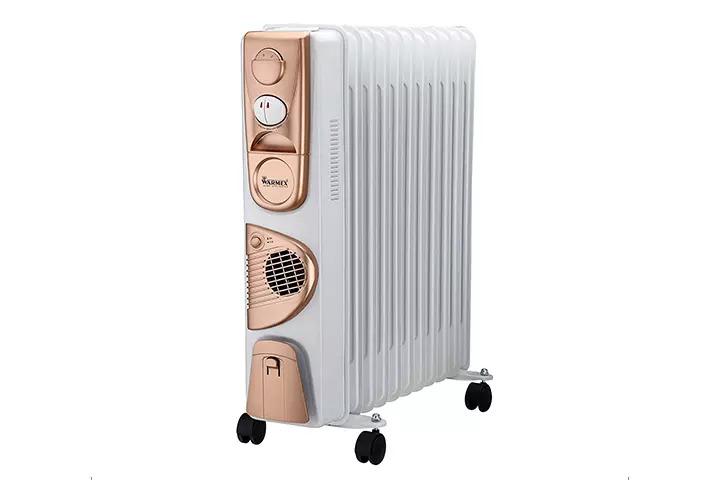 The oil-filled heater with a 2900w heat setting and 11 fins is designed for personalized comfort. It comes with a 400w PTC fan heater and easy cord storage. The durable and sturdy design does not require any maintenance and lets you enjoy a noiseless and comfortable heating experience.
Pros
Includes an adjustable thermostat
Quick to heat
Caster wheels offer easy mobility
Has a power indicator light
Equipped with a safety tip-over switch
One-year warranty
Cons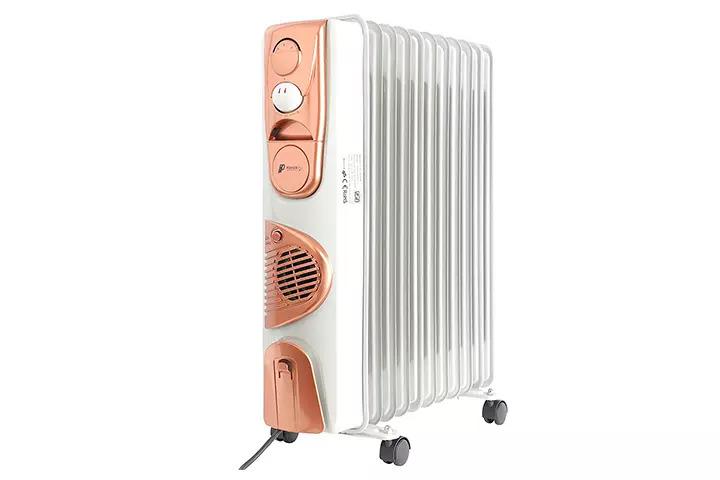 Customize the heating experience with this efficient oil-filled heater featuring nine fins and a 400w PTC fan heater. It has three power settings that allow energy conservation. With a stylish and modern design, it fits well with different decors. The oil-filled heater has castor wheels for mobility and cord storage for added convenience.
Pros
Ensures a noiseless experience
Adjustable thermostat allows temperature control
Includes auto thermal shut off
Comes with a safety tilt
Offers two years onsite warranty
Cons
How To Choose The Right Oil-Filled Room Heater?
Here are a few points to consider when buying an oil-filled room heater.
Heat settings: A heater offers multiple settings to adjust the heat as per the room's size and the weather conditions.
Wattage: The higher the wattage, the more efficient will be the heater to warm up the room.
Timer: It lets you pre-set the heater's on and off duration so that you don't have to get up in the middle of the night.
Portability: Go with heaters that come with good mobility so that you can move them around the house. Look for handles and wheels.
Safety settings: Mostly, all the heaters come with thermostat control for safety, but overheating switches can be an added benefit. Go for heaters with a tilt switch or manual cut-off switch for extra safety.
Frequently Asked Questions
1. Do oil-filled room heaters burn oil to produce heat?
No,oil-filled room heaters use oil as the heat carrier. The oil is sealed in the radiator, which gets heated with the heating coil. And the oil protects the heating coil by safeguarding it from getting damaged due to overheating.
2. Is it safe to sleep all night with a heater?
If your oil-filled heater and the thermostat are functioning well, there is no problem leaving the heater turned on the whole night. The only important thing to keep in mind is that there are no inflammable objects around it.
3. Are oil-filled heaters safe for babies?
Yes, oil-filled heaters are safe for the babies as they do not burn the fuel and do not have hot coils.
4. Do room heaters dry up the air?
Heaters are designed to blow air into the room using heat vents certainly dry out the room, but electric heaters work like a furnace and do not dry up the air.
Oil-filled room heaters make a wonderful companion in winters as they make our homes cozier with their heating function. As there are many technicalities involved in purchasing a heater, it could be tricky to find the best of all. So, compare the features of the short-listed products and find the most suitable one for yourself based on your requirements.
Recommended Articles: