An oil mister is a smart kitchen gadget designed to spray a fine mist of oil over food or in the pan. It is an indispensable tool for even distribution and control on the amount of oil you add to your meals. Available as a sprayer bottle, an oil mister helps you minimize your calorie intake and enjoy a healthier lifestyle. The fine spray also makes an economical option as it promises optimum utilization of oil.
The best oil mister is one that delivers tiny droplets of oil, uniformly distributed through the spray nozzle. With the list of 15 best oil misters listed here, you don't have to worry about excess oil consumption through food.
Top 15 Best Oil Misters
This oil mister is made of food-grade, BPA-free glass, and plastic. Fill this glass bottle with your favorite oils and use it to bake, cook, roast, etc. A multipurpose, high-quality spray bottle with a capacity of 3.38oz, this one is convenient to use.
Pros:
Transparent glass allows visibility
Easy to clean
Portable
Fuel-efficient design
Easy to control
Convenient to fill
Lightweight 
Cons:
Spray nozzle may not sync with the lid
Easy to break
Available as a set of two solid amber glass misters with a capacity of 4oz, these multi-use fine mist sprayers can also be used for storing face spray, essential oils, etc. The set comprises two mist sprayers, one dropper, one funnel, and four labels.
Pros:
UV-protected bottles
BPA- and lead-free
Leak-proof nozzles
Versatile
Reusable and recyclable 
Cons:
May be difficult to clean
Not safe to wash in dishwasher
With this versatile oil mister for cooking, get an even mist of oil sprayed on your food. This olive oil mister is made of premium stainless steel that makes it a reusable and multipurpose product. Use this kitchen tool for grilling, barbecuing, roasting, etc. to enjoy a healthier diet with lesser oil.
Pros:
Strong and durable
Easy to clean
Lightweight
Convenient to use
Measurement markings for proper dosing 
Cons:
Oil may drip down the sprayer and create a mess
Top is not made of stainless steel
One of the best olive oil misters you can buy, this one by Chefvantage can store all varieties of oils, juices, and even water for spraying. The spray is designed with a non-aerosol air pressure pump mechanism and requires a few pumps each time.
Pros:
Comes with anti-clog filter
Made of scratch-resistant glass
Easy to clean
Comes with a one-year warranty
Convenient to fill 
Cons:
Pump may not give a perfect mist
With this set of two oil mister spray bottles, you can enjoy perfect mist over salad dressings. Designed to hold different oils and sauces, these bottles come with a barbeque brush, cleaning brush, and funnel. Made of transparent glass with stainless steel nozzles, each bottle measures 100ml and is quite handy.
Pros:
Multifunctional
Easy to clean
Glass allows visibility
Portable
Come with a one-year warranty
Scale mark design for better portion control 
Cons:
This is one of the best oil misters that lets you spray just the right amount of oil to manage your calorie intake. Designed with premium quality Tritan, it is a promising kitchen tool by Fine Life that produces fine mist and comes with a one-year warranty.
Pros:
Lightweight and portable
Has a comfortable grip
Safe to use
Convenient to fill
Clear container allows visibility
Comes with a clog-free filter 
Cons:
May be difficult to use
May be complicated to clean
Made with 100% toxic-free, safe plastic, this is a set of one 17oz oil dispenser and one olive oil mister of 6ounce capacity. These two make convenient kitchen tools for pouring and spraying just the right amounts of oils on a salad or for cooking. They come with stainless steel lids, silicone corks, and buttons for an upscale look. 
Pros:
Clog-free spray
Drip-free spout
Dishwasher-safe and easy to clean
Dispenser comes with measurement markings
Do not require frequent filling
Backed with a one-year warranty 
Cons:
Sprayer may not be efficient
With this oil mister, coat your pans and spray your foods with controlled amounts of oil. It is a fine mist spray bottle made of food-grade glass, making it an eco-friendly choice. This bottle has a strong enough construction to protect the glass from shattering when dropped. It can be used during BBQ parties and picnics.
Pros:
Comes with refill markings
Has a wide and stable base
Sprays like aerosol cans
Comes with a built-in oil filter
UV protection 
Cons:
Pump may leave oil mist in the air
May be a little messy to use
An oil mister with three spraying modes for perfect oil control, this multipurpose oil sprayer works with cooking oils, vinegar, etc. It is made of food-grade, DEHP and BPA-free materials that are reusable and recyclable. With a capacity of 6oz, it is an economical and functional kitchen tool.
Pros:
 Comes with a filter to prevent clogging
Leak-prevention design
Easy to clean
Causes less hand fatigue
Requires fewer compressions
Cons:
May not create an effective mist
This oil mister can be used for spraying oils, vinegar, and thin sauces, making it an efficient kitchen tool. Made of BPA-, DEHP-, and Latex-free PET, this is a sturdy bottle with a capacity of 7oz. Control the usage of oil with this non-aerosol oil sprayer that promises a unique fan pattern coverage.
Pros:
Designed for effective portion control
Easy to wash
Recyclable and reusable construction
Comfortable ergonomic grip
No need to pump or prime
Cons:
With this pack of two FDA-complaint spray bottles, you can enjoy perfect mist on your salad dressings and food. It is a solid construction made of thick glass with a stainless steel bottom and powerful pump used for juices, oils, vinegar, etc.
Pros:
Easy to clean
Convenient to fill
No-clog nozzle
Promises consistent spray
Comes with a cleaning brush and funnel
Cons:
It is a set of an oil mister with three silicone brushes. Made with food-grade stainless steel and glass, this oil sprayer has a capacity of 6oz. Be it baking or barbecuing, this effective kitchen tool comes with a tightly threaded sprinkler and bottle.
Pros:
Skid-resistant bottom
Wasp-waisted design for better grip
Wide caliber design makes it easy to fill
Leak-proof design
Easy to wash
Cons:
May not work with thicker liquids
Nozzle may not spray in fan shape pattern
This is one of the best oil misters with a 360° rotatable nozzle and large bottle mouth. Control the amount of oil with this spray bottle that evenly spreads it and reduces wastage. Made with BPA-free, lead-free glass, this multifunctional construction comes with a pump cover which keeps it safe from bacterial breeding.
Pros:
Clog-free
FDA-certified
Easy to fill and use
Non-slip design
Seal cover for better protection against leakage
Cons:
Initializing the first spray may be difficult
The set of oil mister with funnel and barbeque brush ensures controlled oil usage while roasting, baking, frying, and making salads. The unique design of this 3.42oz oil sprayer makes it a portable kitchen tool. It comes with a built-in mouth pattern that ensures no dripping.
Pros:
Easy to use and clean
Glass offers visibility
Convenient to pump
Comfortable grip
Lightweight
Cons: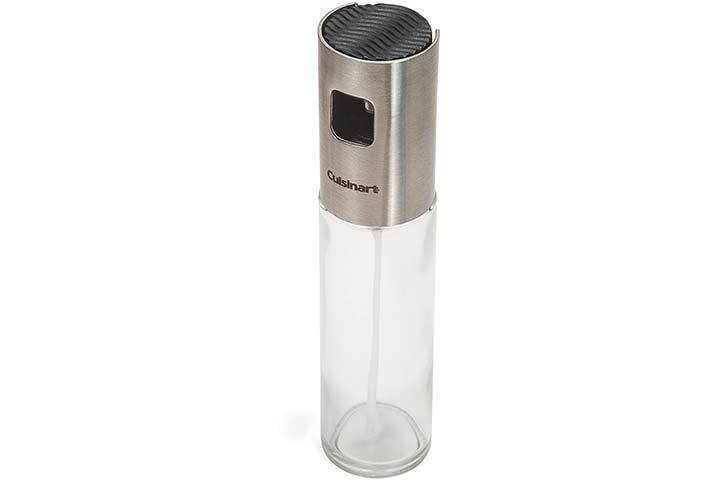 Manage your calorie intake in a healthy way with this grill oil mister that comes with a non-aerosol pump to coat your food evenly. Use the sprayer to dispense the right amount of oil and enjoy healthier and tastier meals without worrying about calorie intake.
Pros:
Glass construction allows visibility
Dishwasher-friendly
Allows to mist and stream
Easy to clean
Comfortable grip
Cons:
How to Choose the Right Oil Mister?
What makes a good oil mister? Read on to know how to pick the best oil mister for yourself.
Material: Oil misters are made of different materials, such as stainless steel, glass, and plastic. The materials differ on their strength, durability, and performance. Glass makes an eco-friendly choice, as it can be recycled. Stainless steel promises durability, while plastic makes it portable.
Pump versus trigger: Pump misters are pocket-friendly options when you need a consistent amount of oil. On the other hand, trigger misters are expensive and are designed to disperse the oil. They make a better choice for longer tasks.
Capacity: The size of the oil misters varies, starting from as small as 3oz. Depending on your requirements, you can select the size. 
Frequently Asked Questions
1. How should I ideally use an oil mister?
To use the oil mister, fill it up to the recommended level with the oil of your choice. Make sure that you leave a little bit of space at the top. Before spraying, prime and pump it by pressing it a few times
2. How should I clean my oil mister?
Most oil misters can be cleaned simply by using a little hot water along with mild detergent. Some misters can also be washed in the top rack of the dishwasher. It is recommended that you read the washing instructions before cleaning your oil mister.
You can enjoy a healthy meal with just a little oil by using functional and practical oil misters. They make a convenient option to dress your salads, coat your pans, and barbeque your meat without worrying about excessive oil. Go for an effective and promising oil mister from the list of products shared above to bring home a perfect gadget that helps keep your oil consumption under control.
Recommended Articles: