Looking to soak up some sun this summer by the poolside? Or do you fancy a cozy set up for relaxing in your backyard or patio? A chaise lounge is the answer. The right chaise lounge will allow you to lean back and relax while adding some serious style to your outdoor space. An outdoor chaise lounge is nothing but a long and low chair or couch that has an angled back on one end to provide support to your upper body and head when you lay down on it. It also has a raised platform on the other end for you to relax your legs and feet.
If you are looking to accommodate this stylish and comfy piece of furniture in the outdoor area of your house, here is a list of the 13 best outdoor chaise lounges you should consider.

Top Products From Our List
13 Best Outdoor Chaise Lounges
Add a pop of color to your patio with this light blue outdoor chaise lounge set. Also, you can choose from a variety of other colors such as black, burgundy, and beige, and pick one that complements your patio the best. This set includes 2 pieces of chairs that are made of heavy-duty steel and feature flexible Textilene fabric. Also known as zero-gravity chairs, they are designed to provide a high level of comfort and support by evenly distributing your body weight when you are relaxing. Plus, it features a lockable reclining system, which means it locks in your preferred reclined position in place. Don't have a table? Not to worry, as these chairs come with a detachable tray with 2 cup holders, a phone holder, and a book/tablet holder.
Pros
Adjustable back and footrest
Weather-resistant frame and fabric
Folds into a compact size for easy carrying
Lightweight, durable, and UV-resistant
Has a high weight capacity of 250 lbs
Comes with a removable padded headrest for added support
Cons
The steel frame tends to rust.

If you like to spend hours together on your lounge chair napping or contemplating life, this zero-gravity lounge chair is a good choice. This blue recliner is designed to mimic the weightless feel experienced in space, which means it adjusts to your body and puts less strain on your back. Rest assured, you will be provided with maximum comfort, no matter which reclining position you choose. Moreover, it can hold up to 300 lbs of weight. Made with powder-coated steel frame and high-quality Textilene fabric, this chair is lightweight, sturdy, and durable.
Pros
Foldable design
Weather-resistant fabric
Portable and easy to store
Available in 5 other colors
Includes contoured armrests for support
Comes with removable padded headrest
Cons

Upgrade your contemporary-looking patio with these brown ergonomically designed outdoor patio chaise lounges. This set of 2 Pacific Sun loungers is made from polypropylene resin, which ensures stability and durability. All while the textured open-weave rattan design lends the chairs an elegant appearance. With 4 adjustable backrest positions and built-in UV protection, these chairs are meant for the outdoors, whether by the pool or on the patio.
Pros
Easy to clean
Weatherproof and fade-free
Textured design won't fray
No assembly required
Resistant to stains and mold
Available in 2 other colors – Charcoal Grey and Oasis White
Cons
The legs might be fragile.

With a powder-coated steel metal frame and a sling mesh fabric, this outdoor furniture is light in weight yet sturdy enough to hold a maximum of 265 lbs. It has an adjustable backrest that can recline to up to 180° angle to meet your various needs, 2 legs for stability, and a detachable pillow for extra support. Thanks to the foldable design, it can easily fit in the trunk of your car, making it convenient to carry wherever you go – whether to the beach or when you go camping.
Pros
UV-resistant
Easy to store
Breathable and comfortable
Water-resistant and quick-drying fabric
The backrest has a 4-level adjustable feature
Cons
Might be too low and narrow

Brighten up your patio, backyard, or poolside with this white Roma Folding Lounger by KETTLER. Crafted in Germany, this lounger is made of high-impact resin and features a contoured backrest that provides ultimate comfort and support. This model uses a Safety Fold track-and-latch system, which means it is easy to fold and will stay steady when stored in a standing position.
Pros
Durable
Easy to assemble
Dropdown foot section
4 adjustable reclining positions
Includes large wheels for easy maneuverability
Cons
It may fold up on its own sometimes when you try moving it around.

Whether you are looking to read a book or take an afternoon nap, with this chair, you can do it all. It has an adjustable angle back that can recline to 5 different levels and a padded sling seat to provide complete support and comfort at every level. These features also ensure that you don't feel any pressure on your muscles while you are resting on the recliner. It also comes with foldable legs that make it convenient to stack and store. Made with aluminum frame and Textilene-woven mesh fabric, it is durable, flexible, and breathable.
Pros
Lightweight and portable
UV and water-resistant
Can be folded into a compact size
Available in 2 colors – beige and gray
Easy to clean
Water and oil-proof material
Cons

Elevate the look of your patio space with this set that includes 2 chaise lounges and a folding table made of black rattan. All 3 pieces of furniture are lightweight and feature a beautiful texture that makes them attractive. Apart from rattan, the chairs feature a steel tube for sturdiness and beige polyester fabric with cushion padding for comfort. The chairs are incredibly sturdy and can support a maximum weight of 350 lbs. Suitable for indoor and outdoor use, this set can also be placed by the poolside, in the garden or living room.
Pros
Weather-resistant
Lightweight and compact
Includes a headrest
Adjustable backrest with 5-gear position control
Has a triangular support structure for increased stability
Cons
The cushion may not be stain or water-resistant.

Enjoy the lovely weather with your partner and your favorite drink in hand while lounging on reclining chairs. This set includes 2 modern outdoor chaise lounges with cushion and a side table for a complete modern patio seating arrangement. The recliners feature thick padded beige cushions that provide back support and fantastic comfort. They are made of aluminum and have a PE rattan covering throughout that ensures longevity. As for the rattan side table, it features a thick tempered glass top to keep your food and drinks.
Pros
5 adjustable positions
Removable polyester cover
Heat and weather-resistant
Rust-resistant steel
Lightweight and portable
Water-resistant and mildew-free cover
Cons
Might be difficult to assemble

A chaise lounge chair that will make you feel like you are lounging on a cruise? Yes, please. This nautical chaise lounge looks like one of those loungers that you find on some luxury cruises. Along with being classy, this lounger is functional. It has a backrest that can be adjusted to 4 levels to give you a comfortable experience. Plus, it can lay flat for easy stacking and storage. It is made of POLYWOOD lumber that can withstand any climate conditions, be it heavy rains, harsh winds, or hot sun. Moreover, if you're planning to go the eco-friendly way this year, this chair is an outstanding choice as its material is made with recycled materials like milk jugs and detergent bottles.
Pros
Stain and corrosion-resistant
UV-protected and fade-resistant color
Gives the appearance of painted wood
Easy to clean with soap and water
Cons
The assembly might be time-consuming and difficult.

Give your outdoor living space a modern look with this white adjustable chaise lounge. It is wickermade of polypropylene and features a high back that accommodates your body shape to make your relaxation time comfortable. Plus, it reclines to 4 different angles to meet different needs. This lounger can also be used as a simple chair, thanks to the footrest that can be folded under the seat. The best part about this chair is that it features 2 wheels, which helps you move it from one place to another without a hassle.
Pros
Weather-resistant
Sturdy and durable
Includes armrests
Height-adjustable backrest
Suitable for indoor and outdoor use
Easy to fold for self-standing storage
Cons
The armrests may not lock in place.

After a long day at work, all you would like to do is kick back and relax on a cozy lounge chair with a cup of your favorite beverage. A combination of functional and fashionable, this lounger features a contemporary design and a comfortable backrest. So lounge in style anywhere and everywhere you want with this multi-brown lounger.
Pros
Made of polyethylene wicker
Sturdy iron frame
Doubles as a bench
Easy to assemble (attach the legs)
Cons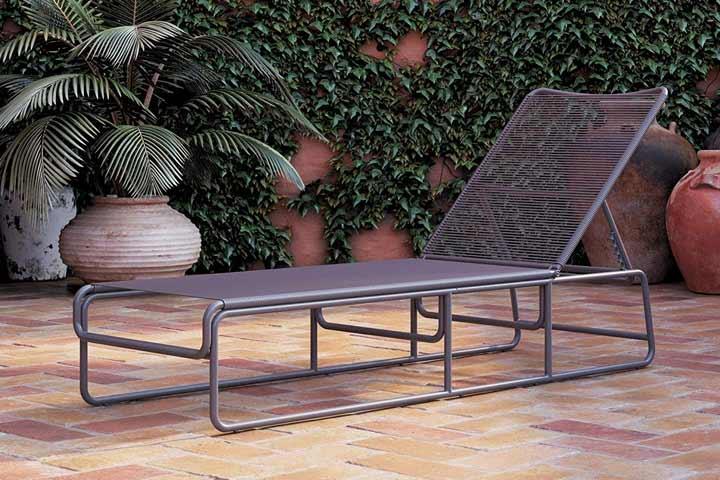 All you minimalists out there, this chaise lounger is made for you! With its clean lines, retro design, and charcoal finish, it is a perfect choice for those who prefer a blend of vintage and minimal for their outdoor space. While its powder-coated steel frame provides maximum durability, its round wicker seating offers an optimal comfort and ample support.
Pros
Whether-resistant frame
The seat flexes when you sit on it
5-position adjustable back
Quick-drying and easy to clean
Ideal for balcony, patio or backyard deck
Cons
Might be challenging to set up

On those hazy, lazy summer days when you want to lounge by the pool or in the garden, this chaise lounge makes for an excellent choice. With an adjustable backrest that can recline to 7 angles and a soft beige cushion that covers the entire chair, you will be provided with a comfortable seating experience. This aluminum and PE rattan chair features 2 wheels so that you can shift it from one place to another quickly by wheeling it.
Pros
No assembly required
Sleek wooden armrests for support
Foldable design for secure storage
Can hold a max weight of 385 lbs
Cons
The armrests might be flimsy.


When it comes to choosing the right chaise lounge, there are a few points that need to be considered.
How To Choose The Best Outdoor Chaise Lounge
1. Material
Chaise lounges are available in a variety of materials such as teak, wicker, metal, and HDPE lumber. You need to consider a few factors, such as durability, comfortability, and design of the material before making the purchase.
Teak: Teak is one of the most popular material choices for lounge chairs because it is hardwood, which means it is durable, scratch-resistant, and less vulnerable to damage. Teak wood chairs can withstand any weather and can be placed outside for at least a year. However, they need to be revarnished regularly, and they could be bulkier than other materials.
Wicker: Chairs made of wicker are lightweight and portable but are not easy to maintain. If you opt for a wicker chaise lounge, place it in a less exposed area such as the patio for longevity. Although if you do prefer it for outdoor use, ensure that it is designed to be resistant to water and sun.
Metal: Another popular choice of material for chaise lounges is aluminum, which is strong, resilient, lightweight, and easy to clean. Since it is resistant to water and rust, it is ideal for a pool setting. While its lightweight feature makes it easy to transport, it may not stay in place during harsh winds. Alternatively, chairs featuring iron frames are durable and heavy.
HDPE/POLYWOOD lumber: Made using recycled materials, HDPE lumber is durable and environment-friendly. It is weather-resistant, sturdy, and easy to clean with soap and water. Plus, it comes in a wide array of colors so that you can choose something that complements your outdoor decor. That said, it could be a little on the pricier side.
2. Features
A few other factors you could look for are the features of the product. For instance, a small table or a detachable tray could be a great option as they allow you to keep your phone, book, or food within easy reach. Some models come with wheels for easy maneuvering, while others include cushions and removable headrest for extra comfort and support. Most of the chaise lounges feature an adjustable backrest and armrests, allowing you to choose your preferred position, be it upright seating or full recline. All these features can make your lounge chair more comfortable, functional, and versatile.
3. Weatherproof
Lounge chairs are mainly designed for outdoor use; hence you have to ensure that they are whether-resistant or weatherproof and UV-protected.
Frequently Asked Questions
What is the best recline angle for the back of an outdoor lounge chair?
If you are going to be sitting on the lounge chair, you could choose an angle anywhere between 120° and 140° based on your personal preference.
Are chaise lounges a good option in living room seating?
Yes, chaise lounges are a good option for a living room as it offers comfortable seating and adds a chic touch to the room.
Including a chaise lounge in your outdoor living space, whether it is the patio, pool area, balcony, or backyard, is a convenient way of relaxing. Apart from being functional, it can also elevate the look of any outdoor space. However, a chaise lounge is available in various colors, designs, and materials, and it is important that you find the right one that suits your decor. We have covered everything from super-chic poolside chairs that are great for sunbathing on those hot, summer days to classic wood loungers where you can sit back and catch up on some reading.
Recommended Articles:  
The following two tabs change content below.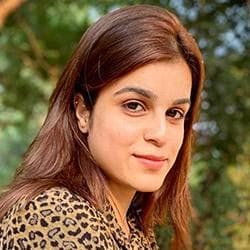 Sakshi John
Sakshi did her graduation in Journalism from the Madras Christian College, Chennai, before starting her career as a freelance writer. She is into blog writing and for MomJunction, she covers various topics, including products to buy for your kitchen, furniture, and other home requirements. Previously, she interned as a content writer in a cyber security firm. As a content writer, Sakshi...
more