Summertime calls for some outdoor cooking where you can enjoy your favorite barbeques. Having a griddle handy is a great addition if you love cooking outside. The best outdoor griddles let you make your favorite food recipes, be it a hotdog or fry up the hams and bacon. Griddles have enough surface space for you to put many food items on top. For example, you can fry eggs on one side while preparing the burger patty on the other.
Let us look at some of our recommended outdoor griddles that you can bring home for your outdoor cooking sessions.
Types Of Outdoor Griddles
Below are the notable types of outdoor griddles.
Freestanding griddle: As the name implies, these griddles are self-contained. They have burners under the flat cooking top and do not need any assisting material. These models typically have an auto-ignition system and are highly portable.
Insert griddle: This insert griddle model is ideal if you already own a grill. They are flat tops that you can insert over a grill to transform into a griddle. These models are simple to clean and assemble.
Tabletop griddle: These models, also known as portable griddles, are compact and only have one or two burners. They are the most common models among campers and are suitable for indoor and outdoor cooking. These models are easy to maintain.
10 Best Outdoor Griddles


Blackstone's outdoor griddle has two side shelves for storing cooking equipment. It has four quick-ignition buttons that quickly distribute heat and regulate temperature. Its surface is made of thick-rolled steel for better heat retention, making this outdoor griddle top ideal for large batch cooking. The griddle top is removable, making cleaning the grill a breeze.
Pros
Comes with a front grease drain
Burners have a low- and high-temperature setting
Robust wheels for firm grip
Easy to assemble
Cons
Might be difficult to remove stains
The Cuisinart outdoor griddle with lid is compact and portable, making it suitable for small barbeques. This griddle has two 30,000 BTU burners that can be controlled independently for customized heating control. This multifunctional griddle can roast and steam foods, thanks to its stainless steel lid, making it a versatile piece of equipment.
Pros
Comes with a foldable preparation side-table
Lightweight and suitable for small patios
Easy to assemble
Has a 360-degree funnel for easy clean-up
Cons
Griddle top may rust soon
The underside of this outdoor griddle has a cross-brace for smooth heating control. The setup includes a four-inch sidewall to prevent spilling oil or food around the cooking area. The grill top is flat and has full-width grease for easy maintenance. You can also position your grill on the flat top of this multifunctional griddle.
Pros
Detachable side-handles for storage and portability
Made of durable stainless steel
Has a sturdy base
Simple and stylish design
Cons
May not provide well-established hot and cold zones
This outdoor gas griddle by Camp Chef is an excellent match for a three-burner stove and is ideal for large group cooking. It is made of heavy-duty stainless steel to withstand the test of time. The griddle comes with a center handle for convenience and portability. Its flat top over the diffuser ensures even and rapid heat distribution, enabling you to cook several dishes in a short time.
Pros
Easy to maintain
Well-placed grease drain
Has a sturdy base
Comes pre-seasoned
Cons
This Pit Boss gas outdoor griddle is compact and has a wide cooking area, making it ideal for smaller gatherings. It comes with a non-stick griddle top that has been pre-seasoned. Another advantage is the fast ignition system, which is simple to use. Overall, this flat-top propane gas grill is a miniature version of a regular big griddle, thanks to its robust design.
Pros
Thick griddle top for longer heat retention
Has sturdy base
Two burners for customized heat control
The frame is made of durable cast iron
Cons
Maintaining the griddle may be difficult
This cast iron griddle top is not only long-lasting but also distributes heat evenly. This propane gas grill with a flat top and two side handles is compact and easy to maintain, making it suitable for camping. Since the griddle's legs are detachable, you can use it as a stovetop or cook over a wood log during a camping trip.
Pros
Rounded design for convenience
Versatile cooking top
Has a sturdy base
Convenient design
Cons
This flat-top propane gas grill has 792 square inches of cooking space, making it ideal for large gatherings. The griddle has four burners and allows you to monitor the hot and cold zones independently, and the griddle's top surface is naturally non-stick because it has been pre-seasoned. Each burner produces 13,000 BTUs, allowing the griddle to heat up quickly.
Pros
Has handles for portability
Stress-free electronic ignition system
Includes side tables for convenience
Comes with a detachable grease cup for easy maintenance
Cons
The base may not be sturdy
This flat-top propane gas grill is a multifunctional griddle designed to suit most outdoor needs. The set is portable and easy to assemble in just a few minutes. It is made of durable cold-rolled steel. The griddle has a cooking space of 741 square inches, making it perfect picnic equipment for large groups. With four separate burners, you can configure the hotspots based on the dish you are cooking.
Pros
Has a convenient automatic ignition system
Comes with two side shelves and an extra storage basket
Heavy-duty legs offer high-stability
Comes with a grill rack
Cons
Cleaning the griddle may be complicated
Qomotop's flat griddle is a compact, efficiently packed piece of equipment suitable for a small party. It has a 355-square-inch cooking surface and three separate burners operated by stainless steel knobs. This allows you to keep hot and cold zones separate on the same pan, depending on the dish's needs. This outdoor griddle grill doesn't require any additional stands because of its well-balanced foundation.
Pros
Surface made of durable cold-rolled steel
Steel bars beneath the flat top ensure even heat distribution
Easy to clean due to the front grease drainage
Struggle-free storage and maintenance
Cons
Might not have a non-stick surface
This portable outdoor griddle is perfect for your next camping trip, with robust, collapsible legs and a durable stainless-steel build. It also has a stainless steel griddle top, which helps in even and fast heat distribution. The surface has been pre-seasoned with a plant-based oil to make it non-stick. Despite having a cooking surface of 597 square inches, this outdoor gas griddle is lightweight and portable.
Pros
Ideal for large parties
Protective cover over the burners maintain heat
Comes with two foam handles for portability
Good temperature control
Cons
Has a small sidewall
Cleaning the griddle might be difficult
Features To Consider While Buying An Outdoor Griddle
Here are certain crucial factors to consider when selecting an outdoor griddle.
Griddle size: A 300-square-inch griddle would be sufficient for a small gathering. Due to their lightweight and portable design, these griddles are suitable for camping trips. If you're planning to host a party, a griddle with a cooking surface of more than 500 square inches is recommended.
Number of burners: The more burners you have, the more power you'll have over the hot and cold zones of the cooking surface. This allows you to cook omelets, eggs, and bacon on the same cooking top simultaneously.
Temperature control: Consider a griddle that offers low to high heat distribution because this allows you to cook various dishes without burning them.
Material: Most gas griddles are made of stainless steel, cast iron, or aluminum. Since outdoor griddles are not used frequently, stainless steel resists rusting, making it an excellent option. Cast iron has outstanding heat distribution properties, but it rusts quickly if not properly maintained. They need constant seasoning. Aluminum griddles are also excellent heat conductors, but they may not be durable.
Portability: Some griddles have detachable or foldable sturdy legs, while others have small bases. Choose a style that allows for easy portability based on user location, whether it's a patio or a campsite.
Maintenance: Consider a griddle that is simple to clean. When it comes to griddle maintenance, a grease drain is crucial.
Other features: Some griddles have extra grilling equipment and side shelves. These may not be the most important variables but make for excellent additions to the package.
Outdoor griddles have several benefits. Their flat cooking surface ensures even cooking and browning of food. These best outdoor griddles in our list are easy to store and easy to maintain, requiring only one wipe with a cloth.
Recommended Articles: 
The following two tabs change content below.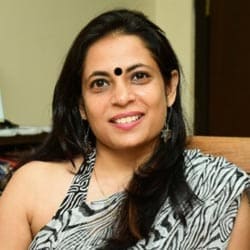 Priti Bose
Priti Bose is a poet, songwriter and blog writer. She did her masters in English, Public Relations and Advertising. Her creative skills and hunger for details make her do in-depth research on the topics she covers. For MomJunction, she writes on product analysis and reviews, especially for kids' products, toys and gifts. Before her association with MomJunction, Priti worked in the...
more