With an increasing fascination for backyard cooking, outdoor pizza ovens have become a hot appliance choice for many. Portable and easy-to-use, they have helped replicate home-based pizza cooking in an outdoor environment.
We bring you the best outdoor pizza ovens to help enhance your pizza cooking experience outside your home.
10 Best Outdoor Pizza Ovens


The Italia Artisan Pizza Oven from Camp Chef comes in a durable stainless steel body and is lightweight, weighing 47lb. With dimensions of 30×19.5x18in, it is compact for top-shelf mounting. The appliance is easy to carry and suitable for baking pizza, bread, and roasting meat, giving a brick oven-like performance.
The oven's double-layered ceiling helps improve the heat dynamics, providing a convenient cooking experience out in the open with a preheat timing of 15 minutes. Its built-in temperature gauge helps monitor internal air temperature, and the oven runs on a replaceable 1lb propane bottle. You can expect a maximum output of up to 17,000BTU/hr.
If you are looking for a portable fire and stone pizza oven for outdoor use, the Roccbox portable outdoor oven from Gozney can be suitable for you. With a maximum temperature of up to 932°F, it helps bake pizza with a thin base and a puffed-up crust within 60 seconds.
The outdoor pizza oven is easy to install in the garden, lawn, or other open spaces with retractable legs and provides a safe cooking experience at high temperatures. Its inbuilt thermometer and detachable dual-fuel burners use gas and wood as fuels. With an insulated body and silicone outer skin, it can reduce the chances of skin burns while baking food of your choice.
OoniKoda's gas outdoor pizza oven can be used for roasting meat, fish, and vegetables. The burners are easy to fire up, take around15 minutes, and come with an easy-to-use dial. Portable and easy-to-install, you can bake a 13in pizza in this oven. The oven provides instant flame through built-in gas ignition and an adjustable dial for heat control.
The charcoal and wood-fired outdoor pizza oven from Bertello has a classy black look and can cook at an upper temperature of 930°F. You can affix a gas burner to it for stove-like oven cooking. Its deep cooking surface of 12.5x13in is ideal for uniform baking in authentic wood fire oven style. It comes packed with wood chips, cordierite stone, and wood or charcoal pellet tray.
Unifit brings you a modern outdoor pizza oven with a stone kit accessory that helps to simplify outdoor baking. Suitable for 90% of barrel-style pellet grills, it has an enclosed pizza chamber design that allows concentrating heat from the pellet burner for optimum cooking. Its ceramic pizza stone promotes even heat distribution for a smokey pizza crust. This stainless steel outdoor pizza oven requires 10 to 15 minutes to cook after preheating. Its spacious interior allows you to cook a pizza of up to 14in.
With a unique design and compact fit, this large tabletop gas pizza oven is lightweight at 27lb and made of stainless steel with a polished exterior. The small outdoor pizza oven is portable with efficient cooking up to 12001BTU. It is easy to operate with a single knob and includes a pizza stone for easy baking. It is easy to clean after use and runs on gas with instant heat.
The outdoor pizza oven kit from BrickWood Ovens is a medium-sized DIY pizza oven installed on locally sourced firebrick. Its 700sqin surface is suitable for cooking food in large quantities for up to 15 guests at a time. It has one of the highest customer satisfaction ratings, with its patented pizza oven kits being sold for over eight years. The package contains the mattone barile polystyrene form you need to assemble with locally sourced masonry materials.
The Deco Chef pizza oven is a two-in-one appliance that doubles up as a grill oven. It comes with a 13in pizza stone and three-layered stainless steel construction that holds in heat and helps to reach a high temperature.
With a mobile setup and simple assembly, it is easy to carry and store. It comes with several accessories, such as a safe handle oven door, removable tray for fuel, removable pizza baking stone, stainless steel pizza peel, and dough scraper.
Lightweight and portable, this trunk-shaped pizza oven from Gyber uses hardwood pellets as fuel and is easy to install. Baking in this outdoor pizza oven lends a smokey flavor to your food with a unique fragrance and taste.
With high temperature and fast cooking features, this preheated oven can cook a pizza within three to four minutes. Accessories that come with the outdoor oven can help to prepare steak, sausage, chops, and chicken wings. It is easy to clean with a detachable chimney pipe and pizza stone.
The wood fired outdoor pizza oven from Thor comes with a 32in capacity for conveniently baking food in large batches. It comes in a 430 stainless steel construction with a polished exterior and four portable castors. The oven also includes a pizza stone surface, large spatula, wire brush, and pizza cutter. With the temperature gauge measuring between 100 and 800ºF, it has a rapid heating time for quick baking and large cooking space that accommodates two to three pizzas in a single baking cycle.
What To Look For While Buying An Outdoor Pizza Oven?
You should consider the following points to select the best outdoor pizza oven.
Fuel type: Choose from wood-fired, charcoal-fired, wood pellet, and gas-based ovens as per your requirements.
Size of oven cavity: The size of the oven cavity determines the food quantity it can cook in a single cycle. Therefore, the larger the cavity, the better is your cooking capacity.
Heating capacity: The maximum heating capacity determines the time taken for cooking pizza. With some of the highest heating capacities, it can take around three to four minutes to cook pizza in an outdoor oven.
Safety: The safety of the oven depends on various factors such as insulation, door handling feature, and material.
Other features: Some ovens support grilling, roasting, and steak-making and some come with additional accessories, such as scraping brush, spatula, and pizza cutter.
Once you have considered all these factors, you might find it easy to select a suitable oven from our list of the best outdoor pizza ovens. Check user reviews, prices, and other customized requirements before buying the right one.
Recommended Articles: 
The following two tabs change content below.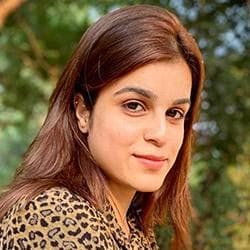 Sakshi John
Sakshi did her graduation in Journalism from the Madras Christian College, Chennai, before starting her career as a freelance writer. She is into blog writing and for MomJunction, she covers various topics, including products to buy for your kitchen, furniture, and other home requirements. Previously, she interned as a content writer in a cyber security firm. As a content writer, Sakshi...
more