Overalls, also called dungarees, bib overalls, and overall denims, found a prominent place in the fashion industry in the '90s. Well, ladies, these chic outfits are back in fashion. In this post, MomJunction brings you the 15 best overalls for women.
We have chosen overallsthat are versatile and ones that can meet your specific requirements for summer, spring, fall, or winter. Read on and choose the one that best suits your comfort and reflects your personality.
15 Best Overalls For Women

Made of imported ThermaLock nylon with ThermaTech insulation, this pair of winter bib overalls is a popular choice amongst women who love outdoor winter activities. It is a lightweight and low-bulk garment that can be easily machine-washed and comes with adjustable comfort suspenders to give you that perfect fit. The 100 Denier Ballistic reinforced ankle scuff and hem guards hold up against daily wear and tear; and hence, make it a good option for everyday use. The zippered-hand-warmer-style pockets, zippered fly, and boot zippers make it easy to wear.

This pair of overalls by Carhartt is durable and comfortable to wear. Made of100% cotton, it can be washed in a machine. It features double-front bibs with interior zipper pocket and a multi-compartment bib pocket. It comes with a full zip front and adjustable front-elastic suspenders. The ankle-to-hip leg opening has storm flaps and is adjustable too. To keep the fabric warm during the cold season, it comes with a smooth quilted nylon lining.

Your search for that trendy pair of casual overalls stops right here! This adjustable strap ripped denim overalls by AvaCostume is loved by women of all shapes and sizes. And guess what? You do not have to spend a fortune on it. It comes with a chest pocket, two side pockets, and two back pockets. It is easy to maintain and can be hand-washed or machine-washed. Wear it on vacation or use it as daily wear.

Here's another comfort wear from Carhartt. Made of 98% cotton and 2 % spandex, this pair of double front bib overalls has adjustable suspenders and double knees with cleanout bottoms. It comes with the Rugged Flex technology for ease of movement and triple-stitched main seams to make the fabric more durable. As for the pockets, it features a multi-compartment bib pocket with secure zipper closure and two large lower-front pockets. You can wear it for work or play and be comfortable always.

This pair of YESNO Women Jeans cropped pants overalls is for the wild, cute, hippy ones. Wear it for riding, hunting, or skating as it is rugged and comes with an adjustable canvas strap with buckles. There is a U-cut on the left back pocket and embroidered patterns on the front  to give it a girly look. You can pair these overalls with tops, T-shirts, long sleeve sweaters, blouses, or loose cardigans. Wear a pair of trendy slippers, sandals, or boots for a complete look.

This pair of ready-to-wear, comfortable, weathered duck overalls comes with adjustable leg openings and several pockets. Made of 100% cotton, it has adjustable front elastic suspenders and a multi-compartment bib pocket with secure zipper closure. The traditional hammer loop style, double front with cleanout bottoms, hammer loops, and ankle-to-hip leg opening with storm flaps make it a sturdy wear. Pair it with full sleeve sweaters in winter.

Made of 95% polyester and 5% spandex, this cute and stylish Mini Overall Pinafore Dress is perfect for all occasions. Wear it at work, during vacations, or any casual outing. The invisible zipper back, adjustable shoulder straps, and stretchy fabric  make it a go-to dress for women. And what's more, you can choose from different plain solid colors. Pair this short-length overalls with a long- or short-sleeve T-shirt and leggings in spring, summer, or fall.

Soojun Women's Casual Baggy Denim bib is a functional pair of overalls widely adored by women who love gardening, painting, or other handy projects. This pair of women's denim overalls has two front patch pockets and two back patch pockets for keeping your tools. It can be worn with a T-shirt and sneakers for a complete look. This loose baggy-style overalls is great for daily wear and holidays. Give it a gentle machine wash with cold water.

This Denim overalls for women is stylish and comes with adjustable straps, one chest pocket, two back pockets, two side pockets, and side buttons. Made of 81% cotton, 18% polyester, and 1% spandex, this trendy pair of overalls is perfect for the summer. Pair up the women denim overalls with a cute T-shirt and canvas shoes for a casual look.

This pair of relaxed-fit and baggy overalls for women by Gihuo features adjustable straps, wide legs, two big slant pockets, two back pockets, and a chest pocket. It comes in classic colors and is suitable for daily wear. Its most striking feature is the cotton linen material that offers sufficient air permeability. It keeps you refreshed and is said to reduce body temperature by 37.4–42.8 ℉, naturally air conditioning your body!

This stylish, cropped, loose waist, women's bib overalls by YESNO is a perfect casual outfit. Made from 100% cotton, it can be worn on the beach, at home, and while holidaying or traveling. Make sure you pair it with a T-shirt and sneakers. The adjustable strap with buttons, two side pockets, and two back pockets make it a complete outfit for any occasion. Give it a gentle wash in cold water.

Levi's Women Original jeans is a thing of beauty. It fits on your body just perfectly. It is made of 100 % cotton and comes with button fly closure—two buttons and two claps to hold the button for ease of access. It has two front pockets, two back pockets, and a chest pocket for functionality. We recommended you buy a size larger for a relaxed fit. It can be worn for casual events or to the office too.

Dickies Women's Plus Size Denim Bib Overalls is a great choice for plus-size women looking for comfort. Made of 100% cotton, it is easy to wash in a machine. The traditional carpenter styling with functional hammer loop and multiple pockets make it a relaxed and functional wear. It comes with a scuff guard at the heels and has been given a reinforced double-needle stitching for enhanced durability. Pair it with boots to complete your look.

Carhartt Women's Brewster Double front bib overalls is a treasure to behold. Made of 99% cotton and 1% spandex, it has a multi-compartment bib pocket with secure zipper closure and two large lower-front pockets. The double knees with cleanout bottoms, the adjustable straps, the hammer loop, the triple-stitched main seams, and the rugged and tough fabric make it a perfect workwear.

This trendy women's denim bib overalls by Dickies is a favorite choice amongst women across ages. Made of 100% cotton, the indigo denim overalls is functional and comes with a traditional carpenter style hammer loop and multiple pockets. The double-needle stitching makes it durable. Pair it with T-shirts,  sweaters, cardigans, and boots.
How to Select the Best Overalls for Women?
Choosing between functional wear and fashion wear can be tricky. You can choose the right one for the right occasion based on the  following information:
If you are looking for functional wear, answer questions such as:
Do you constantly kneel or bend down?
Does your workspace leave you greasy or dirty?
Do you need a lot of pockets to keep your tools?
Answers to these questions will help you decide on the kind of functional pair of overalls that you will need.
If you are looking for fashion wear, try to answer questions such as:
Is it all about fashion for you?
Do you like patterns or solid colors?
Do you follow current trends or make your own style?
Do you find denim comfortable?
Answers to these questions will help you select the best outfit for you.
What Do You Wear with Overalls?
Overalls are not for the summers alone. They are comfortable to wear in other seasons too. So do not pack them away in winters. Here we suggest ten ways to pair them up in any season and for all occasions.
Wear your overalls with a graphic tee + cameo jacket + ankle boots.
A pair of denim overalls can be worn with a sweater + coat + scarves + socks and heels.
Wear it with a striped shirt + faux-fur coat + loafers.
Team up a pair of blue overalls with a black turtleneck and boots.
Belted overalls go best with a collared blouse and high heel boots.
Wear a pair of leather overalls with a printed sweater and high boots.
A sleeveless turtle-neck, a button-down shirt, and boots go perfect with denim overalls.
Wear a pair of brown overalls with sneakers and a grey hoodie for a stylish look.
Denim overalls look great with striped tops and oversized jackets.
A pair of backless overalls looks great with a bell sleeve top and high heels.
Women from all walks of life have embraced overalls as they are versatile, durable, and comfortable to wear. We hope this list makes it easy for you to choose the right pair of overalls. Which of the 15 overalls would you consider adding to your closet? Let us know your choice in the comments section below.
Recommended Articles
The following two tabs change content below.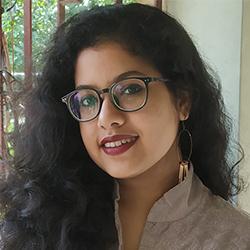 Poulami Nag
Poulami Nag is a writer and associate editor at MomJunction. She did her MA in English from Miranda House, University of Delhi and has qualified UGC-NET. Her journey as a content writer began in 2017 and since then she has garnered diverse interests along the way. Her knowledge of literature and language has given her an eye for detail and...
more