Paella is a traditional Spanish dish with rice, seafood, or chicken, and saffron. Mixta, Marisco, Valenciana, Negra, and Vegetariana are popular paella dishes worldwide. The signature feature of this delicacy is the caramelized rice crust at the bottom called socarrat.
But to cook paella at home, you need an authentic paella pan, which is usually wide and shallow and are made of specific materials such as enameled cast iron, carbon steel, and stainless steel. The bottom of the pan helps form a perfect socarrat.
Listed below are the functions and features of some of the best paella pans to buy.

Top Products From Our List
11 Best Paella Pans To Buy

Garcima carbon steel paella pan, made in Spain, is strong, durable, and evenly distributes heat. You can safely use this 15-inch pan with a grill, oven, or stove and make paella for three to five people. Although this silver pan is thin, it has a dimpled hammered bottom, making it suitable for paella. The handle is red and made of steel to keep it cool during cooking.
Pros
Durable material
Good heat conductor
Informative pamphlet
The best material for traditional paella
Cons
Need to season with oil before use

Matfer Bourgeat offers a 17.75-inch compatible multifunctional paella pan, which can serve six to eight people. The black carbon steel paella pan needs to be seasoned once and then becomes nonstick with time and use. It distributes heat evenly and controls the temperature, helping to retain nutrients and vitamins in paella.
The lightweight pan has two handles for secure holding and no rivets to prevent the formation of bacteria. The wide and shallow interior and curved sides make it easy to fry vegetables and meat. Matfer pans can endure high temperatures and are suitable for all stoves, hobs, and induction heat sources.
Pros
Natural mineral material
No harsh chemicals
No coatings
PTFE-free
PFOA free
Cons

The 14-inch La Paella Garcima enameled steel pan is safe to use in the oven, on a grill, and on standard stovetops. The paella pot, made of durable steel and coated with spotted black and white enamel, is suitable for two to four people. The enameled pan offers convenience and is easy to clean and maintain. The bottom diameter measures 12 inches, and the outer dimensions are 14.25×1.75 inches.
Pros
No special maintenance required
Easy to clean
Anti-rust
Cons

Ecolution Sol brings you the ecologically advanced Hydrolon nonstick paella pan made of sturdy carbon steel. It also has ergonomic riveting and a chrome-plated handle to keep it cool and comfortable to hold. The non-toxic coating is water-based, which allows safe and healthy cooking.
The structural material helps uniform heating and is suitable for gas, electric, and glass-ceramic cooking surfaces. This paella pan has a diameter of 15 inches and is easy to clean. To maintain the best condition, allow the pan to cool after cooking and then wash it. Avoid pouring hot water into the pan.
Pros
Eco-friendly
PFOA-free
Non-stick
Non-toxic
Dishwasher-safe
Oven safe up to 450°F
Cons

Victoria offers a 13-inch cast-iron frying pan that can effectively and evenly retain and radiate heat. The pan is naturally seasoned with non-GMO flaxseed oil and is 100% Kosher certified. The double-loop handle makes it easy to operate, and the pan can keep food warm for 15 minutes or more. It is suitable for grills, ovens, campfires, broilers, ceramic, or induction heaters.
The material naturally releases trace amounts of iron, thereby increasing the mineral content of the food. It has a curved handle that provides leverage and has a wide auxiliary handle. It is also designed with a sharply contoured spout and a larger hanging hole for easy storage. You can use the multifunctional pan for cooking, serving, baking, grilling, etc.
Pros
Ergonomic handle
PTFE-free
PFOA-free
Versatile
Zero waste production
Lifetime warranty
Cons
May rust without proper care

De Buyer Mineral B paella pan is a 12.5-inch circular pan made of carbon steel. It has a thick uniform skirting with two ergonomic, stainless steel handles to keep it cool while cooking. The French arc design is suitable for stirring, frying, and flipping. The material of this pan has natural nonstick properties that get seasoned with use.
The pan can evenly heat and quickly evaporate the liquid, thereby gradually changing the paella's flavor and retaining vitamins and nutrients. The pan is hand-made in a French factory without any chemicals and comes with a beeswax protective finish, which can be used on all cooktops.
Pros
PTFE and PFOA-free
100% natural beeswax finish
Becomes naturally nonstick
Coating-free
Cons
It may take time to season
Not dishwasher-safe

Imusa USA red paella pan has a perforated bottom and is made of traditional carbon steel. The 15-inch diameter pan has a flat base for comfortable heating and is suitable for all paella types. The natural coating acquires nonstick properties once seasoned and becomes scratch-free, and will not peel off. The red pan has two handles and is suitable for serving too.
Pros
Natural coating
Perforated bottom
Flat bottom
Even heating
Cons

The Machika 10-inch paella pan is made of high-grade enameled steel. It has an excellent thermal conductivity that creates the perfect crust for your paella. The metal pan is constructed with innovative hammered technology, making the bottom of the pan hard and hollow, which is necessary for the perfect paella.
The Machika pan can be cleaned with detergent and water and then wiped with a soft cloth to preserve the enamel. You can store it in a plastic bag to avoid scratches and dents.
Pros
Good heat conductor
Lightweight material
Durable
Two-year warranty
Cons

Sertodo Alicante paella pan is made of 14 gauge, 100% pure copper, hammered by hand, with perfect polish, gloss, and lasting beauty. This 18-inch pan has easy-to-hold stainless steel handles that will not heat up during cooking. Heavy metals have excellent thermal conductivity and controllability. The inner lining with tin interiors makes the cooking surface naturally non-sticky.
Pros
Long-lasting
Non-reactive cooking surface
Oven-safe
100% recycled sources
Cons

Le Creuset paella pan is made of enamel cast iron and measures 17.7×14.9×2.5 inches. It has a durable black matte-finished interior and a durable, colorful enamel exterior, making it an attractive serving pan. The cooking surface is large and shallow, which can layer the rice and help evaporate excess moisture.
The pan provides even heat distribution to achieve balanced cooking and a beautiful socarrat formation. You can use the pan on electric plates, gas, vitro-ceramic glass, radiant ring, induction, ovens, outdoor grills, and stovetops. Avoid using metallic pads or abrasive cleaning agents to prevent enamel damage.
Pros
No seasoning is required
Oven-safe
Robust material
Retains heat efficiently
Cons
Thermal shock (hot and immediate cold) may damage the enamel

If you are looking for an induction-ready paella pan, the Restaurantware pan is a good pick. This stainless steel silver pan size is 11×8 inches in dimension with double-riveted handles for easy use and balance and helps precise temperature control and heating for faster cooking. The textured bottom prevents food from jamming. After being removed from the fire, it cools down quickly and is easy to clean immediately.
Pros
Dishwasher-safe
Textured bottom
Durable
Easy to clean
Cons
How To Choose The Right Pans For Paella?
Cooking Paella may seem simple, but it requires a unique pan to cook authentic recipes and flavors. Keep the following points in mind while buying a paella pan.
Size: When deciding what size paella pan to buy, consider the maximum number of people you might want to feed. Paella pans range from 8 inches to 60 inches.
10-inch pans can serve one to two people
14-inch pans serve two to four
16-inch pans serve four to six
20-inch pan serves seven to ten people
24-inch pans suitable for around ten to 16 people
28-inch pans can serve 15 to 35 people and
A 32-inch pan can serve 20 to 40 people
Construction: Paella pans usually have a larger bottom surface and a shallow depth, with inclined sides and two ring-shaped handles. They are made of different materials such as carbon steel, stainless steel, copper, and cast iron. Cast iron is strong and durable, but it is heavy and may not be suitable for regular use. A dimpled surface allows the liquid to evaporate quickly, forming a crispy socarrat rice crust at the bottom.
Material: Carbon steel is a classic style used by professional chefs. The heating is uniform, and the surface is naturally nonstick. The enamel steel paella pan is made of carbon steel but with a white and black speckled enamel surface, increasing the pan's service life and durability. The stainless steel paella pan does not rust and requires almost no maintenance. The copper pan has excellent thermal conductivity along with its beauty.
Cooktop: Not all pans are suitable for all cooktops. The gas cooktop can hold any pan, preferably a round bottom pan. Electric, induction, or ceramic cooktop need a flat bottom to distribute heat evenly.
Cleaning: Choose a paella pan that is easy to clean. It should be dishwasher safe, or it can be soaked in water for a while and washed gently without any additional scrubbing. Nonstick pans do not stick food, so they are easier to clean.
Frequently Asked Questions
1. Can I use the pan on the grill or in the oven?
Yes, you can use paella pans on the grill. Please read the instruction manual before purchasing to understand whether the materials are not suitable for grills or ovens.
2. Can I use a paella pan on a smooth-top electric stovetop?
Yes, you can, but preferably for smaller portions. Paella pans are flat and shallow-bottomed so that you can spread the rice evenly. If you choose an electric gas stove, you need to use a small six-inch pan and finish it in the oven for even cooking.
It is not difficult to cook classic paella in a frying pan you already own, but you need an excellent paella pan to get the right texture and flavor. Choose a paella pan from the options above or use our buying guide to find the best paella pans you can buy online. We're sure you'll find one to impress your family and friends with the finest paella.
Recommended Articles:
The following two tabs change content below.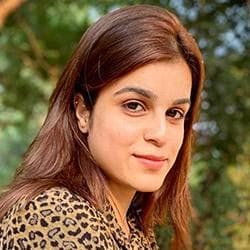 Sakshi John
Sakshi did her graduation in Journalism from the Madras Christian College, Chennai, before starting her career as a freelance writer. She is into blog writing and for MomJunction, she covers various topics, including products to buy for your kitchen, furniture, and other home requirements. Previously, she interned as a content writer in a cyber security firm. As a content writer, Sakshi...
more