To maintain an immaculate kitchen, one of the most useful things you can bring home is a paper towel holder. Whether you need to wipe off that greasy spill from the countertops or clean up that unfortunate mess created by the food processor's loose lid, a paper towel can be the perfect solution for a quick cleaning session. That is why a paper towel holder will be a great addition to any kitchen.
In this article, we will help you in your search for the best paper towel holder. Made with smart design features, these paper towel holders offer great value for money and are convenient to set up and use. Let's take a quick look at them.

Top Products From Our List
13 Best Paper Towel Holders To Buy

One of the best wall-mounted holders available in the market, this paper towel holder can be mounted vertically and horizontally. Its patented 'Perfect Tear Technology' features a unique ratcheting technology that prevents the paper towel from unraveling. The interior wire of this roller is made from aluminum, making it flexible. It can also accommodate any size of paper rolls. 
Pros
One hand pull and tear
Easy to replace paper towels
Includes mounting hardware
14 inches
Cons
It tends to droop in due course of time.

A standing paper towel holder with a strong, solid base, this holder is made with brushed stainless steel. It stands 14 inches high and weighs only 2 pounds. Tearing out an individual sheet of paper is as easy as pie; all you need is one hand to do it.
Pros
Doesn't unravel
Ideal for rolls of all sizes
Arm unlocks for easy refilling
Lightweight
Weighted-base
Cons
It can't be mounted on a wall.

This wall-mounted paper towel holder will be a great option if you like your paper towels to be at arm's reach. Not only will it be a useful accessory in your kitchen, but you can use it in your bathroom, study, or any other room as well. Its metal construction makes it durable, and the bronze finish makes it a holder with an elegant design.
Pros
Rust-resistant
Includes mounting hardware
It is also available in Chrome, Matte Satin, and Pear Gold finish.
Cons
It may not accommodate jumbo-sized paper towels as it doesn't leave much space between the wall and the rod.

Engineered to perfection, this wall-mounted hand paper towel holder is built to last. It features a die-cast metal bracket and a large stainless steel rod that can fit even the largest of paper rolls. If the installation is something that doesn't particularly excite you, rest assured that this holder is easy to mount on a wall or under a cabinet or a wall with just 3 screws.
Pros
Quick-release knob for easy paper roll replacement
Includes mounting hardware
5-year warranty
It comes with a ring spring that prevents unraveling.
Cons
The screws provided are not up to the mark.

This simple, sturdy holder is made of brushed stainless steel, making it a durable holder. It features black metal and rubber accents, giving the holder a sophisticated edge. You can mount it under a cabinet, on the wall, or in an easily accessible place. 
Pros 
Easy to install
Mounting hardware included
One-hand tearing of paper 
Cons 
It can only accommodate 1 size of paper towels.

If it is an elegant and space-saving counter top towel holder you are looking for, this one will perfectly fit the bill. Although it is sleek and lightweight, this minimalist holder with a circular base does not lean over or tip sideways. It doesn't require any knobs or arms to refill a paper towel or to adjust it.
Pros
Made of high-quality steel
Fits all sizes of paper rolls
Simple refilling
Lightweight
Cons
It may bend when crushed by something heavier or dropped from a significant height.

When design meets innovation, a well thought out product like this one takes shape. As this holder is made of high-quality steel, it is ideal for your kitchen countertop or your child's playroom. Although it is light, it is sturdy, and the base comes with 3 attached balls for extra stability. 
Pros 
Chrome finish wire
Lightweight
Easy to refill 
Cons 
It can't be mounted on a cabinet or a wall.

This hand paper towel holder is made of SUS 304 brushed stainless steel, making it durable, sturdy, and rust-proof. With this holder, you can forget about drilling, tools, or mounting screws. All you need to do is stick the holder onto a cabinet or any other place of your choice with the heavy-duty adhesive attached to the surface. 
Pros 
Water-proof
Easy to set up
Black matte finish
Includes 2 adhesives 
Cons 
The adhesive is not reusable.

This standing holder doesn't just boast of great design; it is a champion of functionality as well. It comes with a 3-pound base, which increases its stability and won't let it tip over. It also features a patented rubber base pad, which makes it easy to tear a single sheet at one go. One can simply turn the top cap to replace the paper roll. 
Pros 
Made of brushed stainless steel
Ideal for all sizes of rolls
Weighted base
The paper roll doesn't unravel 
Cons 
If not cleaned correctly, the base may become discolored.

If you are looking for accessories that will help add a rustic and minimalist charm to your kitchen, this holder will instantly do the trick. It is made of bamboo and is known to be sturdier and more durable than wood. To extend the life of the holder, one can wipe it with some organic bamboo oil. 
Pros 
Can fit jumbo paper towels
Lightweight
Comes with 3 non-slip foam pads
Easy to tear off paper towels 
Cons 
It is not easy to assemble. 

At first glance, the body of this towel holder may look flimsy, but don't let its thin exterior fool you. It comes with a peel-off protective film, which makes it easy to install. It's a unique towel holder as it dispenses one towel at a time from the bottom and multiple sheets from the top. 
Pros 
Shatter-proof
Can hold a 150-count stack of Z-fold
Hardware included
Lightweight 
Cons 

This holder with a beautiful scroll design will add a touch of elegance to your kitchen. The durable steel construction and matte black finish give it a modern and sleek edge. It can hold both standard and jumbo paper towels. 
Pros 
Comes with a handle for carrying ease
Elevated base
Weighted base
13 inches 
Cons 
It is not dishwasher safe.

This one will spark your heart with joy and add a fun pop of quirkiness to your kitchen if you are longing for modern paper towel holders. This stretching cat piece comes with an extra-long tail, which acts as the holder. The cat's tail is so long, it can fit up to 3 toilet rolls in one go. 
Pros 
16 inches
Bronze finish
Durable cast iron
Weighted construction 
Cons 
The paper roll tends to unravel.
As we have come to the end of our list of the best paper towel holders, let us take a look at a few tips that will help you choose one.
How to Choose The Best Paper Towel Holder
When buying a paper towel holder, keep these following features in mind:
1. Types
There are primarily 2 common types of holders: a standing holder for a countertop, and a mounted holder that you can hang on the wall or in a cabinet. Most wall-mounted ones can be hung both vertically and horizontally. Depending on how you like to use the holder, pick one that's right for you.
2. How many hands does it require
The main purpose of a paper towel holder or a paper towel is to be easily accessible in case of a spill, or a quick swipe of the counter. This is why most people look for a holder that doesn't require 2 hands to pull and tear individual sheets of paper.
3. Installation
Most holders come with hardware and screws and are fairly uncomplicated to install. If you want to avoid the hassle of any sort of installation, choose one that comes with an adhesive that sticks to any surface. Alternatively, you can always settle for a standing holder.
4. How many rolls can the holder accommodate?
Paper towel holders aren't just an accessory for the kitchen. It is also useful in the bathroom, or for that matter, any room in the house. If you are using it in the bathroom, look for one that can hold up to at least 2 rolls. On the other hand, if you are using it in the kitchen, find one that can house jumbo size rolls.
A kitchen towel or paper towels have become an essential item in any kitchen or household. However, to keep it organized and easily accessible, one should invest in a towel holder that will last forever, do the job well, and keep the paper rolls from unraveling all over the floor. We hope that this list of the 13 best paper towel holders and the buying guide has been helpful.
Recommended Articles: 
The following two tabs change content below.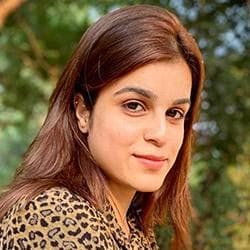 Sakshi John
Sakshi did her graduation in Journalism from the Madras Christian College, Chennai, before starting her career as a freelance writer. She is into blog writing and for MomJunction, she covers various topics, including products to buy for your kitchen, furniture, and other home requirements. Previously, she interned as a content writer in a cyber security firm. As a content writer, Sakshi...
more