A photo printer is an excellent purchase and a good investment not just for professional photographers but for anyone who loves taking photos. You can print the pictures and use them for gifts or personal photo books or just frame them and hang on the walls.
With your photo printer, you won't have to go to a store,wait for your photo prints, and pay a hefty amount. You can do all that from the comforts of your home. There are plenty of choices in the market right now with various features depending on your needs and budget.
We have made a list of the best photo printers available online to help you choose the one that meets your needs.
15 Best Photo Printers To Buy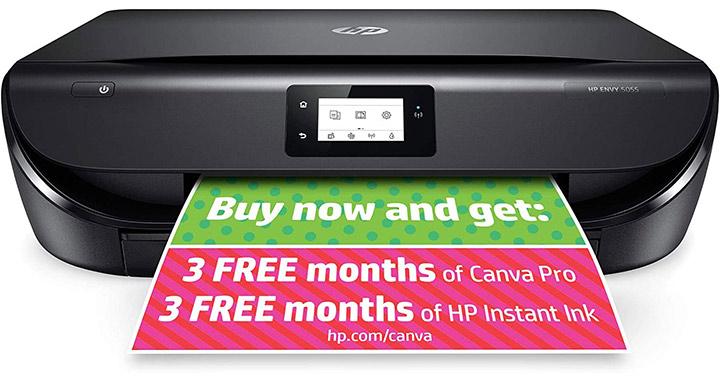 The Envy wireless photo printer from HP is an entry-level printer with multiple functionalities. With a printing speed of up to 10ppm (pages per minute) for black and 7ppm for color anda 2.2 mono touchscreen, you can get clear photo prints. The HP Smart App lets you use the printer from your smartphone with ease and print photos instantly. With its advanced features and user-friendliness, it is one of the best photo printers in the market today.
Pros
Offers both stable Wi-Fi and Bluetooth connections
Scan your documents and print directly from social media or the cloud
Ability to print borderless
Compatible with Alexa
Doesn't have to spend more on the ink
Cons
May delay printing
Does not support SD card or flash drive
No automatic document feeder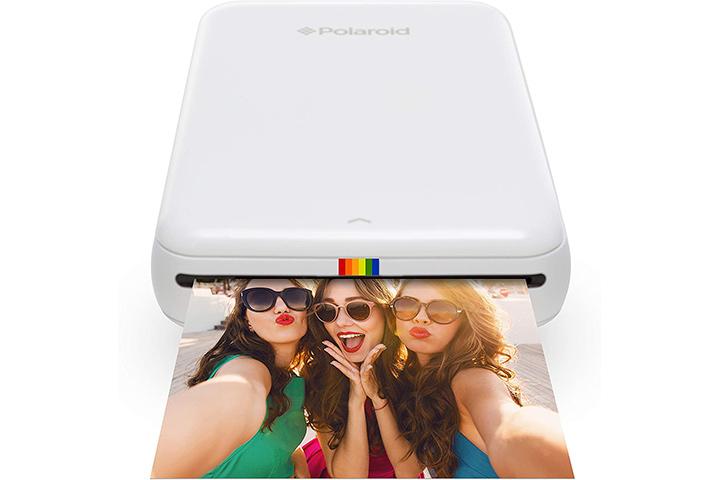 The instant wireless printer from Zink can be used to print polaroid photos on the go. It has a sleek and compact design, making it easy to carry even in your pocket. The Zink zero ink technology makes printing possible without the need fora toner cartridge.
It comes with a free polaroid app that is compatible with iOS and Android, allowing you to make polaroid picture prints directly from your smartphone or tablet gallery. The portable printer is available in six colors.
Pros
Photo paper has a peelable sticker on the back
App allows you to edit pictures before printing
Subscription service of Zink photo paper available
Lightweight and travel-ready design
Cons
Cannot print photos directly from the internet
Picture quality may not be excellent
Could beslow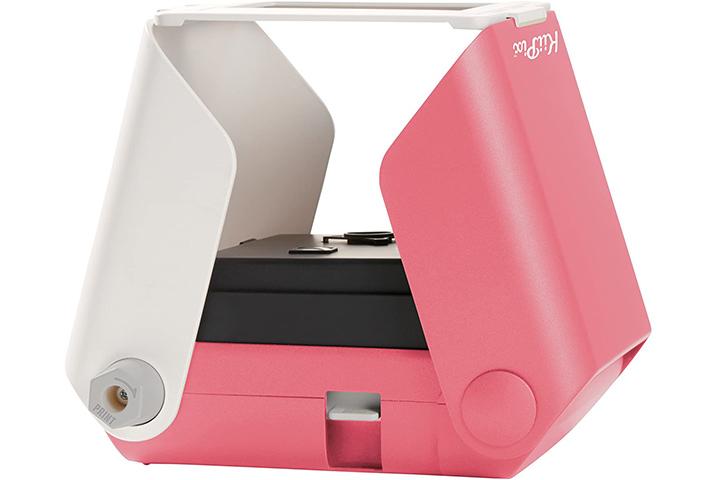 The beautiful portable printer fromKiiPixis a modernized version of the iconic Polaroid cameras of the 80s. It is made of plastic and features a film ejection dial on one side that can be used to forward and eject each print. The printer works like an instant camera and uses the cartridge of Fujifilm Instax mini film. To print something,fold open the KiiPix by lifting the two sides. A frame will pop up to create a platform, and you have to place your smartphone on the opening of the frame so that the printer can scan the picture on your phone and print it out. It is available in three different color options
Pros
Doesn't require an app
Easy to carry and looks aesthetically pleasing
Each cartridge has ten films
Instant camera not required
Simple and quick to use
Cons
Could not be easy to maneuver
Photo quality is not crisp
Doesn't come with cartridges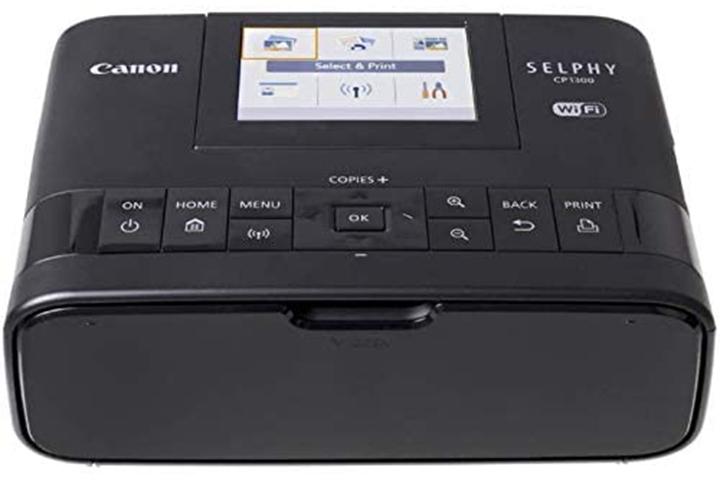 The Canon Selphy is one of the best snapshot printers with a stylish design. It is wireless and small enough to carry anywhere. With a print resolution of up to 256dpi and Dye Sublimation printing technology,this delivers perfect prints. It has a tilting 3.2in LCD touchscreen to help you check settings, edit, and apply effects and preview your image before printing. Theparty shuffle feature allows you to create fun collages with your friends.
Pros
Multiple paper sizes
Value for money
Multiple connectivity options including memory card slot and USB port
Comes with sample ink and paper
Compatible with iOS and Android, Airprint and Mopria device printing
Cons
Doesn't havea touchscreen interface
Separate battery pack required for true portability
May not have a steady connection with mobile devices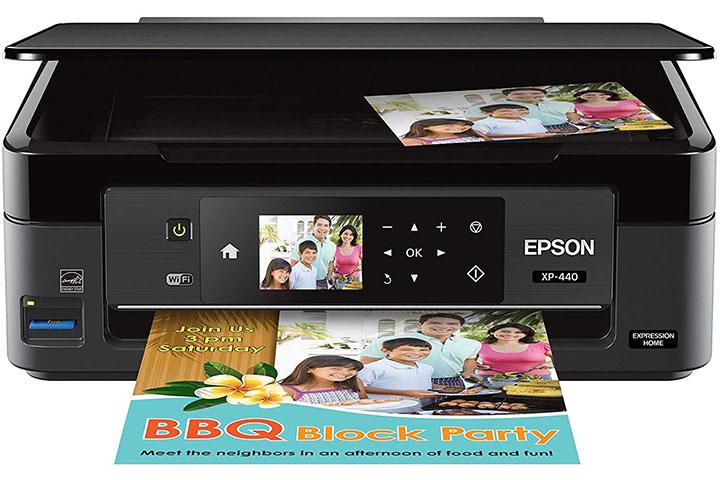 If you are looking for an advanced wireless color printer for your home, Epson's color printe rcan be a good pick. It can print photos and also scan and copy your documents. The printer has a 2.7in LCD window to preview your pictures and is a versatile model to have.
Pros
Mobile connectivity
Separate cartridges for different colors
Numerous functions
Easy to set up
Cons
Ink may runout fast
Requires frequent print head cleaning
Printing quality maynot be up to the mark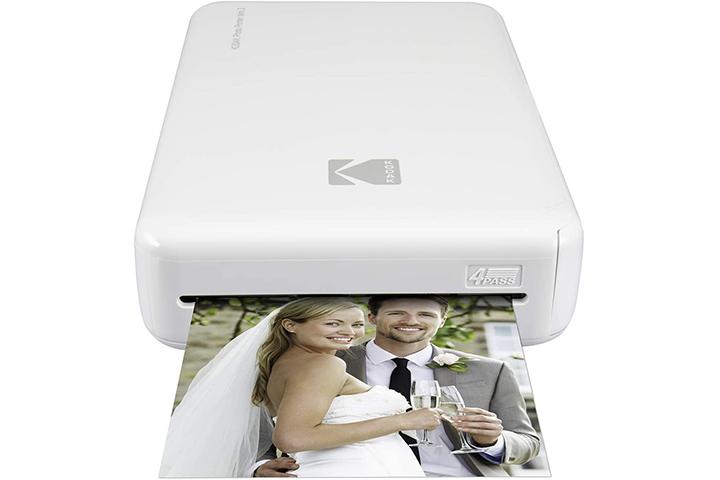 With a sleek design and glossy finish, the Kodak Mini-2 will fit snugly in your bag or pocket. It will surprise you with its print quality and vibrant colors. It has four layers of printing process where the paper will move in and out of the printer.Each time it adds a different step to the development through heat, which takes up a little time, and the photo dries up instantly. The Kodak app offers editing options and is easy to use. It is available in five playful colors.
Pro
Wi-Fi, Bluetooth, social media, and NFC connectivity
Waterproof photo paper
Simple and easy to use
Good quality photos
Fade-proof and long-lasting 
Cons
Doesn't removered eye
Can print photos in one size only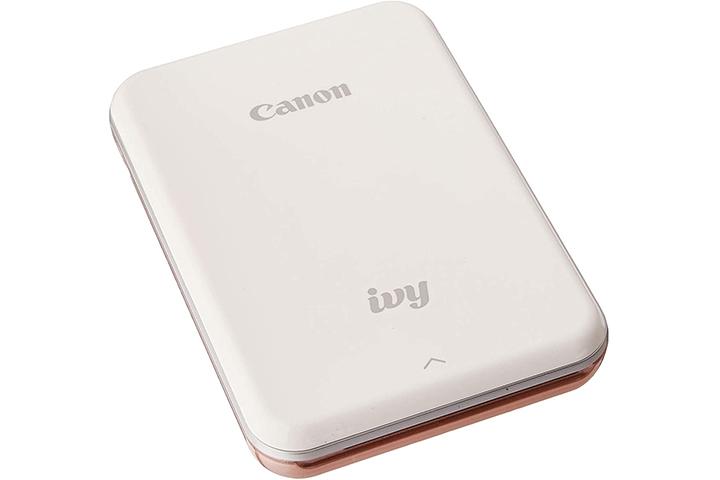 Polaroid pictures can be appealing, but sometimes it's not easy to capture the perfect moment as you cannot take multiple shots. The Mini photo printer from Canon solves the problem by allowing you to print your favorite pictures from your phone, tablet, or social media posts. It uses thermal technology, so no ink or dye is required. You can choose from three soft and eye-pleasing colors, perfect props for that insta-worthy picture.
Pros
Good print quality
Small and portable
Easy to use
Compatible with iOS and Android
Can customize pictures
Cons
Colors may sometimes be inconsistent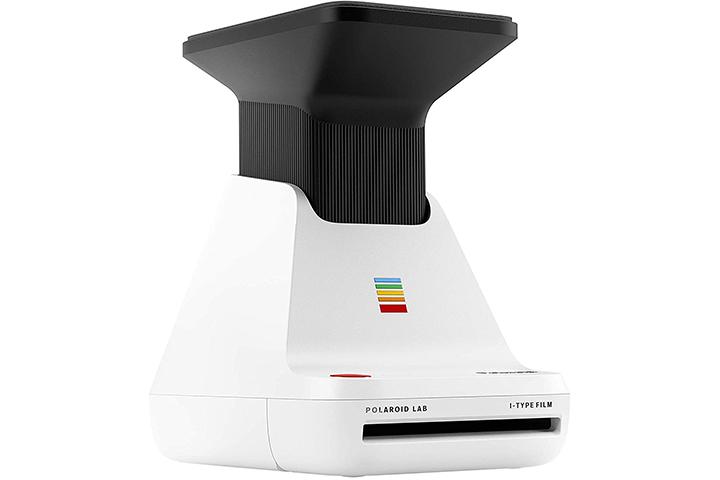 The Polaroid Lab printer from Polaroid Originals gives you the feel of a private desktop darkroom. The instant photo printer is a photo transferring machine that uses three optical lens systems to deliver vintage-style,genuine polarized prints through a unique chemical process.It doesn't need wireless or cable connectivity, but the screen should be connected to a printer.
Pros
Produces excellent black and white images
Polaroid app can create Augmented Reality in prints
Unique design
Real Polaroid technology
Cons
Could have jamming issues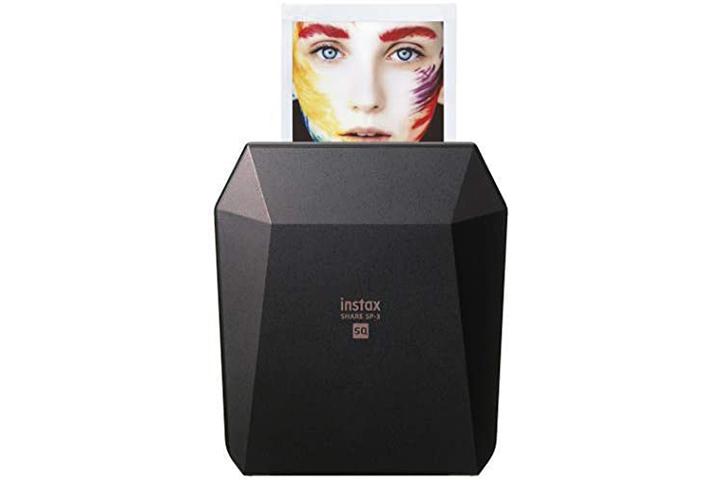 If you're fond of instant cameras, you've probably heard of the Fujifilm Instax Mini-series. It gives the Instax look and experience but in a larger square format. You can print charming retro photographs directly from your phone, tablet, social media, or your digital camera.
With the Instax Share app's ability to apply text on the prints, you can add your image credit and pointers. The printer has quirky and useful features like the Reprint button, which lets you duplicate the prints and an indicator that tells the number of shots left.
Pros
Rechargeable batteries
Collage and split mode
Bright and pleasing photos
Handy features
Cons
Wireless connection may not be stable
Print cartridges could becostly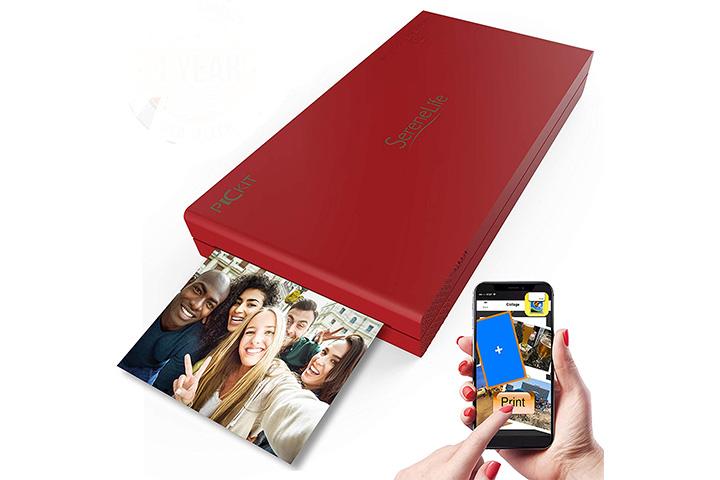 Bring your images to life with the Serene Life Pickit mobile printer. If you want a hassle-free product, this mobile photo printer might just be what you're looking for. It has a portable, slim, and compact design and an easy-to-use application with no complicated features. You don't have to buy separate ink or paper as the cartridge contains both, enough for ten prints.
Pros
Printer has its own Wi-Fi system
Simple design
Decent print quality
Easy to use
Cons
Cartridge availability
Good battery life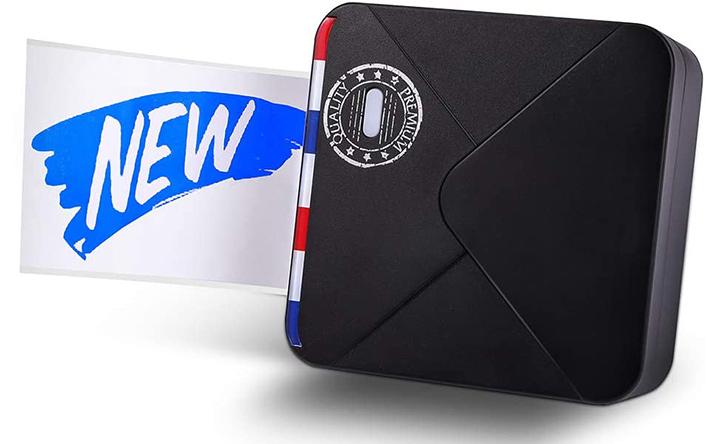 The Phomemophoto printer has a retro-style beautiful envelope design. It is a perfect tool for people who love making DIY crafts, a planner or writing journals. With its ability to print clear texts, students can use it for printing their notes. It's also great for small business owners and those who love organizing using print out labels and to-do lists. The ten different functional operations make it suitable for educational, recreational, and casual printing. No more buying holiday cards when you can make your very own and decorate them as you want.
Pros
Free graphics and templates available
Pictures look crisp and clear
Easy to carry around
Versatile and practical
Cons
Prints may lack intricate details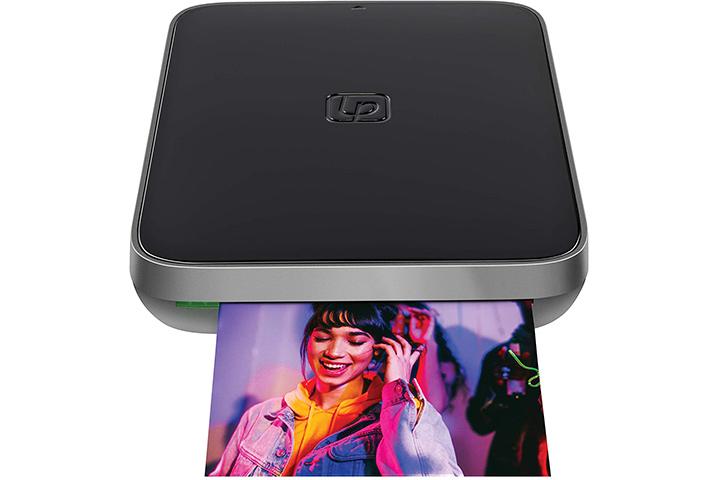 Lifeprint is known for its compatibility with Apple products. They have released a printer that offers one of the biggest print sizes: 3×4.5in sticky photo paper. Their Hyperphoto technology brings photos to life like magic. The app has a feature called 'share photos,' a social networking feature to send photos directly to friends and families.
Pros
Innovative features
Large printing size
Interactive app
Kensington lock slot
Can print from social media
Cons
Print quality may beinconsistent
Could be chunky for some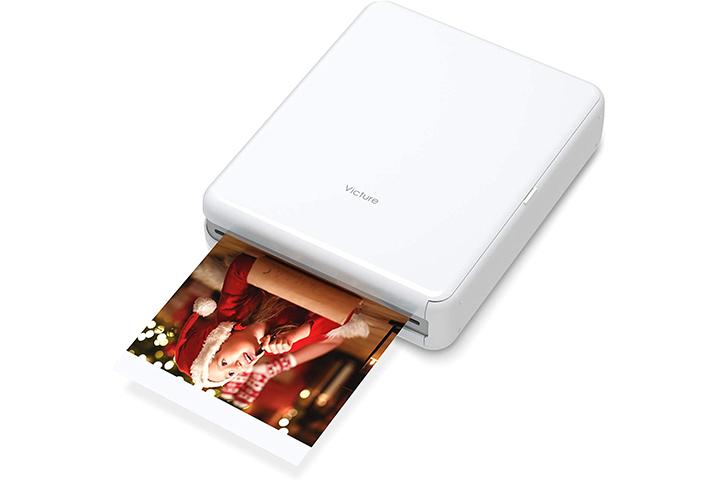 The Victure Portable photo is compact and slim and can be carried easily in the bag. The solid white exterior and smooth detailing give it a clean, minimalistic, and stylish vibe. It has a built-in battery pack to provide 30 to40 prints per charge and works with an accompanying smartphone app to customize functionality.
Pros
Easy to set up
Fast Bluetooth connectivity
Does not make noise while printing
Lightweight and practical
Cons
May get jammed once in a while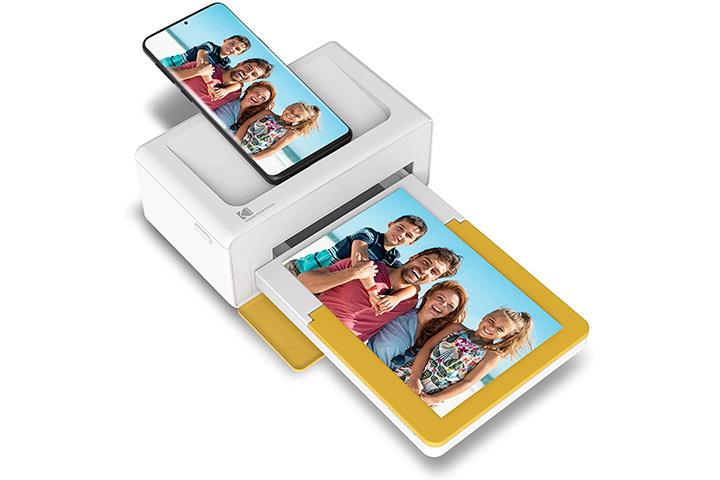 The Kodak Plus photo printer has a brand new design that features improved performance than its predecessor. It's a no-fuss personal photo studio in your hands as you can print and share photos with a touch of a button. You can connect the Kodak Dock Plus with your mobile devices via Bluetooth, or you can dock it, as the name suggests, on the printer with a USB port.
The Kodak app can be used to browse your photo gallery, edit, and print wirelessly. With the4Pass technology,you can print photos in different layers of colors.You can even laminate the photo, making it waterproof and fingerprint-proof.
Pros
Good print quality
Easy-to-use application
Offers border and borderless options
User-friendly and versatile
Cons
May not have additional features
Could be a little slow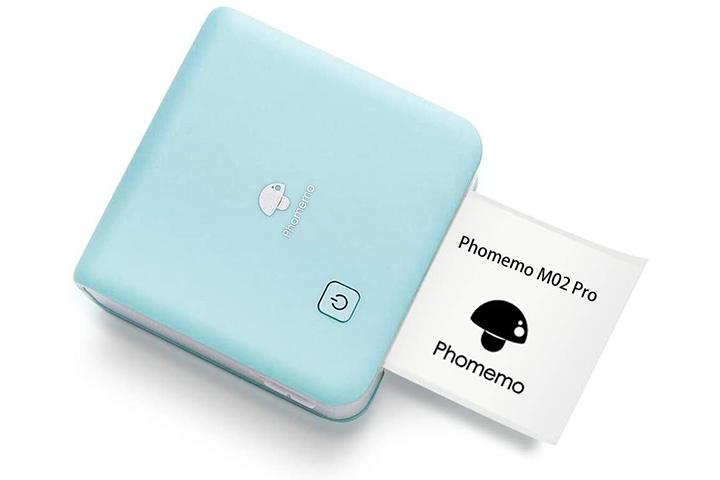 The M02 Pro thermal printer from Phomemois an upgrade of the M02S and offers 300dpi resolution. Its design is a combination of sophistication with a hint of delight. The printer is the size of a palm and can print attractive stickers, texts, and photos at a higher resolution. It is a practical printer suitable for students, artists, and people who love DIY crafts and journaling.
Pros
Versatile and lightweight
Rechargeable battery with USB
Aesthetic look
Texts look crisp and clear in the prints
Cons
Doesn't print color photos
Not meant for heavy usage 
How To Choose The Right Photo Printer?
Here are a few essential parameters to consider when purchasing a photo printer. 
Resolution: Different photo printers have different resolutions and choosing one with a higher resolution is a better choice. Cheaper printers typically have low resolutions, but a few budget-friendly printers also offer a decent resolution. High resolution means a better quality image, so if you want a decent or perfect photograph,opt for a printer with a higher resolution.
Size: Depending on your need and usage, you can choose different size variants. If you travel a lot or want a printer that you can use on the go with instant gratification, you should buy a compact and portable photo printer. If you plan on buying a printer for home or office use, you should get a larger and sturdier one. These bigger printers also tend to offer a better print quality.
Number of prints: You should carefully check the recommended duty cycle of the printer you're planning to buy. Since some high-end printers might have less monthly recommended duty cycle than what you require, getting the more expensive one can be a loss for you. 
Device compatibility: You should read the printer's specifications and see if it's compatible with the device you plan to use. There are various types of printers that are compatible with wireless connections, cables, and memory cards.
Printing technology and ink: Your printer's functionality highly depends on printing technology. Inkjet and dye sublimation technology offers a high image quality of your photos. However, inkjet printers tend to clog if not used for a while but produce better image quality. Other printers use thermal technology that is suitable for printing labels and stickers.
Ink quality: There are two sources for making printer inks: coloring agent-based inks and pigment-based inks. Coloring agent-based inks are a cheaper option but not suitable for professional purposes.These do not support intensive colors and are less resistant to light exposure, making the colors vanish when exposed to light. Pigment-based inks are a better choice if you want photos that last long. These have a wide range of colors, producing more vivid color prints.
A photo printer is indispensable, especially if you love photography and care about keeping prints. Although most of these printers donot offer exceptional quality as a photo service shop, they save time and money. Many of these portable printers even allow you to share your photos and print your pictures directly from your cloud or social media accounts. So, compare the features of the short-listed printers and pick the best one for yourself.
Recommended Articles: